Ankr Price Prediction: Does This Coin Has Any Future?
When it comes to the cloud computing industry, only a few big fishes in the market are filling up their bank accounts. For a normal trader, it's hard to access them at affordable prices. If you are a crypto trader and want cloud services, Ankr is for you, and it's the first platform offering both cloud services on blockchain networks.
After its early success, investors are very curious about the ANKR price prediction. There are some clear benefits that only a few platforms offer in the crypto world. But it's important to check whether you are making a great deal or not.
Go through the article, and find the answer to your every query.
What Is Ankr? 
Ankr was launched in November 2017 to provide a cryptocurrency platform for cloud services using shared resources. Its native coin, ANKR, developed on Ethereum blockchain, belongs to the top 100 cryptocurrencies of the world. The developer aimed to introduce a decentralized cloud computing platform as an alternative to Google and Azure.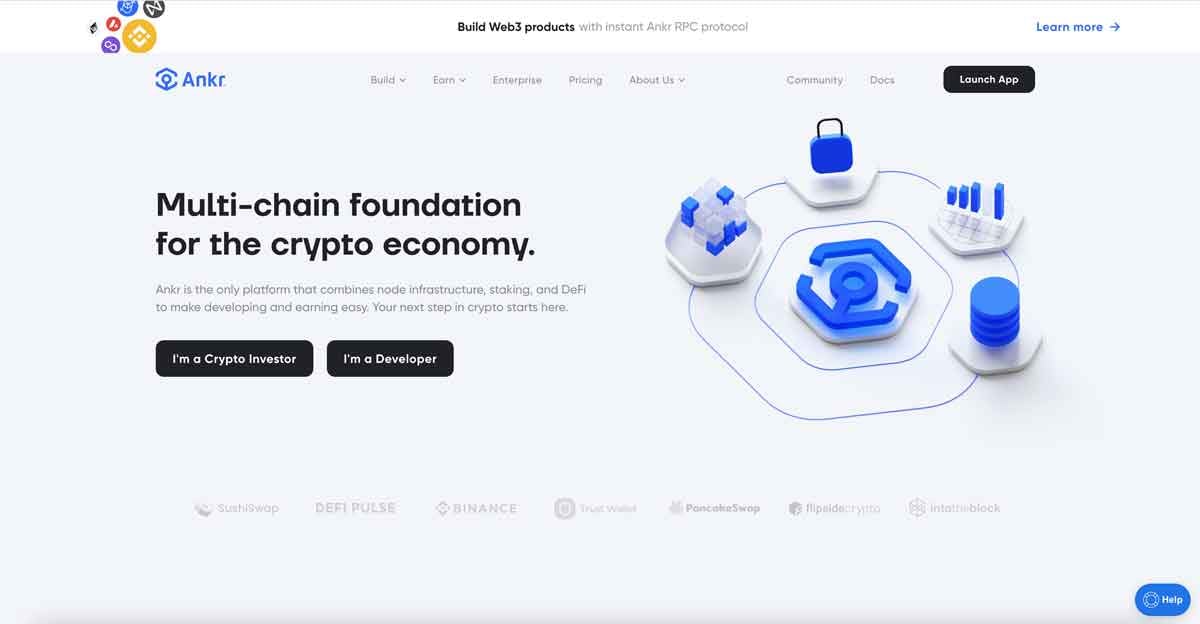 It's a one-stop-shop solution for users to get cloud resources, monetize unused computer power, and share economies. This unique platform guarantees foolproof security using trusted hardware technologies. Apart from that, the network offers off-chain computing with the benefit of having plasma side-chains. 
Additionally, Ankr allowed you to create nodes and verify yourself using the Proof of Work consensus mechanism. Over this, the Native Oracle System of smart contracts provides real data to reduce the hassle of verification on the blockchain.
| Data | Value |
| --- | --- |
| Cryptocurrency | Ankr |
| Ticker Symbol | ANKR |
| Price as of 21st Feb 2022 | $ 0.6633 |
| Price Change 24H | -6.93% |
| Price Change 7D | -10.08% |
| Market Cap | $540,109,858 |
| Circulating Supply | 8,162,899,378 ANKR |
| Trading Volume | $ 27,021,183 |
| All-Time High | $0.2252 |
| All-Time Low | $0.0007111 |
| ANKR ROI | +484.32% |
How Does Ankr Work?
The idea behind the development of Ankr is to give cloud computing solutions using blockchain and allow crypto enthusiasts to earn more through crypto trading. Today, the platform simplifies installing blockchain nodes through centralized cloud providers both for enterprises and individuals. 
Ankr Network contributes to the development of Web 3.0 and offers access to 40 blockchains to its community. The phenomenon of Ankr for collecting data is using computer power with the help of Ledger technology from data centers. Also, its DeFi platform offers the user to create dApps without hassle. 
Price Analysis of Ankr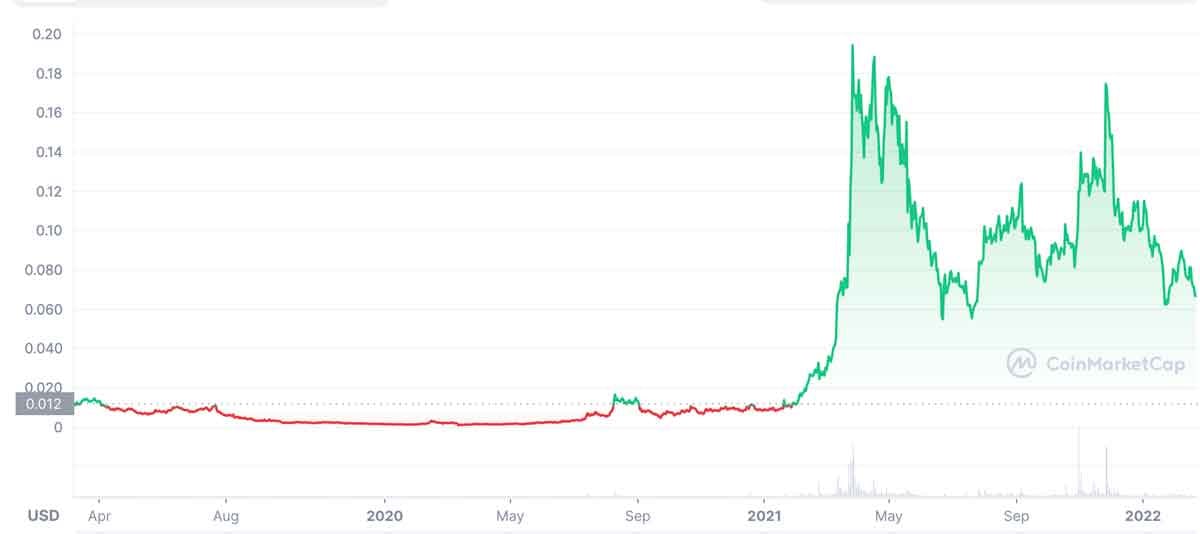 After reaching a high of $0.223, ANKR is now trading at $0.0747. The Ankr token has increased from a low of $0.00071 to a high of $0.27, breaking all previous records. The current year has seen a return on cryptocurrency investments of over 700 percent for traders.
As of September 7, 2021, the Ankr price has fallen to a low of $0.0839, breaking the bullish cycle that had been in place since August. The bullish cycle was again reversed when the price started to fall after breaking the supports. In a short-term assessment of the cryptocurrency, Ankr strives to recover its momentum around $0.0735.
During the current month, the Ankr price achieved a swing high of $0.0885 to test the resistance level; nevertheless, the coin's price fell after it failed to breach the barrier level. Until Ankr breaks past the $0.0866 resistance level, it will not continue higher.
At this point, things were looking up since the Bollinger band had started working. Ankr may expect to break past the next resistance level of $0.909 to progress to the next swing level if the momentum continues in the coming trading sessions. If the next resistance level of $0.909 is broken, this will happen. Volume signals aren't great, but they're better than the losses we saw in the previous week.
One more green trading day is required before a trend confirmation in the technical setup can be termed complete. On technical charts, Ankr prices are volatile and prone to sudden trend reversals due to their low usage and dependence on market conditions.
Future Price Prediction of ANKR from 2022-2025
Following the bullish trend, this year is great for the ANKR, and it has made some great improvements compared to the past. If everything goes smoothly, days are not so far when it will hit $0.5 first time in history. However, the opposite side of the coin is also possible, and the trend can be bearish. 
But the experts are very hopeful about its amazing journey and urge investors to give it a chance. Below is the price forecast of ANKR in the coming few years. Our analysis is based on the deep study of previous records and information from expert forecasting sites like Wallet Investor, Price Prediction, and many more.
ANKR Price Prediction in 2022
Since the start of 2022 was impressive, we can expect that the bullish trend will continue for the rest of the year. In the first quarter of the year, the progress might be slightly slow. But the second half shows rapid price growth, and coins will touch $1 at the end of 2022. These are possibilities based on its current growth. If any collaboration happens, the price can go even beyond $1 in the same year. 
ANKR Price Prediction in 2023
The developer team of ANKR is putting its best to provide more opportunities to the community. If the network can sustain moving averages for 200 days, it will boost ANKR price. According to our analysis, the coin will touch $3.5 in 2023. 
ANKR Price Prediction in 2024
Due to unique features on the Ankr network, many firms would love to collaborate with it shortly. The platform has announced some upcoming collaborative projects, which will be signed before 2024. Nothing will stop this coin from climbing the ladder of new heights if that happens. The expected new price in 2024 would be $5. 
ANKR Price Prediction in 2025
Keeping the high expectations from ANKR, the price chart would hit $8 in 2025. These are possibilities, and anything can happen. No one is sure about the future of cryptocurrency and how long it will provide benefits. Over this, many unexpected events or natural disasters ruin the market.  
Three Reasons to Buy ANKR 
In terms of investment prospects, Ankr has a lot to offer. This blockchain network allows cloud computing firms to make their idle resources accessible to customers that need cloud infrastructure. ANKR coins are used as a form of compensation for cloud computing services.
Here are three reasons that urge users to invest in this prestigious platform:
1. Redefining the Cloud Computing Industry
Only a few large players control the bulk of the market's resources in the cloud computing industry. Cloud computing companies have a monopoly on pricing power because of this oligopolistic structure. For Amazon stockholders, this is great news, but for companies and consumers that rely on cloud infrastructure, it's bad news.
Ankr is rethinking every aspect of it. In this network, cloud computing firms may rent out previously idle hardware. The exchange of ANKR tokens for the tokens used in the exchange may help cloud computing companies get the most out of their computer resources. Almost every sector struggle with loss, and Ankr is a fantastic tool for significantly decreasing it.
2. Impressive Decentralized Platform
Decentralization is a key part of this equation. There's a good reason why "decentralization" is so often used in the bitcoin community. By lowering the concentrated market power of a few businesses that dominate a given sector, Ankr, a blockchain effort, intends to democratize sections of the economy.
At first glance, these goals may seem utopian and unreachable. On the other hand, Ankr's cloud-computing capabilities have significant repercussions. Power outages at many important locations may cause catastrophic failures in most cloud computing systems. 
Decentralized cloud computing players like Ankr mitigate this risk. Ankr is a great option for organizations looking for an alternative that doesn't rely on a central server when it comes to cloud computing.
3. Introducing New Norms of Staking
Ankr's unique cloud-computing viewpoint isn't the only way it delivers value to investors. They stake their tokens, and putting one's tokens on the market or locking them within a certain blockchain protocol allows for validating transactions, which is what staking is all about. 
As a result of putting their tokens up for stake, many investors get more tokens in return. Consequently, many cryptocurrency investors are considering this as a way to generate passive income. On the other hand, Ankr provides an interesting option for investors to stake tokens for a fraction of the initial amount needed.
Ankr's StakeFi service enables investors to put up as little as 0.5 Ether at risk to earn income and get staking incentives. Staking on Ethereum's beacon chain now requires 32 ETH, which would cost more than $125,000 at the present exchange rate.
By using synthetic futures, the platform limits the amount of money that investors must put up at the investment process. Ankr, like options in the stock market, is developing as a revolutionary force in the rapidly growing realm of decentralized finance.
How to Buy ANKR?
Purchasing ANKR is not a tough nut to crack. All you need to do is follow the procedure mentioned below.
Step 1: Setup an Account on Gate.io
If you don't have an account on Gate.io, follow these steps to create one.
To register for Gate.io, click "Sign Up" on the home page.
Choose a username, email address, and password from the online registration form's dropdown choices. After reading and accepting the User Agreement and Privacy, click "Next."
After setting up a fund password, click "Create Account." No automated reCAPTCHA is required. To activate your account, check the activation email and click the link. If the link doesn't work, you may manually input the URL.
Finish the reCAPTCHA after logging in.
Click "Confirm" to get a 6-digit verification code through email. Enter the code emailed to you into the fields provided and click "Log In" to proceed.
You must first complete the KYC process before you can use the platform to purchase Ankr/ANKR and other cryptocurrencies on Gate.io.
Click "KYC Now" at the bottom of the page.
Choose "Verify Now" under "Organization."
After choosing your country, put in your full name and confirm that you are who you claim to be. Select your ID type and input your official ID number.
Upload a photo of yourself with your ID (front) and the document with your unique ID to Gate.io.
After that, click "Confirm and Submit."
You must enable Timed One-Time Password (TOTP) to access your account. To do so, click "Set Now" at the bottom of the page.
On the new page, click the "Click here" button to enable Two-factor Authentication.
Get Google Authenticator on your phone using one of the methods above.
Add your Gate.io account by scanning the QR code or entering your unique key.
Enter the TOTP, fund password, and email verification code. To access your account, you must use the Google Authenticator app every time.
Step 2: Fund Your Gate.io
Gate.io is a crypto-to-crypto exchange with no fiat gateway. To add money to your Gate.io wallet, you must utilize an existing currency. ANKR may only be bought with Tether/USDT or Bitcoin/BTC but exchanged using USD as a futures contract.
Simply hover over your account and choose the deposit/withdrawal option. Select "deposit" next to the coin you want to deposit. Your browser will be sent to a page that produces your deposit address.
Wait for the proper blockchain to verify your transaction after copying or scanning this address or QR code into your wallet. Once the transaction is finished and verified, ANKR is transferred to your Gate.io wallet.
Step 3: Find the Suitable Trading Options
Gate.io offers many ways to buy cryptocurrencies. Depending on your trading objectives, you may want to consider each alternative independently. To trade ANKR, choose "Trade" from the menu, and enter "ANKR" in the search bar to see available trades.
Consider ANKR USDT for spot trading. After you've chosen, you'll be brought to the ANKR/USDT exchange page. Visit this website to buy or sell ANKR as a limit order, grid trade, or time condition. Limit trading is the most often used trading method; therefore, we'll concentrate on it in this session.
Step 4: Make Purchase Using Limit Order
To buy ANKR and set a limit order, enter the amount in ANKR and the price in USDT. After placing an order using this feature, USDT or any other counter-currency will be deducted from your wallet.
Step 5: Sell ANKR Using a Limit Order
To sell ANKR, create a limit order for USDT in the panel below the chart. Remember that converting ANKR to USDT keeps its value consistent regardless of the cryptocurrency market.
Step 6: Withdraw Funds
The same Gate.io website you used to deposit will be utilized to withdraw. Then, pick the Deposit/Withdrawal option from your Account dropdown menu. Using the built-in search bar is simple.
Instead of a withdrawal address, you'll construct a deposit address on the exchange or wallet. Please provide your Gate.io fund password, email code, and TOTP before clicking "Submit Request."
Pros & Cons of Investing in Ankr 
Pros 
Open-Source project and a lot of information is available on GitHub
Offers inexpensive cloud computing services
Collaborated with many big firms
The future of token is optimistic
Cons
Need to beat high authority competitors
Couldn't offer a huge profit on your investment
FAQs 
Who is the ideal user of Ankr?
People looking for a more economical, more stable, more decentralized alternative to public cloud providers like Google and Amazon are using Ankr. Over this, paying for services on the Ankr platform and participating in on-chain governance is possible using the network's coin, ANKR.
How does the ANKR coin gain value?
While ANKR's current market value is heavily influenced by speculation, this isn't exclusive to cryptocurrency. Its worth rises as more individuals become aware of the breadth of its applications. Since it is a popular alternative to public cloud services, ANKR's support is projected to rise as cryptocurrencies become more commonly acknowledged as an alternative to fiat currencies. When that occurs, the value is likely to rise in lockstep.
Is ANKR a good investment?
This year, cryptocurrency has had a good global rise because many individuals own Ankr. It's cheap, and the future looks bright for it. It's a good idea for beginners to include Ankr in their portfolio since the cryptocurrency seems to be on the rise.
Conclusion
Ankr is a crypto solution that simplifies various tasks. It offers low-cost cloud computing and an easy-to-use trading platform, allowing investors to profit from their investments. It's hard to predict future ANKR prices. As a consequence, ANKR addresses a crucial cryptographic problem. Using spare computer resources reduces the cost of running blockchain nodes.
The team's ambitions excite many experts regarding the project's future. It's conceivable ANKR is trading below $1, but many experts feel the $1 mark is secure. This ANKR assessment has informed us that it is on its way to becoming a popular cryptocurrency.