Best Crypto Savings Accounts in 2022
We've scoured the web to find the best cryptocurrency savings accounts and came up with a list of top 5 cryptocurrency savings accounts. As the prices of cryptocurrencies continue to fluctuate, it is important to find a way to store your coins safely. At the same time, it is important to take advantage of the potential of the crypto market by finding a way to earn interest by storing your coins in savings accounts. We have compiled a list of the best cryptocurrency savings accounts, which will pay you interest on your coins.
A crypto savings account can allow you to significantly boost your rate of return. Here is a guide to the best Bitcoin and crypto interest accounts in 2021.
However, these deposits do not have the same level of security as a bank or credit union savings account. Before you participate, it's important to consider how crypto savings accounts operate and their associated benefits and drawbacks.
5 Best Bitcoin Savings Accounts
Best bitcoin interest account for simplicity: BlockFi
Best for stable coins cryptocurrency interest: Crypto.com
Best for asset-backed lending: Celsius
Best for interest-earning operation: Binance
Best for in-app updates bitcoin savings: Nexo
Best for interest-earning crypto holdings: Hodlnaut
Crypto savings accounts operate in a manner comparable to traditional bank savings accounts. In a nutshell, you lend money to an entity, which in turn loans your savings to liquidity-strapped borrowers. However, these loans are comparatively stable because lenders need borrowers to deposit crypto assets as collateral. The majority of lenders need a loan-to-value ratio of 50%, which means that if a borrower requires $1000, they must deposit $2000 in collateral, such as Bitcoin.
Best Crypto Savings Accounts
Let's have a look at a few of our preferred account providers now that you know the basics of how bitcoin savings accounts function and how they differ from standard savings accounts.
BlockFi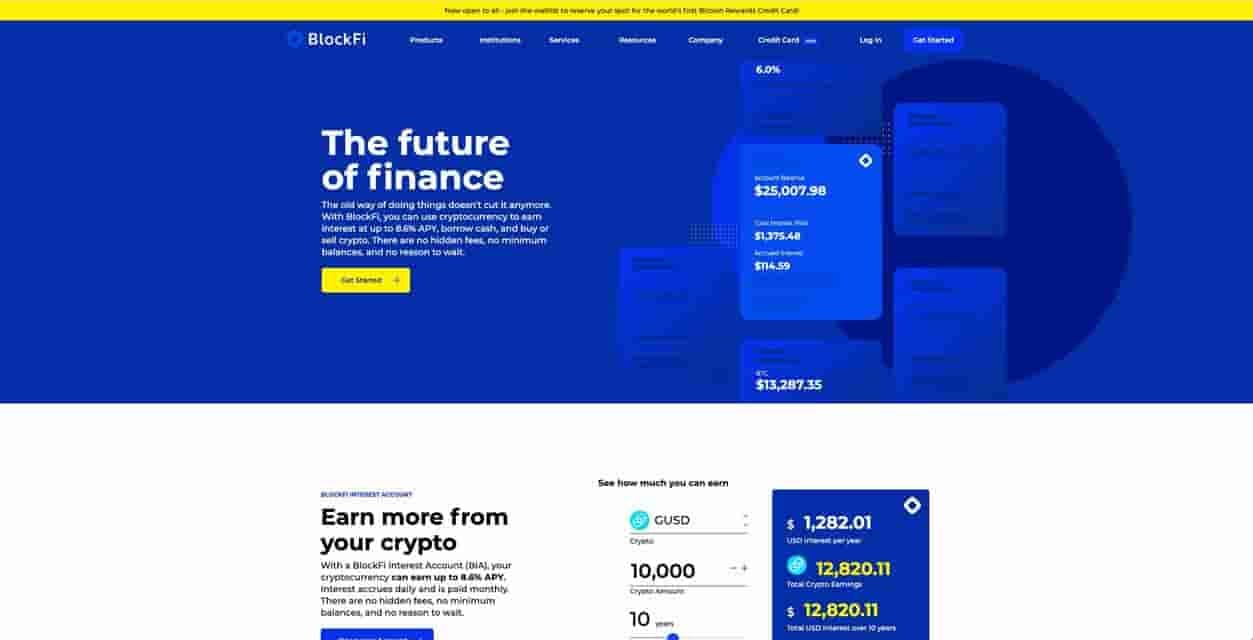 BlockFi is an online cryptocurrency investment and management tool designed to render cryptocurrency investments simpler and more efficient. They deliver a range of wealth management tools that act as a link between conventional finance and cryptocurrency. Their flagship commodity, though, is the BlockFi Interest Account.
Compound interest is earned on all cryptocurrencies held in the BlockFi Interest Portfolio. Thus, rather than accumulating electronic dust while you wait for the optimal time to sell, the cryptocurrency actually generates additional cryptocurrency for you. Additionally, the latest interest rates are very attractive.
The BlockFi cryptocurrency savings account (BI) is the world's first of its kind where you can earn the following right now:
Annual interest rate of 6% on Bitcoin deposits up to 2.5 BTC.
3% annual return on Bitcoin deposits greater than 2.5 BTC.
Annual interest rate of 5.25 percent on all Etherium deposits.
Annual interest rate of 6.5 percent on all Litecoin deposits.
Both Gemeni Dollar deposits earn an annual interest rate of 8.6 percent.
Annual interest rate of 8.6 percent on all USDC Dollar deposits.
If you're a seasoned crypto investor or are considering adding crypto to your investing crypto portfolio for the first time, there is absolutely no better way to purchase and save than BlockFi.
See also: Buy Bitcoin
Crypto.com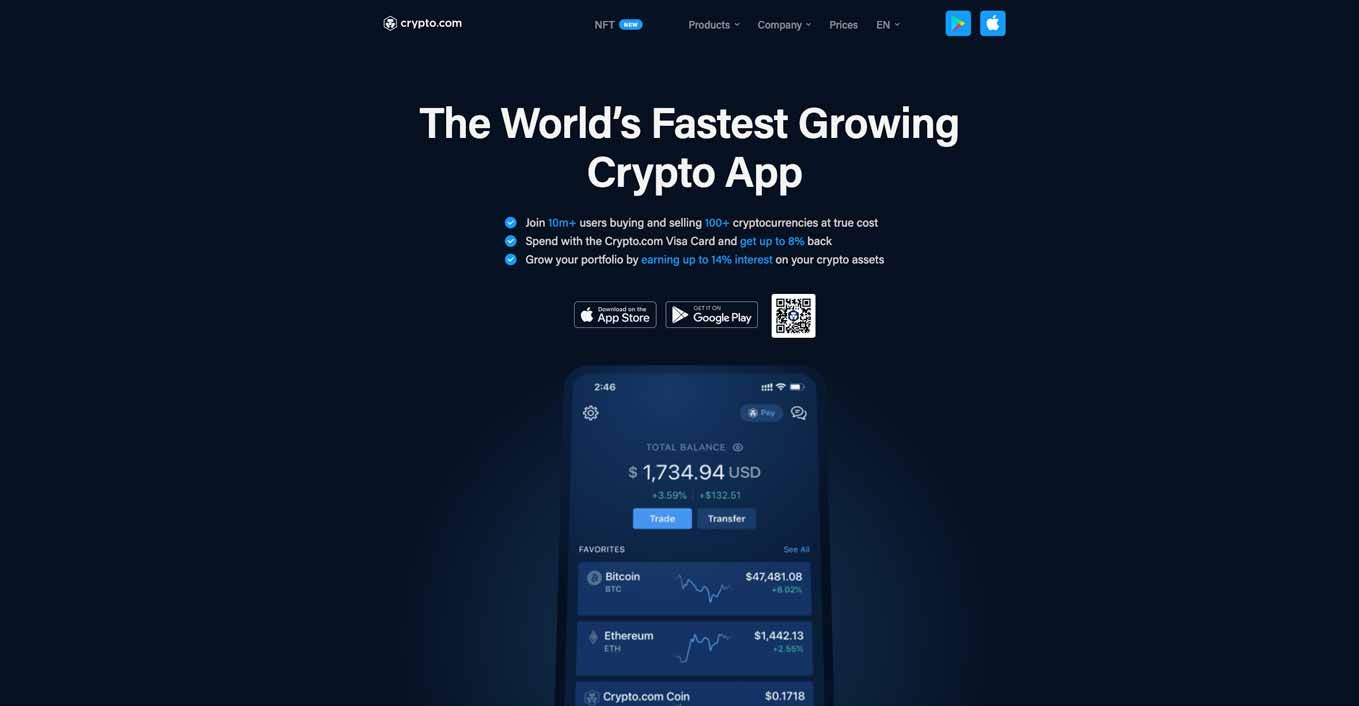 Crypto.com best crypto savings account
The bulk of cryptocurrency savings plans have restrictions on the kinds of cryptocurrencies on which interest may be earned. For instance, Coinbase currently supports interest accrual only on USD Coin, implying that you cannot gain interest on any other cryptocurrency in your account.
Crypto.com provides interest in a broad range of cryptocurrencies, from stablecoins such as Tether and TrueUSD to smaller, more volatile offerings such as Chainlink, Maker, Bitcoin, and Ethereum. Simple regular interest rates of up to 6.5 percent are available on non-stable coin investments, whereas stable coin investments can gain users up to 12 percent.
Celsius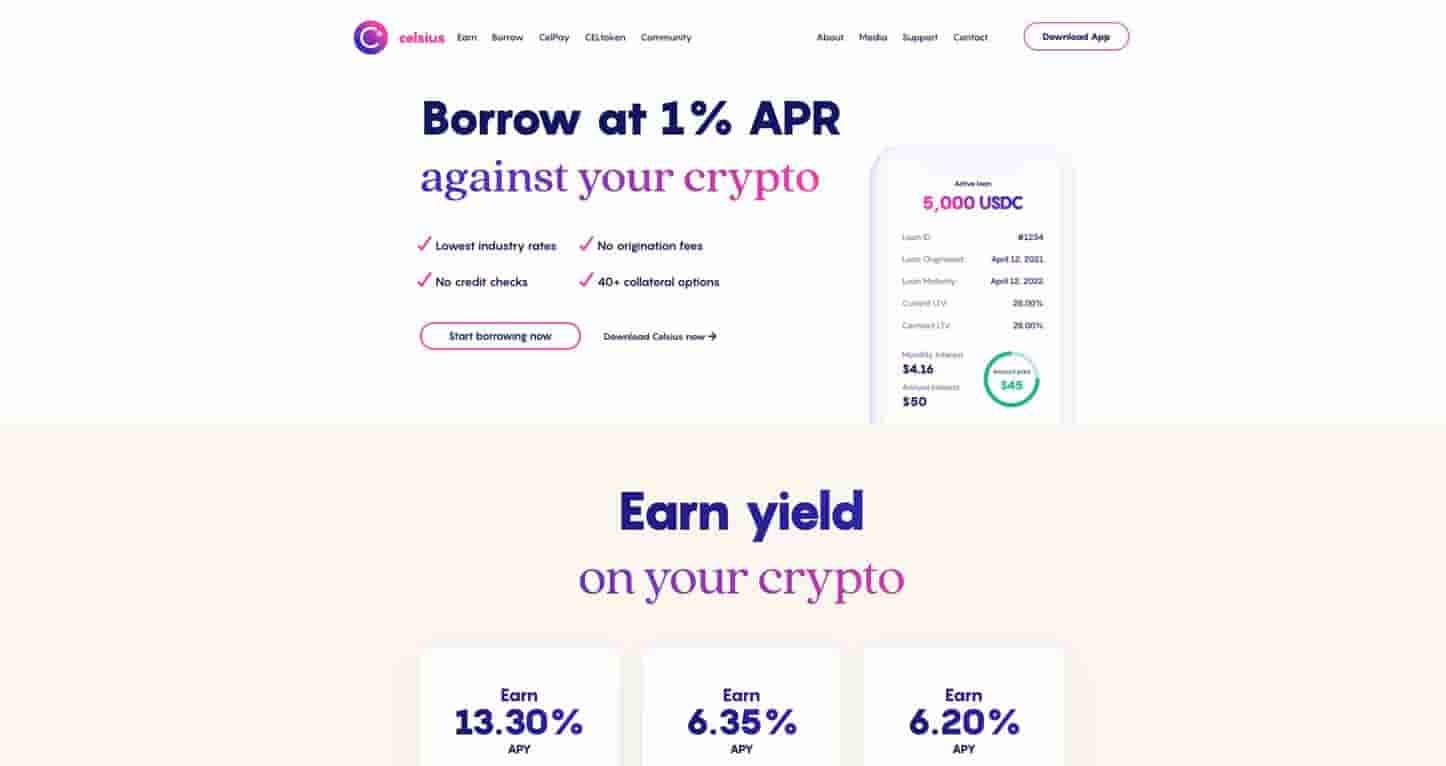 According to Alpha Sigma Capital, Celsius's assets under management are forecast to expand at a 25% annual rate until 2025. It should be remembered, though, that Alpha Sigma Capital is a stakeholder in Celsius, so take that statement with a pinch of salt.
With Celsius, you get no minimum deposit, can withdraw anytime, and receive weekly payouts. Therefore, how do they do it?
Celsius Network lends cryptocurrency to hedge funds, exchanges, and retail traders through asset-backed lending. Their scheme is attractive because it heavily relies on over-collateralized loans, which enable borrowers to have collateral worth more than the loan they took out.
Interest rates on Celsius are revised monthly and vary from 3% to 18.5 percent on a number of coins. Additionally, you can delete any number at any time without incurring any fees or penalties. This has to be one of the platform's most alluring tools. You will never be fined for withdrawing money from your account as long as the withdrawal is at least $1 in cash.
Stablecoins' base rate has been increased to 12.50 percent. Users in the United States of America who are unable to win in CEL will now earn 6.2 percent on up to 2 BTC.
See also: Buy Ethereum
Binance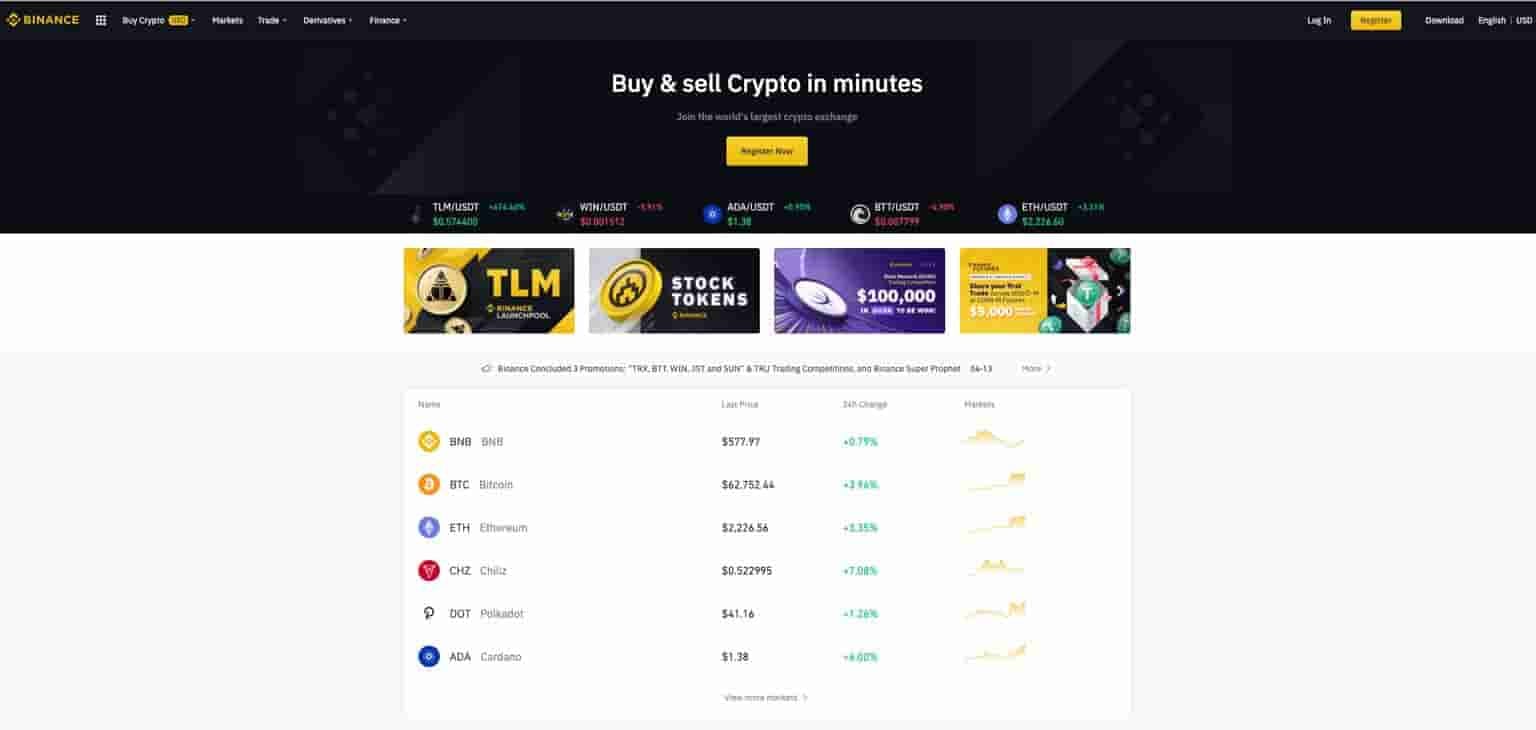 Binance is demonstrating to the cryptocurrency community once again that it is a Jack of All Trades. With that said, one Binance product that piques my attention is its interest-earning operation.
In a nutshell, Binance helps you to gain interest in those cryptocurrency tokens that you invest on the site. There are two primary methods for accomplishing this: on a modular basis or by encrypting the digital properties for a specified period of time.
With the flexible savings plan, you can withdraw your cryptocurrencies at any moment, making it a completely liquid fund. This is a good choice for those of you who enjoy the prospect of gaining interest on their digital currency assets but want instant access to their coins when the occasion occurs.
In summary, unlike the flexible account, a locked savings account allows you to deposit your crypto funds for a specified period of time.
Nexo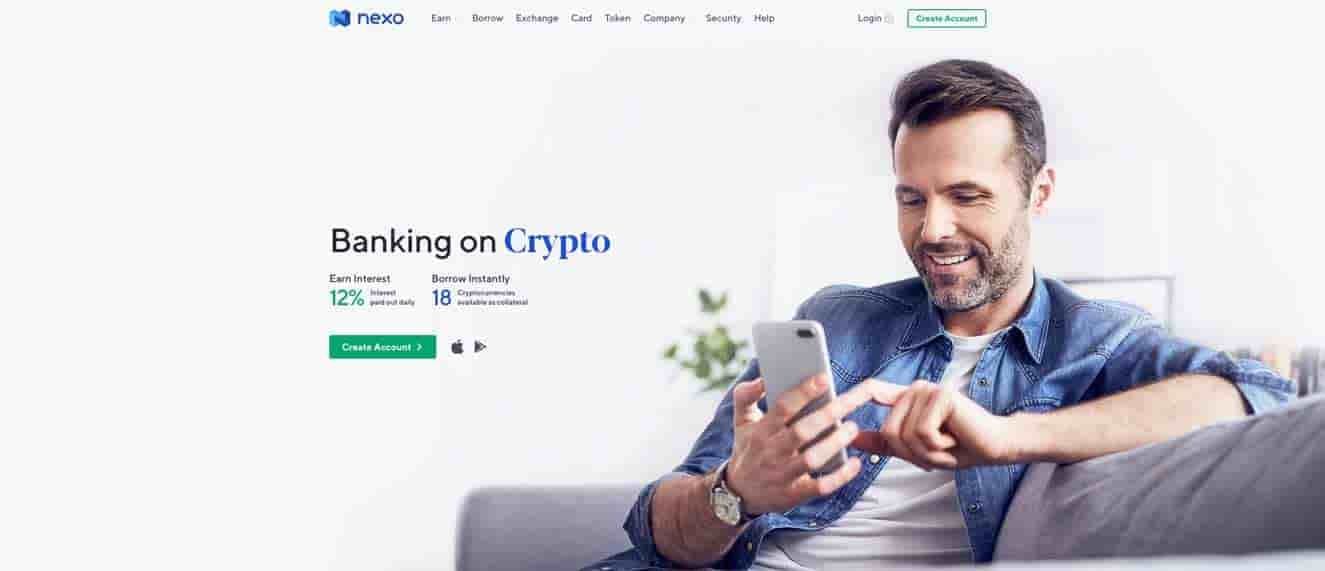 The site's communications strongly emphasize its lending strategy; this, optimistically, indicates that the website is creating a profitable business model based on lending. It has a similar "Earn in Nexo" alternative to Celsius's (Earn in CEL), which provides users with a roughly 2% boost per asset.
Nexo enables you to earn interest on six separate stablecoins and eleven alternative cryptocurrencies. Bitcoin, Chainlink, Ethereum, Tron, and Stellar Lumens are all supported coins. Interest rates start at 6% for altcoins and 10% for stablecoins, but you will gain up to 12% if you elect to receive your dividends in Nexo's proprietary token rather than the token in which you earned it.
Regular interest is measured, and you can deposit or withdraw your tokens at any time. There is no minimum balance requirement to participate in Nexo's interest scheme.
If your Nexo account is created and financed, you can sit back and relax — Nexo can measure and deposit your daily interest earnings directly into your account. Nexo can also provide you with in-app updates notifying you when your interest is deposited and the amount received. Unlike the majority of other cryptocurrency interest accounts, Nexo distributes daily interest earnings.
Hodlnaut

Hodlnaut is a platform that allows users to earn interest on their crypto holdings. You can deposit any coin on the platform from the six supported assets: BTC, DAI, ETH, USDC, USDT and WBTC, and earn up to 9.41% APY.
The company also has an innovative Preferred Interest Payout feature that lets you choose how you want to be paid. If you deposit $1000 in BTC, for example, then you can choose to earn interest in six different currencies: USDT, ETH, DAI, WBTC, USDC and BTC. The platform is super-easy to use and is available on both iOS and Android apps.
Hodlnaut takes security very seriously and uses Fireblocks as its security partner—a company that's known for its great security measures—and customers can also opt for an optional Nexus Mutual Custody Cover for added safety of their digital assets.
You can maximise your profits by utilizing Hodlnaut's Token Swap feature. This feature helps you to seamlessly swap cryptocurrencies on the platform without any additional fees. All you need to do is to choose the assets you would like to swap from the six supported cryptocurrencies and place your order. The platform has recently partnered with Crypto Tax Calculator as well as Koinly to make crypto tax reporting easier for their users. If you would like to explore all the innovative features that Hodlnaut has in store for you, then check out their official website.
Crypto Savings Accounts Vs. Regular Savings Accounts
To be sure, there are several key distinctions between a standard savings account and a cryptocurrency savings account. Rather than depositing funds directly into your account, you pass them to a crypto assets wallet. This wallet is managed by the issuer of the savings account you choose.
If your wallet is financed, you can begin earning interest if another network participant borrows your crypto assets at a pre-negotiated interest rate. This interest rate can fluctuate according to a number of variables, including market conditions.
After all, as demand exceeds supply and capacity fails to keep up, expect interest rates to spike. Naturally, the lending site you choose has a huge effect on the final price you earn for lending cryptocurrency.
As such, the platform you choose is a critical component to a good cryptocurrency savings account plan.
Generally speaking, these are institutions and sometimes individuals that own cryptocurrencies and want short-term liquidity but do not wish to sell. And maybe it's time you met them.
Miners. They need funding to meet their running expenses (pay employees, electricity costs etc.).
Merchants. They seek arbitrage opportunities and need near-term liquidity in order to conduct successful trades.
Managed funds. They have made investments in initial coin offerings (ICOs) or other crypto assets and want to exploit their role in order to seek further investment opportunities.
Exchanges. They need funding to operate their margin lending and trading businesses.
What are the risks associated with a Crypto Saving Account?
Depositing the money in a crypto savings account, like any other financial transaction, carries a degree of risk.
1. Default Risk on Loans
Due to the insured nature of the loans, the borrower's probability of default is very low. When the value of the collateral used to secure the loans falls below a predetermined level, crypto lenders have the option to sell the properties. However, if a black swan occurrence occurs in which stock values plunge within minutes, the collateral value can collapse below the loan value.
2. Hacking the Custodian
Perhaps the most significant risk factor is that the loan firm's custody service (the company that stores the assets) is hacked. If an infiltrator gains access to a custodian's wallet, they can steal the users' money. To mitigate this risk, certain custody companies have insurance plans that cover consumers in the event of a breach. However, these frequently have a dollar limit, but whether you are reimbursed or not in the case of a hack is determined by the total amount of money spent. Occasionally, lending institutions have supplementary insurance plans. If insurances are available, they are often listed in the 'information' section.
3. Insecurity in smart contracts
Several of the providers listed above, including Argent, ZenGo, and Dharma, provide savings accounts through the decentralized Compound protocol. This suggests that your funds are being lent out by an automated lending network based on the Ethereum blockchain, rather than a corporation.
This smart contracts can contain flaws that allow attackers to steal the money. Having said that, none of the situations outlined above have occurred.
How to Get Started with a Crypto Savings Account
If the options for achieving your investment objectives are too many, here's how to pick.
1. The Custody Factor
Certain types of savings accounts are offered through centralized cryptocurrency firms, while others are offered by DeFi protocols and smart contracts. The former is custodial, which means that you forfeit custody of your estate, while the latter retains control.
2. Confidentiality
Although security is a primary concern for crypto lending services, their wallets, which store all of their users' funds, are vulnerable to hacking. On the other hand, DeFi protocols could have bugs in their smart contracts. As a result, we have included information on whether providers have insurance plans covering these kinds of incidents.
3. Convenience
Finally, you want to find a service that has an acceptable level of customer support. Are your reserves available for withdrawal at any time, or are they subject to a lockup period? How much is interest paid? Is the application intuitive to use and does it have a pleasant interface?
4. Authentication and Certification
Centralized networks are required to recognize their customers in order to comply with rules, while DeFi providers are not required to do so. To use a DeFi protocol such as Compound, all you need to do is download a wallet that integrates Compound, deposit your funds, and you'll begin earning interest immediately.