Best Crypto Debit Cards
Individuals may use Bitcoin debit cards to make online or in-person transactions or cash withdrawals from ATMs, even if the retailers or ATMs do not accept cryptocurrency. If you have a sizable balance in Bitcoin, Ethereum, or one of the other accepted currencies, you will be prepared to allocate it much like money in a traditional bank account. Any time you use the card, the total is deducted from your Bitcoin balance and translated to the merchant's local currency. This article will present the best crypto cards to use in 2021 and their benefits.
However, each crypto debit card is unique in terms of the cryptocurrencies it supports, the fees it charges, and the benefits it offers to consumers. Additionally, some of them are only open to residents of specific nations.
So, in high-tech-speak, have you gotten yourself psyched about the idea of paying with crypto cards? Well, are these cards in your hand?
Best Cryptocurrency Cards For Payment
What is a Crypto Debit Card?
Prior to the development of crypto cards, crypto enthusiasts and hodlers (those who like to store cryptocurrency rather than sell it) fantasized about using their digital currencies to pay for products and services. If this were technically feasible, they would need to convert them to fiat currency (USD, Euros, Pounds, etc.) through third-party platforms. To put it mildly, the procedure was cumbersome for everyday purchases.
To address this problem, cryptocurrency credit/debit card services were developed collaboratively by well-known crypto platforms such as Revolut and Bitpay. Coinbase and the launch of the Shift Card were two of the company's early wins. It operated simply by deducting the value of Shift Card transactions from your new crypto balance.
1. Best for US residents: BitPay credit card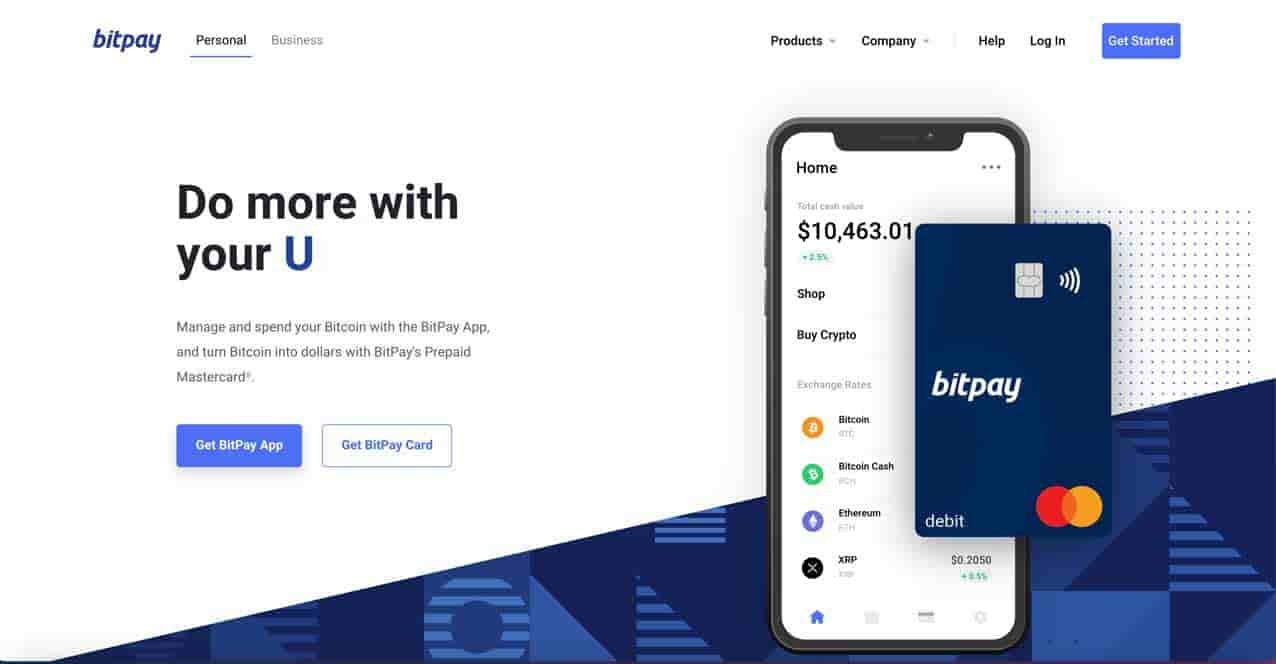 The BitPay Prepaid Mastercard is a relatively straightforward prepaid debit card that enables low-cost crypto spending from a connected BitPay wallet. To use the BitPay card, you must first fund your BitPay wallet with cryptocurrency. If it's activated, you can use it to convert cryptocurrency to dollars. Although network fees may apply to both the transfer and conversion, you will not be charged any additional BitPay fees for these transactions.
While several Bitcoin debit cards are only available in Europe, BitPay, a Bitcoin payment processor, introduced a US-exclusive debit card in 2016. With support for major currencies, no swap fees in the United States, and a large maximum account balance, it's our top pick for citizens of the United States.
Bitpay does not have a cashback program. It has a total spending cap of $10,000 and a cumulative account balance of $25,000.
The card is available for a one-time fee of $9.95. There are no transaction fees inside the United States; however, while traveling outside the region, these fees increase to 3%. Similar to European cards, ATM withdrawals are charged a flat rate in the home area. In this scenario, the fee is $2, rising to $3 outside the United States.
See also: How to Buy Stocks With Crypto
2. Best overall: Coinbase cryptocurrency card
Coinbase's cryptocurrency debit card is a unique product that debuted in Europe for the first time in 2019. The card is regarded as the second-best by enthusiasts, behind BitPay Prepaid Mastercard . It supports up to nine different cryptocurrencies, including Bitcoin, Ethereum, Ripple (XRP), and Bitcoin Cash, Augur, Stellar Lumens, and Litecoin.
The Coinbase Visa card is open to all Coinbase consumers in the United States of America and abroad. This card will be used to make internet purchases, in-store purchases, and withdrawals from ATMs. You can pay with a card using funds from your Coinbase account.
There are no application fees or card fees for users residing in the United States, as long as their Coinbase account is validated. There is a £4.95 issuance charge and a 2.9 percent exchange fee if you live in the United States.
The Coinbase Card supports nine cryptocurrencies and, similar to a regular debit card, the amount you will spend is directly proportional to the bitcoin balance, up to a maximum spending limit of $10,000 and a withdrawal limit of $500 for foreign users. Regular spending limits are $2,500 for US residents and $1,000 for ATM withdrawals.
3. Best For Acceptance: Crypto.com crypto card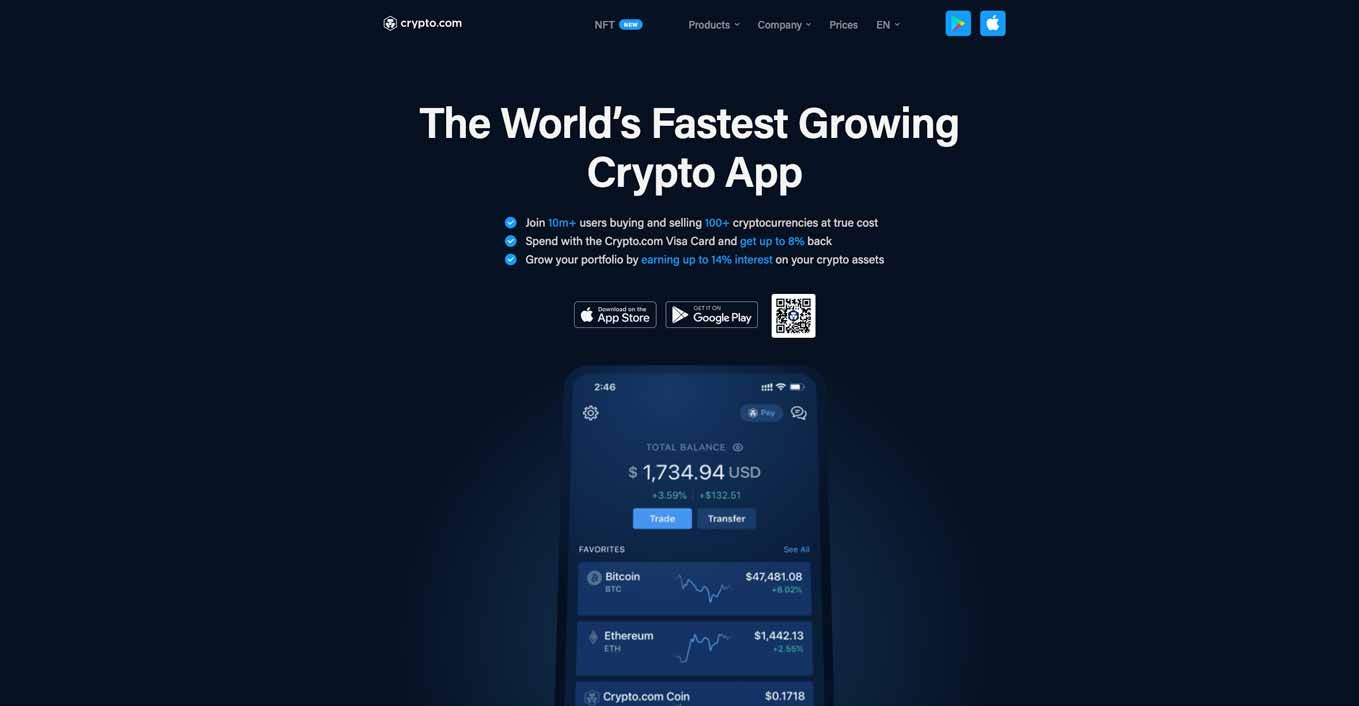 Crypto.com is an excellent entry point into the market, offering a digital asset exchange, a defi wallet, and a staking platform. Additionally, its debit cards are common due to their support for seven fiat currencies and 53 cryptocurrencies.
Crypto.com, more than any other website in this room, provides the most common cryptocurrency card solution with the MCO Visa card. Indeed, the Hong Kong-based corporation was a pioneer in this industry segment, processing millions of dollars daily.
The MCO Visa card is nothing other than a debit card that people will use to deposit their cryptocurrencies. However, what distinguishes it from other options is that it does not require cardholders to convert their savings to fiat while financing the card.
Another plus is that Crypto.com sells its cards in nearly every country on the planet. Users from the United Kingdom, the European Union, the United States of America, Singapore, Hong Kong, South Korea, Thailand, Vietnam, Australia, the Philippines, and New Zealand may apply for a card at the time of writing. Naturally, the organization intends to extend into additional territories.
The Crypto.com community is what makes the MCO Visa card appealing.
See also: Best Crypto Banks
Additionally, they have an altcoin named MCO that you can use in conjunction with your card to take advantage of advantages such as:
Netflix account provided for free
Additional cashback on each purchase
Free Spotify Subscription
4. Best for cashback: Wirex crypto debit card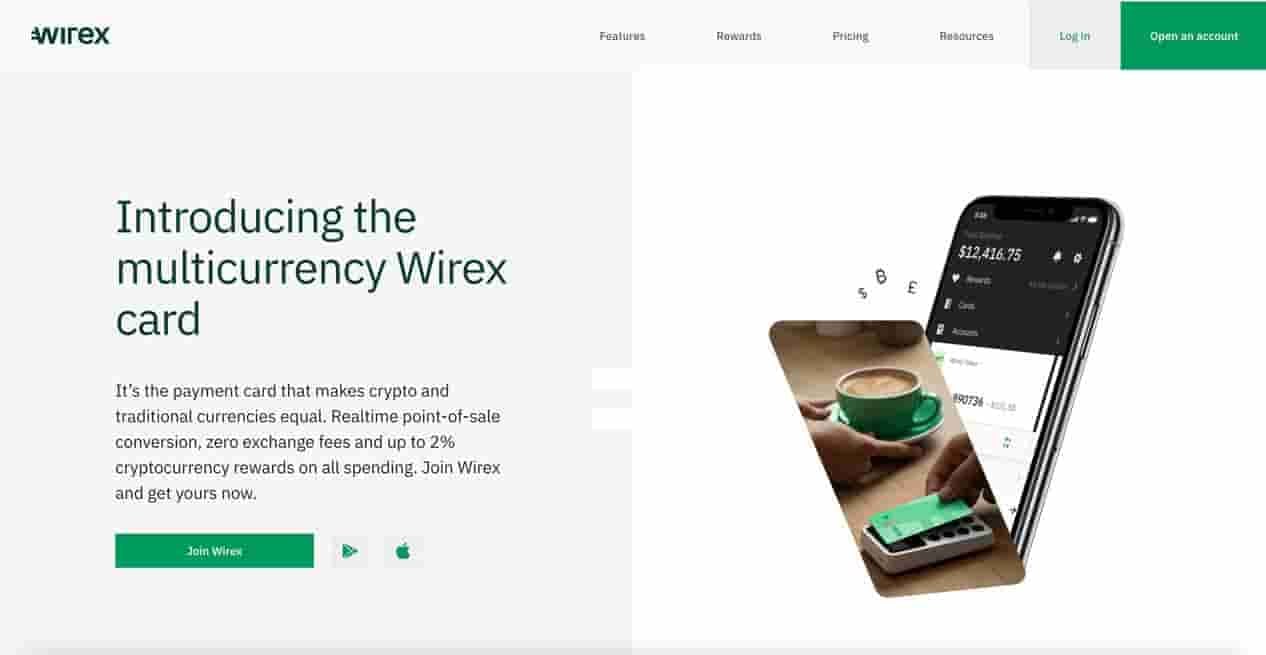 Wirex, which has been in operation since 2014, is another secure solution for cryptocurrency enthusiasts. Wirex, headquartered in the United Kingdom, is one of the first firms to sell crypto debit cards.
Wirex is a financial technology company headquartered in the United Kingdom with branches in North America, Asia, and Eastern Europe. Wirex is one of the most user-friendly services currently available, thanks to its real-time point of sale conversions, fee-free exchanges, and up to 1.5 percent bitcoin incentives for all orders.
When you make a deposit, the Wirex Visa card automatically converts your digital assets to the local currency at the cheapest interbank and over-the-counter rates, with no conversion costs. The card is compatible with 18 distinct cryptocurrencies and conventional currencies.
See also: Best Crypto Interest Accounts
Cryptoback, Wirex's cashback scheme, pays cashback depending on the amount of WXT in your account. The catch is that this offer is valid only for in-store payments; it does not apply to ATM withdrawals or internet transactions.
If you have 50,000 WXT (approximately $965), you can get 0.75 percent back for any purchase made with the pass. This is a monetary allowance in the form of BTC.
If an ATM owes a deposit, the fee is deducted from the amount you will withdraw; for example, if the withdrawal fee is $5, the withdrawal limit is $1395. Additionally, you can withdraw up to 400 SGD every month without incurring any extra fees, after which a 2% charge is added.
5. Best for unique loan: Nexo credit card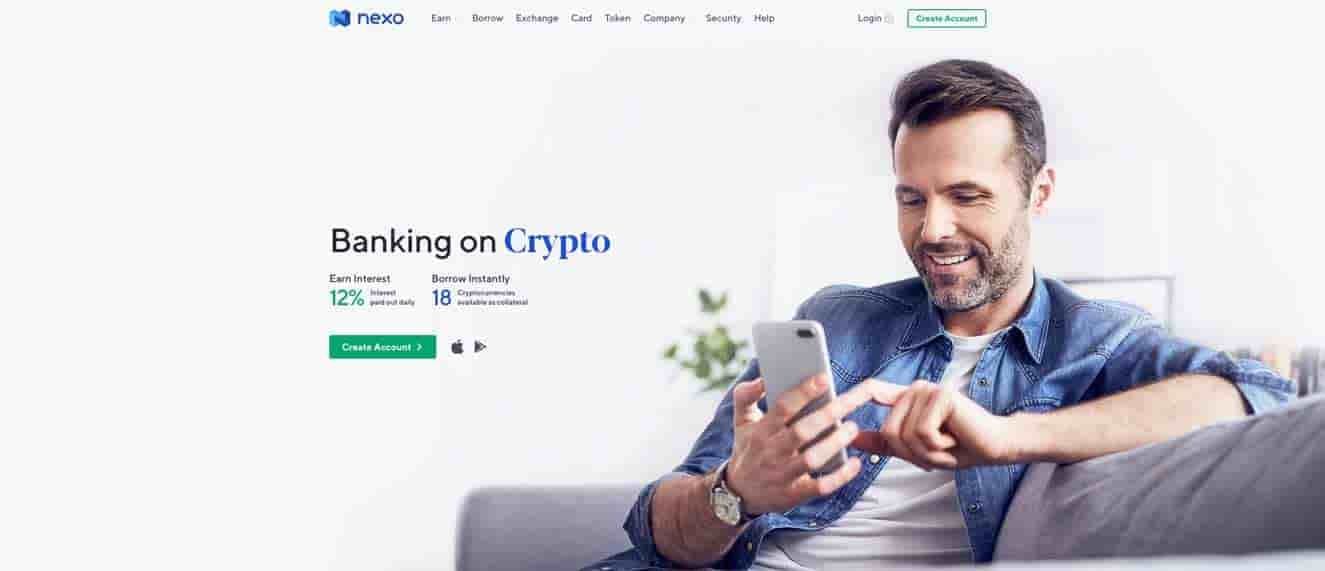 Nexo is the fifth entity on the list. What differentiates it from the pack? Well, you may obtain loans that a bank does not normally grant. According to the platform, it offers loans of up to $2 million, something we have not seen anywhere else.
A borrower will need to build an account and complete a regular KYC (Know-Your-Customer) procedure in order to apply for loans. If you've successfully verified your identity, you can immediately generate a loan using your crypto assets.
Nexo instead provides an immediate loan dependent on the value of your cryptocurrency assets if you use the card, with the transaction being settled in fiat currency. As a result, you can invest the value of your cryptocurrency investments without having to sell them.
You will then repay the loan with either cryptocurrency or fiat; indeed, since the credit line is elastic, the minimum payments are excluded if your cryptocurrency assets appreciate in value. However, if the crypto collateral depreciates (or if you fell behind on payments), you'll need to either deposit more crypto, repay a portion of your debt, or sell some of your crypto deposit to make up the difference.
The crypto credit card can be used through the Nexo Wallet App, which also serves as a repository for funds and loans. Nexo is used by over 40 million retailers worldwide, according to the website.
One interesting feature of Nexo is that you can temporarily disable your wallet. If you ever misplace or get your card compromised, you can immediately lock it using the smartphone app. Similarly, once the card is discovered, it may be unfrozen. With this in mind, you will never need to contact customer service. All is handled entirely by you, which is just as it should be!
There are no monthly or yearly conversion costs, and interest rates are fixed at 5.9 percent; however, you get a 2% cashback of either Nexo Tokens or Bitcoin. It is sponsored by MasterCard, and the added benefit is that purchases can be made in local currencies, which eliminates the need for foreign exchange fees. Nexo is only available in early access in Europe; the organization is "working diligently" to expand access to other territories.
‍How does a Crypto Debit Card work?
In a nutshell, crypto cards work similarly to conventional debit or credit cards. The primary distinction is that they allow crypto investors to pay for everyday products and services directly using their crypto assets rather than converting them to fiat money through a third-party exchange. For those that need it, however, certain service providers encourage cardholders to automatically convert their cryptocurrency to fiat if they use the card.
These plastic cards make use of the Visa/Mastercard infrastructure already in place. As you might already be aware, bank card terminals are a popular (and increasingly preferred) method of payment in millions of stores worldwide. These cards need nothing more than the dealer or customer to insert or tap the key. Indeed, the crypto card operation is so smooth that certain cashiers cannot even notice you're paying with a cryptocurrency, due to the card provider's effective and discrete conversion to fiat.
How to Obtain a Crypto Debit Card?
Numerous large-scale cryptocurrency platforms, such as Nexo, provide cryptocurrency debit cards. If you're looking for a card from a certain company, a short online search will reveal the contact information for multiple cryptocurrency debit card providers. The buying method is straightforward: just visit their websites and apply for one.
Bear in mind that because Blockchain technology straddles the digital and physical worlds, it is heavily controlled by governments worldwide. As a result, they almost often ask you to perform an identity authentication procedure, which includes the submission of a kind of identification. Apart from this minor move and a nominal upfront charge, obtaining the first crypto card is straightforward.
The product range for crypto credit and debit cards is genuinely astounding. Although there are several sites that sell cards, only a select few are worth your time. We've highlighted a few of the most common alternatives in this post.
However, how do you choose the right crypto debit card for you? As you can see, the primary selling point is the fees, which differ according to platform. If fees are your primary concern, you can choose the least expensive alternative.
Protection could be a greater concern for you. It is preferable to use a genuinely respectable and controlled issuer in this situation. What do we suggest? Definitely the MCO from Crypto.com and the Visa card from Coinbase. With a thriving community brimming with numerous features and resources, there is no way to go wrong.
The Future of Crypto Debit Cards
Through enabling blockchain enthusiasts to invest their digital assets directly from their wallets and pockets, cryptocurrency debit cards are expanding the industry's possibilities and bridging the divide between conventional finance and the cryptocurrency environment.
What was once just an idealistic notion in the crypto universe has become a fact. And, as the market continues to grow, we now have access to an increasing number of crypto credit card options that offer an excellent service to customers and companies alike. Crypto cards are empowering the industry and display no signs of slowing down, thanks to cashback incentives and innovative ways to benefit the DeFi ecosystem through the Ethereum Blockchain.