5 Best Crypto Tax Software
If you want to see the Best Crypto Tax Software Tools in one place, then this guide is for you. For this article, we reviewed more than 45 free and paid crypto tax software options that you can use for calculating your cryptocurrency(bitcoin or altcoins) taxes.
Koinly: Best for simple tax calculation
Accointing: Best for importing other tax tools
CoinTracking: Best for personal analysis
Blox: Best for automated crypto accounting
TaxBit: Best for API tax integration
What is the Best Crypto Tax Software Tools?
Although cryptocurrency tax software tools vary in their features and technology, they basically have a common function: to help cryptocurrency traders compute how much they owe their respective governments in terms of cryptocurrency gains. 
Why Do You Need A Crypto Tax Software?
Your need for crypto tax software depends on your location because some states do not require crypto transactions to be taxed while other countries are very strict when it comes to the payment of crypto taxes. 
There are also different policies concerning Bitcoin and cryptocurrencies in different jurisdictions; thus, it is necessary for you to be aware of the applicable rules in your country of residence. 
If your state requires you to pay crypto taxes, then you should definitely have a crypto tax software to help you accurately file taxes and prevent legal problems from arising. 
What To look for in a Crypto Tax Software program? 
Cryptocurrency traders and Bitcoin, Altcoin users have different things in mind when they think about crypto tax software tools. There are many factors to take into consideration because each crypto trader varies in their trading practices. 
Here are some qualifications that can help you choose the best crypto tax software tools: 
1. Integrations 
Crypto tax apps usually use two kinds of integrations:  Application Programming Interface (API) or Comma Separated Values (CSV). API integrations are considered as the most seamless and most accurate type of integration because it involves only the copy and pasting of API keys. On the other hand, CSV integrations are time-consuming and inconvenient because it requires the downloading of transaction histories in CSV format. 
2. Bandwidth 
If you have a lot of cryptocurrency transactions in huge amounts and in multiple exchanges, then you will need a crypto tax software that has a larger bandwidth. This is to prevent the seamless processing of reports.
3. Credibility 
You have to know the importance of submitting correct crypto taxes. There are legal consequences that can gravely affect you if ever you submit wrong information. Here are some things that can help you check the credibility of a crypto tax software.
4. Team 
Who are the people behind the crypto tax software? Apart from being technical professionals, they should also have those who have knowledge and experience in tax regulation and preparation. 
5. History 
How is the feedback given by users to the crypto tax platform? Check forums and reviews about their satisfaction or complaints. 
6. Data Security 
What are the security features offered by the crypto tax software? You have to make sure that your data including all your personal information and transaction details will be confidential. 
7. Media Presence 
Check the quality of their website, see videos of influential content creators related to their products and services, and read about publications by respected journalists concerning the software. 
8. Affiliations 
What brands are affiliated to the software? Are there crypto trading platforms or fintech companies affiliated to it? 
9. Price
Each crypto tax software tool is priced differently from the other. Some traders would look for free cryptocurrency tax software but these free tools would often fail to provide everything that you need with accuracy and ease of use. 
Since crypto tax software developers have also dedicated resources and expertise into the product, it is only reasonable to make a return to their investment. In the same manner, you can also invest a premium amount by subscribing to a crypto tax software that can help you prepare and file an accurate crypto tax that would not be a problem in the future. 
21 Best Crypto Tax Software Platforms
In this section, you will find the Top 21 cryptocurrency tax software that you can easily use for tax calculation, tax preparation, and tax reporting by simply integrating to your crypto exchange platforms and crypto-wallets. 
Koinly 
"Crypto Tax Reports in Under 20 Minutes"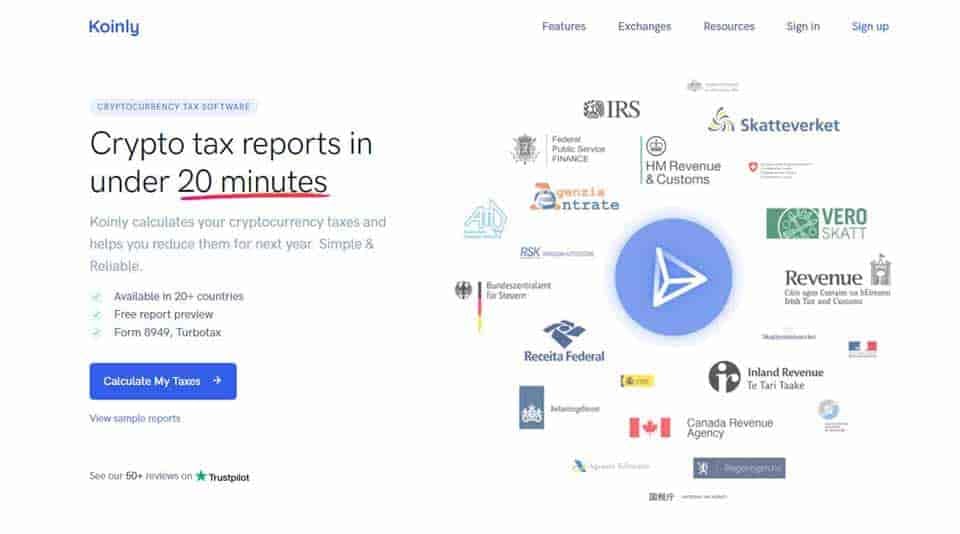 Koinly simplifies cryptocurrency tax calculation and filing through its innovative software. It allows users to easily import their trades via smart transfer matching which uses artificial intelligence to detect the transfer between wallets while still monitoring the original cost of transactions. 
Koinly cryptocurrency tax software also features capital gain previews, portfolio tracking, tax document downloads, and comprehensive crypto tax reporting. It promises to generate crypto tax reports in just 20 minutes and is available in over 20 countries.
To use Koinly, you have to follow only three simple steps. First, import your trades by adding your exchange accounts via API integration or by uploading a CSV file of your transaction. Second, you can get a glimpse of your capital gains and losses for any tax year for free through their portfolio tracking feature. Third, wait for the report to be automatically generated then download your tax documents. Koinly guarantees comprehensive reports that will pass audits.
Accointing 
"The Easiest and Fastest Platform to Track and Report Taxes on Bitcoin and other Cryptocurrencies"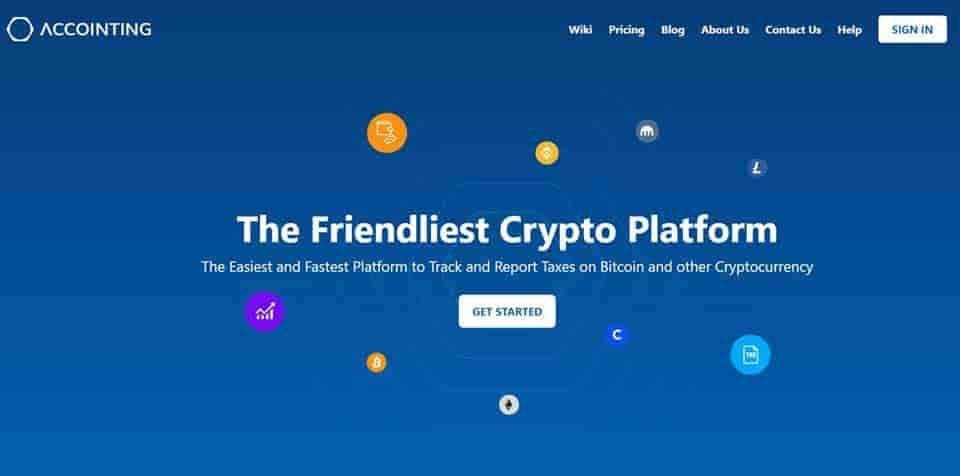 Accointing is an easy Bitcoin and crypto taxation platform that can connect to over 4500 digital currencies and more than 300 crypto wallets and exchanges worldwide. It offers different tax report formats and documents depending on where the user lives. 
Accounting has an automatic portfolio tracker for both desktop and mobile where users can track the performance of the portfolio, receive price alerts and market notifications, see short and long term holdings, and a lot more.You can also seamlessly import other tax tools and brokers into the Accointing tax platform such as Bitcoin Suisse, OSL, Cointracking, and Delta.
This crypto tax software has been featured in Yahoo Finance, The Block, BTC Echo, and Crypto Monday among others. 
CoinTracking 
"The Leader for Cryptocurrency Tracking and Tax Reporting"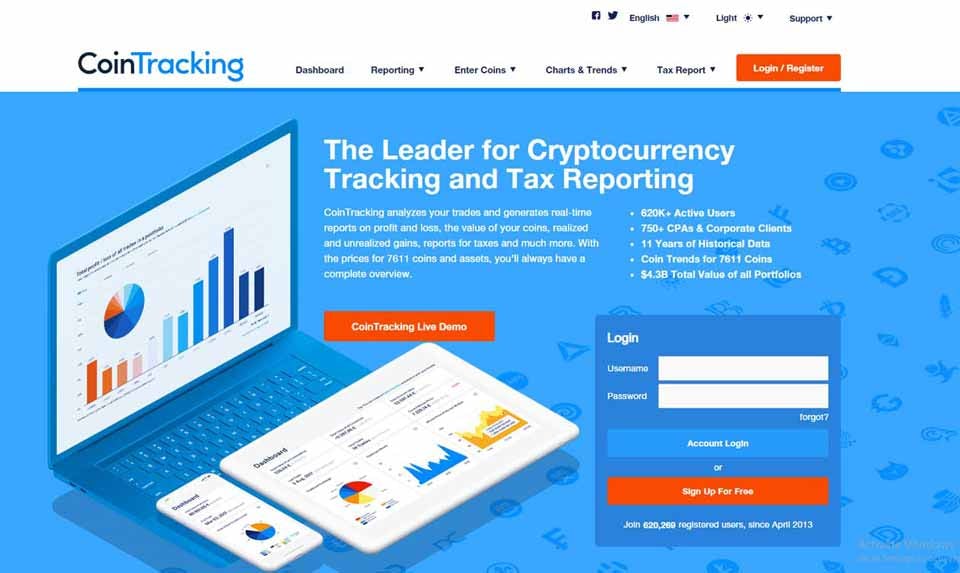 CoinTracking is claimed to have over 650,000 active users with over 750 corporate clients. It has 11 years of historical data and more than $4.3 billion total value of all portfolios. 
CoinTracking cryptocurrency tax software features personal analysis of all transactions that automatically gets figures for realized profits and losses. By using this tax platform, you can get an overview of all your transactions on one single page, be able to see a comprehensive report of your realized and unrealized gains, use interactive charts for trades, and more. 
It allows connection to over 70 crypto exchanges via API and direct syncing in the blockchain. Its security and encryption features include two factor authentication, API encryption, and trade backup restoration. Its professional help services include detailed crypto tax tutorials, data review by tax experts, and data sharing with over 750 CPAs.
This software has been featured in different crypto news and global publications such as CoinTelegraph, CNN, Forbes, and CNBC among others.
See also: How Bitcoin and other Cryptocurrencies are taxed
Blox 
"Cryptocurrency Accounting, Tracking, and Management"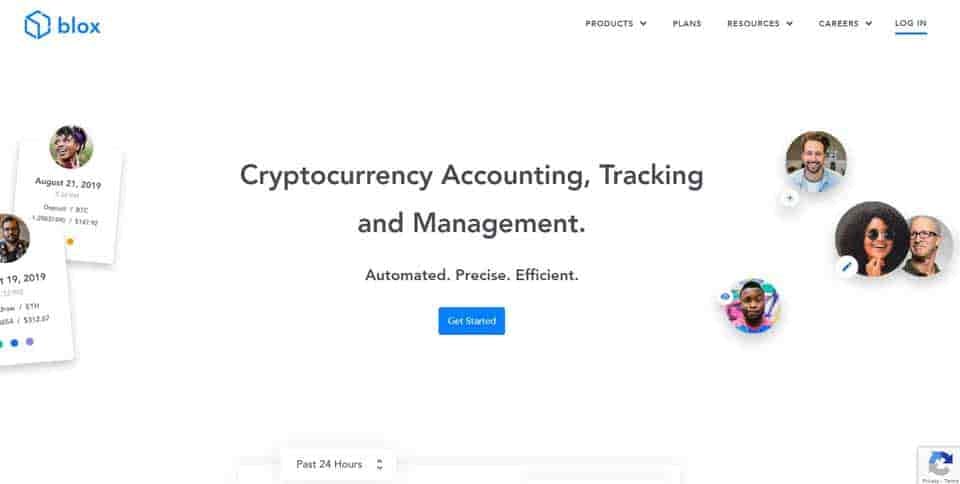 Blox offers automated cryptocurrency accounting, tracking, and management to both individual crypto traders and enterprises. It boasts of a real-time dashboard that allows you to view your balances, assets, analytics, and historical transactions in one place.
Also features sophisticated financial tools developed by professional accountants which allow users to collaborate with their team and build an audit trail.
It also has transaction controls that enable financial report generation and asset classification. With Blox, you can sync unlimited wallets and exchange accounts for more efficient and precise data collection. 
With regard to security and privacy, Blox crypto tax application has a read-only permission system with custom-made enterprise solutions that include TouchID and FaceID. 
The crypto tax services of Blox is perfect for crypto executives, asset managers, blockchain startups, accounting firms, mining operators, and more. 
TaxBit
"Refund-Maximizing, Cryptocurrency Tax Software You Can Depend On"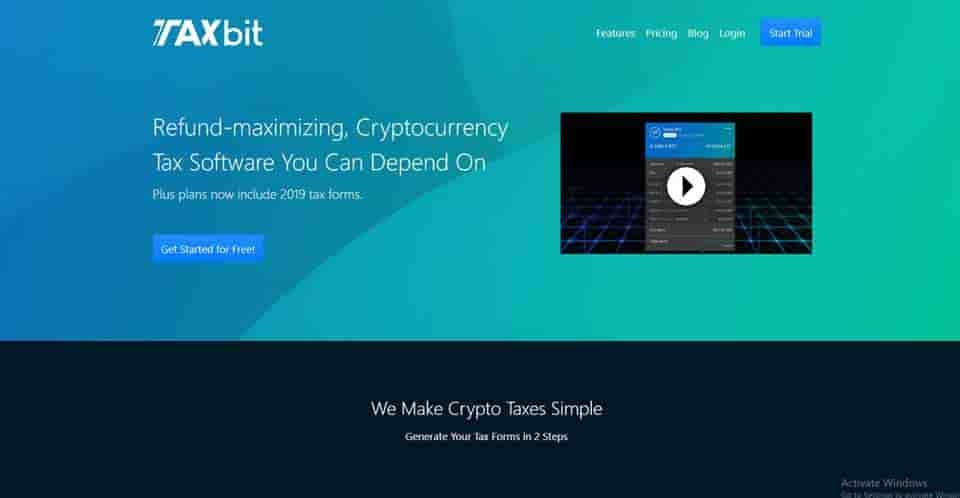 TaxBit is a cryptocurrency tax software that was developed by certified professional accountants, tax lawyers, and technology experts. 
It claims to be a refund-maximizing application that offers easy tax preparation where users can generate tax forms in two simple steps. 
The first step involves the syncing of crypto transactions through a read-only API integration or through an automatic CSV conversion tool.
The second step is when you download the IRS Tax Form 8949 which you can then upload to TurboTax, TaxAct, or be given to your accountant. 
TaxBit supports a full audit trail with complete cost-basic breakdown. It also supports over 4,200 digital currencies, equities, commodities, and traditional currencies.
ZenLedger
"The Fastest and Friendliest Free Tax Tool for Cryptocurrency Investors and Accountants"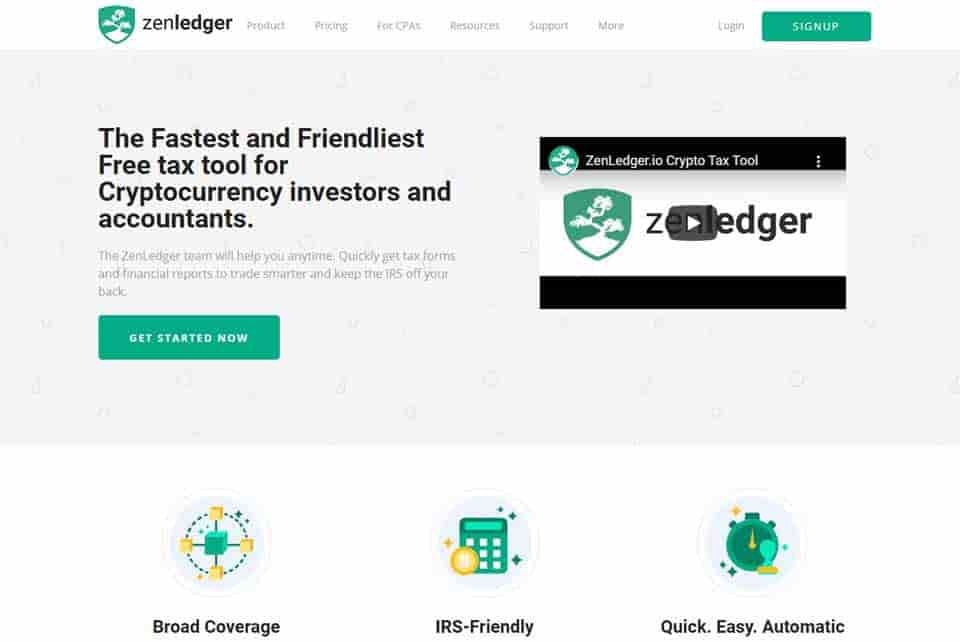 ZenLedger helps you comply with the regulations of the IRS. It offers broad coverage when it comes to the number of exchanges, digital currencies, and fiat currencies supported.
It offers easy crypto tax calculation by providing automatic profit/loss statements for Bitcoin miners, day traders, and crypto investors. 
ZenLedger has a simple interface that allows you to prepare and download your Capital Gains Reports, Income Reports, Donation Reports, and Closing Reports without complexity. These reports are said to be IRS-friendly to help you minimize your taxes yet maintain legal accuracy in your filing.
It is an official partner of TurboTax and has been featured in Forbes and Bloomberg. 
It has different plans with the most basic at zero cost. Although the free plan includes all detailed reports, it is only limited to 25 transactions. If you are a frequent cryptocurrency trader with a lot of transactions, you can check their higher packages for an additional cost. 
BearTax 
"Bitcoin & Cryptocurrency Tax Software"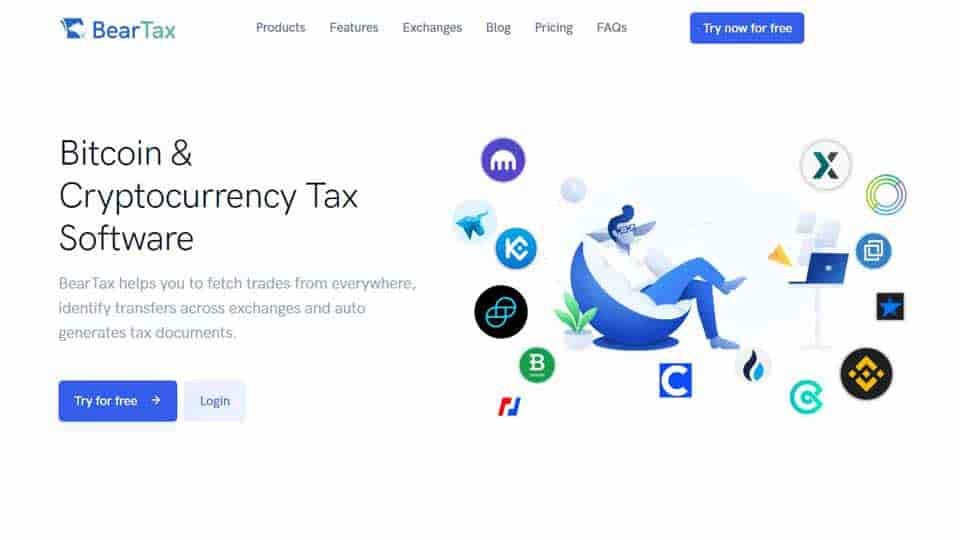 BearTax claims to be the most useful cryptocurrency tax software for fund managers, accountants, and high-frequency Bitcoin or altcoin traders.
It is built with a robust platform that is able to process millions of transactions per minute. 
With BearTax, you can import your trades via API or CSV from over 50 crypto exchanges such as Binance, Bittrex, Coinbase, Huobi, Poloniex, HitBTC, KuCoin, and more.
It also features a smart matching algorithm that allows you to minimize your taxes by identifying transfers across exchanges and wallets. 
Among its most helpful features are auto-generated IRS documentation, easy exportation of tax files to your chosen tax software, and FIFO and LIFO calculations. Its audit trail file gives you a complete picture of the movement of your funds across different years.
Another service it provides is a private consultation with experts or accountants. 
BearTax is a global product with local support teams. Currently, it supports the USA, Canada, Australia, and India.
BitcoinTaxes
"Easily File Your Bitcoin and Crypto Taxes"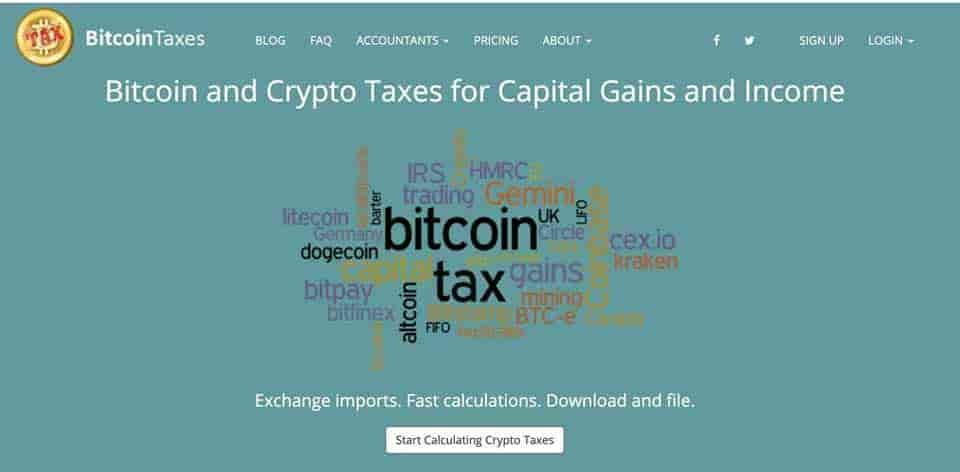 BitcoinTaxes offers full tax preparation services. It boasts of a team of cryptocurrency tax professionals such as tax attorneys, CPAs, and enrolled agents who can help you prepare tax returns, plan your tax strategies, and provide advice on more complicated crypto transactions. 
This crypto tax platform boasts of an easy and simple interface that allows you to generate your Capital Gains Report with details on sale proceeds and gains, Income Report for all calculated mined values, Donation Report with cost basis for gifts, Margin Report for margin trading profits, and Closing Report with net profit and losses with cost-basis. 
BitcoinTaxes features trade history imports from crypto exchanges such as Gemini, Coinbase, Bitstamp, Kraken, Bitfinex, and KuCoin, among others.
It has support for global fiat currencies, Bitcoin, Ripple, Ethereum, and other cryptocurrencies. You can also check our shorting xrp guide.
CoinTracker 
"The Most Trusted and Secure Cryptocurrency Portfolio Tracker and Tax Calculator" 

CoinTracker claims to have over a hundred thousand users in its crypto tax platform. It has over 300 supported crypto exchanges and more than 2500 digital currencies.
Its record also shows that the software was able to track over $20 billion in transaction volumes and claimed over $600 million capital losses. 
CoinTracker features seamless integration of your exchanges and wallets so that you can continuously synchronize your cryptocurrency balances and transactions. By using this crypto tax software tool, tax reports can easily be generated and integrated with TurboTax or your preferred tax software. 
Crypto traders from the USA, UK, Canada, and Australia can get full access to CoinTracker's features. Partial support is available for other countries.
Bittax
"We Make Crypto Tax Filing Simple, Safe, and Easy" 

Bittax is a blockchain-based crypto tax software that helps you optimize your tax results by efficiently tracking your crypto transactions, consolidating your tax liability under the law, and performing specific identification processes on the blockchain. 
It offers full report calculations that are based on accurate historical data which reflects the correct information back to your first-ever cryptocurrency transaction.
It also lets you download complete tax reports that meet the highest standards of your state's tax laws and regulations. 
By using Bittax crypto tax software, you can be confident about the accuracy and precision of your tax reports.
It helps you consolidate your tax liabilities without compromising your data security and transaction privacy. 
LukkaTax
"Prepare Your Cryptocurrency Taxes and See Your Summary for Free"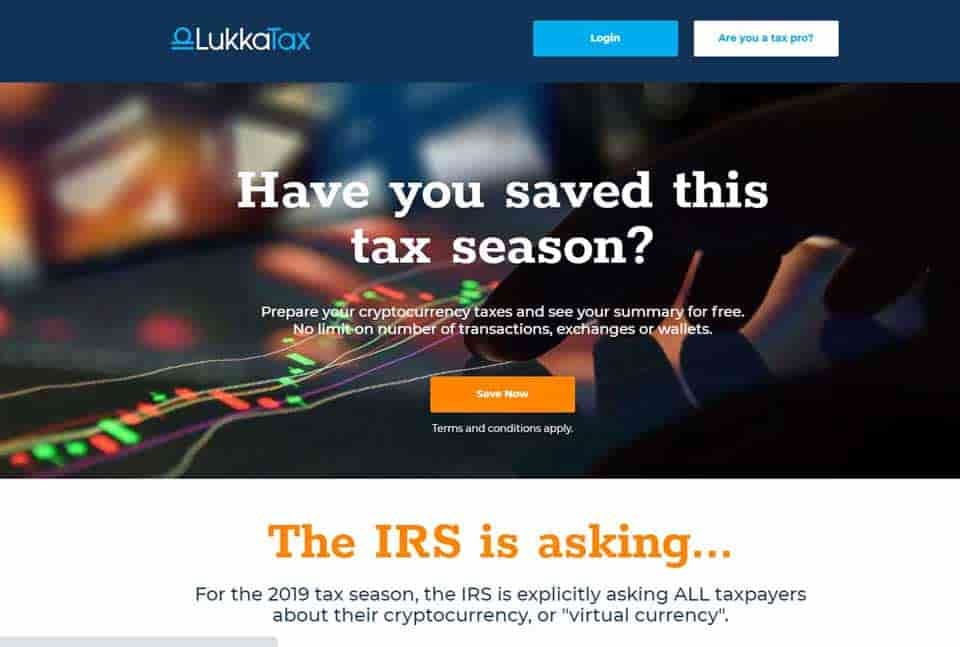 LukkaTax helps cryptocurrency traders and investors abide by the state's tax policies by simplifying the complicated process of crypto transaction tracking. It helps you minimize your crypto tax returns by efficiently processing your transactions and accurately matching all of your accounts for each asset. 
Note that LukkaTax does not use API integration which according to them can be unreliable at times. Instead of API, it offers a drag and drop feature where users can easily add their crypto exchange and wallet files. 
There are more than 3,700 digital currencies supported in this crypto tax software tool with file integration to major cryptocurrency exchanges and crypto-wallets. It boasts of being the only SOC 1 Type 2 crypto tax provider with security features that include multi-factor authentication. 
Node40 
"We Bring Clarity & Simplicity to Bitcoin Taxes"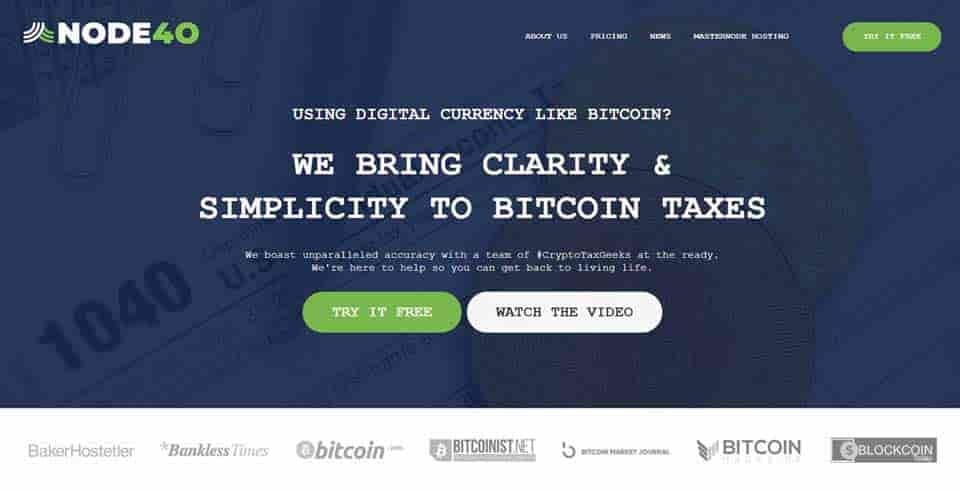 Node40 claims to bring clarity and simplicity to Bitcoin taxes. It boasts of a team of crypto tax professionals who can help you make sense of your cryptocurrency transactions and be able to put them properly into defensible reports and auditable data. 
It offers automated identification of credits, debits, and transfers that take into account the cost basis of transactions.
This crypto tax platform promises full transparency by rejecting the revisionist approach in order to help you understand how your transactions were formed. 
Node40 has a free basic plan which includes access to their simple multi-account reporting technology that lets you track cost basis from wallet to wallet to exchange. This free plan also includes unlimited ledgers from a single exchange, on-screen summary report, data importation from one wallet, and allows up to 1,500 transactions. 
You can upgrade to a premium plan to be able to enjoy other services and features such as unlimited ledger creation from supported exchanges, tax document downloading, foreign account reporting, live chat and phone support, and more.
BlockSentry
"Smarter Cryptocurrency Tax Software"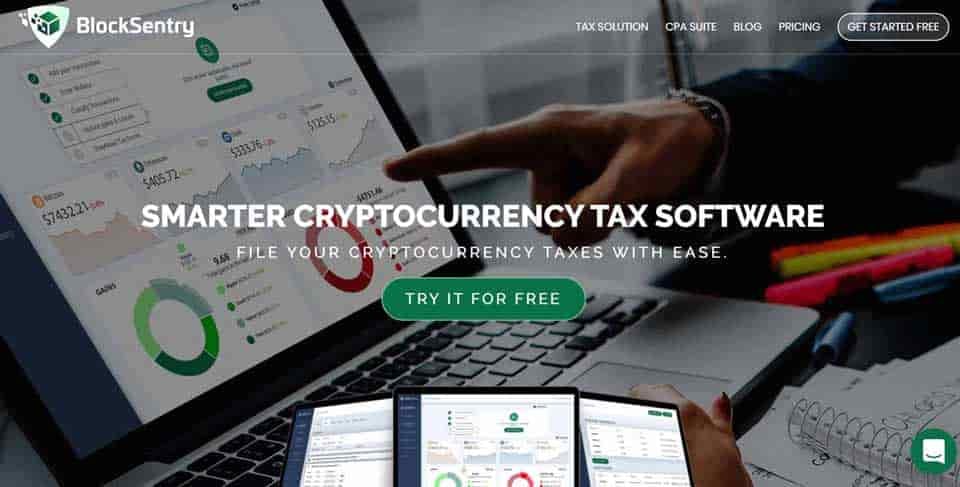 BlockSentry is a time-saving crypto accounting tax software that can help you file your cryptocurrency taxes in a few minutes. It offers an end-to-end compliance solution to cryptocurrency traders and investors who are now facing an increasingly regulated market. 
With BlockSentry, there is no need for you to know about the technical details of accounting because this platform already provides you with easy-to-understand real-time insights on your trading performance with data visualizations and portfolio analyses. 
BlockSentry uses advanced technology through artificial intelligence to help its users save money and save time by automatically filling out tax forms that accurately reflect your tax liabilities to the government while still being able to identify the transfers between exchange accounts and wallets.
Coinpanda 
"The Easiest Way to Calculate Your Cryptocurrency Taxes"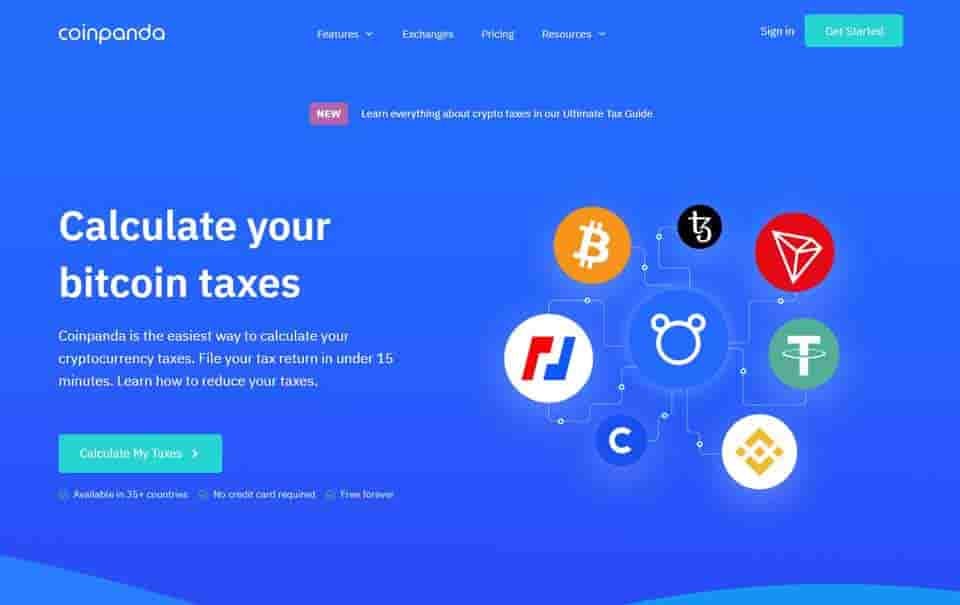 Coinpanda is a crypto tax platform that offers painless and automated tax calculations with a promise that tax file downloads can be finished in less than 15 minutes. It has support for more than 35 countries and over 7000 cryptocurrencies. 
With Coinpanda, you can calculate and file your bitcoin taxes in 3 easy steps - import trades, preview capital gains, and download tax reports.
You can import trades through API integration or CSV file upload. Currently, Coinpanda has direct integration to more than 300 cryptocurrency exchanges and crypto wallets. 
One of the beautiful things about Coinpanda is their personal dashboard that features a powerful platform for gaining insights on your portfolios with profit and loss graphs for further analysis. 
CryptoTax.io
"The Most Reliable Tax Software for Bitcoin, Forex, and Crypto Trading"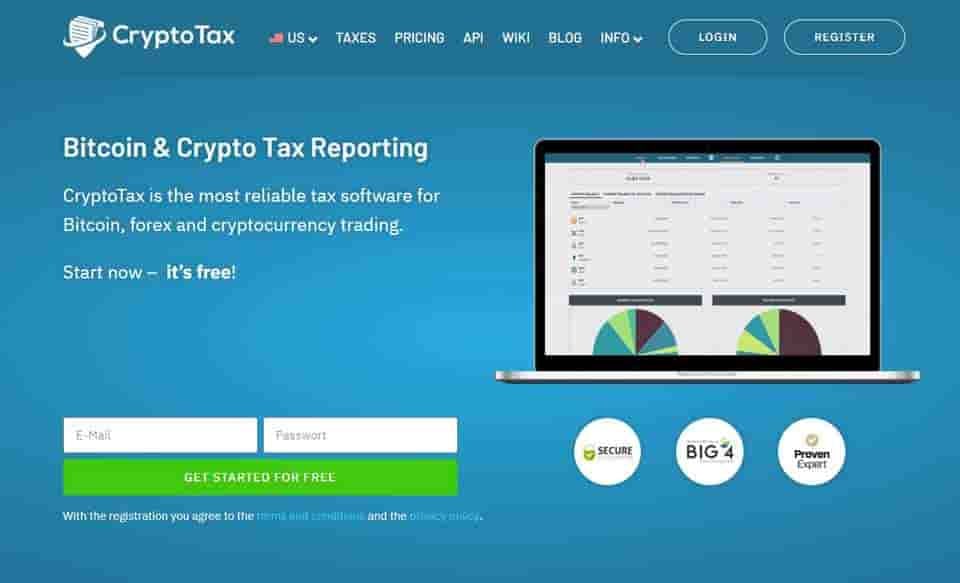 CryptoTax.io is an online crypto tax application that has thousands of customers from different countries such as the USA, Germany, and Switzerland.
It offers crypto tax solutions to both private individuals and institutional investors.
It promises to have the highest level of legal security by being fully compliant of country policies and tax laws. 
CryptoTax.io helps crypto traders use their crypto losses to reduce their tax bills and minimize how much they owe to the government. It uses API imports for the automatic integration of transaction data across supported exchanges
Blockpit.io
"Tax Calculation and Portfolio Tracking for Cryptocurrencies" 

Blockpit is a crypto tax software that can be accessed through its web platform and mobile app.
It features efficient tracking of cryptocurrency portfolios which is characterized by real-time data import and auto-syncing through secure read-only API integration. 
With Blockpit, you can choose different calculation modes such as HIFO, FIFO, LIFO, and more.
Easily calculate your gains and losses to effectively analyze your income from mining or trading.
You can also download your crypto transaction history in PDF and have your tax documents verified by tax professionals. 
Its basic plan is free of charge. It includes API integration, wallet import, and tax report via PDF for up to 50 transactions.
To unlock more features, you can get their advanced or professional plan which can cover 25,000 transactions or even more.
CryptoTaxCalculator 
"Doing Your Crypto Taxes Has Never Been Easier"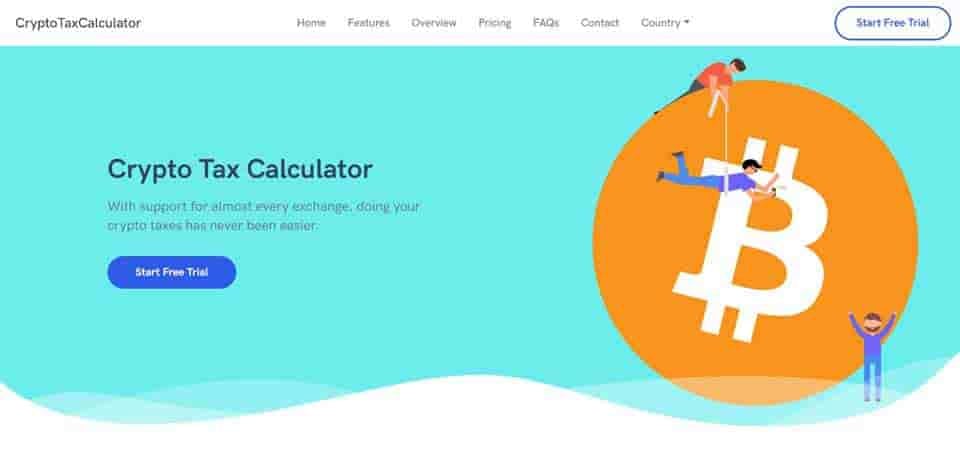 CryptoTaxCalculator can help minimize your tax liability through the use of their calculator that automatically categorizes your crypto transaction history.
It promises to offer an optimized solution to minimize repetitive data and give you accurate tax reports that are easy to understand. 
This crypto tax application supports API integration to your cryptocurrency trading platforms such as CEX, Bittrex, Binance, Bitstamp, Cryptopia, and more.
It also has a smart input feature that quickly updates the database on non-exchange transactions. CryptoTaxCalculator uses Google cloud for data security
Sovos
"Solve Tax for Good"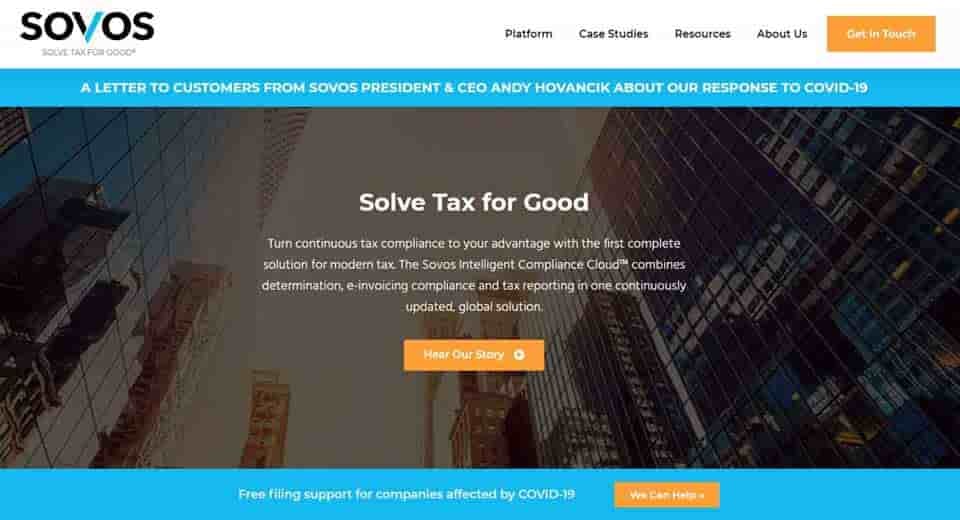 Sovos is an online tax platform that helps entities with their tax reporting requirements. It has various tax solutions which includes cryptocurrency tax software that allows clients to get automated and accurate tax information reporting on cryptocurrency exchanges. 
With Sovos, cryptocurrency exchanges can avoid the risks involved in uncertain regulations and in manual reporting processes.
It provides automation solutions and regulatory insights to help crypto trading platforms protect the legitimacy of their operations. 
It is an experienced partner of crypto exchanges in keeping customers compliant. Its tax ID management system uses proven data verification methods to match tax identification numbers with name data in order to avoid IRS penalties. 
Among its customers are Gemini, Paxos, Binance.US, and BlockFi among others.
Ledgible by Verady 
"The Leading Platform for Crypto Accounting & Crypto Tax Reporting"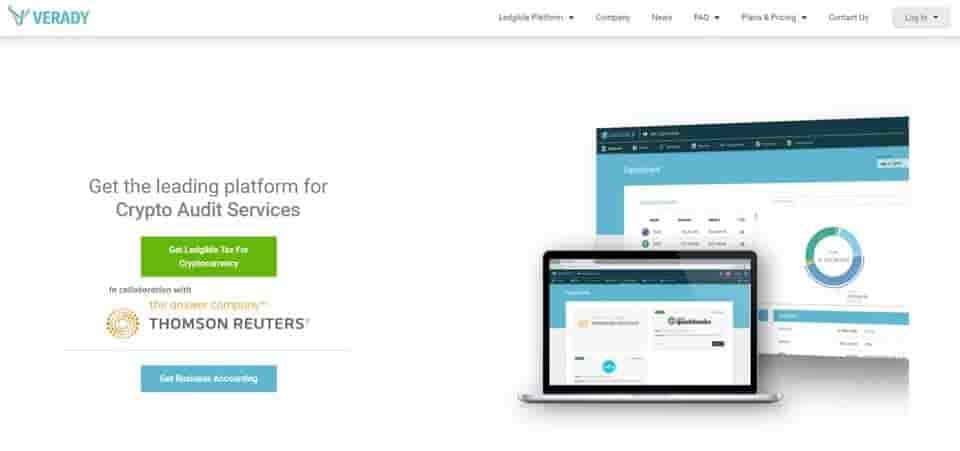 Verady features the Ledgible platform which integrates with the top blockchain and cryptocurrency exchanges today.
It is claimed to be the only blockchain accounting platform with certified integrations for both Xero accounting and Quickbooks Online.
Among the crypto exchanges supported for integration are Poloniex, Binance, Coinbase, and Kraken, among others. 
With Ledgible, you can easily view all your digital assets in a single platform just like how you traditionally view a financial statement from your bank.
Companies such as Aprio, Mazars, and Storj appreciate Ledgible for offering valuable and time-saving capabilities that help them with crypto accounting and financial audits for clients and their own companies. 
They also have a collaboration with Thomson Reuters to offer you efficient and accurate crypto tax solutions. You can fill out the contact form on their website and wait for a representative to contact you for customized services.
4 Best Crypto Tax Calculators
In this section, you will find the Top 4 Cryptocurrency Tax Tools and Tax Calculators developed by some companies to help you estimate and calculate your tax obligations to the government. 
eToro Crypto Tax Calculator 
"Tax Doesn't Have to be Taxing"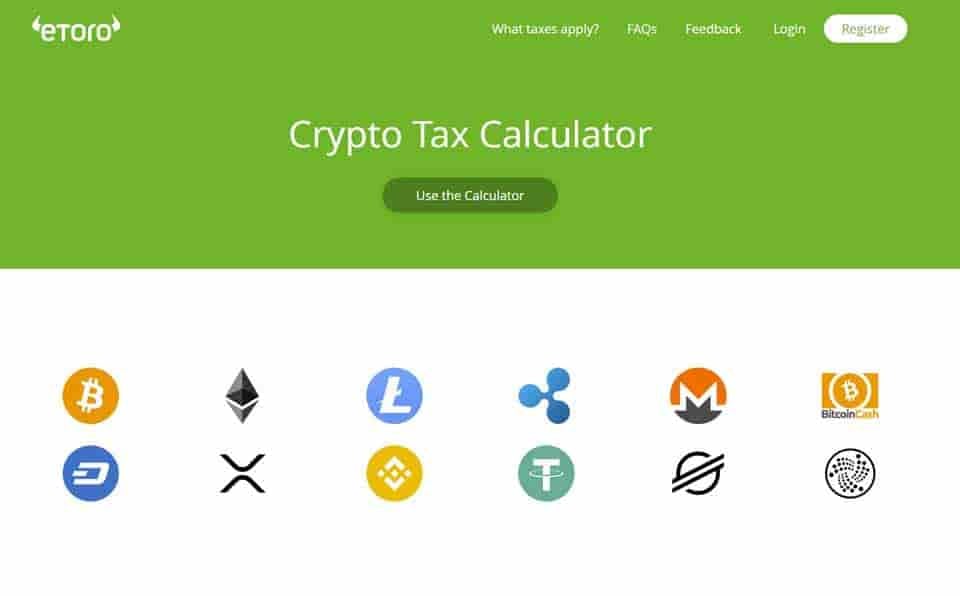 eToro is among the leading social trading and investment platforms. It has developed a free online tax calculator tool to help crypto investors and traders have a better idea about their financial obligations to the government. 
To use the crypto tax calculator developed by eToro, you simply have to fill in the fields required on their information page. You can also manually add trades or import trades for easier calculation. It has different categories such as opening balance, trades, gifts disposes, gifts received, and summary to give you a better overview of your tax requirements. 
Through this tool, you can have an idea about your tax obligations to the government and be able to do the necessary actions based on your plans. 
See also: How Bitcoin and other Cryptocurrencies are taxed
Coinbase Tax Calculator
"The Most Secure Name in Crypto"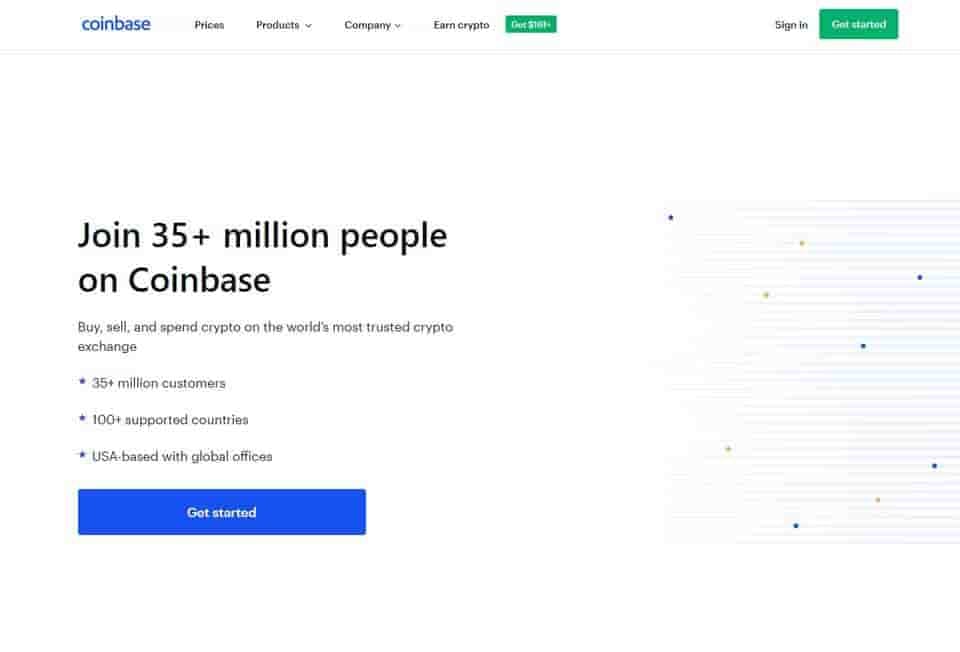 You should be familiar with Coinbase as one of the most popular cryptocurrency exchanges worldwide. In 2019, Coinbase released its newest crypto tax tool to help its users comply with state regulations.
With Coinbase tax calculator tool, individual users in their cryptocurrency trading platform can easily generate a report that provides all information related to the buys, sells, and trades that were done in their Coinbase account.
Through this report, you will be able to report your gains and losses that are based on the cost of your investments. 
The obvious limitation to using Coinbase tax calculator tool is its inability to take into account your digital assets invested, transacted, and kept in a different cryptocurrency wallet or exchange.
Ernst & Young Crypto-Asset Accounting and Tax Tool
"Builders of a Better Banking World"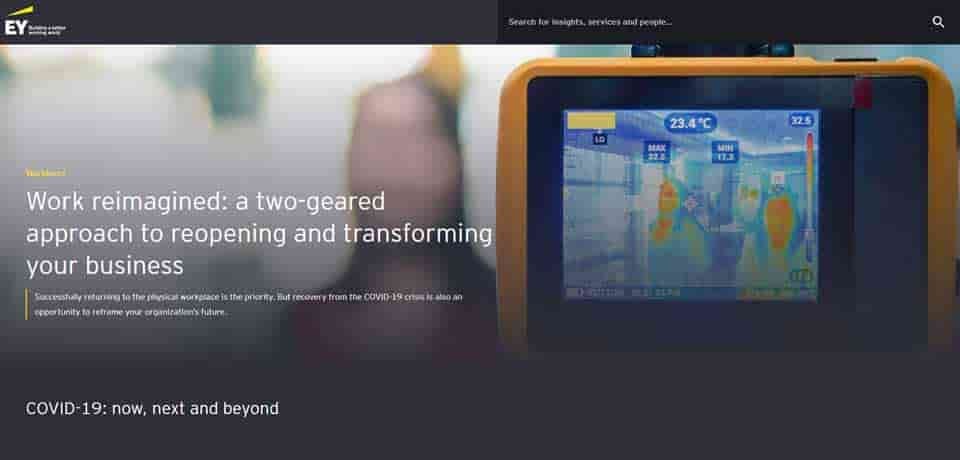 Ernst & Young is a multinational professional services firm that offers a variety of services including assurance, advisory, tax, and transaction advisory services that help clients fulfill their regulatory requirements and keep their investors constantly informed about the needs of their stakeholders.
In March 2019, Ernst & Young launched EY CAAT or the EY Crypto-Asset Accounting and Tax Tool which uses innovative technology to help their clients who are in the crypto-asset space. With the CAAT, clients can now easily share their transaction data because this accounting and tax tool has the ability to source transaction-level information from all major exchanges. 
This crypto accounting and tax tool will be used by Ernst & Young to serve their institutional clients that have digital assets in their balance sheets and even individual clients who trade cryptocurrencies on a smaller scale.
KPMG & Independent Reserve Crypto Tax Estimator 
"A Global Network of Independent Member Firms Offering Audit, Tax and Advisory Services"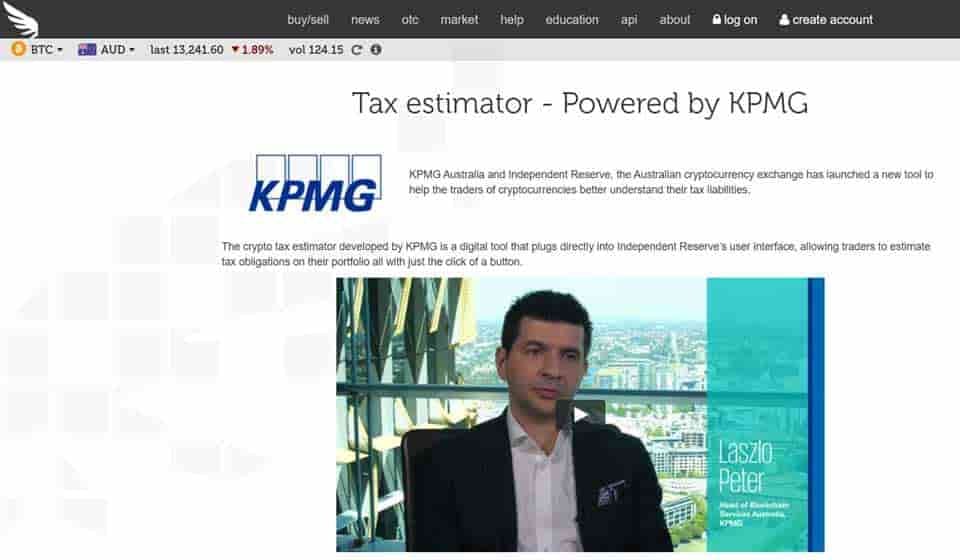 In March 2018, KPMG in partnership with Independent Reserve, launched their very own Crypto Tax Estimator to help those who are trading cryptocurrencies understand their financial obligations to the government. It was developed during a KPMG hackathon through the expertise of people who have experience in tax technology, tax compliance, and blockchain technology. 
KPMG's Crypto Tax Estimator can be used by those who are subscribed to the Australian crypto trading platform, Independent Reserve. 
This crypto tool can be plugged directly into the exchange and lets users see an estimate of their tax obligations through their portfolios. It uses an Application Programming Interface which enables real-time estimation of taxes based on crypto transactions done on the crypto exchange.
11 Top Crypto Tax Accounting Services
In this section, you will find the Top 11 Crypto Tax Accounting Platforms that offer full-service accounting and audit services. Most of them offer customized tax accounting solutions with the help of licensed cryptocurrency tax experts and certified public accountants. 
Kovatax 
"Crypto Tax Reports Completed by a Crypto Accountant"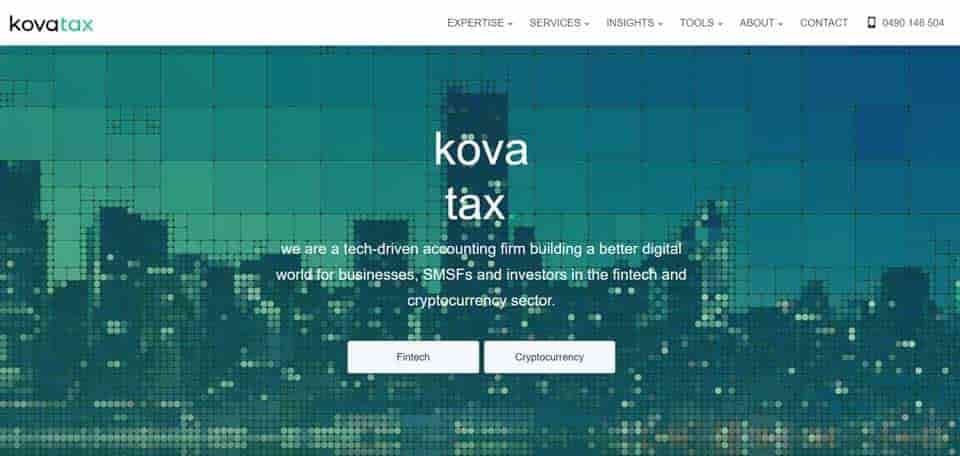 Kovatax is an online platform where cryptocurrency traders, investors, or miners can get help in the preparation and filing of their taxes. It has a team of professional accountants and tax practitioners who have experience in dealing with digital assets. 
Kovatax can supplement your chosen crypto software so that your tax documents can meet the requirements of Australia's tax regulations. 
To have your crypto tax generated by their reputable tax experts, you have to export your data from all trading transactions on the exchange.
Then upload or email the information to Kovatax and wait for them to send you the final copy of the crypto tax report.
Cryptocate
"Your Partner in Cryptocurrency Tax Reporting"
Cryptocate is an Australian-based online cryptocurrency tax platform that helps clients have peace of mind when it comes to complying with their financial obligations to the government. It offers innovative cryptocurrency tax solutions through personalized consultation services that let Bitcoin traders, altcoin investors, and crypto miners understand their tax requirements in relation to their crypto transactions. 
To get your tax reports from Cryptocate, you simply have to follow three simple steps
First, get a free discussion to assess your trading activity level then get a custom quotation.
Second, send your trading data with their help and guidance.
Third, wait for your CGT report that will be delivered directly to your accountant. 
Although Cryptocate does not have crypto tax software, Australian crypto traders and Bitcoin investors can still benefit much from it because of the personalized tax solutions it offers. It makes your complicated crypto transactions much more understandable even to your accountant who may have zero or little knowledge about cryptocurrencies. 
International Blockchain Accounting 
"Leading Experts in Crypto Accounting"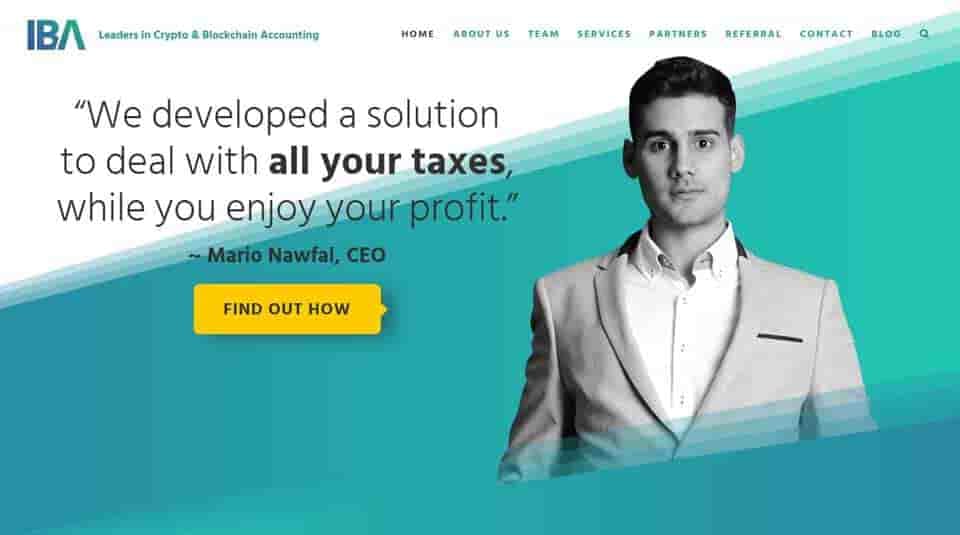 International Blockchain Accounting (IBA) is claimed to be the first and only national fintech company to offer cryptocurrency and blockchain tax preparation and accounting consulting services. They have a team of US-certified public accountants and cryptocurrency experts who can help you comply with the current regulations on crypto taxation. 
IBA helps various clients such as high-frequency crypto traders, blockchain leaders, ICOs, asset managers, blockchain businesses, crypto executives, and crypto miners. They are available all year round in the entire USA for asset protection, tax estimation, accounting, and tax planning, among others. 
You can schedule a 30-minute consultation with their experts and see how they can give you customized crypto tax accounting help.
Harvex
"Expert Accounting for Emerging Markets "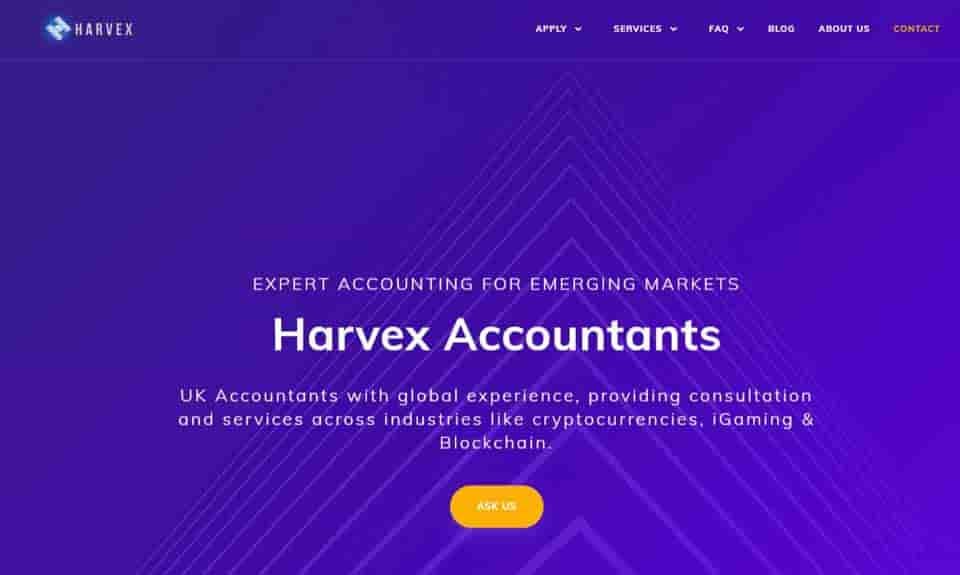 Harvex is a UK company that focuses on the provision of professional accounting and financial consultation services to businesses that are in the blockchain, iGaming, and cryptocurrency industries. 
With expert tax accountants in the United Kingdom, Harvex can help you file accurate and legally compliant cryptocurrency taxes for your crypto trading transactions, altcoin investments, or Bitcoin mining operations. 
Although the Harvex team is composed of UK accountants, their services are not limited to British clients. They also offer global cryptocurrency services to help corporate entities and individual crypto traders with their cryptocurrency tax compliance, bookkeeping, and licensing. 
Braant Accounting 
"Certified Tax Accountants & Bookkeepers"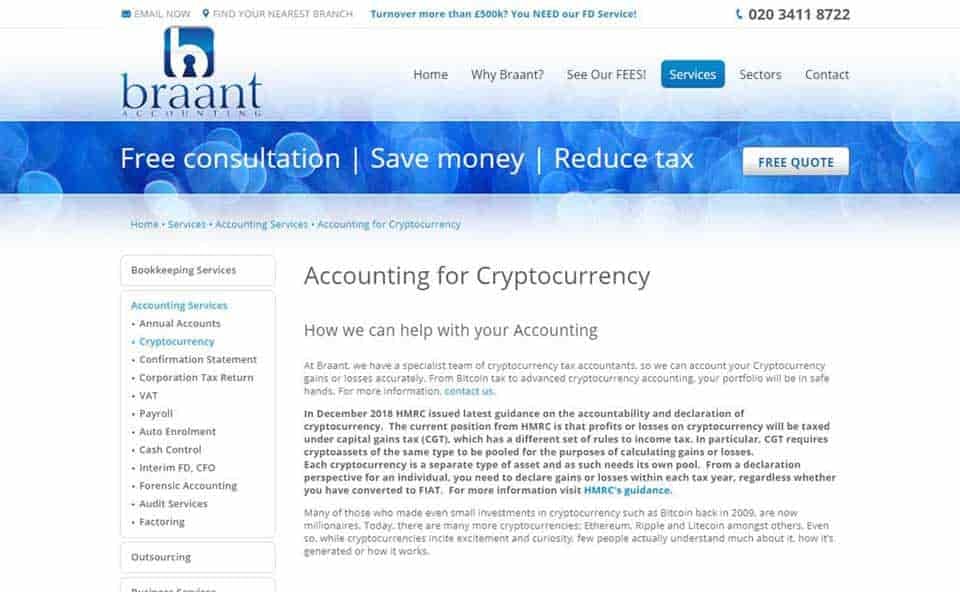 Braant Accounting promises to offer exceptional accountancy services in the United Kingdom. They have received multiple awards for being an excellent player in the accounting and bookkeeping industry. 
Although not entirely focused on cryptocurrency taxes, Braant Account can still help crypto traders, Bitcoin miners, or altcoin investors in the UK when it comes to the preparation and filing of their crypto taxes. By getting the crypto accounting services of Braant, you can be sure that your documents are HMRC compliant and prevent legal problems in the future. 
Braant has been in the UK accounting industry for over 30 years now and is registered with the Institute of Certified Practising Accountants. It offers free consultation with flexible pricing packages.
Azran Financial 
"Cryptocurrency Tax Experts with Extensive Unparalleled Blockchain Accounting Experience"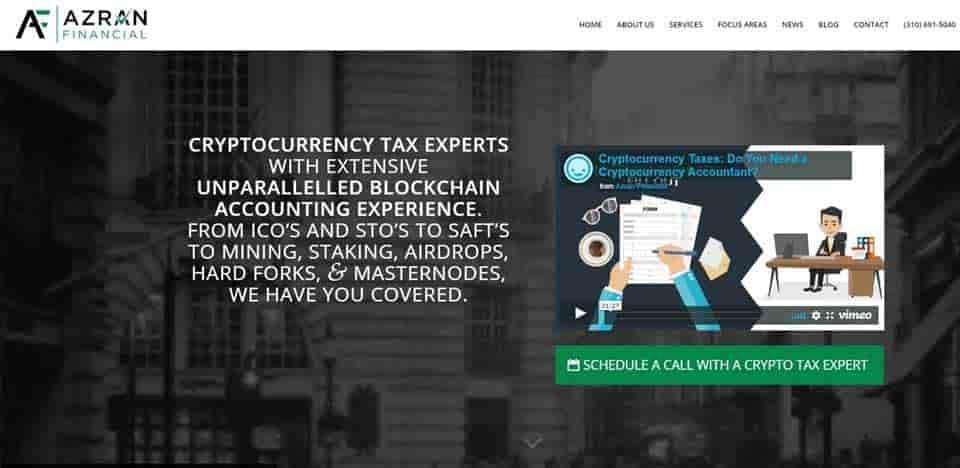 Azran Financial has a team of professional tax accountants and consultants who can help you settle your crypto tax obligations to the US government. Although Azran does not have a particular crypto tax software, there are multiple benefits to using their services in addition to subscribing to an electronic crypto tax tool. The professional expertise of their accountants can complement your chosen software to make sure that you are indeed complying with the tax regulations of your state regarding cryptocurrencies. 
Azran helps you accurately account your digital assets and crypto transactions from various activities like trading, mining, airdrops, and hard forks, among others.
TaxingCryptocurrency 
"Trusted Cryptocurrency CPAs"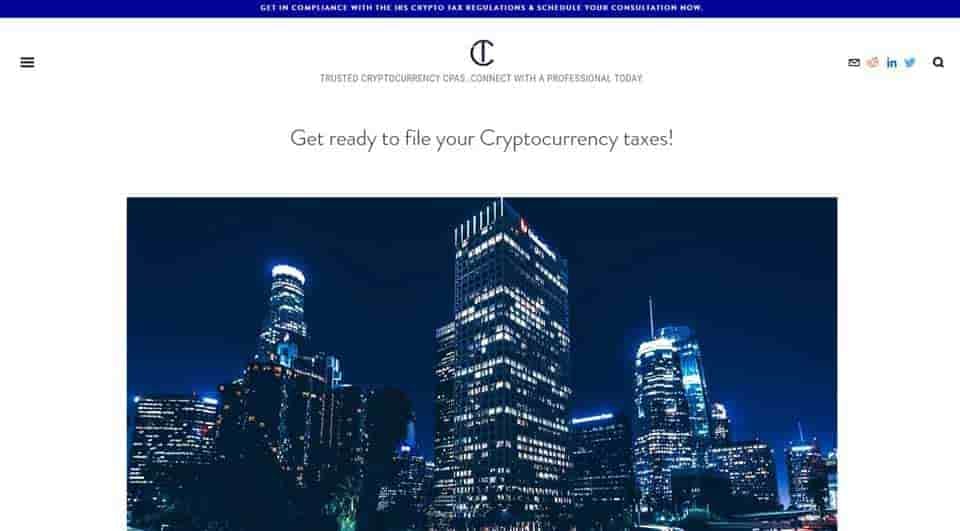 TaxingCryptocurrency is an innovative tax and account firm that is focused on minimizing the tax liability of their clients. They have a team of licensed and certified professional accountants who have significant experience in cryptocurrency taxation. 
They offer a free consultation to cryptocurrency trading professionals, Bitcoin investors, and crypto miners who need to understand more about their tax obligations to the government. Among the services they offer are cryptocurrency investment reconciliations, tax planning, tax return preparation, and tax compliance. 
You can get the services of the professional CPAs from this firm alongside your chosen cryptocurrency tax tool to make sure that you are indeed adhering to your state's tax regulations.
FullStack Advisory 
"Accurate, Easy & Secure Crypto Tax Returns"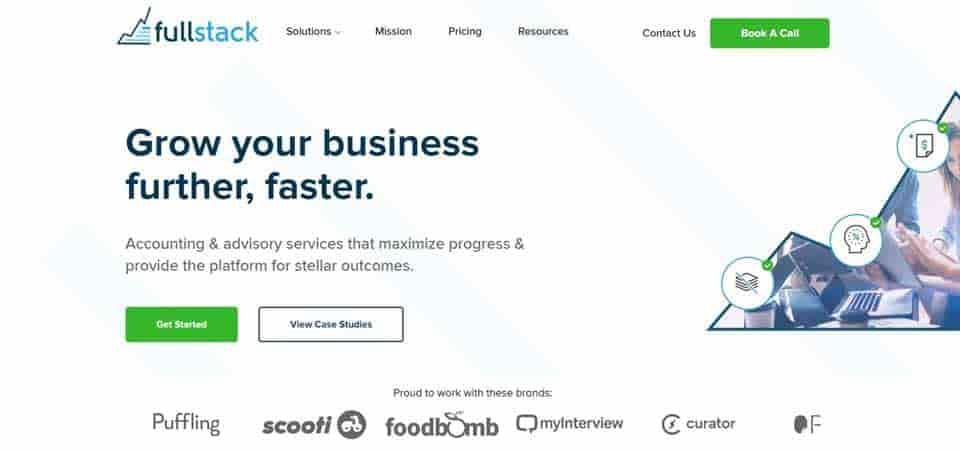 FullStack Advisory boasts of qualified cryptocurrency accountants who can let you understand your financial obligations to the government relative to your virtual currency transactions. They specialize in crypto tax preparation, regular tax education, and tax compliance, among others. 
FullStack promises professionally prepared crypto tax returns, accurate tax report information, 100% free audit assistance, year-round support, and quick document turnaround. 
They offer different crypto tax return packages starting at $450 per year for the most basic package which includes tax preparation, tax filing, bookkeeping, and reconciliation for up to 200 transactions in a single exchange for the entire year. 
FullStack is not a crypto tax software but an online platform where you can get expert crypto accounting services. Consultations can be done through video or phone calls and data are collected in CSV format. 
Brookside Accounting 
"Cryptocurrency Accounting & Tax Prep" 

Brookside Accounting helps crypto traders and investors in the USA with the preparation of accurate tax returns and the navigation of the constantly changing IRS laws to make sure that their clients are being compliant of such regulations. 
Their specialized cryptocurrency services include retrieval of data files from your exchange, preparation of tax returns, correction for past tax returns, and data-driven accounting to determine both short and long-term gains. 
Their certified public accountants also offer bookkeeping works, business tax strategy services and customized financial solutions. 
Crypto Tax Advisors 
"We Provide Full Range Accounting and Tax Services for Individuals and Businesses with a Strong Focus in Cryptocurrency Taxation" 

The people behind Crypto Tax Advisors have been in the public and corporate accounting industry for more than twenty years now. They have expert knowledge and a breadth of experience in cryptocurrency taxation in the United States of America. 
Crypto Tax Advisors offer a "Done With You, Done For Your" crypto tax calculation which is an outsourcing services offered to tax practitioners and accounting firms that have no confidence in traversing the newly discovered path of cryptocurrencies. 
They also help those who are buying and selling in cryptocurrency trading platforms with the preparation of their tax returns, planning of their taxes, reconciliation of their crypto transactions, and representation during tax audits. 
Crypto Tax Advisors is a member of AICPA and VSCPA. They have been featured in CryptoTrader.Tax, Coindesk, Bloomberg Tax, and CoinTracking, among others.
Easy Crypto Hunter 
"Our Specialist Crypto Accountant can Help Individuals and Businesses with All of Their Crypto Accounting Needs" 

Easy Crypto Hunter is a premier GPU mining rig provider in the United Kingdom. As part of their service to the crypto community, they also established a crypto accountancy department that specializes in crypto taxation rules. 
They have a team of fully qualified chartered accountants who can help you create accurate accounts of all your digital assets and cryptocurrency investments so that you won't have any problem with legal compliance. 
They can help cryptocurrency traders, Bitcoin miners, crypto businesses and altcoin investors with hardware write downs, trading taxation, VAT calculations, end-of-year accounts, and more. 
3 Best Tax Preparations And Filling Software

In this section, you will find the Top 3 tax software for easy tax preparation and tax filing. You can use these software in conjunction with your chosen crypto tax tools and accounting software. 
TurboTax
"Get Your Maximum Refund from the Comfort of Home"

TurboTax is among the most popular and reputable online tax platforms that offer comprehensive solutions to individuals and businesses. It promises to help you get your maximum refund and minimize your tax liabilities. 
Although TurboTax is not devoted to cryptocurrency tax report preparation per se, you will still need TurboTax if you want hassle-free filing of taxes at the comfort of your home. You can first subscribe to a crypto-dedicated tax tool and use the report generated from it to Turbotax. 
TurboTax tax filing can easily be done by simply answering basic questions related to your financial transactions. Then you will have to capture a photo of your W-2 , verify your personal data, and wait for the information to be securely filled out on your tax forms. 
TurboTax assures 100% accuracy in their tax calculations with maximum refund guarantee. 
TaxAct 
"$0 Federal. $0 State. Free Simple Returns."

TaxAct is another online tax platform that you can use in support of your crypto tax tool. It claims to have helped over 65 million federal returns through electronic filing since 2000. 
Among the tax tools available in TaxAct are tax calculator, tax bracket calculator, self-employment calculator, and more. It offers affordable digital tax preparation services with forms that are IRS-approved. 
With TaxAct, you can file your tax obligations without complexity and hassle because of the DIY tax preparation solutions that are available online, in mobile, and through downloads. It guarantees maximum refund and 100% accuracy.
QuickBooks 
"See Everything So You Can Do Anything"

QuickBooks is one of the widely used accounting software by freelancers, small enterprises, and medium-sized businesses. With QuickBooks, you can efficiently track your company's expenses, create custom invoices, run accounting reports, and more. It allows you to manage your books from different devices such as your desktop, laptop, or smartphone anytime you want. 
Although QuickBooks is not specifically a crypto-dedicated accounting software, it is still proven to be helpful for cryptocurrency traders, miners, and investors when it comes to managing their transaction history and recording their crypto holdings. 
Acuity has recommended QuickBooks for cryptocurrency accounting due to many reasons including its features that enable crypto receipts and digital currency support via foreign currency function.
6 Best Crypto Accounting Software

In this section, you find the list of Top 6 cryptocurrency accounting software that can help you keep track of your digital assets. Although they are not particularly dedicated to tax accounting, their features are extremely helpful for the accurate and easy accounting of your crypto transactions. 
SoftLedger 
"Automated Accounting for Your Cryptocurrency Transactions" 

SoftLedger is a trusted crypto accounting software that offers seamless integrations with cryptocurrency exchange platforms such as Bittrex, Coinbase Pro, Bitfinex, Kraken, Binance, and Bitstamp, among others. 
With SoftLedger, you can automatically track your realized and unrealized cryptocurrency gains and losses with live market rates and at cost basis details. You can also easily look at your cryptocurrency transaction reports using SoftLedger's powerful financial reporting software that can merge both crypto and fiat accounting. 
This cryptocurrency accounting software features multi-dimensional account charts, customizable reporting, detailed on-chain transaction viewing, automatic transfer tracking with cost basis, and more. 
Base Plan is at $399 per month. This includes inventory management for up to 500 SKUs, audit logs, online support, automatic bank feeds, crypto accounting for up to 5000 transactions, and more. 
If you have other businesses apart from crypto mining or bitcoin investments, you can take advantage of SoftLedger's services that also goes beyond crypto accounting.
Kaunto 
"Accounting and Bookkeeping for Companies Using Cryptocurrency Made Easy" 

Kaunto is a bookkeeping software for companies that are using cryptocurrencies for investments, trading, and transactions.By connecting your crypto wallet, exchange, and bank account, you can enjoy hassle-free monitoring of your outgoing and incoming crypto transactions. 
It allows you to overwrite, annotate, and classify crypto transactions in batches for a more efficient management of your time. You can also better understand your business expenditures with the help of Kaunto's chart of accounts. Its audit trail lets you keep track of everything including the conversion rates and original prices of your crypto transactions.
Cryptio 
"Bookkeeping Software for Digital Assets"

Cryptio is accounting software that can help cryptocurrency investors and digital currency traders with their bookkeeping needs. With its technology, users can accurately translate their crypto data into accounting information that can be used as a basis for tax reporting, audit trail, business planning, and more. 
With Cryptio, you can consolidate your crypto trading transactions by syncing your crypto wallet's public address and read-only exchange API keys and enjoy seamless tracking of your orders, earnings, losses, and withdrawals. Its automated bookkeeping solutions helps you take control of your business and your time. 
Cryptio uses a compliant valuation system where prices are reflected at the exact time of the transaction so that reports can be generated accurately. It also offers in-person support in case you are using a traditional accounting system. 
Cryptio has been featured in Coindesk, Les Echos Business, Capital, and Decrypt.
AEM
"Blockchain Accounting Software Made for Your Business"

If your business uses alternative currencies such as Bitcoin and altcoins, then AEM can help you streamline your financial accounts and transaction books. AEM is claimed to be the next-generation accounting software that offers an automated accounting system and financial process innovation. 
With AEM, customers can be relieved of the stress and worry of monitoring and tracking the flow of their crypto transactions. It uses an automated system that extracts information directly through the blockchain which makes the information verifiable and easily accessible. This integrated crypto accounting tool enables easy conversion between fiat and crypto transactions for more effective financial reporting. 
AEM is proudly compliant with tax policies and standards.
Website: https://www.aemalgorithm.io/
Sara Technologies 
"Blockchain Accounting Consulting" 

Sara Technologies is a USA-based company that has developed a blockchain accounting software system that can be used by businesses and organizations in the management of their ledger. Because they use blockchain technology, you can be certain that the information contained within the ledgers are accurate and tamper-proof. 
By using their blockchain audit and accounting software solutions, you can safely and securely upload your crypto wallet transactions so that you can see accurate valuation data for every transaction. You can also experience quicker and more accurate data transfers for the preparation and generation of accounting reports.

Lumina
"Do Your Taxes Right"

Lumina is a crypto-native financial platform that serves as an operating system for some digital assets. It offers institutional-grade solutions for portfolio management, accounting, tax preparation, and crypto enterprise streamlining. 
With Lumina's tax and accounting system, users can construct a full history of your digital asset transactions and investments from cryptocurrency exchange platforms and crypto-wallets. It features a full general ledger and chart of accounts with support for crypto native concepts like hard forks, airdrops, and mining, among others. 
Using Lumina can make tax documentation and report generation precise and accurate because it auto-resolves transactions across crypto trading platforms and blockchain wallets.
Conclusion Crypto Tax Softwares
With the complicated nature of cryptocurrency transactions, it may be difficult to settle your tax obligations to the government without the help of these crypto tax tools and accounting software. It is always wise to take advantage of these developments in tax accounting to protect yourself from possible legal consequences. 
This list of best crypto tax software tools was compiled by Altrady - a crypto trading platform that offers convenient multi-exchange trading and portfolio management solutions.
‍