Best cryptocurrency trading terminals allow traders to monitor their portfolios and transact through various exchanges through a single intuitive platform. If you're new to cryptocurrency trading or a seasoned altcoin trader, trading terminals have some of the most reliable methods for trading several markets concurrently.
For cryptocurrency traders, efficiency is critical, whether in terms of speed, arbitrage possibilities, intuitiveness, or simplicity. Trading terminals are built with the dealer in mind.
However, if you are new to cryptocurrency trading terminals, it can be difficult to determine which one is better for you.
That is why, in this report, we will examine each crypto trading terminal available on the market, determining what sets them apart from the competition and, more importantly, assisting you in understanding what they have to offer.
4 Best Professional cryptocurrency trading terminals:
What Are Crypto Trading Terminals?
Crypto traders use trading terminals to connect to exchanges using APIs. Traders that use third-party trading terminals have access to features that are not accessible on the exchange.
Through connecting to several exchanges, trading terminals can serve as a central hub for a portfolio's connections across exchanges. Traders use a centralized terminal service to simultaneously manage orders on various exchanges.
What Are The Best Features of a Top Crypto Terminal
Compiling trading information in graphical form.
Enabling more advanced orders with procedures like leading strategies utilizing data analysis and trading tools.
What are the best crypto trading terminals?
Investors may use trading terminals to position orders for the purchase and sale of digital assets, automate routine operations, and conduct sophisticated plans that would not be feasible without a trading terminal. Several of these tactics can also entail trading several assets concurrently.
1. Altrady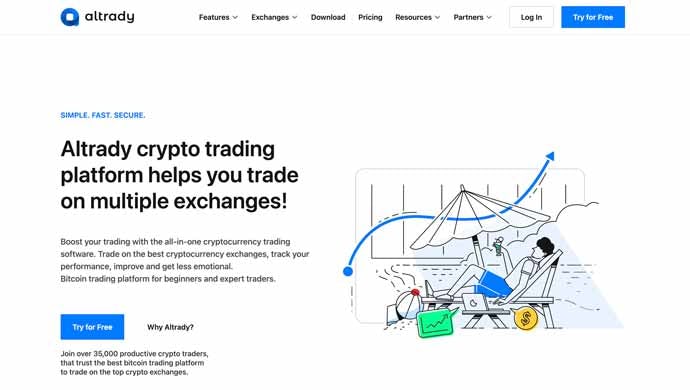 Altrady is a multi-currency trading terminal and signal facility for professionals.
This interface enables highly sophisticated monitoring of multiple trading accounts across multiple exchanges. Even with some of the most innovative alternative tools currently available. Among these methods is the ability to handle portfolios and transactions using specialized order forms. Break-Even Calculator, which precisely displays the quantities that must be exchanged and at what prices to break even on individual trades.
These features can be extremely useful if, for example, you want to scale in using the dollar averaging system or if you just want to average out your location.
Besides that, Altrady features a completely customized charting toolkit, infinite alerts, and a separate signal service (CryptoBaseScanner) that is consistently ranked among the top providers in various market segments.
That being said, we believe the most profitable solution today is to merge Altrady trading terminal, Signals, and intelligent Bitcoin bot services such as 3Commas to automate portions of the trading.
This way, advanced traders will take advantage of the best of all worlds, getting access to trades while sleeping or vacationing and only manually handling them if necessary using advanced instruments such as the break-even calculator and ladder orders.
Key Features
Order categories include Market, Limit, Stop Limit, Ladder, and OCO.
Altrady's trading terminal is fully flexible, with each tool being movable and resizable to fit screens of any size.
Multi-chart layout: A dedicated section for multi-chart layouts that enables you to include as many charts as you want and further configure this configuration.
Unlimited alarms: Real-time market updates through specific voice popups for all common markets.
Break-even calculator: A break-even calculator that automatically measures the required dollar-cost-average details without the need for complex spreadsheets.
Portfolio management: A robust portfolio planner that enables users to visualize their assets' allocation by currency and exchange rate.
Analytics: Analyze your performance on a trade-by-trade basis for each business pair. Profitability, win percentages, and net income are all shown on a single intuitive computer.
Access: The app is available on a variety of platforms, including the internet, laptop, and smartphone.
Notes: A note widget that enables you to easily jot down your trading ideas.
News: Widget that displays all current news.
Crypto Base Scanner: Calculates the most relevant base information for each currency pair and delivers that all to the dashboard at the same time.
Exchange import: It does not matter which exchange you use. You can import your trading history quickly and easily on Altrady.
Altrady's manual trading platform is the most feature-rich available today.
Additionally, it is home to an authentic QFL signal service provider (CryptoBaseScanner). As a result, Altrady is the best all-around tool on the list.
2. Coinigy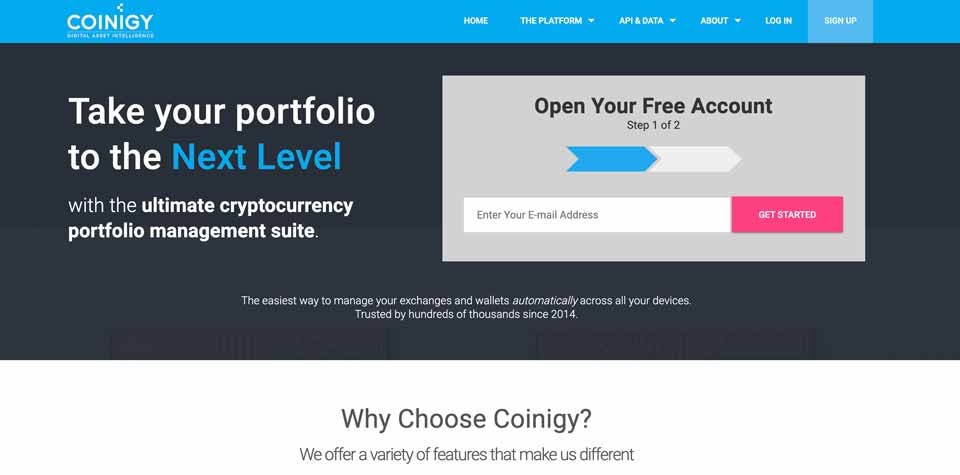 Well before the 2017 hype, as Bitcoin stormed around the globe, Milwaukee-based programmer Robert Borden and individual trader William Kehl collaborated to develop a trading algorithm that would take advantage of arbitrage opportunities on various cryptocurrency exchanges.
In 2015, they launched Coinigy, a portfolio tracker and trading terminal that allowed users to monitor all of their wallets and trade on specific exchanges.
Limit and stop-limit orders are available via the trading terminal. Stop-limit orders are synthetic, meaning they are processed on Coinigy servers and are hence accessible on all exchanges. However, you cannot notice not only sophisticated order forms such as trailing stop and take-profit/stop-loss orders but also plain market and stop-market orders, which seems odd for a trading app. Additionally, there is no exchange automation; rather, future arbitrage possibilities are visualized that are arguably not realizable by manual trading.
Coinigy's trading functionality is mostly confined to spot trading, although they do provide margin trading on the Poloniex and Bitfinex exchanges.
You may choose order sizes in both bases and quoted currencies, which is a good touch and a much-desired feature for many traders.
TradingView exports a wealth of charting functionality, including over 70 technical analysis metrics.
Portfolio tracking features include a pie map depicting currency allocation, overall balances, available orders, and order history. The software keeps track of not only wallets but also accounts on various exchanges. In terms of approved blockchains, they allow balance monitoring for nearly a hundred separate blockchains, which is quite remarkable!
Key Features
The portal connects users to over 45 exchanges. Coinigy's connectivity in the cryptocurrency ecosystem allows it to have real-time access to price statistics, full-featured spot trading, an Arbitrage Matrix, and portfolio management software.
Coinigy is an all-in-one solution for portfolio management. Users get price and trade updates via SMS and email to keep them informed. Coinigy is an ideal anti-theft tool for cryptocurrency since it allows you to track and manage all of your exchanges and wallets in one place.
When dealing with Coinigy, there are no extra transaction costs. They only bill you for the subscription you want after your trial period expires.
Coinigy is the most robust cryptocurrency and bitcoin trading and portfolio management platform accessible. No other cryptocurrency app compares to Coinigy in terms of scale, information, and efficiency, thanks to its robust charting tools and real-time market data.
3. 3Commas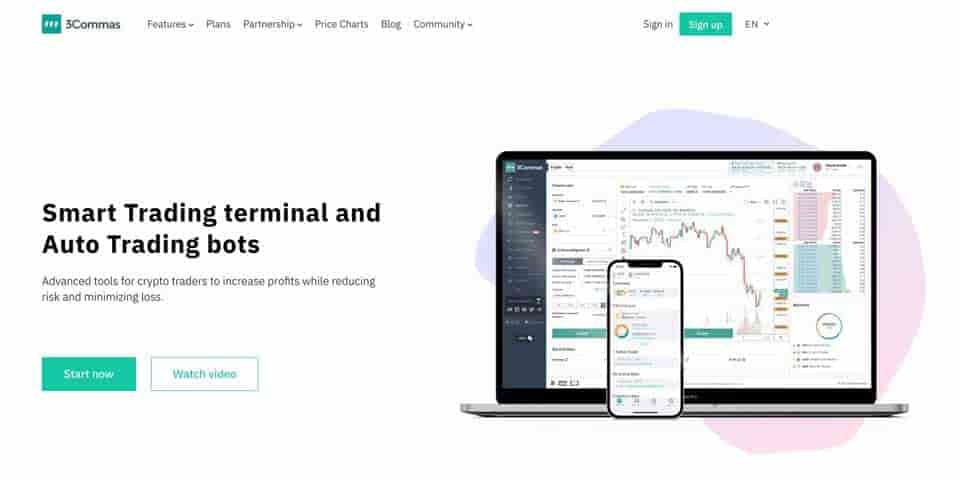 The 3Commas Terminal was created to give traders more influence over their trades by allowing for greater accuracy and versatility in handling their trades.
The Terminal can be accessed from the 3Commas website's navigation tab.
Significant Features
Exchange account control, market, and coin pair selection. You pick the associated account that contains the funds you wish to exchange, then the market currency in which you wish to purchase or sell assets, and finally the commodity you wish to trade.
Terminal display control. Here you can customize the way the Terminal is displayed; you can mask or screen-specific sections of the Terminal. For instance, in "Simple" mode, the selected asset's exchange order book (5) is secret. After exchanging futures on a futures market, the "Pro" setting displays the Scalping interface. You can fully customize the Terminal to your liking, including dragging and dropping individual Terminal widgets to organize them according to your workflow.
TradingView's venerable map widget. Indicates the market movement of the selected commodity. You can customize the layout by adding your favorite trading indicators and saving them for the assets you exchange most.
Order control panel. You can use this page to build instructions to open, close, and add to trades you've already made. You pick the price at which an order will be executed as well as the sum of funds you wish to use.
Order Book widget. This provides a graphic representation of the limit orders put on the market for your desired asset; the order book can be a helpful tool for determining the price levels at which other traders have shown heavy buying and selling interest.
Trade Status widget. View your account balance, as well as an itemized list of the properties you own and their respective values. If you've placed orders on additional properties, they'll appear under the Open Orders tab, and you can also check your past trading history here.
4. Shrimpy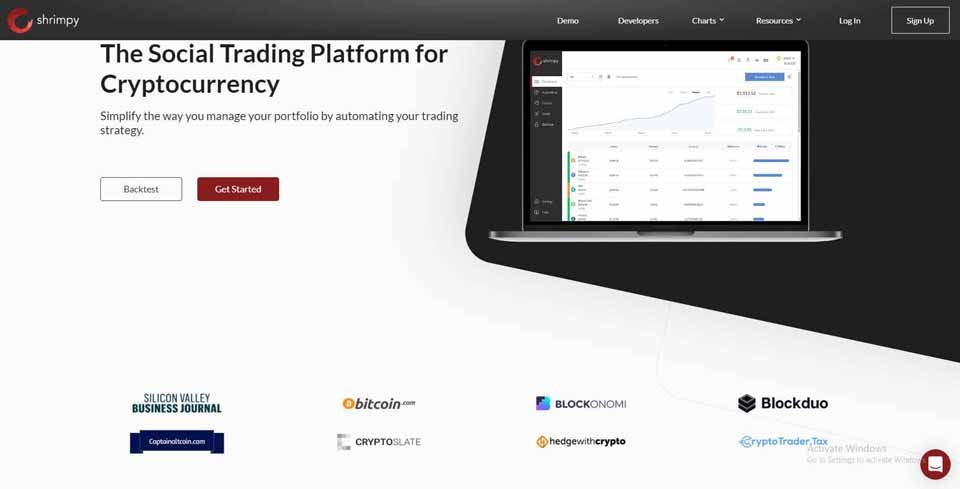 Beginner traders with their first taste in cryptocurrency trading should take a peek at Shrimpy. Its charm and simplicity combine to provide you with all the resources required to conduct a successful day trading strategy.
Michael McCarty and Mathew Wesley, the current CEO and CTO co-founded Shrimpy in 2018.
Shrimpy is a web-based technology that can be downloaded from the application's official website. To access the app, you must first register on the website and then integrate Shrimpy's API into your crypto exchange accounts. Shrimpy operates sixteen cryptocurrency exchanges of thousands of exclusive cryptocurrencies that can be used to build the own cryptocurrency index portfolio.
Conveniently, since most investors cannot spend their days staring at charts, Shrimpy also offers software for automating stock trading while the trader is indisposed.
Shrimpy specializes in investment practices such as portfolio rebalancing, portfolio stop-loss implementation, and dollar-cost averaging. That said, the ease of using the terminal to handle specific order placement does not override the sophistication of trading tools available.
Shrimpy is ideal for novice investors, experienced investors, and day traders. The platform includes a number of mechanisms for managing a wide range of assets across various exchanges.
Unlike other trading platforms, Shrimpy has a range of social trading features that allow investors to monitor the portfolios of other top traders. This functionality enables you to benefit from "copying" the tactics of active traders. Shrimpy takes a special approach to copy trading. Unlike other social trading sites, such as eToro, which focuses on the exchange of indications and signals, Shrimpy focuses on the growth of a trading group. Traders are permitted to accompany or lead groups of their chosen traders.
Additionally, developers can find Shrimpy helpful. Shrimpy APIs are suitable for managing exchange accounts, collecting real-time data, and general cryptocurrency trading. Using a single API, developers can incorporate all major exchanges into their platforms easily and without having to write custom code for each exchange. Shrimpy API enables blockchain developers to build competitive crypto trading platforms.
Pricing
Shrimpy charges reasonable fees for premium accounts. Nonetheless, the free account has access to the majority of features. Among the features included with the free account is integration with an infinite number of exchanges, development of personalized portfolios, and portfolio rebalancing (except for threshold rebalancing). The free account does not have such functionality, such as restricted access to social trading and a lack of backtesting capability.
The paid budget, also known as the skilled kit, is billed at $19/month for monthly payments, $16/month for bi-annual payments (every three months), and just $13/month for annual payments. Additionally, a business account is available that can be personalized to meet your specific needs. Paying plans give you access to all platform services. Visit the website for a more comprehensive breakdown of the features included with each payment method.
Cryptocurrency Terminals - Putting it All Together
In contrast to conventional markets, which are close on weekends, there has never been a dull day in cryptocurrency markets. The cryptocurrency markets are rapidly changing, growing, and churning, just like a Wild West horse on steroids.
These are just a couple of the reasons why, after experimenting with crypto trading terminals, the switch becomes almost inevitable, as it becomes more difficult to consider using the traditional and sluggish alternative in the future.
Not only can you easily connect several exchanges concurrently, but you still have a slew of new technologies and features at your disposal to help you become more successful.