7 Best Places to Stake Cardano: A Gateway to Double Your Passive Income
Cardano (ADA) is now the third-largest cryptocurrency in the market cap. It announced the small contracts known as 'Alonzo hard fork,' but they were not implemented completely. After the complete implementation of Cardano smart contracts, the earning potential through this platform will skyrocket. Investors are already expecting a lot from the developer team. 
The primary concern of crypto enthusiasts will be finding the best places to stake Cardano in the future. However, because this cryptocurrency is gaining more followers, investors won't hesitate to invest.
In this article, we clarified everything about the staking Cardano. After reading it, you will be able to stake your ADA tokens on the platform with the best return rate. 
What Is Cardano (ADA)?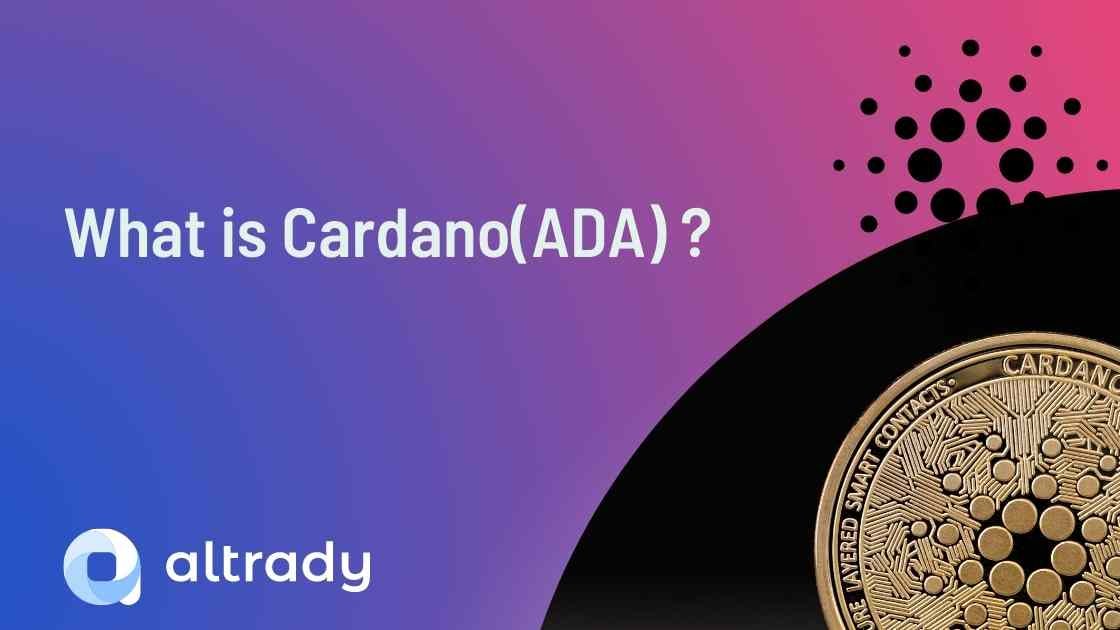 Cardano was introduced in September 2017 as a third-generation blockchain and Decentralized App development platform. This blockchain has covered the shortcomings of the first and second generations to improve the structure of the crypto investment. The co-founder of Ethereum blockchain Jeremy Wood started this project and introduced a peer-reviewed research strategy as a unique feature in the crypto world. 
In a very short time, this project caught media attention for its unique VM design and innovations in language. Since the developers already have a brand name in the market, investors didn't hesitate to accept this platform. Now ADA is considered a top cryptocurrency, and the reason is a layered structure that enhances security and scalability. 
What Is Meant by Staking Cardano? 
Staking means holding your crypto assets in your wallet and earning commission through the platform. That goes the same for the staking Cardano. With the help of the Proof-of-Work model, a user validates his transactions and becomes a part of newly minted coins. Staking Cardano is simply locking ADA tokens at different nodes, and the platform registers you as a partner in yielding coins. 
It's not a technical approach, and every investor can stake without third-party involvement. The reward percentage you will get depends on the number of tokens locked. Through this process, you can earn more passive income than the interest you get from the bank. 
Why Should You Stake Cardano? 
Staking is one of the best ways to earn passive income in the crypto trading industry. It's a high ranking in cryptocurrency and the skilled developer team behind it. However, choosing a platform for staking is a critical decision. Cardona is a better option for staking compared to many other projects. 
They improved the blockchain by scaling up design and layered structure. Moreover, the peer-reviewed process confirms the credibility before the implementation of anything. Keeping in these aspects, staking Cardano would never be a wrong decision. 
7 Best Platforms to Stake Cardano
After making up your mind for staking Cardano, it's time to choose one platform. Here is the make and break of your investment, as selecting the wrong place for staking would end up horribly. 
For your assistance, we spent hours researching and came up with the list of the 7 best Cardano staking platforms. Our study shows that any crypto investment on these platforms would bring a high margin of profits. So here is the list you can review to finalize your go-to staking platform. 
| No | Platform | Reward Frequency | Flexible Rate | Fixed Rate | Best For |
| --- | --- | --- | --- | --- | --- |
| 1 | Binance | Daily | 0.48% | 5.09% / 7.79% | Overall |
| 2 | eToro | Monthly | 4.15% - 5.10% | None | Beginners |
| 3 | Yoroi | 5 Days | None | 4.84% - 5.12% | Simplicity |
| 4 | KuCoin | Daily | None | 1.5% | ADA Fixed Price |
| 5 | Crypto.com | Daily | None | 2% / 3% | Staking App |
| 6 | Kraken | Weekly | 4% - 6% | None | Staking Returns |
| 7 | CEX.IO | Monthly | None | 2.6% | UK Investors |
A brief summary of all the platforms has been explained in the table. Let's have an in-depth review of each of them for better understanding. 
Binance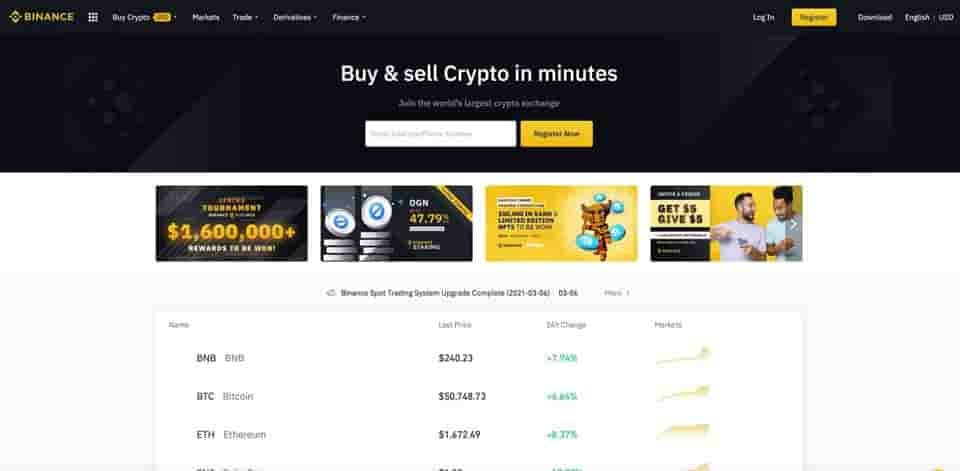 The first highly recommended platform and praised worldwide by crypto experts is Binance. This platform supports over 500 highly stable coins for trading, which is not common on cryptocurrency exchange platforms. For staking Cardano, there is no better option other than Binance because of its extensive range of crypto assets.
Users have many choices as it offers 70 locked staking tokens and 100 for flexible savings and mining pools. Depending on the type of coin staking, Binance gives a considerable interest on your investment ranging from 0.5% to 180%. Talking about the ADA, you will get attractive interest based on the number of days. For instance, the interest rate will be 5.09% for 30 days and 8.38% for 90 days. 
Security is always the first concern of investors, and Binance is always putting best strategy to secure your digital assets. However, this platform faces some regulatory issues, and developers are trying to cope with it. The platform allows you to set up a 2FA authentication layer to get more security satisfaction. 
Pros
Large active community 
A variety of staking tools are available
Transaction fees are competitive
Trade-in many cryptocurrencies is possible
Plenty of indicators to serve your needs
Cons
Withdraw or deposits methods should be more
A little bit tricky interface for beginners
eToro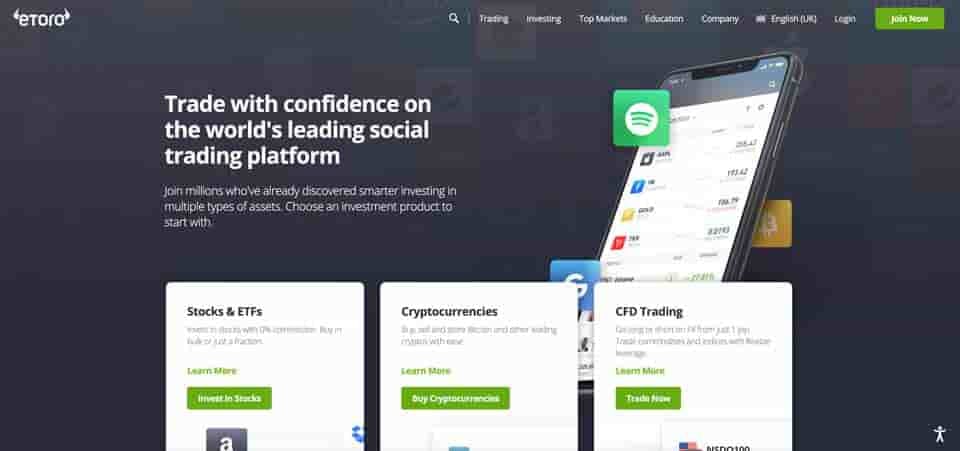 The second big name in the crypto world is eToro, famous for its ultimate security, incredible features, and ease of use. The platform has been serving over 15 years and is now a landmark of a 20 million users base. Staking ADA on eToro is extremely easy for new users who can earn handsome rewards every month. 
Managing portfolio and copy trading makes it simpler for new traders on this platform. The cost associated with staking will be deducted from your monthly rewards to make it a hassle-free process. However, the fees charged by the platform depend on your account levels, which are silver, gold, and platinum. 
EToro is the first to adopt high protection and encrypted laws considering its security feature. You are asked to fill out the KYC form on signing up at the platform. This would help keep your track record and assist you immediately at the time of need. Over this, eToro saves all your keys into cold wallets to stay safe from hackers. 
Pros
Fees are not so high
Provide foolproof security for your assets
Equipped with a range of technical indicators
Allow lowest minimum investment 
Easy to use 
Cons
Limited assets for staking
Different fee structures depending on capital
Yoroi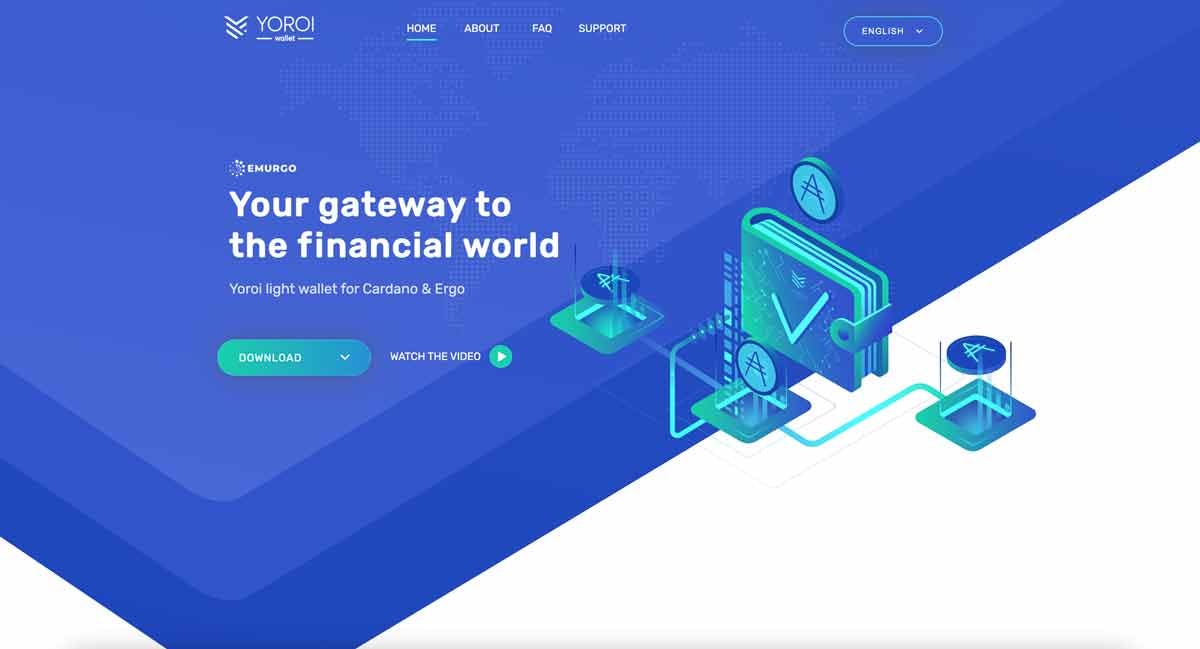 Yoroi is an excellent alternative and the best option for those who don't want to get in trouble with heavy-duty wallets like Daedalus. Its mobile and desktop availability lets you do stake anywhere without hassle. Using a Yoroi staking wallet, you don't need to download the entire blockchain of 6GB+file. However, you may need the assistance of a third party to perform the individual transactions. 
Although it's simple, you still need to put some effort into deciding the pool you want to delegate your tokens to. The platform recommends checking the pros and cons of these pools while also providing some statics to ease you in deciding. To use it on the desktop, you must install its Chrome extension.
The Emergo company and Cardano professionals agreed that the browser extension of Yoroi makes it a secure wallet because this would help to save users from phishing attacks and DNS hijacking. Above all, thanks to its eye-catching and easy-to-understand user interface. You would never face any problem in getting any point. '
Pros
User personal information is fully encrypted 
Developed by Cardano
Execute transactions within no time
Available on desktop and mobile
Cons
It can only be used for ADA staking
Choosing a pool is slightly confusing
KuCoin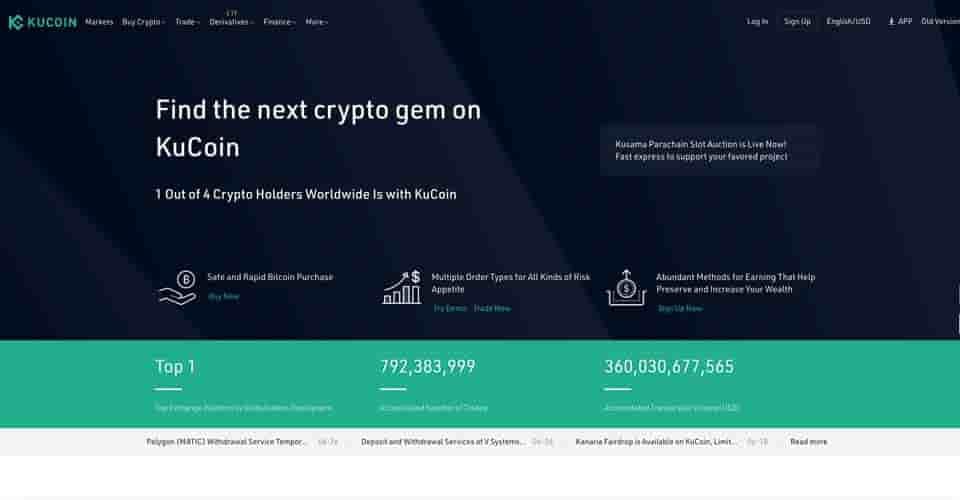 KuCoin was introduced in 2017, and since then, it has been gaining massive support because of plenty of tools available on the platform. The working of KuCoin is unique as it makes the process more straightforward with the help of handy tools. It has its staking version in the name of 'pool-X'.
For staking ADA, you will be asked to choose between standard or flexible staking. If you consider the flexible staking, KuCoin allows you to withdraw assets at any time. However, the rewards you will get through flexible staking are low, and it's not a thoughtful decision. On the contrary, fixed staking is designed by the platform, and before that, you can't remove your assets. But the return rate in this type is exceptionally high. 
If you are an experienced trader and know a lot about crypto exchange platforms, you would surely love its trading robot. This trading robot has four functionalities: Spot Grid, Smart Rebalance, Futures Grid, and DCA. The purpose of these functions is to indicate the loss beforehand and increase the possibility of profit. 
Pros
Impressive trading robot
Multiple features for thorough assistance
The interface is beginner-friendly
Fixed staking only locked for a day
Cons
Only advanced users can use all features
Don't allow the bank deposits
Crypto.com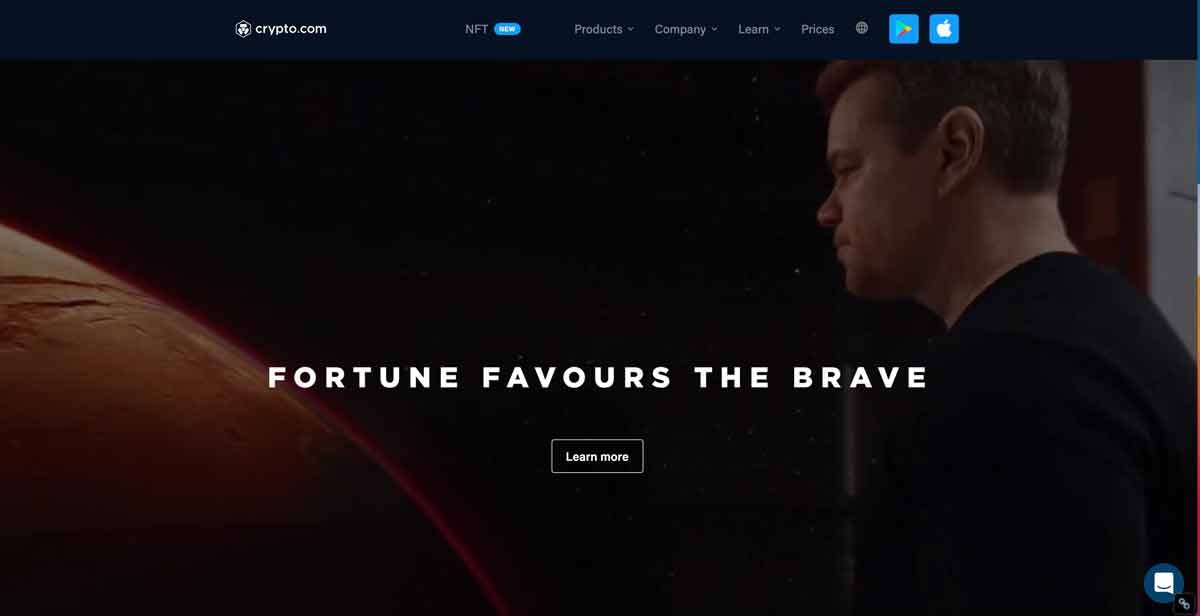 The next platform on our list is Crypto.com which was launched in 2016, and till now, it has 10 million-plus customers. The platform has an App available on the Google Play Store and Apple Store. But if you want to enjoy all of its features, then you have a web-based exchange option for staking and trading.
On Crypto.com, you have the choice to stake many coins available on the platform, and each coin has a different reward structure. The reward percentage is based on how many tokens you are staking, and sometimes it is a little confusing for beginners. For instance, you will be awarded a 2% percent commission if you stake $1000 worth of ADA. On the other hand, the commission percentage will be 5% if you stake 40000. 
Crypto.com is highly regulated in terms of finance and asset protection. You have to go through the KYC identification process and not be allowed anonymously on the platform. So, if you want to stake without showing identity, go to any other peer-to-peer platform.
Pros
High level of security
Excellent mobile app service
High-interest returns for CRO investors
Simple to use
Cons
Transaction fees are somewhat high
The reward structure is confusing sometimes 
Kraken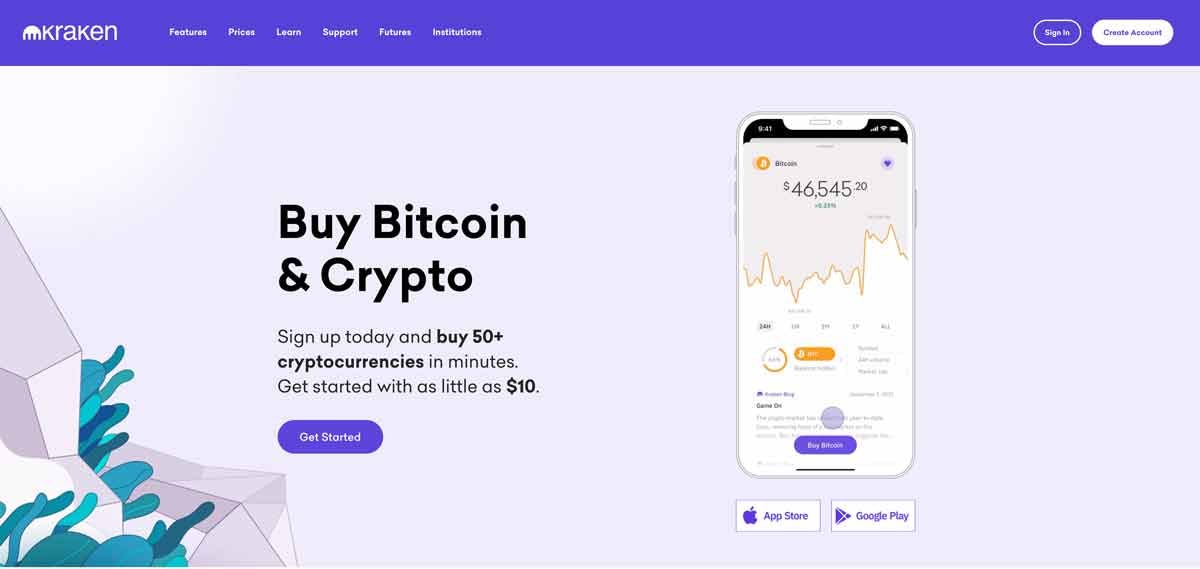 Kraken was officially launched in 2013 and became a leading crypto trading platform in the USA within a short period. On this platform, the user can stake 12 different coins on the wallet to earn the maximum commission. The features that set it apart are simplicity, top-tier safety, and low pricing. 
Staking ADA can be started immediately as there is no fixed term or waiting periods for this platform. Kraken gives your ADA staking the highest return rate of 4% and 6% per annum. Compared to other platforms, it's the highest flexible rate, and even Binance and KuCoin is lower than this. 
You can trade in 54 different cryptocurrencies, which is not to ignore. The staking rewards are paid every week to users, and you can withdraw them anytime to trade. Moreover, it's the best choice to consider without lock-in contracts to stake coins. Above all, the platform is limited to the USA and supports all major countries worldwide. 
Pros
Extensive range of cryptocurrency options
Competitive transaction fees
Offers secure staking and trading
Available in almost every major country
Cons
Demo trading is not available
The user interface needs to be improved 
CEX.IO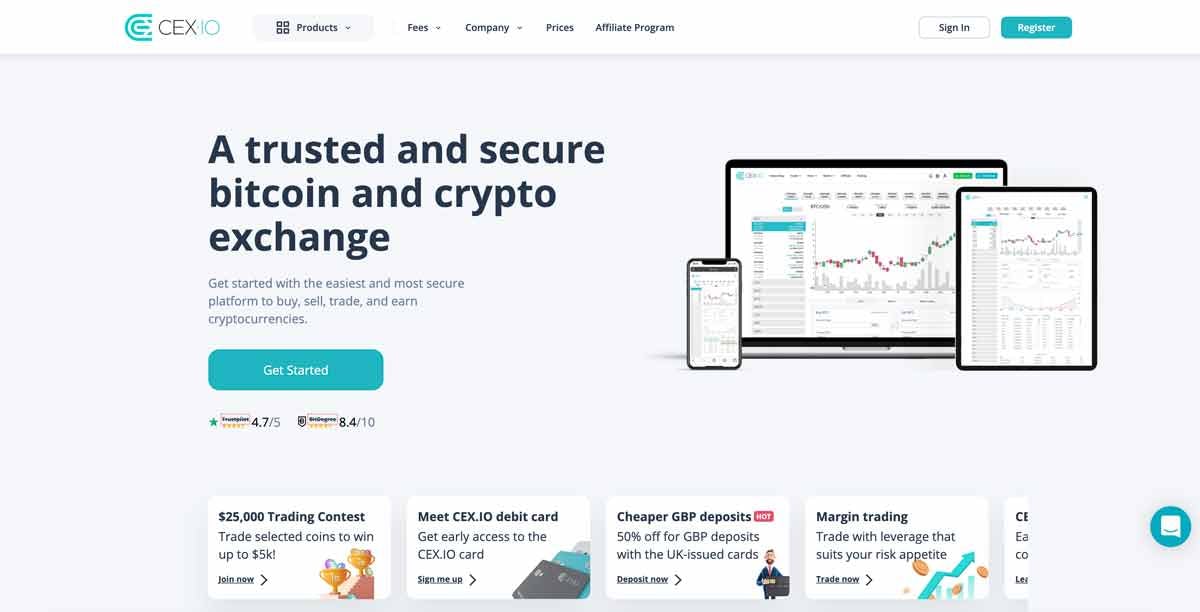 CEX.IO is another impressive option to stake your ADA tokens and earn passive income. If you are a beginner and astute investor, choosing this platform for staking Cardano would be your best decision. You can perform many investments other than staking with the help of handy tools available on the site. CEX.IO supports both mobile and desktop users. 
Upon transferring your ADA tokens to this platform, you'll be automatically listed for rewards. However, the reward price is updated every subsequent hour. The return reward on staking ADA is 2.6% per annum, and you can withdraw after the month. Over this, it ensures your trouble-free journey because of safe storage, fully encrypted personal information, and legal compliance.
You can purchase on this platform directly through fiat currency and offer plenty of payment methods. It also has a high liquidity order book and a unique affiliate program to earn extra bucks. 
Pros
Highly safe for staking
Excellent customer support
Multiple payment options 
Advanced order-matching algorithm
Cons
Rewards payout after month
Only a few currencies can be staked   
How to Choose a Platform for Cardano Staking?
Before choosing any platform, you should assess its credibility using a simple criterion. Here we listed some factors that should be checked before staking Cardano:
Fees: Check out the fees structure of the platform. Ensure that the fee does not entirely eat up the yearly interest rate. 
Ease of Use: Over Complex interface is always irritating. So, whether you are an expert or beginner, make sure the information listed on the dashboard is easy to understand.
Regulations: It's essential to confirm the platform's track record and ensure they are highly regulated. Moreover, how their security system will provide safe your assets. 
Multiple Payment Methods: Payment method is the central issue for most platforms. Go for the one which has various options and even supports fiat currency.
Customer Support: Lastly, check users' reviews on their customer support. No matter how good they are in everything. But if they can't solve your problem, there is no benefit to stake on their platform. 
Pros and Cons of Staking Cardano
| Pros | Cons |
| --- | --- |
| Excellent source of passive income | Wallet holding your tokens can be hacked |
| Can earn way more than bank interests | ADA price is highly volatile and unpredictable |
| ADA is a leading cryptocurrency and is listed on all significant platforms | Impermanent losses are also possible |
| No hassle or risk compared to crypto mining | |
| Don't need to extra powered hardware setup | |
FAQs 
Is staking Cardano safe?
Yes, if you have chosen a secure wallet or platform, it's highly safe to stake ADA. There is no responsibility for the platform if you are at a loss due to a price drop. 
Can you stake Cardano on Coinbase? 
No, it's impossible to stake Cardano on Coinbase because it doesn't support staking. For staking, you need to find an alternative like Kraken or Binance.
What is the minimum amount of ADA tokens you can stake?
It entirely depends on the platform you choose for staking. If you choose Binance or KuCoin, you can even stake one ADA. Typically, 10 to 100 coins are the threshold to start staking. 
Conclusion: Is Staking Cardano Worth it? 
If you have ADA tokens in your crypto wallet and are looking to hold them for a while, it's better to stake them. Just select the suitable platform from the above list and earn a commission of up to 5%. You don't need to make any extra effort.
On the other hand, if you are thinking of purchasing ADA just for staking, rethink your decision. There are many risks involved in making a 5% commission, and you may lose your investment. ADA prices are highly volatile, and dropped values would eat up your investment. So, it's not recommended to purchase Cardano for the sake of staking.