Best Wallets for Cryptocurrency: A Comprehensive Guide to Most Secure Wallet
Cryptocurrencies are all the rage lately. In 2017, the value of Bitcoin surged from $1,000 to over $19,000! If you're not already invested in cryptocurrency, now might be a good time to get started. 
But before you do, you'll need to choose a wallet to store your coins in. There are many different wallets available, but not all of them are created equal. So, which is the best wallet for cryptocurrency? Read on to find out.
5 Best Wallets for Cryptocurrency
There are many different types of Bitcoin wallets out there, but not all will work for you. Some people need a certain type or size with lots on them, while others just want something simple and quick. So, they don't have trouble remembering passwords. 
We looked at each wallet's features in detail before deciding which was best suited as your go-to cryptocurrency storage solution. Read more about these top picks below!
1. Coinbase Wallet: Best for Beginners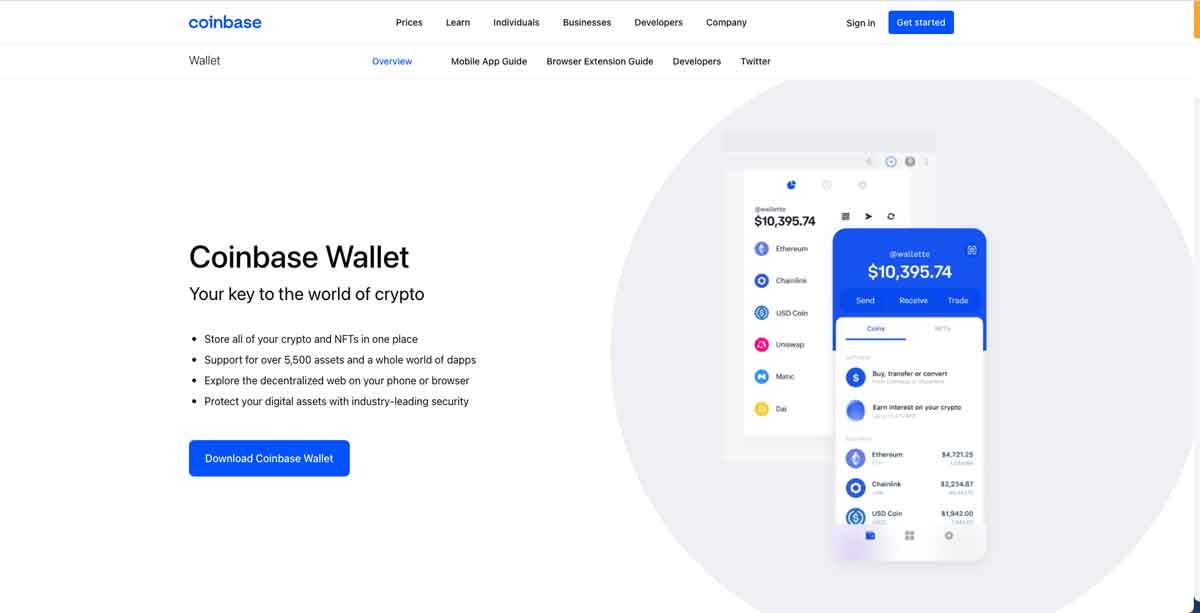 Coinbase is on a mission to make cryptocurrency accessible for everyone, and they're not afraid of getting their hands dirty. The platform has made sure that anyone can get into cryptocurrency with ease. With more than 35 million users worldwide today, including many who live outside America, this open financial system will soon become global too.
When it comes to security and privacy features, there's no better option than a Coinbase wallet. The software wallet adds another layer of protection that users can depend on for their funds. Also, it provides ease-of-use benefits like quick withdrawals in case something goes wrong with your device or account.
One big plus about this site that most people don't know about? They offer pro services at reduced rates. So, if you're looking for an advanced user experience, then consider using GDAX instead. With 98% of funds kept in cold storage, Coinbase Pro is an excellent option for those looking to invest safely, as hackers cannot access more than 2%.
| Pros | Cons |
| --- | --- |
| Simple interface for beginners | Often has security issues mentioned by users |
| Supports a large list of 500 crypto tokens | Only viable for mobile users |
| Offered by a reputable company | |
| Use ultimate security measures | |
2. Electrum Wallet: Best for Bitcoin Storage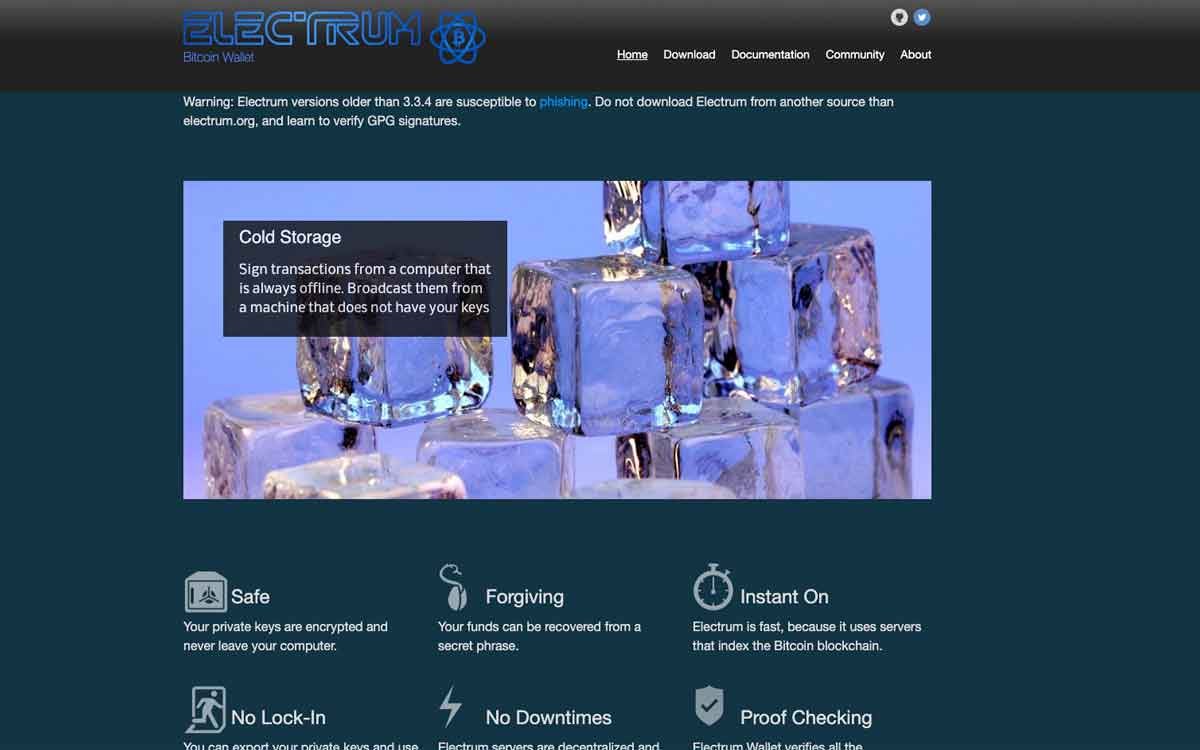 What's more secure than your Bitcoin wallet? The answer is simple: no other crypto wallet offers the level of security that Electrum does. With its simple design and easy navigation, Electrum is a great option for those who want to keep their crypto secure. Founded in 2011 by Thomas Kunz, this wallet has been around long enough.
 It's one of the few remaining wallets only dealing with Bitcoin currency and not just another altcoin or tokenized application on blockchain technology. With the wallet, you can choose from a variety of security features that others don't have, and your transactions will be completed quickly. You can adjust your fees depending on how long you want to wait for a transaction.
The lightweight client of the wallet provides an additional advantage because it can be set up in minutes. Over this, it also takes up less space than traditional clients on your computer. The SPV approach to verifying transactions only requires downloading parts of the blockchain. It is much faster than traditional heavyweights like Bitcoin Core.
| Pros | Cons |
| --- | --- |
| Transaction fees can be changed as per your wish | Just for Bitcoin |
| Highly quality server configurations | Customer support is not good enough |
| Easy to use and setup | |
| One of the oldest storage solutions | |
3. Ledger Nano X: Best Hardware Wallet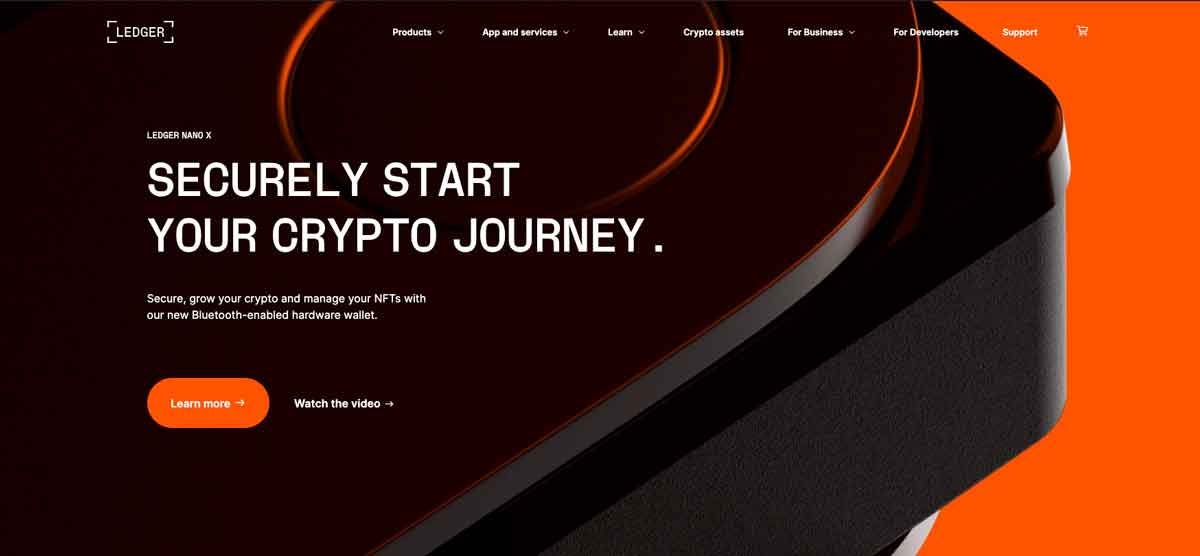 We recommend the Ledger Nano X as secure, cold storage for your cryptocurrency. The device connects to devices via Bluetooth or USB and can be used with either the desktop app. This second-generation hardware wallet from a France-based company, launched in 2014, has become one of the most popular cryptocurrency products. 
It offers over 1,800 different cryptocurrencies and can hold up to 12 accounts in total with each account. You can store your funds without any risk from hackers or malware attacks. Since it uses an offline storage system, so there's no internet connection required for transactions. 
You can feel the quality of this wallet. It's made with high-grade materials and has a small LED screen to show you how much space is left in your funds. To start, you'll set up a PIN followed by 24 words that act as the private key for this wallet, just like other wallets do.
The difference? This one can be easily restored if lost or damaged. Because all information needed to be related to accessing funds lies within those two factors: 
Setting them apart from others who might try using their credentials without permission 
Make sure no copies exist outside what's stored locally on individual devices
| Pros | Cons |
| --- | --- |
| Offers cold storage for ultimate security | Slightly expensive |
| Long-lasting built-in battery | Don't offer touchscreen feature |
| Use private keys as the best security measure | |
| Allows Bluetooth connectivity | |
4. Exodus Wallet: Best for Desktop Users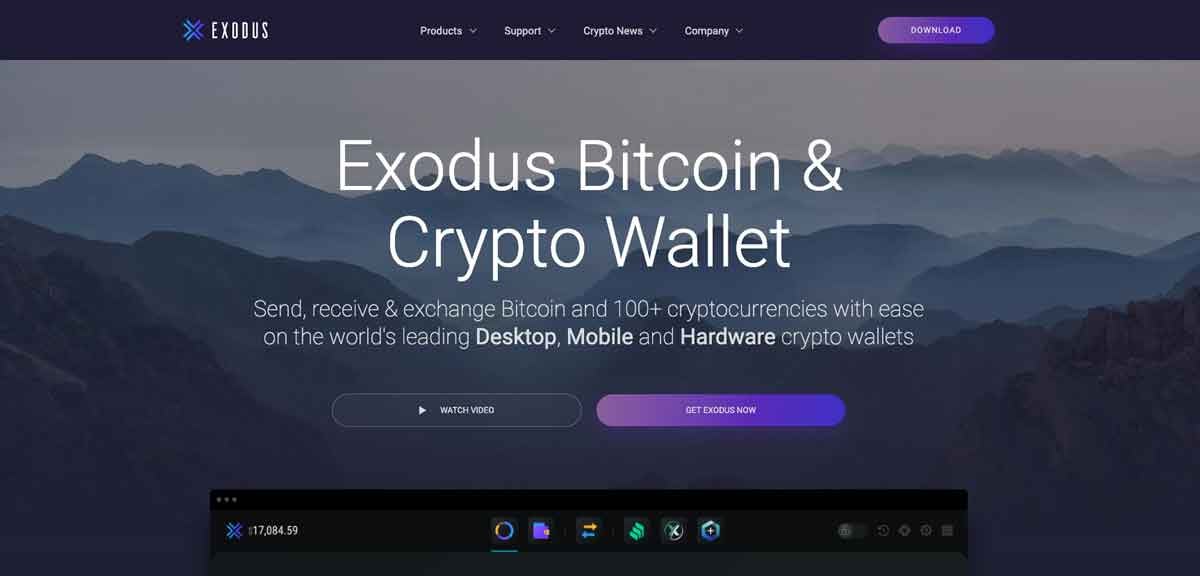 What's the best way to keep your crypto assets safe?
With Exodus, you can store them in a hot wallet and never worry about getting hacked. It comes with noncustodial features which mean only you have access protection for each of these 12 words. Exodus wallet supports more than 130 types of digital currency, but it has some notable limitations. 
Suppose you want to buy crypto with US dollars and store your investment in the Exodus wallet - well, sorry! You'll first need to purchase them on any centralized platform like Coinbase before transferring over what's stored there. With the app version, you can buy and sell bitcoin in US dollars. 
Once your asset is in Exodus' wallet, there will be no more fees for exchanging it between other supported currencies. The sleek and user-friendly design of the Exodus wallet makes it easy for anyone to send or receive cryptocurrencies. The integration with exchange services like Binance means you can make transactions within a few seconds without having any technical knowledge. It's a great way to stake ada on Exodus for a passive income.
| Pros | Cons |
| --- | --- |
| It supports more than 130 cryptocurrencies | Transaction charges are high |
| Bitcoin purchase via Apple Pay is possible | Don't have 2 FA feature |
| Works fine with hardware wallets | |
| Easy and user-friendly interface | |
5. Mycelium Wallet: Best for Mobile Users
With the recent popularity of cryptocurrencies on an upward trend, many people are looking for ways to store their digital assets safely. One option is Mycelium which offers a mobile-only Bitcoin wallet with support for other coins as well. What are some of the best features of Mycelium? It's open-source and mobile-only has a sleek UI compared to Electrum with more modern graphic design elements.
Thanks to built-in exchange features which allow users to trade between cryptocurrencies right from their wallet. In the early days of Bitcoin, Mycelium was one wallet that gave you more control over your finances. They allow custom transaction fees and wait times for when a transfer is complete to ensure customers are happy with their service.
The coolest thing about Mycelium is that it has hardware wallet support. This means that you can store your Bitcoin in an offline storage device while still using its user interface for viewing receipts and checking transactions. And all this is possible without relying on third parties like Coinbase or Bitgo.
| Pros | Cons |
| --- | --- |
| Allow offline transactions | Compatible with mobiles only |
| Open-source software | Slightly difficult for beginners |
| Customizable transaction charges | |
| Can be connected with hardware wallets | |
What To Look for When Choosing a Crypto Wallet?
When choosing a crypto wallet, there are several factors you need to consider. Each one is important in determining how safe the wallet will be. Let's take a look at each factor.
Security
First, you'll want to consider the security of the wallet. Some wallets are more secure than others, and it's important to choose one that will protect your coins. Look for wallets that have features like two-factor authentication and encryption.
Ease of Use
The wallet should be easy to use, with a simple user interface. Some wallets are more user-friendly than others, and it's important to find one that is easy to use if you don't have much experience with cryptocurrencies. Look for wallets that have a simple user interface and are easy to navigate.
Fees
A transaction fee is one of the major factors to consider. Some wallets charge higher fees than others. Look for wallets that have low fees so you can save money.
Supported Cryptocurrencies 
Finally, you'll want to consider the supported currencies. Not all wallets support every cryptocurrency, so you'll need to make sure the wallet you choose supports the cryptocurrencies you own.
What Are Different Types of Wallets?
Cryptocurrencies are stored in digital wallets.
We can define four types of crypto wallets:
cold wallets
hot wallets
exchange wallets
custodial wallets. 
Cold Wallet
A cold wallet is a crypto wallet that is not connected to the internet. This type of wallet is considered to be the most secure because it is less vulnerable to hackers. A cold wallet can be stored on a computer that is not connected to the internet or on a physical storage device, such as a USB drive. Cold wallets are often used to store large amounts of cryptocurrencies. 
Hot Wallet
A hot wallet is the most common type of wallet that is connected to the internet. This type of wallet is less secure than a cold wallet because it is more vulnerable to hackers. A hot wallet can be stored on a computer that is connected to the internet or on a mobile phone. Hot wallets are often used to store small amounts of cryptocurrencies. 
Exchange Wallet
An exchange wallet is a crypto wallet that is used to store cryptocurrencies that have been purchased on an exchange. Exchange wallets are not as secure as cold wallets or hot wallets because the private keys are stored on the exchange's server. This means that if the exchange is hacked, the hacker could gain access to the user's cryptocurrencies.
Custodial Wallet
A custodial wallet is a crypto wallet that is owned by a third party. Custodial wallets are not as secure as cold wallets, hot wallets, or exchange wallets because the private keys are stored by a third party. Often, the third party has access to the user's private keys. This makes it easy for them to steal the user's cryptocurrencies.
How To Use a Crypto Wallet?
Crypto wallet is a software program that stores private and public keys and allows users to send and receive digital currency and monitor their balance. Here are the steps on how to use a crypto wallet:
Step 1: Download the crypto wallet software
The first step is to download the crypto wallet software. This can be done from the official website of the crypto wallet. The website will provide instructions on how to install and use the software.
Step 2: Create a new account
In order to use the crypto wallet, you will need to create a new account. This can be done by entering your email address and creating a password.
Step 3: Enter your public address
Your public address is what others will use to send you crypto coins. Therefore, you will need to enter this into the crypto wallet software.
Step 4: Backup your private key
The private key is a unique code that allows you to access your crypto coins. It is important to back up this key, as it is the only way to access your coins if your computer crashes or is lost or stolen.
Step 5: Store your crypto coins
Once you have created an account and entered your public address, you will need to store your crypto coins. This can be done by clicking on the "Receive" tab and then copying the wallet address. You can then send this address to the person who is sending you coins.
Step 6: Check the balance of your account
You can check the balance of your account by clicking on the "History" tab. This will show you all of the transactions that have been made with your crypto wallet.
Step 7: Transfer coins from one wallet to another
If you want to transfer coins from one wallet to another, you can do this by clicking on the "Send" tab. You will need to enter the public address of the recipient, as well as the number of coins that you want to transfer.
Learn more about wallet security: How to Secure Your Crypto Wallet
Benefits Of Using a Crypto Wallet
Crypto wallets offer a number of benefits over traditional methods of storing and using cryptocurrencies. Some key benefits include:
Security: A crypto wallet provides a much higher level of security than simply storing your cryptocurrencies on an exchange. With a crypto wallet, you have complete control over your private keys, meaning that only you can access your funds. This is in contrast to exchanges, which are often hacked, resulting in the theft of millions of dollars worth of cryptocurrencies.
Anonymity: A crypto wallet also allows you to maintain your anonymity when using cryptocurrencies. This is because you do not need to provide any personal information when setting up a crypto wallet. In contrast, when using an exchange, you are often required to provide personal information, such as your name, address, and date of birth.
Convenience: A crypto wallet allows you to store and use a variety of cryptocurrencies in a single place. This is much more convenient than having to use multiple exchanges to store and trade different cryptocurrencies.
Flexibility: A crypto wallet also allows you to access your cryptocurrencies from anywhere in the world. This is in contrast to exchanges, which are often restricted to certain countries.
So, what are you waiting for? Get yourself a crypto wallet today and start enjoying the benefits listed above!
Risks Associated with Using a Crypto Wallet
Although the number of benefits is much larger, you should consider the dark side as well. Here are the major risks involved in using crypto wallets:
Crypto wallets can be hacked or compromised, which could lead to the theft of your funds.
Not all crypto wallets are created equal - some are more secure than others. So, it's important to do your research before choosing a wallet.
Wallet providers can go out of business, which would leave you without access to your funds.
If you forget your password or private key, you may not be able to access your funds.
FAQs
How much money is required to open a crypto wallet?
You can't really go wrong with a hardware or software wallet. Most cost between $100 and $200, though some are completely free. You don't need any cryptocurrency for these types of storage options.
Which wallet is best for advanced users?
Hardware wallets are becoming the new hotness in cryptocurrency, with both Ledger and Trezor selling them nowadays. The best part? You can connect your cold storage wallet to work fast on an internet-connected device.
Which wallet has the lowest fees?
When you send money from your crypto wallet, the fee varies depending on where it goes. Some wallets might charge higher transaction fees to speed up withdrawals or deposits in certain exchanges. So, make sure that's what you want.
Conclusion
So, there you have it – our top cryptocurrency wallets for 2022. Coinbase is definitely the best all-around option, but make sure to do your own research before choosing a wallet. But remember, this is just a starting point. Do your own research and decide which wallet is best for you. Remember, always be vigilant when it comes to your digital assets and take the necessary precautions to keep them safe.