Binance vs. eToro: which is the best exchange for crypto trading
Buying Cryptocurrencies and their trading is a myth for many investors because they do not understand the modern ways. They want to learn about it but cannot do so because there is nothing available on the internet to guide them properly. These words and concepts are new for some people and others, due to their ignorance, are not ready to accept the reality. 
Binance vs. eToro is the talk of the town. However, there are many myths regarding cryptocurrencies and trading platforms. Another myth about cryptocurrency trading platforms is that people portray them as something supernatural and beyond the control of their users. 
However, it is not true. All these crypto trading platforms are there to assist investors in investing in the coin they want to. These are licensed platforms, and there is no doubt about their legitimacy. Moreover, World Bank and IMF also recognized and adopted blockchain technology. They now own a coin. It further strengthens the claim that it is safe and secure to trade cryptocurrencies. 
But how do understand all these concepts without proper guidance?
But gone are the days when no one was willing to share their knowledge with their audience. We are here to provide you with a detailed understanding of the two leading trading platforms.
Binance vs. eToro: An Overview
Binance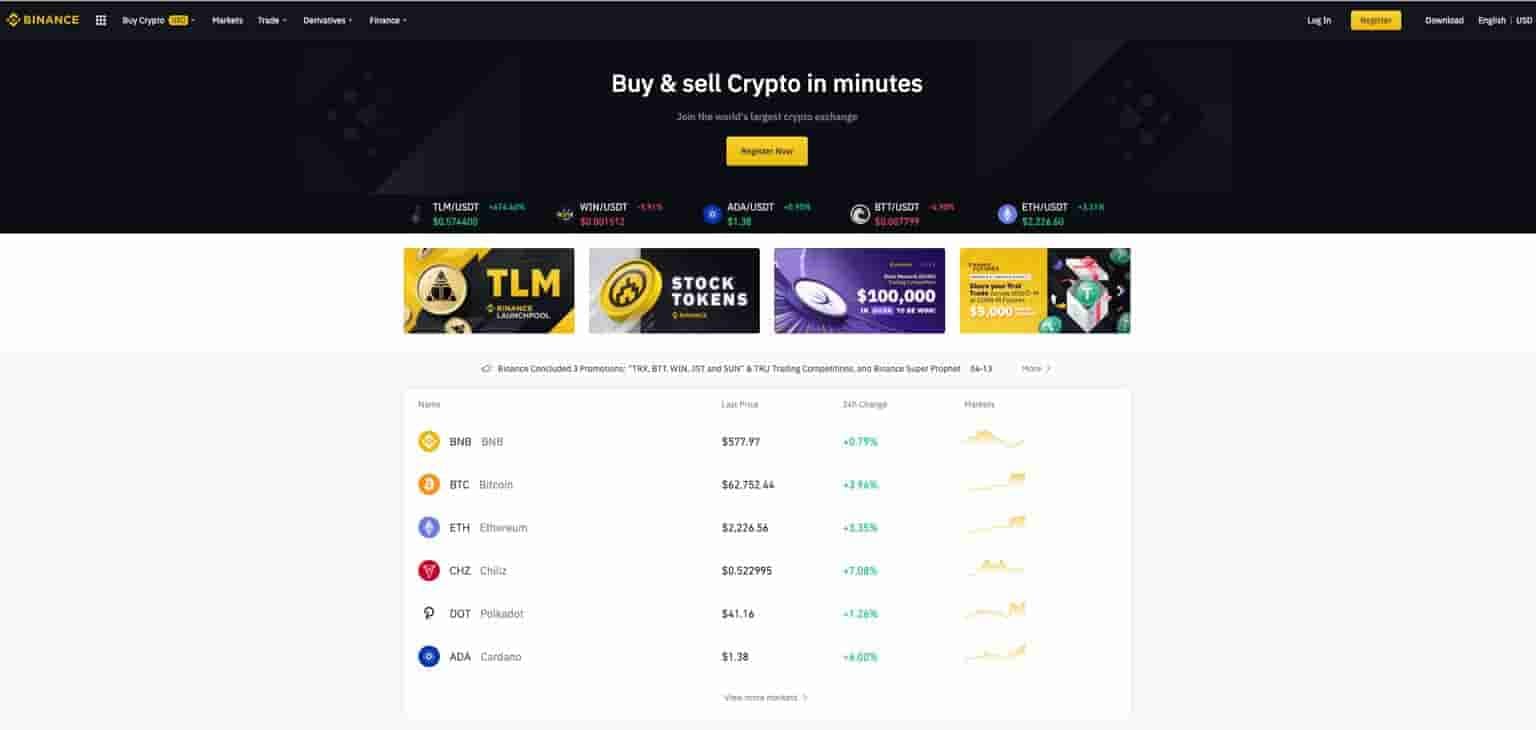 Binance came into being in the year 2017. It was a year of great progress in cryptocurrency marketing and trading. It was a landmark year for the main cryptocurrency with the highest market cap today, i.e., Bitcoin. Starting from $1,000 Bitcoin reached to $20,000 in 2017.
Binance was not even included in the English dictionary until the company was established in 2017. After that, the growth of the company started.
Today, Binance is the most popular and largest crypto trading platform globally. It has the highest trading volume in 2021, reaching 31.79 billion US dollars. The exchange first started its operation in China. However, keeping in view the government policies, Binance decided to relocate its headquarters in a crypto-friendly environment of Island of Malta situated in the European Union (EU). European Union (EU) favors blockchain technology, and policymakers are making conscious efforts to promote the technology. 
Binance is famous for its crypto-to-crypto exchange services. Investors can directly purchase one cryptocurrency using the other one in their wallet. Binance also offers to buy dollars or any other local currency with cryptocurrency and the other way round. It is for the convince of the investors. They do not have to go through a lengthy process; instead, they can buy one currency using the other one in their wallet within Binance. Binance also provides essential tools, charts, and candles to analyze and manage your crypto portfolio. 
The company was a huge success right after its launch. In July 2017, Binance raised $15 million in an ICO, according to its CEO Changpeng Zhao. Money was a small part of this achievement. Binance acquired 20,000 registered users in the process. The immediate success paved Binance's way to victory. Since 2017, Binance has taken the leading seat in the crypto world for being a top crypto exchanging platform.
A very well-known crypto exchange platform
More than 350 different cryptos are available
Two-factor authentication for better security
P2P trading option to deposit your funds
Emphasis on safety and KYC
Supports fiat-crypto acquisitions
eToro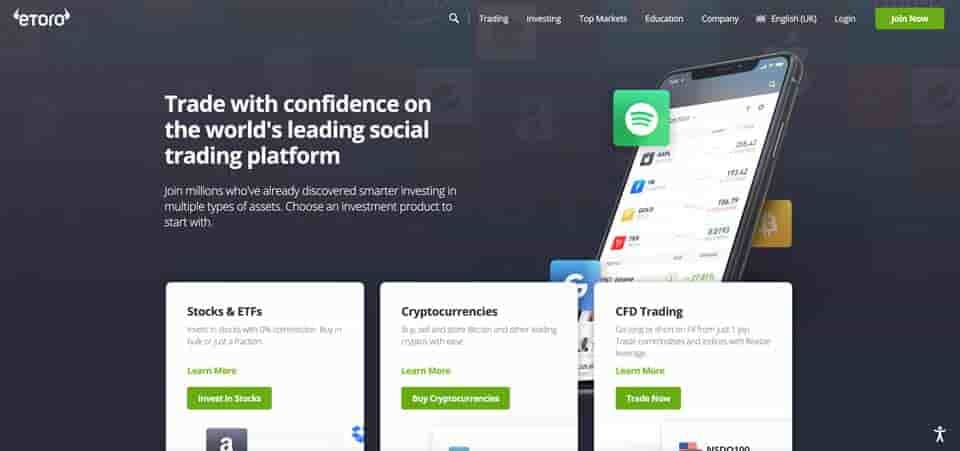 On the other hand, eToro has a long history. It is an old platform. It was launched back in 2006, and since that, it became a sensation, helping the company expand its network to more than 140 countries.
Only a couple of years ago, eToro was a well-known crypto trading platform. They provided services in different kinds of financial products at that time. However, Binance was non-existence at that time.
eToro is more than just a crypto exchange. It is a well-established and leading company that provides a wide range of financial services. After the emergence of cryptocurrency, eToro offered to provide crypto exchange services. They offered fee-less trading to attract more customers. The margin trading on eToro is also free. It is one of the rarest features that only eToro has. To facilitate the buying process, eToro connected PayPal with its platform. Investors can buy cryptocurrency using their PayPal account.
One crucial feature of eToro is that it sells you both CFDs and actual coins. A contract for differences (CFD) is a financial contract. It allows paying the difference in the settlement price between opening and closing trades. eToro provides IOUs instead of real coins to beginners. An IOU, a phonetic acronym that stands for "I owe you." It is a document that acknowledges the existence of a debt. It allows investors to speculate the price of any cryptocurrency. If you want to withdraw a Bitcoin from eToro, you need to convert it into fiat currency first. Then you can go to any other exchange and buy cryptocurrency by using that fiat currency.
Copy Portfolio allows you to copy the trades of top traders
A variety of cryptocurrencies to trade-in
Highest standard transparency and accountability
Safe and secure to use
Sign-Up Process - Binance vs eToro
Making an account is easy on Binance. You just need to out your email and phone number and your full name written on your identity card or driving license. You are good to go now. However, for enhanced security and higher limits, you need to verify your account by sending a picture of your identity card and real-time verification.
The registration process on eToro is also simple, but it takes time to get your verification done.
Binance pros and cons
| Pros | Cons |
| --- | --- |
| Binance offers a wide variety of cryptocurrencies to trade-in | Not a very good platform for high-level crypto-traders |
| Binance provides a crypto-based market, and you can choose from multiple trading options | Higher withdrawal limits are only available for verified users |
| The level of liquidity is reliable as compared to other exchanges | |
| TExchange is safe and secure to use | |
| Is light for beginners and Binance pro for advanced level traders | |
| Offers crypto analysis charts with multiple options. | |
eToro pros and cons
| Pros | Cons |
| --- | --- |
| eToro supports over 20 cryptocurrencies | Only 20 or more crypt currencies of trade-in |
| Investors can also trade in precious metals | Relatively high fee on specific crypto trades |
| It also supports an extensive network of social trading and allows you to copy the trades of famous and successful traders. | Limited trading options of American mainland users |
| Convenient interface and easy for beginners along with beginner's account with 100k dollars for learning | No self-custody feature option |
| The platform is super secure and safe to use. | |
| Well-regulated with high trust ratings and positive reviews from millions of users | |
Buying Limits on Binance and eToro
Binance is currently offering more secure buying and selling methods to ensure a safe NFT trading experience. You can choose buying/selling limits on Binance in just a few steps. These limits can help protect your account from any malware, cyber-attack, and scams. The deposit and withdrawal limits are $50k per day in fiat currency for verified accounts. With a "verified plus," account these limits can be increased up to $200k per day for deposit and withdrawal in fiat currency. 
However, there are no buying limits if you are trading in cryptocurrencies. P2P transactions are unlimited for a verified account. The withdrawal limit for a non-verified account is 2 BTC, and for verified accounts, the limits go to 100 BTC.
There is no upper limit for trading and buying in eToro. However, the minimum deposit amount you need to trade is $200 or more. If you want to participate in trading, you need to have this much amount in your wallet; otherwise, you will not be able to participate in trade. This amount increases to %1,000 for CopyPortfolios. 
Deposit and Withdrawal Binance vs eToro
Deposit and Withdrawal method of Binance
Binance deals only in cryptocurrency. You can deposit in any of the supported currencies. For example, you can deposit in Bitcoin and Ethereum. However, these cryptocurrencies can be bought using fiat currency. 
You can attach your debit card and deposit fiat using fiat currency in Binance. Another vital aspect to consider is that you have to buy US dollars if you use fiat currency other than US dollars. You will buy US dollars or USDTs with your local fiat currency, and then you will be able to purchase cryptocurrencies using USDT. USDT is a cryptocurrency backed by the same amount of fiat currency USD.
The withdrawal process is the reverse of the deposit process.
You will sell your cryptocurrencies if you want to withdraw your amount
You will get USDT which equivalent to a US dollar
Then you can withdraw those USDTs from your local bank or debit card
Deposit and Withdrawal method of eToro
eToro being the oldest financial and trading firm, has its advantages. It is the only platform that allows you to buy cryptocurrencies using your PayPal account. Due to this feature alone, eToro stands out among many other exchanges. 
Besides PayPal, various other methods can buy cryptocurrencies on eToro. For example, investors can buy currencies using their bank accounts and debit cards. Othe depositing methods include Credit Card, Skrill, wire transfer (Swift and SEPA), Neteller, and Giropay,
The withdrawal process is straightforward. 
You can withdraw your money or profits instantly with just a few clicks. 
Go to options, select withdrawal option, put account details, and click transfer!
After deducting the transfer fee, the remaining money will be transferred to your bank account. 
Fee structure of Binance and eToro
There is a significant difference in the fee structure of these two crypto exchanges. 
Binance fees
The trading fee of Binance is 0.1%. It is the standard fee Binance deducts, but you can considerably reduce the fee by using Binance's token or BNB. It will cost you 25% less fee.
There are no other hidden fees. Binance is clear in these policies.
| Level | 30d Trade Volume (BTC) | and/or | BNB Balance | Maker / Taker | Maker / Taker BNB 25% off | Maker/TakerBNB x Referral 25% off x Kickback 20% |
| --- | --- | --- | --- | --- | --- | --- |
| VIP 0 | < 50 BTC | or | ≥ 0 BNB | 0.1000% / 0.1000% | 0.0750% / 0.0750% | 0.0600% / 0.0600% |
| VIP 1 | ≥ 50 BTC | and | ≥ 50 BNB | 0.0900% / 0.1000% | 0.0675% / 0.0750% | 0.0540% / 0.0600% |
| VIP 2 | ≥ 500 BTC | and | ≥ 200 BNB | 0.0800% / 0.1000% | 0.0600% / 0.0750% | 0.0480% / 0.0600% |
| VIP 3 | ≥ 1500 BTC | and | ≥ 500 BNB | 0.0700% / 0.1000% | 0.0525% / 0.0750% | 0.0420% / 0.0600% |
| VIP 4 | ≥ 4500 BTC | and | ≥ 1000 BNB | 0.0700% / 0.0900% | 0.0525% / 0.0675% | 0.0420% / 0.0540% |
| VIP 5 | ≥ 10000 BTC | and | ≥ 2000 BNB | 0.0600% / 0.0800% | 0.0450% / 0.0600% | 0.0360% / 0.0480% |
| VIP 6 | ≥ 20000 BTC | and | ≥ 3500 BNB | 0.0500% / 0.0700% | 0.0375% / 0.0525% | 0.0300% / 0.0420% |
eToro fees
eToro's business model favors investors. They do not deduct a fee for opening and closing trades. It is a good thing for active traders. However, eToro does charge spread. This spread depends upon the instrument. For example, 0.75% for bitcoin and specific trading pairs such as ZEC/ZHF up to 3.45%. 
eToro charges a flat 5% fee on withdrawals, but depositing is free.
Supported Countries
Binance
Binance has expanded its network to many countries since its emergence as a major exchange in the crypto world. It has extended its operations even to third-world countries to support and encourage local investors to invest in cryptocurrency.
Binance is providing depositing services in local fiat currencies of these countries. The Locals deposit using their local currency, and in return, they get USDTs. Binance is also operating in China. However, due to recent restrictions on cryptocurrencies by the Chinese government, the company is facing difficulties in its operations.
Binance made a separate platform for the US traders and named it Binance US.
eToro 
eToro is an old exchange having a global presence. It is present in most of the countries in the world. However, there are a few exceptions, such as North Korea, Canada, Iran, Japan, Turkey, Sudan, Cuba, Serbia, and Syria.
Conclusion
Thoroughly research any platform before investing. Check transaction methods and their availability in your country. Confirm withdrawal methods along with fee and time. These are some of the essential aspects everyone needs to keep in mind.
Both exchanges have their pros and cons, but one thing is for sure that both are safe to use. You may be looking for specific features offered by one of these exchanges, but it will not make the other exchange any less.
How Is This Binance vs. eToro Comparison Created?
You may think whether the information provided is legit or not. We can assure you that every bit of facts, figures, and other information provided above is legit because;
We collect
The data included in the comparison of Binance and eToro is fact-based. The data is collected from trusted and authentic sources. In this way, we make sure that every piece of information that reaches our readers is 100% accurate.
We examine
Examination of facts and figures is mandatory. Our experts analyze and examine all the data collected from different authentic sources to make it more trustworthy and practical in nature. We use data science methods to analyze and examine the data. Data is then passed through different filters of strict reviews to eliminate any false claims.
We score
We use facts and figures to make this comparison easy and understandable for readers. Moreover, different comparisons are presented with the help of scores and other understandable formats.
We choose 
The final data is gathered after examination, analysis, and passing through different strict features. Then from this collected data, chosen and reliable information is used in charts. It is done to save your time when making a quick decision for choosing and investing. However, make sure to have a basic understanding of cryptocurrency and market trending before making any investment.
FAQs
1. Which are the most important features in this Binance vs. eToro cryptocurrency exchange comparison?
The essential features one should consider while choosing a cryptocurrency exchange are trading fee, deposit/withdrawal fee, security, payment methods, supported cryptocurrencies, countries of operation, and overall brand reputation in the world. Keep in mind that you are looking for specific features according to your need, mood, and abilities. These evaluating points may be less important than those you set for yourself.
Choose wisely!
2. Which cryptocurrency exchange is best for beginners?
If you read the reviews by customers regarding various online trading platforms, you would notice that they all have something in common: their user-friendly interface. These all exchanges are easy to use. While some are more compatible for beginners, others require basic knowledge to use them properly. It is a matter of choice. You may like one exchange and may not like the other. 
You may be looking for specific features in exchange. You will like the one with all the desired characteristics. Almost every exchange tries to make the registration and trading process easy for beginners.
3. How is this cryptocurrency exchange comparison used?
The first step is the choose the exchange you want to trade through. It is a crucial step because you cannot move forward to the next step without finalizing the exchange. After selecting the exchange, you can not compare its features with the other exchanges working in your area. Note the points or features you like the most. Compare deposit, withdrawal, transaction, and trading fee. Evaluate the pros and cons of the selected exchange. For a more thorough comparison, compare the tables given in this article. 
4. How can I choose the best crypto exchange for me?
First, you need to evaluate your information and knowledge of the crypto world. Then you can use this to set goals and targets using your background knowledge of exchanges and trading. If you are a beginner, you may have different goals and objects in your mind than a person who has spent years in the market and crypto trade. Even if you have decided for yourself, it is not easy to search and go through dozens of exchanges to find the best one. This article makes it easy to compare these two most popular and reliable crypto exchanges globally.