Bitbuy Review 2022: Is It the Best Canadian Crypto Platform?
In crypto trading, the first success is choosing a secure and highly beneficial platform, therefore the Bitbuy review comes in handy. Because you will risk your investments and want to earn the maximum profit, if you fail to find the right cryptocurrency exchange platform, then crypto trading would be the scariest dream for you. 
For a Canadian citizen, Bitbuy review is essential to start trading, and it's a platform only for Canadian investors for secure trades and maximum commission. So keep on reading as we comprehensively reviewed all significant aspects of the Bitbuy platform. In the end, you will know why Bitbuy is perfect to start digital asset trading.  
What is Bitbuy?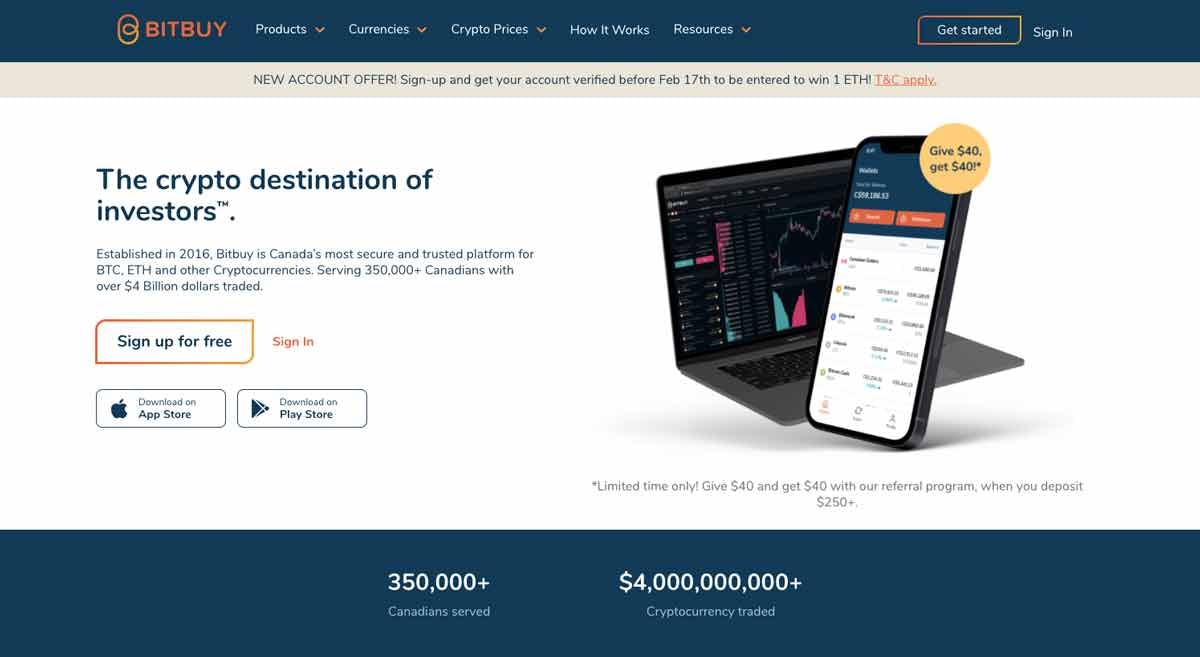 Bitbuy is a Canadian-based cryptocurrency exchange platform launched in 2016 for the first time. Adam Goldman and Ademar Gonzalez were the founders of this platform who wanted to provide secure access to significant cryptocurrencies for Canadian citizens. First, the last name of Bitbuy was InstaBT, and then in 2018, the whole system upgraded, including name. 
Apart from cryptocurrencies, the platform offers an OTC desk for high-volume trading and acts as Money Services Business. Being a leading crypto platform in Canada, Bitbuy is officially regulated with the Reports Analysis Center of Canada and Financial Transactions. According to recent updates from the developer team, the platform is expanding worldwide.
| Data | Value |
| --- | --- |
| Official Website | https://bitbuy.ca/ |
| Headquarters | Toronto, Canada |
| Found in | 2016 |
| Native Token | No |
| Listed Cryptocurrency | ETH, BTC, XRP, LTC, EOS, BCH, XLM |
| Trading Pairs | 13 |
| Supported Fiat Currencies | CAD or Canadian Dollar |
| Supported Countries | Accepts Canadian citizens and residents only |
| Minimum Deposit | $100 |
| Deposit Fees | 1% to 1.50% |
| Transaction Fees | Maker – 0.10% | Taker – 0.20% |
| Withdrawal Fees | 0.5% to 1.50% |
| Application | Yes |
| Customer Support | Search Query Support, Submit Request Support |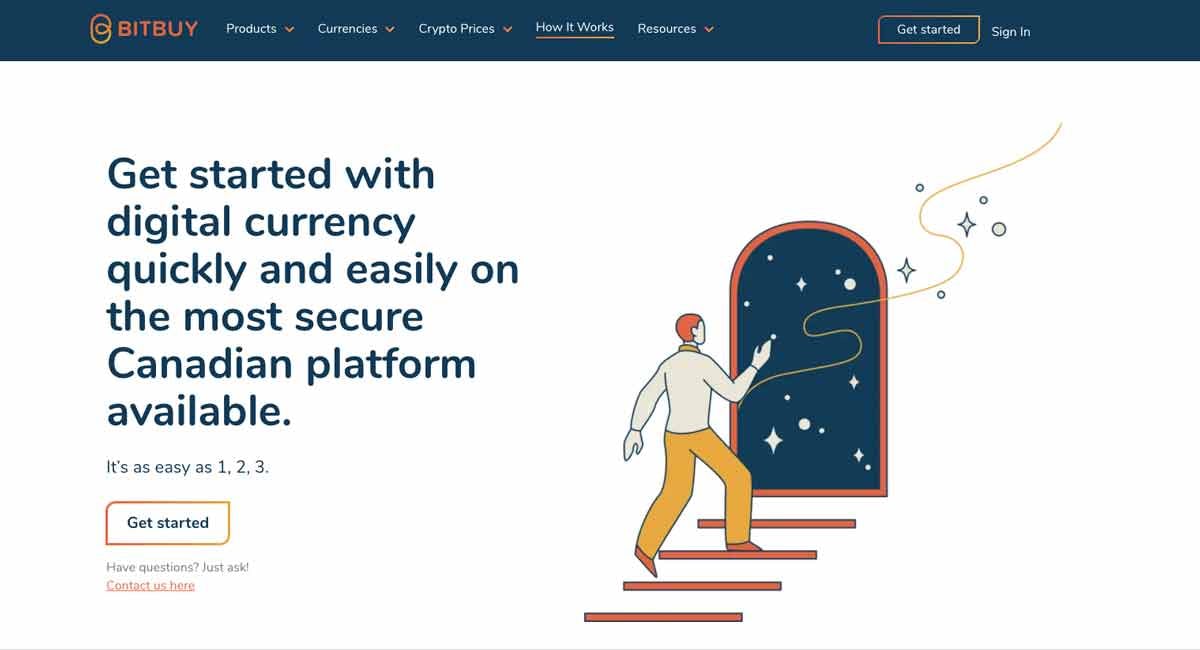 Bitbuy has been designed so that beginners and expert investors can easily understand the terms on the landing page. In addition, the Express Trade feature makes it more user-friendly for trading and other purposes. All you need to do is sign up on the official website with the help of your email ID and password. 
Upon signing up, you will be able to receive a $20 promotional discount. The platform will be the phone number for 2-factor authentication to ensure the best security. Once the initial setup is done, you will ask to provide personal information for security measures. Don't worry; your information will be highly encrypted. After that, you can deposit funds and start crypto trading. 
Features of Bitbuy 
Today, Bitbuy has 350,000+ active investors on its platform, and it depicts that there is something worth investing in this platform. So let's have a deep look at its features, making it an industry leader.
User-Friendly Interface
The first thing that caught the user's intentions was its straightforward interface. If you are a beginner and know nothing about crypto trading, this platform is for you. There is no need for advanced orders or dealing with markets to purchase cryptocurrency. 
Just select your desired coin, set an amount, define the payment method, and place the order. There are no jargon and new terms on the landing page that are difficult to understand.
Supports 15 Major Cryptocurrency
Unlike other big platforms like Binance, Bitbuy doesn't support a long crypto coins list. However, all the significant and stable coins are available to trade. Those 15 crypto coins are Bitcoin (BTC), Ethereum (ETH), Bitcoin cash (BCH), Litecoin (LTC), Stellar Lumens (XLM), EOS (EOS), AAVE (AAVE), Chainlink (LINK), Dogecoin (DOGE), Polkadot (DOT), Cardano (ADA), Uniswap (UNI), SushiSwap (SUSHI), Polygon (MATIC), Solana (SOL).
Automated Trading
Another fantastic feature provided by Bitbuy is API for institutions, individuals, and algorithmic traders. With the help of this feature, investors can connect with more than ten markets where they can find multiple crypto-to-crypto and CAD-to-crypto pairs. Over this, this APIs help to automate the trading to ensure the maximum profit margin.
Mobile App
Bitbuy has a mobile app for Android and iOS users for user convenience. You can easily download it from the Google Play Store and Apple Store into your mobile devices. The app has all those features you can get at on the official website. So, if you are out of the station and don't have a laptop, you can still trade different cryptocurrencies. Also, the theme and interface are straightforward for beginners. 
Pro Trade
This feature is specifically for expert traders who enjoy more features and advanced technology. It's an up-gradation of Express Trade and includes more detailed price charts. Moreover, you can deeply observe Pro Trade's market orders and limits.
Partnered with BitGo Trust Company
 Normally, crypto exchange platforms don't provide you with any insurance policy because the governments haven't accepted it as legal yet. But the Canadian Government applied regulations on Bitbuy and all digital assets on this platform have been transferred to BitGo Trust Company from the cold wallets. This step ultimately secures your cryptocurrency, and you can claim in case of any hacking incident. 
OTC Service
Sometimes investors want to spend a considerable amount, and most platforms don't support it. However, on Bitbuy, you can place an order of over $50,000 with the help of OTC service. With the use of this feature, you can avoid high slippage and get live price quotes on large gigs. 
Trading History
Another impressive feature of Bitbuy is providing all records of your transactions on a separate page. You can find orders, transactions, and crypto transactions sections on the page. The orders are listed according to date, fee, price, order ID, and quantity. Further information includes open, completed, canceled, and OTC.
Moreover, crypto transactions are also classified according to the amount, type, coin, and blockchain record. If you are using Pro Trade, the history will be in more detail to check market trading histories. 
Areas of Improvement 
With every passing minute, the Bitbuy team improves the platform and facilitates the investors in the best possible ways. We should admire many features, but some gaps are still evident. If the company copes with these flaws, there is no match for Bitbuy. Here are the complaints received by users:
Limited Cryptocurrencies
The platform was launched in 2016, and only 15 crypto coins have been listed till today. However, the provided coins are well-established and most commonly used. But users want more options like KuCoin, which has 250+ listed cryptocurrencies, and having more options means greater chances of investment and making a profit. 
Only for Canadians:
Bitbuy supports only CAD as a fiat currency and is only available in Canada. It doesn't look like a drawback, but the problems occur for business people who travel a lot and can't access their accounts out of Canada, which is slightly irritating. As an alternative, they have to choose available options worldwide, like Binance. 
Lack of Live Chat Support
Users demand excellent customer support that should solve their queries within no time. Live chat is the good option to get the solution to your problems at the moment. However, Bitbuy doesn't support live chat, and you only have the option of email support. Although most investors don't consider it a big issue, it could be an impressive up-gradation of the platform. 
Fee Structure of Bitbuy 
Before starting investing in Bitbuy, it's important to understand the fee structure and make sure you will earn a profit after all deductions. There are multiple fees, including sending and withdrawing currency. Let's figure out one by one:
Deposit Fees
If you are depositing in the cryptocurrency, no charges will be applied when transferring your crypto coins from external wallets to the platform. On the other hand, if you are depositing fiat currency, some charges will be deducted depending on your sending method. 
Try to fund your account through the bank wire because it's cheap. However, you have to wait for a few days for the transaction. Interac e-transfer immediately transfers your amount, but charges are somewhat high. 
| CAD DEPOSIT TYPE | MINIMUM | MAXIMUM | FEE | PROCESSING |
| --- | --- | --- | --- | --- |
| Interac e-Transfer | $100 | $10,000/ 24 Hrs. | 1.50% | Near Instant* |
| Bank Wire | $20,000 | $500,000 | 1.50% | 0.50% |
Withdrawal Fees
There are no withdrawal fees when you transfer from exchange to exchange. If you withdraw crypto coins in fiat currency, some charges will be applied as mentioned below:
| CAD DEPOSIT TYPE | MINIMUM | MAXIMUM | FEE | PROCESSING |
| --- | --- | --- | --- | --- |
| Interac e-Transfer | $50 | $10,000/ 24 Hrs. | 1.50% | Within 24 Hours |
| Bank Wire | $20,000 | $500,000 | 1.50% | 0.50% |
The charges vary according to the coins, and the following is the list of variable rates:
| CURRENCY WITHDRAWAL-TYPE | MINIMUM WITHDRAWAL | WITHDRAWAL MINING FEE |
| --- | --- | --- |
| Bitcoin (BTC) | 0.001 BTC | 0.00025 BTC |
| Ethereum (ETH) | 0.05 ETH | 0.005 ETH |
| Litecoin (LTC) | 0.05 LTC | 0.02 LTC |
| Bitcoin Cash ABC (BCH) | 0.01 BCH | 0.001 BCH |
| Stellar Lumens (XLM) | 26 XLM | 0.02 XLM |
| XRP | 25 XRP | 0.02 XRP |
| EOS | 1 EOS | 0.02 EOS |
Trading Fees
If we look at the trading charges of the Bitbuy platform, then both the maker and taker have to pay 0.5% of the total amount. These charges are slightly high compared to the other platforms, and Bitbuy is thinking to reduce them. 
On the contrary, if you use Trade pro, the taker will be charged 0.2%, and the maker's fee is 0.1%. Keep in mind these charges are separate from the withdrawal and deposit fees. 
Is Bitbuy Safe?
Security threats are the major concern of the investors. In the past few years, many crypto wallets get hacked, and users have lost everything. Since all operations are happening online, hacking is always an alarming situation. Now the crypto exchange platforms are putting their special efforts into making these channels safe from scams.
If we talk about Bitbuy, the company ensures multi-tiered security to give you peace of mind. Have a look at how Bitbuy protects your assets from different aspects.
User Side Security
Whenever hackers try to steal currency on the platform, they usually come from the user's side. You may get into their trap, and with the help of your information, they access the platform. To avoid such incidents, Bitbuy uses best practices and educates its users.
SSL encryption is the best way to make sure that you are in a safe place. Go back immediately if you ever visit the site and don't see the SSL padlock. The chances of your account hacking are rare because of the 2-factor authentication system. Bitbuy applies 2FA by default for every user so you can double-check your logging details. 
Exchange Side Security
There are two types of asset storage on all platforms called hot and cold wallets. There are some chances of hacking in hot wallets because they are online. But cold wallets ensure the ultimate security as they are offline, and no one can access them through the internet. According to the report, Bitbuy saves its 95% assets in cold wallets, and the remaining 5% is used for liquidity purposes. 
So, if your private keys are safe, no one can hack your account and steal digital assets. Apart from that, the platform has daily distributed backups on their servers which is the perfect strategy to identify Dedicated Denial of Service (DDoS) attacks. 
Proof of Reserve Audit
Recently, Bitbuy performed a security and reserves audit regarding QuadrigaCX collapse. The audit was supervised by CipherBlade, an American blockchain forensics firm. The report showed that the bank approves all fiat assets, and a complete record is available in the back-end systems. 
Also, the digital assets in the cold and hot storage are equal to the balance available in the user's accounts. Moreover, the background system has been passed through the security check, and their cold storage is completely secured. Keep in note that it's not a one-time audit. Bitbuy has hired CipherBlade for continuous security checks frequently. You can hardly find a platform with this much transparency and auditing suit. 
Supported Payment Methods 
To purchase cryptocurrency for the first time, you need to deposit fiat currency in CAD. The platform supports only CAD fiat currency, and you can transfer through bank wire, express Interac e-transfer, and Interac e-transfer. 
Keep in mind that this platform doesn't allow payment through credit or debit cards. On the other hand, if you want to deposit in cryptocurrency, you can do it from any crypto wallet. 
Which Wallets Are Best to Connect with Bitbuy?
You can either store crypto assets on the platform or the external wallets for security purposes. But if we consider the Bitbuy wallets for saving crypto coins, you can take this step. This is because its first platform has an insurance policy on cryptocurrency and is connected with Knox's well-known company. 
Still, if you are worried about security concerns, you can choose any hardware wallet from the following three options:
Ledger Nano X
Trezor Model T
KeepKey
Since these wallets are hardware, some expenses will be required. However, you can freely access their websites to check your balance summary. 
Pros & Cons of Bitbuy 
Pros
Irresistible security features due to collaboration with the Knox Insurance partnership and 95% asset storage in cold wallets.
All charges are crystal clear, and no hidden fees are included due to the supervision of FINTRAC.
Very active customer support through email, as you will receive a reply to your query within a day.
The fiat currency integration allows you to purchase cryptocurrency with CAD.
Fees are comparatively less on this platform.
Investors can choose either the limit orders or market orders using the Pro Trade feature.
High execution of operation lowers the slippage on transactions. 
It performs third-party audits of all its departments, including financial, security, and transactions under the surveillance of PCMLTFA.
Offer a generous referral program if you meet the conditions.
Cons
Available in the limited area
Need more cryptocurrencies to be listed
Only accepts CAD fiat currency 
FAQs 
Can you sign up on Bitbuy without a cell phone?
No, it's mandatory to verify your account in 2FA by default. If you don't have a Canadian number, you can't enter the platform. 
How to reach out to Bitbuy customer support?
Bitbuy has very responsive email customer support to solve your queries. You will receive the answer to your email within one day from the platform. 
Can Bitbuy be hacked?
In the past, no hacking incident happened on this platform. But no one can provide 100% safety for any online company. However, the security measures taken by the platform are top-notch and provide insurance by BitGo. 
Conclusion
In the final words, we would like to mention that it's the best platform for Canadians interested in crypto trading. Even if you don't want to trade, you can easily convert your fiat currency into crypto with low charges. 
Moreover, the responsive customer support and easy verification method make it worth choosing exchange for beginners and experts. Also, its top-notch security won't leave you disappointed at any time.