Chainlink Staking: Three Ways to Utilize LINK for Passive Income
Think again if you still believe that trading is the only way to profit in the crypto world. Because it's an era of technology, you can always find a mode to earn a commission. Crypto staking is one of them, and choosing the right platform is key to success. But unfortunately, few of them provide staking service from the pool crypto exchanges. 
Chainlink staking is making progress with every passing day due to different options. Moreover, the platform is collaborating with many big firms, which will greatly affect the prices of LINK. Investing in staking LINK can be a great decision at the moment because of its recent growth.
The guide will provide you with an in-depth walkthrough of Chainlink staking, and you will learn different types and ways to stake LINK.
What is Chainlink?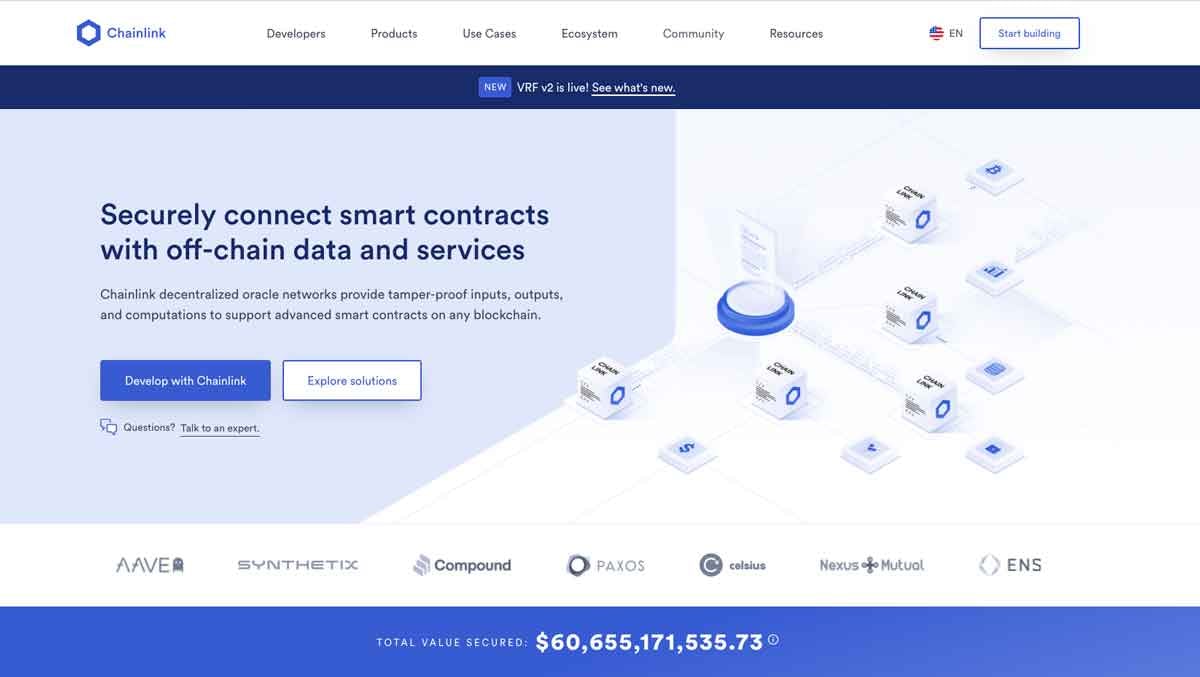 Chainlink is a blockchain and industry-standard oracle network founded by Sergey Nazarov and Steve Ellis in June 2017. The platform's purpose was to smoothen the interconnectivity of smart contracts. LINK is the native ERC20 cryptocurrency of the platform, and it's a payment method to node operators. The LINK price varies with the number of operators working on the network development. 
The smart contracts of the Chainlink integrate real-world data to execute agreements that demand proof of performance. The network manages everything through the oracle contracts built on the Ethereum blockchain. Partnerships with different platforms like Bitcoin, Synthetix, Google, and many other firms enhance the platform's credibility. 
| Data | Value |
| --- | --- |
| Chainlink Price | $16.84 |
| Price Change in 24h | -$0.2536 |
| 24h Low / 24h High | $16.58 / $17.41 |
| Trading Volume | $626,246,051.89 |
| Market Cap | $7,860,742,025.71 |
| Fully Diluted Market Cap | $16,832,079,844.57 |
| Market Dominance | 0.40% |
| Market Rank | 22 |
| All-Time High | $52.88 |
| All-Time Low | $0.1263 |
| Chainlink ROI | 10655.73% |
| Circulating Supply | 467,009,550 LINK |
| Total Supply | 1,000,000,000 LINK |
| Max Supply | 1,000,000,000 LINK |
How does Chainlink Work? 
The major problem with blockchain transactions is that you can't reverse the process. So, if you didn't verify the transaction details and push the send button, all losses will be yours. The platforms like Ethereum or Cardano won't take responsibility for your loss and improve the process.
On the contrary, the Chainlink Oracle contracts automatically verify data before transactions. Therefore, if we talk about the DeFi coins industry, Chainlink is on the top because of featuring the Oracle system. Moreover, it's a decentralized platform; you don't need the approval of a third party to execute the process. 
What is Chainlink Staking?
The term staking refers to holding cryptocurrency on exchange liquidity pools and earning commission based on different criteria. You can also stake coins in validating the network and earn rewards with time. If you don't want to trade your digital assets, staking provides you with a secure way to receive passive income. 
Talking about the Chainlink Staking, the process is slightly different. Although it's complex to understand, we tried to explain it most easily. Let's get into it:
Staking on Cryptocurrency Exchange
The most straightforward way to stake LINK is on any cryptocurrency exchange. Many platforms offer you to stake your LINK in their liquidity pool and earn a commission. However, there are only a few such platforms, and everyone has their criteria to reward stakeholders. 
On their official websites, you can find the process of staking along with the fees structure. It's not compulsory on all platforms, but some have a lockup period on staked coins which ranges from 1 to 3 months. After that, you simply need to provide your personal information for staking LINK for verification. 
Staking as Node Operator
Another way to receive free LINK is by participating in maintaining the platform's infrastructure. Since the Chainlink is DON (Decentralized Oracle Network), you have to create new nodes to become a shareholder of the new LINK. These nodes are used for sending and receiving data to smart contracts and ultimately power up the platform. 
If you don't have LINK coins, you can still launch the node. However, having LINK tokens boosts your node, and you make more commission comparatively. This staking process is slightly difficult as you need high-level expertise in launching nodes. 
Staking on DeFi or CeFi Lending Platform
The third way to stake LINK is using the DeFi platforms like Aave. Apart from that, you can make a commission through CeFi lending services, including Nexo and BlockFi. The process is straightforward all you need to do is deposit your LINK on any of these platforms and collect rewards periodically. As soon as you transfer your coins, the platform recognizes you as sharing interest partner. 
It's the simplest way, as you don't need to go through the KYC verification process on DeFi platforms. However, CeFi services demand few details sometimes. But it depends on the country you are living in. 
How to Stake LINK?
You can stake LINK in three ways depending upon your choice and convenience. However, it's important to know all three processes, and then it's easy to go for the simple one. So, down the article, we provided a step-by-step guide to stake LINK using different platforms.
Staking Chainlink on Binance Exchange
If you have been in the crypto trading game for years, you might have experience trading on various cryptocurrency exchanges. After the popularity of staking business, the platforms paid attention to providing this service to catch more audience. Many exchanges allow you to stake your cryptocurrency in their liquidity pools and earn a commission. 
But it's critical to choose a platform that offers LINK staking as it's not available on every exchange yet. Binance is best to go for LINK staking out of hundreds of platforms because of its impressive features. Here is how you can stake your LINK:
Setup your account on Binance if you don't have it before.
From Binance Earn drop-down menu, choose an option of DeFi staking or Flexible Savings.
Choose LINK as your cryptocurrency and hit the transfer button.
You will be asked to provide an amount you want to stake on the next screen.
Finally, confirm the transaction after accepting 
If you picked the Flexible Savings option, withdrawal of LINK wouldn't be a problem. However, there is a lockup period applied to DeFi staking.  
Staking LINK as Node Operator
To become a node operator on Chainlink, you just need a laptop with simple specifications of a 10GB hard disk with a minimum of 2GB of RAM. You don't need high-level ASIC-powered mining rigs like in Bitcoin mining. Over this, you are eligible to launch a node if you don't own LINK. 
The only problem you might face during the process is not having high-level programming expertise. During the journey, you have to deal with remote databases, commands, and many security principles. If you are a beginner trader and don't consider yourself too techy, we recommend choosing any of the other two options. 
If you still don't want to go from here, you can get help from Linkpool. This platform serves as a broker and assists you in creating nodes even if you don't know the programming. 
Staking With DeFi/CeFi Services
Staking on these services is extremely simple and doesn't need high technical knowledge. You just need a Web 3.0 digital wallet to stake on the DeFi platform. For that purpose, you can opt MetaMask due to its versatility. However, a simple crypto wallet like Ledger or Coinbase wallet is enough to stake in CeFi services. 
After selecting services, you just need to connect LINK wallet with that platform and then deposit your cryptocurrency. You might have to go through some basic verification process, and then your staked LINK will start accruing interest. The rewarding policy depends on the service you have chosen.  
Which Exchanges Allow You Stake LINK? 
Since you can't stake LINK on all exchanges, you have to find the one which supports LINK staking. Few reliable names for staking LINK are:
What is the Earning Potential of Chainlink Staking? 
An individual may win or lose money depending on the path they choose to pursue when they stake LINK. Even if exchange benefits are frequently of lower value, they are more reliable. In contrast, it's not obvious how the node operators earn profit. Whether a node operator has made money or not is a long debate; some claim to have lost money in the process. 
Node operators on the Ethereum blockchain have the challenge of dealing with high gas costs, a problem that has been seen many times. For a staked LINK, Linkpool promises to give an annual percentage rate (APR) of 5.27 percent at the time of this writing.
The following two loan businesses are the most lucrative for making money on LINK. Aave has a 0.01% annual percentage yield (APY) while YouHodler has more than 6 percent, according to StakingRewards, which says that interest payments may still change. As a result, the value of DeFi and CeFi's services is closely tied to the price of the LINK cryptocurrency token.
Is Chainlink Staking Safe?
There is a lot of contradicting, misleading information on the internet regarding staking Chainlink. It doesn't matter whether the customer is a seasoned cryptocurrency trader; the whole process might still be daunting.
Chainlink investment products may only be available for a limited time on certain exchanges before they are re-opened to new investors. As a result, it's possible not to make monthly interest payments on LINK throughout the year.
Even the most well-known crypto exchanges and lenders may have different regulatory statuses in different countries. The deposit insurance provided by traditional banks, on the other hand, covers a far larger variety of financial services. Customers may lose some or all of their money if a service goes down or is hacked.
Most DeFi services do not ask you to provide any personal information to use them. On the contrary, this may be advantageous to DeFi operators, but it also implies operating in legal limbo, which is problematic. A user's issues are likely to become more difficult to address if they persist.
Pros & Cons of Staking LINK 
Pros
Provide a constant stream of passive income without fear of loss.
It helps expand the platform, and you become a shareholder of the newly created LINK.
Because of Chainlink's authority in the crypto world, it's a worth investing platform. 
Cons
You may have to lock up cryptos on a different platform and can't withdraw anytime.
Some of the exchanges offer a low-interest rate which is not revealed beforehand. 
Is It Worth Investing in Chainlink?
LINK is one of the world's top 100 cryptocurrencies, and we can see its rapid growth at the same moment. This is a fantastic example of a project that combines cutting-edge technology with enough funding for future growth.
Chainlink has positioned itself as a crucial component in the digital future, where smart contract technology has immense potential, as an oracle network that aids blockchains in obtaining reliable data.
To ensure the project's success, Chainlink incorporates software specifically designed to improve the data that other blockchains may use to build their smart contracts. As a consequence of Chainlink, the bitcoin market will rely on more accurate and precise external data, which will result in incremental improvements in quality and security.
This powerful technology, Chainlink, may be used in a fully trustworthy manner by companies. Confident that the data they get is neither corrupted nor incorrect and delivered in a timely way, they may utilize it. Consider the cryptocurrency's longevity, the reputation of the investment, and the volatility of the cryptocurrency while selecting whether or not to invest in it.
A thorough evaluation of the company's past performance and the factors that influence its price is crucial when deciding whether or not to buy LINK coins. If you look at the current market value, LINK is trading at a current price of 686.82 ZAR, and it is expected to rise to 1511.38 ZAR by year's end, which is an all-time high for the cryptocurrency.
Demand for cryptocurrencies, which are now oversaturated, is often driven by marketing campaigns. Chainlink and LINK have had favorable public relations due to several interactions and the challenges Chainlink is trying to address.
Currently, neither Chainlink nor LINK is in direct rivalry with any other major bitcoin projects. As a pioneer in Oracle services, the organization also reaps the advantages. Over the next few years, analysts anticipate that Chainlink's momentum will continue, which means that the metal's price will grow gradually over the next few years, as the metal supply continues to decrease. 
LINK is presently an asymmetric investment opportunity, suggesting that the potential upside is greater than the potential downside, despite the market's current situation. Chainlink's services, which have made it a major participant in the bitcoin sector, blame this development.
FAQs 
What is Chainlink Marine?
Token holders and other community members are often identified in cryptocurrency initiatives. Chainlink began referring to its owners and participants as LINK Marines, one of the few initiatives. Named communities may assist attract attention to certain projects in the crypto sector by founding and naming them. Because of the supporters' ability to shift focus from social media to the project itself, its metrics have grown by leaps and bounds.
How high can Chainlink go?
Incorporating real-world data into Ethereum smart contracts by Chainlink brings up a whole new set of possibilities. More applications will be economically viable as these networks evolve and become more affordable, and the decentralized concept is even newer than blockchain technology. Chainlink will keep providing value as long as there is new data and a desire for improvement.
What is Chainlink 2.0?
Chainlink makes it easier, cheaper, and safer to use smart contracts, gaining popularity. The token's designers just announced Chainlink 2.0, a newer version. Chainlink 2.0 is intended to include additional features, including Oracle-based off-chain networks built on top of it. These networks keep the basic layer of the smart contract platform free of computationally intensive tasks.
How secure is Chainlink Network?
Chainlink, an ERC-20 currency based on Ethereum, is protected by the proof-of-stake consensus mechanism. PoS protocols were created to offset the high-power consumption of PoW devices. PoS models are becoming increasingly popular because of their low power consumption and simple scalability. However, Ethereum and other ERC-20 tokens have skyrocketed in value and are now defining the industry trend.
Wrapping Up
Keeping idle LINK tokens in the crypto wallet gives you nothing in return. However, there are many ways to stake them and earn passive income. The best thing about staking is that your cryptocurrency will be safe and have low chances of loss. 
Although the perks of trading crypto are much more, staking on the exchange is not too bad. If we consider the future of LINK tokens, crypto experts have high expectations. So, it's the right time to invest in this amazing cryptocurrency.