Best Crypto Resources
The vast world of distributed ledger technology and cryptocurrencies has practically erupted in the last few years with new ventures, software, and forums for traders and other crypto enthusiasts to use and appreciate. Most people struggle to understand what the crypto space offers. This article offers a guide into where to learn everything about the crypto world by enumerating the best crypto resources.
Trading cryptocurrency includes an understanding of the risk-reward relationship, mathematical insight, emotional regulation, and other dynamic market considerations. As a result, the best cryptocurrency trading courses cover the foundations of cryptocurrency in relation to these and other more proven trading techniques.
5 Best Crypto Resources:
1.  Best Overall: Altrady
2. Best for Value: LinkedIn Cryptocurrency Foundations
3. Best for Passive Strategies: Udemy's The Complete Cryptocurrency & Bitcoin Trading Course 2021
4. Best for Developers: IBM Blockchain 101
5. Best General Resource: Bitcoin whitepaper: A Peer-to-Peer Electronic Cash System, Ethereum White Paper
Why You Need Crypto Resources
Numerous papers may be written on each cryptocurrency trading technique and which is the strongest. The response is subjective and is determined by the trader's risk perception, financial objectives, and level of involvement. This can take the form of a variety of passive or aggressive techniques, depending on personal choice.
For those unfamiliar with the cryptocurrency community, particularly those without a technical background, the entire blockchain environment appears to be extremely overwhelming. It took several months for me to gain sufficient knowledge about blockchain to feel confident investing in the space.
That is why this resources page has been developed to share often visited websites with you. Those that are new to the field will significantly accelerate their learning curve with the right tools.
For this study, we examined more than a dozen cryptocurrency trading courses. While we discovered a few courses taught by individuals on their own websites, we discovered that Altrady offered the most common and comprehensive courses, followed by Udemy.
We focused on courses taught by real cryptocurrency trading experts that received positive feedback and had a large enrollment. Additionally, we selected courses that concentrated exclusively on the basics of cryptocurrencies as they applied to real-world trading methods and strategies.
This list includes five educational opportunities that are appropriate for both novice and experienced cryptocurrency traders. All of these courses come highly recommended by experts, including journalists and information technology consultants, who took them in order to further their careers and gain access to this emerging field of expertise.
Best Crypto Trading Resources in 2022
1. Altrady Crypto Academy
Altrady has an excellent course for learning the fundamentals of cryptocurrency investing. The trading examples and coin charting are especially beneficial, and serve as an excellent guide for beginners. The course is structured to be an outstanding resource that addresses all fundamental techniques and more in-depth topics not included in the course.
Altrady provides you with the tools necessary to succeed as a cryptocurrency trader. Altrady Crypto Academy was created in response to prevailing business conditions. The course and learning materials are designed to assist those interested in cryptocurrency trading. The first Altrady 101 crash course covers the fundamental configurations needed to properly use the Altrady application.
Additionally, Altrady has launched a plethora of resources for its trading customers. The platform includes concise manuals for and of its partnered products and detailed guidance about how to install the app.
Among the lessons included in the preliminary course are the following:
·   Authorization & two-facing authorization: Altrady is simple to use, and the course walks you through each move.
·   The Break-Even Trading Calculator is one of the most useful features of the Altrady app since it saves you time by indicating whether you are either winning or losing coin on all your trades on the chosen market.
·   The Bases Info widget displays a list of markets that the Crypto Base Scanner algorithm identified.
·   The Quick Scan widget enables you to identify markets that have seen a significant price transition, either downward or upward.
·   The Altrady price chart: offers real-time statistics on the free market's price fluctuations.
Alternatively, Crypto Academy offers several special classes. For example, CryptoFocus provides some excellent content in Dutch that will assist you in setting up and trading with Altrady. Additionally, the Altrady, "How To Series" seeks to offer a concise overview on how to execute trading strategies or configure bots, as well as several other tips.
2. Trading Browser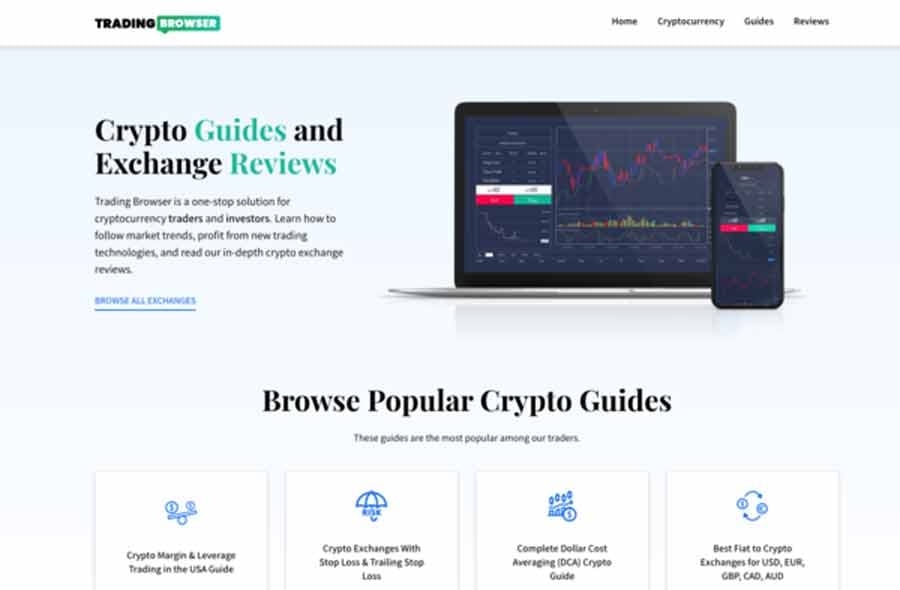 Trading Browser is taking crypto trading guides and platform reviews to a new level by focusing on trust and user experience above all else. The team behind this trusted crypto comparison and review website is made up of trading and investment professionals that aims to educate and teach new traders on how to get started in crypto trading, learn different investment approaches, how to read crypto charts, and most importantly how to find a safe and regulated platform in their geographic area. The goal has always been to protect the end user to make sure that best practices are used when trading digital assets.
The main features of this crypto guide can be found in the main menu but also among the most popular guides which are featured on the front page. Some of the most interesting reads of Trading Browser are:
●      Cryptocurrency Indicators for Technical Analysis
●      Most Secure & Regulated Cryptocurrency Exchanges
●      How to Make Money with Cryptocurrencies
●      How to Analyze Cryptocurrencies Before Investing
●      How to Convert Cryptocurrencies to Cash
●      Dollar Cost Averaging (DCA) Crypto Guide
●      Crypto Trading Strategies for Beginners
Trading Browser use cases
Traders and investors that are searching for detailed crypto guides which are easy to read will find the website very useful. Another thing that stands out about Trading Browser is the strict review system they oppose on all exchanges that they review. No platform will be given a rating of 4(excellent) or more unless they are regulated by a government which is something that not many other guides can live up to.
The team has done a great job of putting the readers in the front seat by creating detailed and easy-to-read content around different topics of the cryptocurrency scene that can be hard to understand. The overall feeling when browsing the website is a sense of trust and honesty which is something that increases the credibility of Trading Browser.
The team is constantly releasing new content for both short and long-term investors which makes it a unique one-stop solution for everyone interested in learning more about crypto and trading.
3. LinkedIn Cryptocurrency Foundations
Cryptocurrency Foundations is a beginner cryptocurrency trading course that is available on a monthly or annual membership basis which includes links to over 16,000 other courses, making it the best value on our list.
Lynda.com was founded by Lynda Weinman in 2002 and was acquired by LinkedIn in 2015, where it was rebranded as LinkedIn Learning. Its famous Cryptocurrency Foundations course provides students with access to over 16,000 additional business and marketing courses, making it our best value pick.
Though Cryptocurrency Foundations is a brief course covering the basics of cryptocurrency, mining, and trading, it provides students with access to eight additional cryptocurrency courses totaling nearly 50 images. The course is comprised of a single project file and three quizzes that cover topics such as blockchain databases, hashing, and cryptography.
For 30 days, students can access all course materials in Cryptocurrency Foundations for free. After that, the monthly rate is $19.99 if charged yearly, or $29.99 if paid monthly. Additionally, a LinkedIn Learning membership provides students with access to more than 16,000 courses covering business, creativity, and technology.
4. Udemy's The Complete Cryptocurrency & Bitcoin Trading Course 2021
Udemy's lengthy Complete Cryptocurrency & Bitcoin Trading Course 2021 plans to teach students how to gain passive income from cryptocurrency trading, a daring claim that earns it a spot on our list of the best passive strategies courses.
While the course summary reads like a sensational promotional letter, Udemy's Complete Cryptocurrency & Bitcoin Trading Course 2021 has a strong rating and almost 5,000 students registered. This, along with the course's focus on a "copy and paste" scheme for passive cryptocurrency profits, earns the course our recommendation for passive strategies.
The Complete Cryptocurrency & Bitcoin Trading Course 2021 is taught by Wealthy Education, a financial e-learning site of over 130,000 students, 22,000+ ratings, and a staggering 51 Udemy courses. The course includes 6.5 hours of on-demand content, three posts, and 18 downloadable materials, all of which are accessible through the Udemy mobile app.
While much of the course outline is written in rather flowery terms, a glance at the syllabus shows straightforward and realistic methods. The modules cover topics such as how to open and stable cryptocurrency trading accounts, how to choose the right trading tool, how to minimize risk and maximize profits, and advanced trading strategies such as exponential moving averages.
The Complete Cryptocurrency & Bitcoin Trading Course 2021 is just $119.99 and offers basic Udemy features such as lifetime registration, a certificate of completion, and a 30-day free preview.
5. IBM Blockchain 101
This guide will walk you through the process of spinning up a blockchain network built on the new open source Hyperledger Fabric architecture, either by the use of a next-generation application or manually component by component.
The blockchain movement is far from over! This guide is for you if you're researching distributed ledger technologies for commercial purposes and want to create a business blockchain for presentations, pilots, or pre-production staging. The course exposes you to many ways to get started immediately, including the IBM Blockchain Platform of the future.
Bitcoin whitepaper: A Peer-to-Peer Electronic Cash System
The easiest way to gain an understanding of cryptocurrency — how a blockchain function, why it matters, and how the space has grown — is to begin with Bitcoin. The initial blockchain continues to dominate all other modes of digital money—it is the primary entry point for the majority of people into the broader crypto community, and its technology laid the groundwork for much of what followed.
A theoretical overview, the Bitcoin white paper was the first to describe the basic concepts of a cryptographically encrypted, trustless, peer-to-peer electronic payment mechanism that was radically intended to be open and censorship-resistant, while still reclaiming financial control for the user. Satoshi Nakamoto's 2009 whitepaper kicked off the whole thing – technical, but more approachable than you would think.
6. Ethereum Whitepaper
Whereas Satoshi Nakamoto's Bitcoin Whitepaper is often credited for sparking the modern blockchain movement, the Ethereum Whitepaper represented a watershed moment in the history of decentralized technology. This resource is intended to acquaint you with Ethereum, which was launched in 2013 by Vitalik Buterin. Ethereum is the world's second biggest blockchain protocol, after Bitcoin. Anyone interested in gaining a better understanding of how potential apps can be built on top of blockchain protocols should begin with Ethereum.