FTX Exchange Review: A World-Leading Cryptocurrency Exchange
FTX is a cryptocurrency exchange that has gained a positive reputation in the crypto world. It emerged to the scene in 2019, and since then, it's growing like crazy. This exchange is successful in generating high trading volumes. 
Being a relatively young platform, it has made a special place globally. As a result, it has taken a position among the top five crypto exchanges in daily trading volume.
This fast-growing and favorite public platform boasts unique features. All these characteristics make the trading game the next level.
Our detailed FTX exchange review will provide you with all the details about the features, fees, supported currencies, and everything else on this exchange.
Please keep reading to know it all.
| Data | Value |
| --- | --- |
| Exchange name | FTX |
| Fiat currencies | Yes (USD, Euro, GBP, AUD, CAD) |
| Mobile app | Yes |
| Trading pairs | More than 100 |
Who founded FTX?
FTX was founded in 2018 by Sam Bankman-Fried and Gary Wang. The former is the current CEO of FTX exchange. He was once a trader on Jane Street Capital's international ETF desk. The latter was a former Google software engineer and is currently leading the company as a CTO.
The two guys also found Alameda Research Ltd in 2017. It is a leading quantitative trading and cryptocurrency liquidity provider. Moreover, it helps FTX exchange by maintaining deep order books and other crypto services. 
These masterminds introduced FTX exchange to the crypto scene in 2019, and it has successfully created a remarkable position soon after the launch. 
Why is FTX exchange so popular? Find it out in the coming section:
Features of FTX Exchange
FTX is an excellent exchange that welcomes newcomers with its easy-to-use platform. The wide range of features makes it a suitable spot for experienced traders. However, it offers exciting options for newbies to enter the crypto world. 
Along with competitive trading fees, explore the other striking features to decide if this is a suitable exchange for you.
1. Allows staking
If you want to invest and earn with cryptocurrency, FTX is a reliable exchange. It allows staking on a few coins like SRM, SOL, etc. When you bet your crypto, you lock it on the exchange. 
This way, you will be unable to transfer or sell it while it is staked, but you'll earn rewards in return for your stake as it happens in a bank. For instance, if you stake SOL, you'll receive a certain percentage of SOL on an annual basis.    
2. Supports a variety of cryptocurrencies
One of the best features of FTX is that it supports a wide range of cryptocurrencies. The number is not what you would expect! It offers more than 130 coins on the platform. They are regularly adding more to the list. So if you are looking for something that is not there, wait for some time; it will soon come there.
3. Donation to charity
FTX exchange was created with an aim to donate 1% of net fees to charities. They have donated more than $14 million to charities until now. They aim to make the world a better and brighter place by helping those in need. 
This humble act has increased the platform reputation in our hearts. 
4. Low fees
It is always a dream to get high-quality services at reasonable prices, let alone low prices. However, it feels like an achievement when we get a complete deal.
FTX exchange is known for offering exceptional services at low trading fees. The starting rates for traders and buyers are 0.10% and 0.40%, respectively. 
Compared to other leading exchanges, this is one of the best rates in the market. The best part is that traders with high-volume transactions are also eligible for low trading fees. 
5. FTX Pay 
With FTX exchange, you can get paid in fiat or crypto. You can utilize the FTX Pay service to send or receive payments on a safe and secure platform. You can transfer the funds to the FTX account or an external wallet. 
Let's move on to another amazing feature offered by FTX exchange. 
Advanced markets 
Have you ever heard of it? Do you know how they work? If you are unaware about advanced markets, you'll learn it now.
FTX enables users to access a wide range of markets that aren't easily available on other exchanges. That being said, FTX is a step ahead of its competitors. Here is a brief description of these markets to better understand how they work. 
1. Futures
Futures are tools that allow users to trade coins on a pre-set date and price. FTX allows applying for leverage up to 101 times on most contracts. 
The exchange supports the future for more than 80 crypto coins. Users cannot trade most of these digital assets on futures contracts on other exchanges. 
The exchange also supports perpetual futures. This means the future does not expire, but those prices are updated every hour to keep pace with the value of the digital asset. 
2. Options
Options are very similar to futures. The only difference is that the holder doesn't need to purchase the asset when it expires. 
For now, FTX supports only Bitcoin options. However, traders are allowed to design their options and add a quote on the exchange. FTX gives an offer in response to the quote. 
The offer stays up for 5 seconds when a trader can decide whether he would like to take the offer or not. 
3. Leveraged Tokens
These tokens can be bought and sold with up to 3x leverage with no margin requirements. This is a unique feature of FTX exchange. They are ERC20 assets that show the actual price of a given digital coin. 
4. Move 
These contracts reflect the amount of price an asset moves over a specific period. For example, if BTC moves $50 over a day period, the MOVE contract will be valued at $50. 
Traders can opt for a long-term MOVE contract if they believe that the asset will move in a better direction. On the other hand, they can open a short-term position if they think that a coin is likely to remain stable in the coming time. 
You can choose from three trading periods, daily, weekly, or quarterly. 
5. Spot Markets
These are trade options that follow the underlying price of the asset without margin or collateral. FTX is a platform that supports a wide range of cryptocurrency spot markets. 
Currently, it features spot markets for more than 70 coins. 
6. Prediction Markets
Have you ever bet on something? Prediction markets follow the same strategy as betting does. In this case, you look for the possibility of a real-life instead of a financial asset. 
If your predictions turn out correct, you earn a profit. On the other hand, if your prediction comes out wrong, you lose the stake or bet. 
For example, FTX offered a prediction market for the recent elections where owners could make trades on TRUMP, BERNIE, or BIDEN.
Mobile app specifications
The review about FTX exchange cannot be complete without mentioning the mobile app. FTX offers a fully-fledged mobile app for IOS and Android users. It becomes highly convenient if you are usually on the go. With the mobile app, you'll have everything in your palms. 
The mobile app is FTX Pro and has more than 500,000 downloads on the Google Play store.
You get access to live news, as well as timely notifications 24/7. This means it makes your crypto trading simpler; you can keep track from anywhere and anytime. 
This app offers a chart to make the technical analysis easier for users. Moreover, it features some unique indicators. Therefore, if you wish to manage your open position while on the go, the customized mobile app favors you. 
FTX Exchange Pros and Cons
As with all other crypto exchanges, FTX exchange has some pros and cons too.
This table offers a summarized version of the perks and lackings.
| Pros | Cons |
| --- | --- |
| FTX exchange specializes in crypto derivatives trading. | Does not offer services in the U.S |
| Allows crypto exchanges through credit cards | The leveraged tokens are risky |
| Charges low trading fees | |
| Mobile app available | |
What makes FTX the best exchange?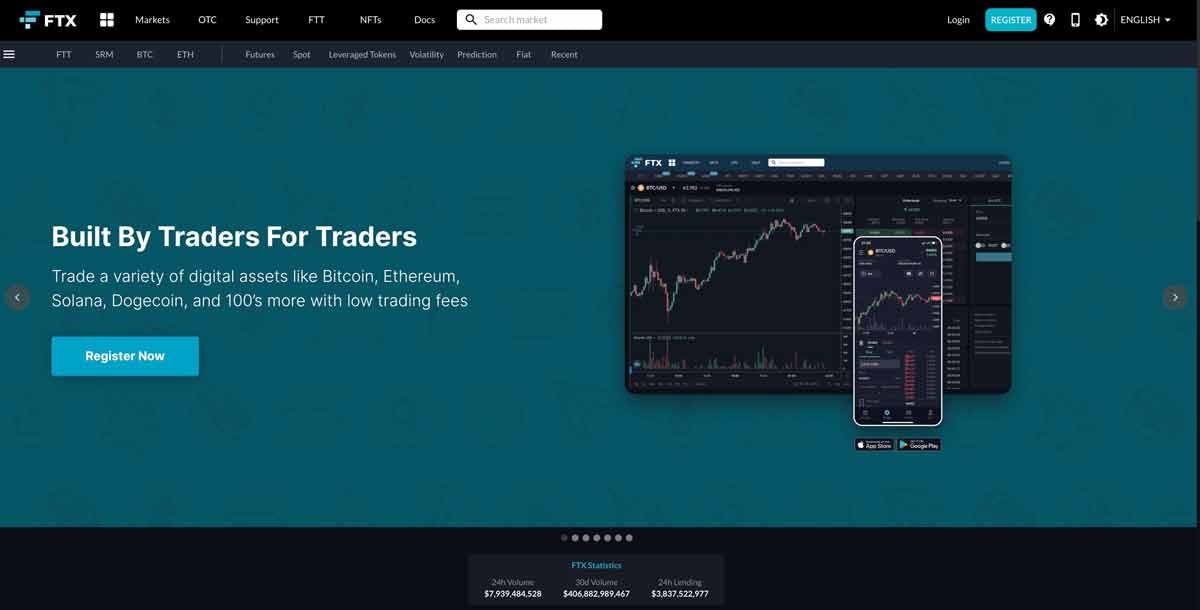 The FTX Trading site boasts various inbuilt features that maximize the trading potential of users. These characteristics make it the right choice for your trading needs. Here are some unique features that improve the user experience.
1. Pioneer of Cryptocurrency index futures
FTX is the first cryptocurrency exchange for bringing futures to the table. It provides traders with the opportunity to speculate on different cryptocurrencies. FTX platform gives access to perform trading on this crypto index. 
2. Offer wide varieties of leverage tokens
FTX is the pioneer of trading leveraged tokens to a crypto exchange. As discussed above, you can either trade them as futures or options. Because of this quality, FTX has gained a reputation for being an innovative platform in the crypto world.
3. Simplifies crypto trading
The FTX exchange offers access to crypto index figures and leverage tokens. This makes it simpler to trade and get the best deals in the market. This is great news for crypto enthusiasts as they are always interested in finding better ways to hedge the risks and crypto standings. 
4. Easy to navigate platform
Half of the hassle vanishes away when we get an easy-to-use interface. FTX offers a clean interface that allows traders to focus on technical analysis and perform their best at crypto trading. 
Is FTX Suitable for Beginners?
This is the most asked question. To be honest, crypto is a risky business, especially for newbies. So, you should always trust platforms that are suitable for beginners. If you have little or no experience in trading and crypto, FTX is not the right spot for you. 
Bankman-Fried and Wang created this platform, not for beginners but experienced traders in mind. The complex features, like trading derivatives, with leverage and automation, are complex. To put yourself in the business of trading derivatives, options, and futures requires good know-how of the markets and calls for experienced users. 
So, if you are a beginner, you must keep all these points in mind. Don't be flattered by the exciting opportunities and risk your money. 
However, if you are good at it and have deep knowledge about how the market works, FTX is worth it. The low fees and easy-to-use platform ensure a fantastic experience.
Payment methods
FTX is a diverse platform that accepts credit card payments. It is possible as the exchange uses Simplex as an online payment gateway for credit card deposits. Moreover, it supports various currencies, which we have elaborated on in the upcoming sections. 
FTT Token
Like all other exchanges, FTX has a token called FTT. It helps in managing the payments via the exchange. In addition, this utility token provides fantastic benefits such as low trading fees. 
Supported currencies
FTX offers traders everything that they are looking for. This new platform doesn't stay back from expanding its portfolio. It tends to cater to clients' diverse needs all around the world. 
It supports various fiat currencies, such as USD, Euro, GBP, AUD, and CAD.
Other than this, FTX also supports an extensive range of cryptocurrencies. It also allows traders to trade multiple cryptocurrencies with perpetual swaps. Some supported cryptocurrencies are FTT, BTC, ETH, BCH, and others. 
Customer support
An excellent customer support service adds stars to the existing performance of any crypto exchange. Being a technical business, users have so many queries related to trading. When an exchange offers a skilled team to respond to clients, half of the issues are resolved this way. 
FTX exchange has trade experts in the team who provide valuable pieces of advice to maximize your trading potential. FTX Help also features additional material and knowledge resources to guide customers on each step. 
Moreover, the FAQ section provides answers to most of your queries. The blog section is a helpful guide for newcomers. There is also a YouTube channel that posts informative videos about trading on FTX exchange
Other than this, the support team is available on different social media platforms like Twitter and Facebook. Guides are also available in Chinese, Russian, French, and Spanish. 
For your assistance, FTX offers a 24/7 live chat service so you can avail of it anytime. That's all about the customer support services of FTX Exchange. FTX ensures a smooth trading experience for the users with all these possible options. 
The Final Verdict
Even though FTX exchange is a relatively new platform, it has exceeded the expectations of millions of customers. Their trading platform is nothing less than extraordinary. With an impressive selection of cryptocurrencies, this powerhouse stands out with its high-level security. 
FTX is an efficient exchange and suits all types of users. It has become a favorite place among crypto enthusiasts. If you are willing to enter the modern market, FTX exchange is the right fit for you. 
They are always open to new strategies and approaches to take crypto trading to the next level. Being a transparent platform, FTX spreads a breath of fun with innovative ideas to the stressful and challenging crypto scene. 
We hope this detailed review answers all your questions about this excellent exchange. 
FAQs
Here are some of the FAQs about the FTX exchange.
Is FTX a legit exchange?
Yes, FTX is a legit cryptocurrency exchange. It is one of the leading exchanges in the crypto market, which is used by millions of traders worldwide. 
It was created with the aim to donate to the world's most needy charities. Until now, FTX has successfully raised more than $10m for charities. 
Moreover, it is an efficient platform to perform safe trading. So, there are no doubts about the legitimacy of this exchange.
Is FTX a safe exchange?
Yes, FTX is a reliable and secure exchange. It boasts high-level security features keeping users stress-free. The additional protection layer highlights any suspicious deposits or withdrawals from your account. 
Moreover, FTX is supported by their partner Chainalysis which detects any suspicious alerts for cryptocurrency transactions. 
A KYC process backs the authentication on this well-protected platform. So users need to go through KYC protocols to start trading on the exchange.
Is FTX available for U.S citizens?
No, FTX service is not available in the USA. However, FTX.US is an alternative for people living there. The main difference is that FTX.US only offers a spot trading option. The trading regulations in the U.S are much stricter, so traders can't try their luck with derivative trading over there. 
Has FTX been hacked?
FTX was introduced in 2019, and there have been no cyber hacks on the exchange since then. 
Most of the operations are being processed on Google Cloud, which promises high-end security features. 
How does the FTX Affiliate Program work?
FTX offers a referral program for rewarding its users when they share FTX services with new members. When you sign up for FTX exchange, you get an affiliate link. When you add new members to the platform and they use your referral code, you can receive 30% of their trading fees. However, the other person will earn a 5% discount on the trading fees. 
So, the more members you add, you become eligible to earn more profit.