How to Buy on BitMart First Time? A Quickfire Walkthrough for Beginners
Crypto Trading is no more an unknown norm today. On the contrary, it's a well-established business of many investors from the past few years. The best thing about crypto business is easy accessibility to every person in society. 
With the growing number of investors, many crypto trading platforms have also existed. Unfortunately, this situation is not welcoming for new crypto enthusiasts as they would get stuck in choosing the crypto exchange platform. 
BitMart Exchange is a highly recommended platform by many experts. Since its beginners are friendly and completely secure, the world is moving towards this network.
How to buy on BitMart is still a question of many investors. Through this article, you will learn about the significant aspects of this platform, along with a comprehensive buying guide. Hopefully, you will find the answer to every query in your mind. 
Let's get started!
What is BitMart?
BitMart is the centralized exchange cryptocurrency platform created by a crypto trading enthusiast in 2017. The platform has a unique multi-cluster and multi-layer system to provide ultimate scalability and protection.  
The exchange was first established in the Cayman Islands by Sheldon Xia and spread worldwide. It has branches in 6 big countries, including the USA, China, and South Korea. Recent stats showed that BitMart works in 180+ countries while serving over 6 million active customers.
This crypto exchange platform has been decoded into six different languages to ensure maximum user satisfaction. Besides the website, you can trade through the BitMart mobile app available on the Google Play Store and Apple store. 
Users can perform both crypto-to-crypto and fiat-to-crypto trading for purchasing tokens and other crypto coins. The network also offers spot trading, backed by futures staking and lending. 
You can say it is the future of cryptocurrency exchange as it offers more than 300 crypto coins, and the number is increasing day by day. The platform's goal is to provide every new coin available to the general public within days. 
Because of high traffic and accessibility to many countries, its coin liquidity is very high. Also, it's a perfect platform for beginners as they will find a lot about their interests. 
What is BMX Token?
BitMart has its native BMX token that operates on ERC20 standard. Was created in January 2018, and after a few months, it was tradable on all big crypto exchange platforms. You can purchase it from fiat money, just like many other cryptocurrencies.
However, there is no restriction in buying through crypto coins like BTC. Having this token helps to get a discount on the trading fees of BitMart, and you can also vote for new projects. In addition, BitMart will send you part of the commission earned through these coins if you own these tokens.
The total profit margin earned through tokens divide in this way:
30% to the founding team
20% for community maintenance
30% to the public offering
10% allocated for whitelisted investors
10% for early adopters
Why buying on BitMart is Beneficial?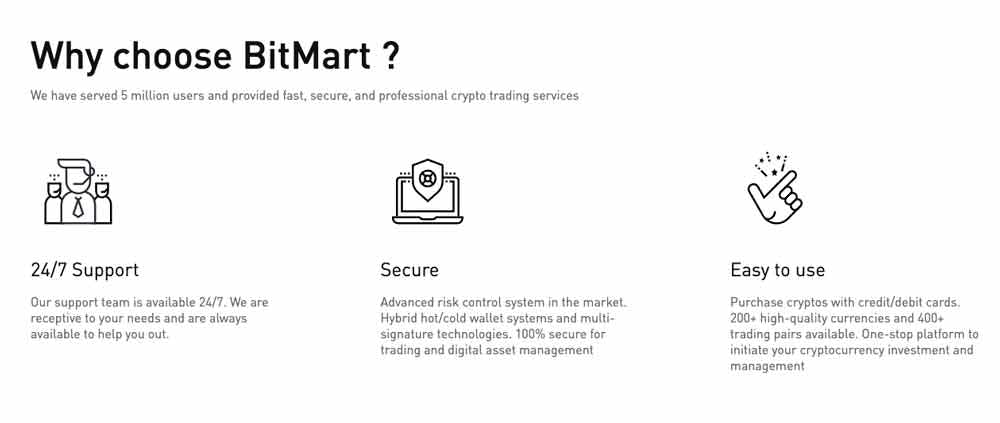 BitMart has created a massive huge hype since its beginning. However, a few fantastic features set it apart in the market. Here we listed those benefits that urge any crypto geek to buy on BitMart.
Let's explore one by one!
Support Vast Number of Cryptocurrencies 
Whether you are a beginner or experienced in this field, when it comes to choosing cryptocurrency exchange platforms, you will indeed look for the coins that are allowed to trade. Gone are the days when you just relied on a few famous cryptocurrencies and coins that were dominating. 
Now everyone wants to invest in multiple coins, which are extremely rare. Here the BitMart exchange backs its customer by providing 300+ coins supported by 170+ platforms. The benefit of these many options is the freedom to trade on any famous platform without any problem. 
To summarize, there is no need to switch between different platforms for multiple investments. For instance, you were spending on Bitcoin or Ethereum and now want to buy any other altcoin. You don't have to leave the platform as all other options are available on BitMart. Hence this massive collection of cryptocurrency saves a lot of your time. 
User-Friendly & Safe 
The interface of this platform is straightforward to understand. You will find everything about the trade and spots on the exchange page. All crypto pairs are organized based on USDT, ETH, or BTC on the left side. The right side of the page contains information about order books for selling and buying crypto. 
Information about the prices and changes has been displayed in the middle. Finally, there are different tabs like order history, trade history, and open orders at the bottom. Talking about its foolproof security system, BitMart uses cold wallet devices. It's a security technique adopted by all big platforms for the absolute safety of crypto assets. 
Only a single hacking incident happened back in 2017 when private keys were stolen from hot wallets. But the exchange owned all the losses and compensated users for retaining the trust. It shows the excellent customer care and professionalism of the platform. Now cold wallets and two-factor security authentication make it completely safe. 
Multiple Payment Methods
Buying cryptocurrency through this network is not difficult at all. Fortunately, BitMart supports all kinds of payment methods to make your purchase, including bank transfers and credit & debit cards. Even you can pay through via PayPal for purchasing BTC, which is not allowed on every platform. 
You can buy crypto through fiat payments if you are new to the platform or don't own any other currency yet. Using fiat money makes the process fast, simple, and secure. The payment processing partners of BitMart are Simplex and Fintech. It's helpful when you get any referral from a friend and looking to exchange out. 
Competitive Fees
Fees are the critical factor while deciding the cryptocurrency exchange platform for your trading. Because the profit margin you will earn highly depends on all types of fees. Many crypto exchange networks compete based on fees as customers decide on this factor. 
So, where does the BitMart fall on the list?
The model adopted by BitMart is 'flat fee' that means takers and makers pay an equal trading fee. This network cut a 0.25% fee, which is super low and affordable for both parties. You might see some low prices for makers, but takers won't find anything better than this. Over this, if you own a BMX token, you have to pay 75% of the total trading charges. 
The platform will also give you a discount on a high trading amount of cryptocurrency. Finally, it's worth mentioning that BitMart doesn't demand a penny on depositing your assets. But few charges applied on withdrawing, which depend on the blockchain conditions. According to users' reviews, withdrawal fees is also not too high.
How to Start on BitMart?
If you are new to BitMart exchange, you must first register on this platform. It's not a tough nut to crack, as you can do this within one minute. Here are the steps to follow:
Open a BitMart website, provide your email address, and hit the 'Get Started' button.
Create a strong password and confirm that you are above 18.
Verify your account through the confirmation code sent by the platform.
Sign in to your account, and you are ready to trade on BitMart.
After Signing in, you will land on the trading page of the website. At first, the interface might confuse you. But you will get everything after some time and start trading like a pro. 
How to Buy Your First Cryptocurrency on BitMart?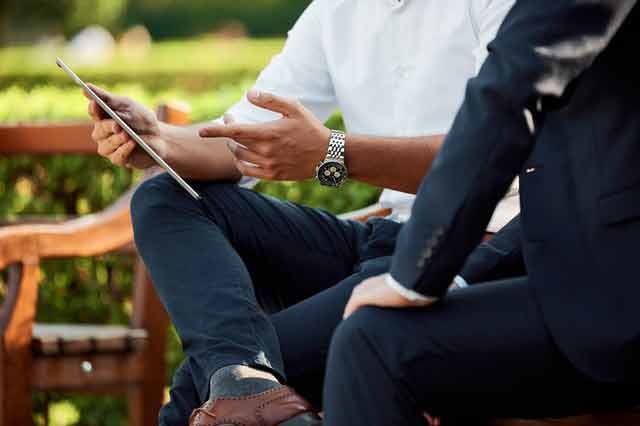 Once you register, making your first purchase on BitMart is not a daunting task. The process is most straightforward for beginners to expert crypto persons. We will explain all the steps to follow for purchasing cryptocurrency.
Step 1: Buy Coins
You will find the 'Buy Coins' option from the trading dashboard at the top-left side of your screen. Navigate your cursor on it and press the button. After purchasing any crypto coin, you will be able to trade. 
Step 2: Choose the Payment Method
After clicking on the Buy Coins button, a new interface will pop up and ask you about the preferred payment method. BitMart allows multiple payment methods, and you can choose anyone according to your ease. 
Sometimes there are minor restrictions based on your chosen cryptocurrency. For example, payment methods like UniPay or Mimos are just for USDT. So, make sure your selected payment method supports the cryptocurrency you will purchase.  
Step 3: Pick the Cryptocurrency
On selecting the payment method, you will be redirected to another page. Here you pick one cryptocurrency from the list and tell the amount you want to buy. This process is about purchasing through fiat money. 
So, if there is any currency you can't purchase directly, go for the other one. Then, later you can exchange with it. In the end, you will check the wallet address where your purchase will be saved. 
Step 4: Verify Your Identity
After completing the above three steps, you have to verify your identity. It's a KYC form that is compulsory to be filled before first purchase to keep the ID proof. Your purchased crypto will be sent to your BitMart wallet as you submit the form. 
How to buy Safemoon on BitMart?
How to buy Safemoon on Bitmart is the question that many of you are asking, therefore we add a nice guide that you can follow. Safemoon is the emerging cryptocurrency of 2021, which has enormous profit potential in the future. But buying a Safemoon token is slightly tricky as it was created on Binance Smart Chain. BSC is a centralized blockchain network, and you need to own BNB for purchasing Safemoon. Also if you are interested in how to sell Safemmon the process it's almost identical.
BitMart has introduced the alternative, and you can buy Safemoon without purchasing BNB. Using Tether (USDT), you can skip the BSC and buy directly on the BitMart exchange. Here we explained the step-by-step process of buying Safemoon on BitMart.
Setup Your Account on BitMart
To buy Safemoon, you first need a BitMart account. The process is simple, and you can do this through the mobile app or official website of BitMart. For creating an account, only email ID is the first requirement. After that, follow the complete process we explained above to sign up.
Upon registering, you can access all the information of BitMart. But trading can't be possible without filling the 'know Your Customer' form. Once you have verified your identity through a government-issued document, you can do anything on the platform.
Purchase Tether (USDT)
Safemoon can't be directly purchased through the fiat currency of your country. So, you need to own any other cryptocurrency that can be traded with Safemoon later. For example, on BitMart, you can only trade Tether with Safemoon, among many other options.
USDT allows you to get it with the fiat money of your country. Since BitMart has multiple currencies options, you won't be in trouble finding the choice for yourself. The value of Tether is always equal to the US dollar and fluctuates based on dollar rise & fall.
To fund your account, click on the buy coins option and select the USDT. After choosing the payment method option, you will receive USDT coins on your BitMart wallet. The platform offers many payment methods, including credit/debit cards and bank transfers, for your convenience. 
Trade USDT with Safemoon
Now you are just one step away. Go to the search tab and write Safemoon on the BitMart trading dashboard. You will find the list of options, and you have to select 'SAFEMOON/USDT.' After choosing the amount of Safemoon, you will see a corresponding cost in the form of USDT. 
On clicking the buy button, Safemoon tokens will securely transfer to your BitMart Wallet. Then the usage it's more diverse, like day trading or investing. 
Fees Structure of BitMart
BitMart exchange has very competitive fees compared to its competitors. The fee structure model of this platform is based on Taker and Maker. Also, the charges are different for professional and ordinary users. The standard regular trading fee is 0.25% for both the Maker and Taker. You will get a discount of 25% on this fee if you own a BMX token. 
Trading fee evaluated on your last 30-days activity. If your trading volume is high, the network will cut small fees. Here is the fee structure of both kinds of users based on their levels:
Professional Users
| Level | Fee Rate | Trade Volume (30d) & BMX Holding |
| --- | --- | --- |
| Pro1 | Maker: 0.0600% Taker: 0.0650% | BTC ≥ 150 & BMX ≥ 500,000 |
| Pro2 | Maker: 0.0550% Taker: 0.0600% | BTC ≥ 200 & BMX ≥ 1,000,000 |
| Pro3 | Maker: 0.0500% Taker: 0.0550% | BTC ≥ 250 & BMX ≥ 2,500,000 |
| Pro4 | Maker: 0.0450% Taker: 0.0500% | BTC ≥ 500 & BMX ≥ 5,000,000 |
Ordinary Users
| Level | Use BMX deduction | BMX Holding |
| --- | --- | --- |
| LV1 | Maker: 0.2500% Taker: 0.2500% | BMX ≥ 0 |
| LV2 | Maker: 0.2250% Taker: 0.2250% | BMX ≥ 5000 |
| LV3 | Maker: 0.2000% Taker: 0.2000% | BMX ≥ 100,000 |
| LV4 | Maker: 0.1750% Taker: 0.1750% | BMX ≥ 250,000 |
FAQs
Can you buy BMX tokens directly with cash?
No, it's not possible. BMX is an Ethereum based token that cannot be purchased directly through fiat money. It can only be exchanged with crypto coins. So, if you want to purchase with cash, first buy fiat supportive cryptocurrency like BTC. Then, transfer it on the Altcoin exchange and trade with BMX. 
How secure is the BitMart Exchange?
BitMart is considered one of the most secure and trustworthy crypto exchange platforms. All data and assets are stored in cold wallets which are not available on the internet. Hence, there is no chance of hacking the BitMart platform. 
Does BitMart have any referral system?
Yes, this network allows you to earn money apart from your trading. For example, if your friend comes to this platform using your referral ID, you will get a commission of up to 70%. In this way, you can earn as much as you want by referring friends and family members. 
Is it necessary to verify your account on BitMart?
For every new user, it's mandatory to verify identity before trading on the BitMart platform. The verification process it's simple and doesn't take too much time. 
How many trading pairs are available?
Currently, the exchange support 300+ trading pairs to earn a high-profit margin. 
Conclusion
Trading on BitMart would never leave you disappointed. Being a well-known network worldwide, it has many superiorities over other exchange platforms in many aspects. For example, you can rely on its safety and don't have to pay a lot in trading charges. Also, easy to use and simple account creation process is a blessing in disguise for beginners.
Also, it's a win-win situation to find a platform having a massive collection of coins and getting incredible traffic. Purchasing would never be hard because of its multiple payment methods to support every individual around the globe. The mission of this platform is to provide accessible investment opportunities to every class of society. So even a non-specialist can earn the benefits of cryptocurrency.