How to Buy SafeMoon on BitMart? The Easiest Way to Own SFM
If you're a crypto trader, you might be asking yourself why SafeMoon is not on more exchange platforms. After all, it's a top 20 cryptocurrency with a market cap of over $16 million. The reason for this is that SafeMoon is not as simple to purchase as other cryptocurrencies. 
Have you heard about SafeMoon, but don't know how to buy it? This blog post will show you how to purchase SafeMoon on BitMart. We'll also explain why BitMart is a great option for buying SafeMoon. Keep reading to learn more!
What is SafeMoon?
SafeMoon is a tech company that recently launched its cryptocurrency (SAFEMOON) back in March and has kept getting viral since then. The coin sits at #33 on CoinMarketCap with an all-time high market cap valued at around $50 million. Influencers like Afrojack are proud to be associated as bull riders, while Lil Yachty & KEEMSTAR have invested heavily in this new project.
With a market cap fluctuating between 1 and 2 billion dollars, there is definitely some serious potential. The question on everyone's mind, though: why does this coin keep getting hyped? And what makes it different from other cryptocurrencies that have been around for years with little growth or success stories to show yet alone talk about their "moon" trips in advance.
The answer may come down right back at us: the people. We're all excited about potentially gracing things up any day now. So maybe investors should take note before jumping aboard too soon without understanding. Safe Moon has been called many things by its critics, but for certain, people are angry about the 10% tax on their sales. 
The first group defends this project as different from all others because they believe it needs such high taxes to succeed long term. In contrast, other sides argue strongly against them and call SafeMoon a Ponzi scheme that redistributes money back into old investors' accounts through new ones.
| Data for 02/03/2022 | Value |
| --- | --- |
| SafeMoon Price | $0.000001302 |
| Price Change 24h | -$0.0000001618 |
| Trading Volume 24h | Q$76,130.45 |
| Market Rank | 213 |
| Market Cap | $761,700,886.55 |
| Fully Diluted Market Cap | $1,300,860,083.60 |
| Circulating Supply | 585,536,366,402,812 SAFEMOON |
| Total Supply | 1,000,000,000,000,000 SAFEMOON |
| Max Supply | 1,000,000,000,000,000 SAFEMOON |
What is BitMart?
Founded in 2017, BitMart is a leading digital asset trading and investment services company. Established in the Cayman Islands with over $1 billion worth of cryptocurrency assets under management and clients across all 50 states. The platform offers many small/mid-size cryptocurrencies not supported, not even on larger exchanges like Coinbase or Binance. 
Hence, it's no wonder why this organization has become one of the most popular crypto liquidity providers. In 2018 they added staking, loans, savings products, and derivatives trading. These services gave customers more ways to earn money while using their favorite currency than ever. 
When BitMart suffered a security breach in December 2021, its CEO announced on Twitter that they would be reimbursing users for any losses incurred due to this incident. Since then, volumes have fallen significantly as trust within their platform continues being eroded by other incidents. These hacks and spamming events make people cautious, and they start shifting towards other cryptocurrency exchanges.
How Buying Safemoon Is Different from Other Cryptocurrencies?
Making a purchase isn't difficult with most cryptocurrencies. Uniswap, a decentralized cryptocurrency exchange, is a good place to look for a token that isn't listed on Coinbase or Binance. In most cases, transactions on decentralized exchanges may be completed in a couple of seconds.
Unlike most altcoins and meme currencies, SafeMoon is not built on Ethereum. As a result, you won't get SafeMoon from most decentralized exchanges that trade Ethereum-based assets. Using the Binance Smart Chain, which Binance runs, SafeMoon is a more centrally regulated blockchain network.
As a general rule, this means that you first need to buy some BNB on the Binance platform before exchanging it on a BNB-based decentralized exchange, such as PancakeSwap. The scenario becomes tricky for people who don't have BNB or don't want to utilize the Binance platform to buy SafeMoon.
Step-By-Step Guide: Buying Safemoon on Bitmart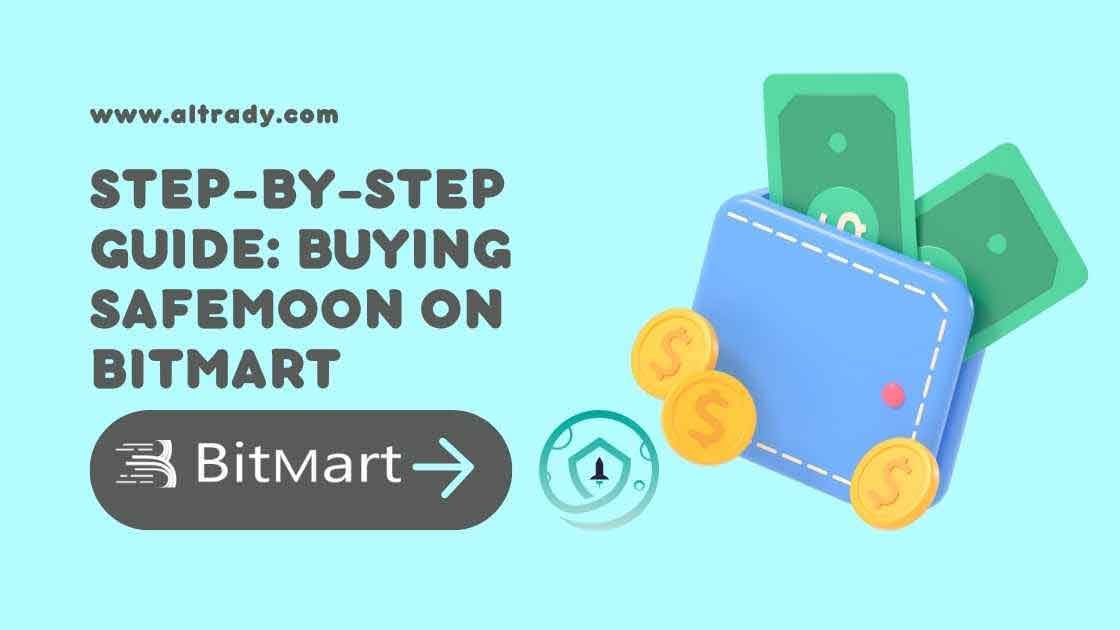 Since SAFEMOON has not been listed on most exchanges, it's important to choose the right platform for purchasing it. BitMart is one of few networks that offer SAFEMOON trading with other coins. Let's see how can you own a SafeMoon token in a few steps without the hassle:
Step 1: Setup a BitMart Account
BitMart is a platform for buying and selling cryptocurrencies. The application can be downloaded from either the Android or iOS store, depending on what device you want it on. You will need to create an account with your email address (or phone number) after opening the website onto the computer. 
We also encourage users to verify their identity by providing government-issued identification such as bank statements. If they are using these types of accounts, there aren't any more funds taken out without knowing about them first. The reason we mention this? Well, most people don't like getting scammed. So, make sure everything looks legit before giving over money/BTC, etc.
Step 2: Fund Your BitMart Account
Once you've completed the KYC process, head to BitMart and fund your account with a few clicks. Choose between buying Bitcoin (BTC), Ethereum (ETH), or another cryptocurrency like Ripple (XRP). 
The exchange has over 180 countries worldwide, so it will not be hard for anyone who wants to local fiat currency into crypto. You can use US dollars, UK pounds sterling, and Japanese Yen to Indian rupees. The rate of what you need will be shown in that particular coin value.
Step 3: Purchase Tether Coins First
To buy SafeMoon on BitMart, the best option is using Tether coins. These are always equal in value, and one should never worry about their price fluctuations when trading with them at any given time because they're linked directly against USD. 
Tether is a stable coin that's tied to the US dollar. It means it has less volatility and can be easily exchanged for SafeMoon tokens when you want, which makes this coin perfect if your goal will always involve exchanging these two cryptocurrencies.
Step 4: Exchange SAFEMOON with Tether
Now that you own Tether, all the work is done for you. Just head to BitMart's market section and search on "SafeMoon." Once found, select its corresponding option from under exchange - 'SAFEMOON/ USDT.' Choose how many SafeMoon tokens (or whatever) you want in return; it'll show up.
When you place an order, the system will show us the corresponding cost in Tether. Once executed, you can safely deposit SafeMoon into your BitMart account, and it'll be there indefinitely unless used for some other purpose like day trading or investing. 
Five Interesting Features of SafeMoon
Every new cryptocurrency comes with some unique features; the same is the case with SafeMoon. Here are the five characteristics that separate it from the rest:
Manual Burns
You know when you have those moments where everything seems to be going well? Well, for us crypto enthusiasts, this is a moment of celebration because we just burned some coins! For those who don't understand what burning means in the world of cryptocurrencies, let me explain. 
It's pretty simple; it removes tokens from circulation, increasing their scarcity and, therefore, value over time. Some projects do continual coin burnings as Syscoin does, but SafeMoon employs manual burns instead. The unique manual coin-burning process ensures that only circulating coins are destroyed instead of continuing constant burns from inception, leading to a loss for investors.
Reflection 
When you mine cryptocurrency, the rewards are pretty simple. If your computer solves a difficult puzzle and finds new coins in an algorithm's search, then it gets rewarded with those very same bits. But in other coins networks, the older miner gets more advantages than the later ones.
However, SafeMoon solved this problem with a unique reflection feature. The reward amount is dependent on the volume being traded, which helps mitigate against early adopters selling their coins. It encourages collectively holders of this token to collect higher payments based on the total number owned.
LP Acquisition 
The idea behind SafeMoon is to create an environment where people are comfortable holding their crypto. The automatic liquidity pool helps with this, creating a solid price floor for both buyers and sellers. 
Moreover, the platform discourages anybody from wanting out by charging them 10% every time they sell coins or tokens. Keep in mind that if you're investing in these types of projects, there's less risk involved since fees will be automatically taken care of.
The project's white paper states that they want to "prevent the larger dips when whales decide to sell their tokens later in-game, which keeps the price from fluctuating as much."
Proof of Authority 
In this system, the block creators are known as validators, and they must prove their real identities before being approved by management. These pre-approved candidates have invested money which shows long-term commitment and means that if something goes wrong, then he/she will lose everything.
The Binance Chain model is a decentralized autonomous organization (DAO). This means that it's not controlled by one person or company but instead through voting rules set out in smart contracts. Every user has power over what happens on their particular blockchains depending on how much Ether they donate to its maintenance. 
Proof of Work
Nothing can beat the proof of work when it comes to securing a decentralized system. In this consensus mechanism, computers compete and must solve complex mathematical puzzles. This helps their network node or miner win the competition, giving the cryptocurrency a reward once they've completed new blocks on time.
It's an energy-intensive process that helps secure this decentralized network without a central authority. But it is completely different than how Bitcoin operates with its block size limit or mined coins per day (BSC).
Should You Invest in SafeMoon?
We all know how fast things can fall apart in this industry. So, if you are looking for a quick profit without any risks, then SafeMoon might not be the right fit. The coin is still young, and many aspects of its operations remain unclear or unknown, which means there could always be more potential opportunities available on the horizon.
SafeMoon might not be the best investment for you if your patience has run thin. But it's worth considering, especially since this project offers a safe way to change things up without risking losing all of your money or data on old crypto wallets. 
Like many other coins do when they hard fork to upgrade their codebase. The upcoming update will also sustain our current model while adding actual functionality. So there's no need to worry about investors being left behind.
Why Should You Choose Bitmart Over PancakeSwap for Buying Safemoon?
BitMart, a one-of-a-kind cryptocurrency exchange, is where you can buy and sell SafeMoon. More than 5 million people have signed up for it, and it is available in 180 countries. Compared to WhiteBIT, this might be a benefit since it shows more liquidity. In addition, there are more than 300 coins that can be found on their website currently. Even though it is based in New York, it maintains offices in Seoul, Hong Kong, and Greater China.
BitMart claims to be "the most trustworthy cryptocurrency trading platform on the market." There have been no complaints about BitMart's efforts since 2017. Investors from all around the globe have come to trust it, and it is now one of the top 20 exchanges on the Coingecko platform.
Both exchanges, however, make the process of getting SafeMoon a lot easier than the other methods. WhiteBIT comes highly recommended for less expensive transactions since BitMart's fees often offset the costs associated with using WhiteBIT. Remember that cryptocurrencies are very volatile and should be treated as such.
Is BitMart Secure and Legit?
There have been massive cyberattacks on BitMart, a cryptocurrency trading platform. Hackers stole $196 million worth of assets from them in what Peckshield believes to be an attempt for much more than this amount; they retracted around 150M dollars' worth. If you've lost any money at BitMart due to the attack, contact the platform right away as there's still hope that your tokens might be returned someday soon.
When it comes to trading cryptocurrencies, there are many options available. Some people want the flexibility of trading on an exchange, while others prefer OTC or futures markets for their assets. BitMart offers all three. The platform makes sure that its services will be affordable in terms too, with low fees compared to company competitors who charge much more per trade (or month).
The team behind this amazing creation has offices around the world but is headquartered in the Cayman Islands. They know how to protect investors' money from getting lost compared to other crypto exchanges out there. 
FAQs
Will SAFEMOON's price go up or down?
As predicted by Wallet Investor, the price will be $0.000131 by February 2023. However, Digital Coin Price predicted that the SafeMoon v2 price would hit $0.0028 by 2025, which was a more cautious estimate.
It's important to keep in mind that predictions are subject to error. The use of forecasts should not be considered a substitute for your own in-depth research. Make sure you complete your own research before investing money. You should never put money into an investment or transaction that you can't afford to lose.
What are the future plans of SafeMoon?
A company called SafeMoon has been working out plans for the future and announced a lot of these to their customers in an email. One plan was developing a way for people to use credit or debit cards; another was trading tokens with other players on SAFEMOON's DEX. Over this, the company will soon have an NFT exchange, DEX, and is looking for partnerships with other exchanges. Apart from that, future plans include using Minecraft to test the integration of tokens into video games.
Who leads SafeMoon?
SafeMoon has six leaders who are all working on various projects. This company is led by John Karony, with a history in video games and blockchain. SafeMoon's CEO John Karony is also working on a game studio called TANO.
Conclusion
With the rise in the popularity of cryptocurrency, many new coins are being created. One such token is SafeMoon which utilizes Defi technology to create an engaging and innovative payment system for buyers while penalizing sellers at all times. Buyers can access this coin via BitMart if they want reliable opportunities before other traders get there first.
Because once you sign up with them, their services will give priority over any other exchanges or wallets that might exist out there currently. It's easy enough: just buy Tether, then change it over onto BitMart exchange after creating your account. After that platform will take care of everything else.