Is MATIC a good investment? A Brief Answer of Most Searched Question
Choosing a platform like Polygon allows you to buy and sell cryptocurrencies without worrying about scams or hackers! It is a secure, fast, and efficient way to trade your Bitcoin for Ethereum or vice versa. This is one of the most popular ways to get into the crypto sphere because it is so easy to use and makes everything seem more straightforward than ever before.
Because of the popularity of Polygon, people are interested to know 'is MATIC a good investment?' MATIC has been rising lately, outperforming the market and climbing in value. Investors are beginning to take notice of this up-and-coming company, and for a good reason: MATIC is doing some fantastic things. 
Keep reading if you want to know the comprehensive answer about investing in MATIC.
What Are MATIC Tokens and What Do They Do?
MATIC Tokens are the native currency of the Polygon Network. They play a vital role in the functioning of the network, enabling fast and cheap transactions. For example, MATIC tokens can be used to pay for goods and services or exchange for other cryptocurrencies. Over this, these are relatively scarce, unlike most cryptocurrencies. 
The platform aims to release only 5 million tokens, which will be used mainly for MATIC's ERC-20 token sale event this year. Thus, they can represent a good investment opportunity since their value will likely rise as the company gains more users and increases demand. MATIC Tokens are already listed on major cryptocurrency exchanges like Binance and EtherDelta. 
MATIC also has a Telegram M-Token Bounty running to promote and distribute tokens to the community — this is another excellent way to get your hands on some MATIC Tokens! Additionally, this cryptocurrency is accessible through its mobile app. 
MATIC Wallet is a user-friendly web, iOS, and Android wallet that allows holders to manage their assets through a simple interface. This wallet helps users transfer MATIC Tokens from one account to another, send M-Tokens to other people, track their portfolio, and more.
| Data | Value |
| --- | --- |
| Market Cap | $12.2B |
| Volume (24h) | $782.4M |
| Circulating Supply | 7.5B |
| Trading Activity | 67% buy / 33% sell |
| Typical Hold Time | 73 days |
| Popularity | $2.92 |
| All Time High | April 19 |
| Price Change (1h) | -4.23% |
| Price Change (24h) | -9.33% |
How Is Polygon (MATIC) Changing the Cryptocurrency Landscape? 
MATIC is changing the cryptocurrency landscape by providing a more user-friendly experience for those looking to get into the world of digital assets. In addition, the network is a Layer 2 scaling solution that enables faster, cheaper, and more scalable transactions. 
Transactions on Polygon are processed much faster than on traditional blockchains, and this platform has already proven itself by handling over 1 million transactions per day. And makes MATIC a perfect solution for businesses and enterprises who want to start using blockchain technology but don't want to deal with the inherent scalability issues.
The company is also working on making it easier for users to store their cryptocurrencies. For example, it will soon be releasing a decentralized wallet that will allow users to store all of their digital assets in one place. 
MATIC Wallet will make an ideal storage solution because it will be secure and convenient, allowing users to access their funds whenever they want and from wherever they are. Polygon has released an early version of MATIC Wallet on MATIC's Testnet, so the product is already in development.
What Are the Benefits of Owning MATIC Token?
There are many benefits to owning a MATIC Token. Some of the key benefits include:
It can be used to pay for goods and services on the MATIC Network.
You can use it to stake MATIC Network validators.
MATIC Token gives you voting rights on the Polygon platform.
It can be traded on exchanges for other cryptocurrencies.
The holders receive MATIC Pro, MATIC's free cryptocurrency tracking app.
Polygon currently pays a monthly dividend in MATIC tokens to its users. When the platform launches its payment services, these dividends will likely be paid in the form of MATIC tokens as well. 
MATIC Token's price has been rising lately, meaning that investors are earning more profit each month even without carrying out any transactions on the platform.
MATIC Token has also outperformed the market and traded at around $0.06 on exchanges. The token has traded as high as $2.92 in December and January, meaning that crypto enthusiasts have seen a significant increase in the value of MATIC Tokens.
What Makes MATIC a Good Investment Opportunity? 
Polygon is a blockchain platform that enables decentralized applications (dApps) to be built on top of it. It uses sidechains to improve the scalability and speed of transactions. In addition, the network also uses Plasma Cash to improve security and reduce transaction costs. 
MATIC tokens are currently sold at $0.013422, and MATIC has a market cap of $28,842,989. MATIC is an excellent blockchain project with lots of potential for investors to benefit from MATIC's success in the future.
MATIC may be considered a smart investment in July and the months leading up to the end of the year 2021. If you've been thinking about investing in cryptocurrencies, now is the time to do it. The investment in Polygon (MATIC) provided a return of about 13,300% in just five months, even though there are no risk-free investments (January to May 2021). 
Is Polygon's (MATIC) investment worthwhile? Yes, based on the number of users, the ease with which it can be accessed, the fact that it is employed in liquidity programs, and the consistent interest of investors.
With Polygon (MATIC) investments, whether you're a newbie or simply curious about maximizing your cryptocurrency returns, knowing what to watch out for before making a choice is critical. Long-term or short-term growth of your investment's worth may be expected based on the previously indicated percent return.
Why Is MATIC's Price on The Rise Lately?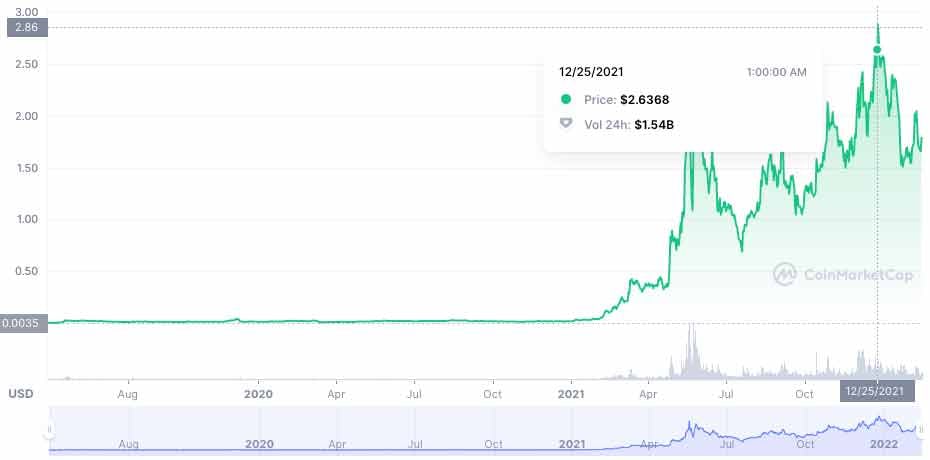 MATIC has been making big moves lately like any other prominent cryptocurrency, reflecting its price. They've been expanding their team, working on new partnerships, and developing their platform. This shows that Polygon is serious about becoming a leading player in the cryptocurrency exchanges, making them a good investment opportunity. 
MATIC Labs was founded in 2018 and is based in Bangalore, India. Polygon has its token, MATIC, which is currently an ERC-20 token, but they plan on moving to their blockchain in Q3 2022 and will be swapping tokens at that time. 
MATIC tokens can be used to pay for fees and transactions within MATIC's network. MATIC is a scalable, secure solution for transferring money between individuals and merchants without the usual high fees. The platform also has plans to provide loans with MATIC Cryptocurrency Loans and MATIC Insurance. 
MATIC Token has a market cap of around 51 million USD as of May 21st, 2019. It is currently trading at about 0.10 USD per MATIC token with a 24-hour volume of around 85,000 MATIC tokens and having a circulating supply of 1 billion MATIC tokens. Above all, it is ranked at about 100 of all cryptocurrencies. These tokens can be purchased on exchanges like Binance or Huobi Pro. 
MATIC also has a Masternode system where users who get more than 5000 MATIC tokens can get Masternode rewards for their staked amount of MATIC. In addition, the company wants to provide users with the ability to transfer money between individuals and merchants using MATIC without any of the high fees that are usually associated with transfers. 
Keeping in view all these factors, it's sure that the platform will attract a huge audience. Apart from that, they will catch experts' attention and urge them to invest in it. If all this happens according to plan, we will see MATIC as a leading cryptocurrency in the crypto trading world. 
How And Where Can You Buy MATIC Tokens? 
The MATIC token is presently among the top 100 most valuable cryptocurrencies in market value, and it is very liquid. It can be purchased and sold on many cryptocurrency exchanges, including major ones like Coinbase Pro, Binance, Huobi Global, Poloniex, and the well-known decentralized exchange Uniswap.
You can buy MATIC on Binance, one of the most liquid exchanges for the asset. So get your hands on MATIC with this guide. We'll use a Visa or MasterCard as an example to show you how to buy MATIC using your debit or credit card.
Step 1: Create a Binance account or sign in with an existing one on the site to get started.
Step 2: Select the Credit/Debit Card payment method once you have checked in to the site and selected 'Buy Crypto' as your preferred mode of payment.
Step 3: After selecting your chosen payment method, enter the money you want to spend on MATIC. Select MATIC from the available cryptocurrencies in the drop-down menu that displays. Click the "Buy MATIC" button after you've reviewed and accepted your purchasing details. For those who have not already, you'll have to go through the process of submitting proof of identity.
Step 4: Confirm your identification by following the on-screen prompts. You'll be sent to the payment page after completing this process in a matter of minutes, as seen above.
Step 5: Finally, click 'Pay now' to finish the payment procedure by providing your credit card information and submitting it. MATIC is delivered to your Binance wallet at the best possible rate, and orders are processed on time. That concludes our discussion. As a proud owner of MATIC, you may now enjoy it to the fullest.
What Are Some of The Risks Associated with Investing in MATIC Tokens? 
When investing in MATIC Tokens, there are several risks you should be aware of. Here is the list of some major risks involved in this cryptocurrency:
The first one is the potential for a price crash. Cryptocurrencies are known for their volatility, and MATIC Tokens are no exception. 
MATIC Tokens are still in their early stages and may not be as stable or widely accepted as more established cryptocurrencies. 
There is also the possibility that MATIC Network may not succeed in creating a scalable and efficient platform for decentralized applications. If this were to happen, the value of MATIC Tokens would likely plummet. 
They are also not backed by any physical assets. 
The network may not be able to secure partnerships with companies that would help MATIC grow, which could negatively impact MATIC Tokens' value. 
MATIC has recently made many headlines after having all these drawbacks, and its value is starting to take off. MATIC aims to help people worldwide manage their finances better by providing an accessible platform that anyone can use, even those who don't have much financial knowledge.
Who Is the Direct Competitor of Polygon?
Polkadot is Polygon's largest opponent at this point, even though there are many more. Some of the other competitors are Cosmos, Kusama, and Arbitrum. For Polygon, the most important thing is to help the Ethereum network grow by connecting it to other Ethereum-compatible blockchains. Instead of a network of just Ethereum-compatible chains, Polkadot aims to construct a network of various blockchains.
Ethereum's "multi-chain technology" will be implemented by Polygon, according to the developer. Almost anybody may now develop new protocols on the Ethereum network. Polygon can use the Ethereum network's security and decentralization to flourish in business.
If you're looking to connect a lot of smaller blockchains, check out the Polkadot network. Unlike Polygon, it is a layer one solution, which means that it utilizes its blockchain that is not connected to Ethereum. As a result, Polkadot now supports over a hundred different chains. The project's goal is to make it simpler for blockchains to communicate with one another.
It is now trading at approximately $25, with a market valuation of somewhere around $25 billion at the time of writing.
Does Polygon Have a Future?
YES! Polygon's long-term prospects are bright. Polygon will continue to exist as long as there is a need for Ethereum 1.0-based decentralized applications. A significant concern for the blockchain industry is that it is difficult to scale. 
To put it another way, this means that Polygon's network will continue to grow in popularity and create solid ties with major corporations. However, several questions may be asked when it comes to Polygon's drawbacks.
Polygon has grown in importance due to Vitalik Buterin's network's inability to process more transactions per second due to its reliance on proof-of-work (POW) technology for security. Ethereum 2.0 is likely to be completed by the end of 2022, according to reports. 
If this happens, Ethereum will have to compete with Polygon to create new and existing DApps. Polygon's scaling solution may no longer be necessary if other blockchains switch to alternative POS algorithms, expand faster, and no longer require Polygon's scaling solution. As a layer 2 scaling platform, this might put the platform's long-term survival in jeopardy, as well as its unique token, MATIC.
FAQs
How secure is the Polygon network?
Polygon has been built with a range of security features to keep your transactions safe from a variety of threats. Polygon's security features include an encrypted network, two-factor authentication, and withdrawal limits. Polygon also has a team of experts who are constantly monitoring the site for any potential threats. Polygon is one of the most secure cryptocurrency exchanges available today.
Can MATIC reach $10 in the future?
It's difficult to predict the future of this coin. Even if the $10 pricing goal for MATIC can be met, it won't happen right away. As a result, the initiative will need to show its long-term value in order to increase acceptance and attract further investors. In the near future, Ethereum 2 is expected to debut, which might undercut some of MATIC's current advantages.
What should you be cared about while working on Polygon?
With the rise of decentralized financial applications, Polygon has become more popular. To avoid unnecessary fees when transferring between networks or sending payments in DApp's favor (which can cost users money), make sure that your app supports it before doing so!
 A few notable examples include Aave - which was one such application where support for this feature came out just last month; SushiSwap, whom you might know from their token conversion service later adopted by ShapeShift founder Presumably Jared Davis himself--and Curve Finance, whose developer claims they'll provide "special rates" if customers use Polygon. 
Conclusion
Polygon is a blockchain platform that provides scalability, security, and decentralization. The team behind it has been in the cryptocurrency space for years. They are working with Ethereum to make it more scalable by decreasing gas prices and increasing transactions throughout. 
This means transactions will be processed faster, which can result in lower fees when trading on exchanges like Coinbase or Binance. With these improvements coupled with the fact that they have an easy way of converting from fiat currency to crypto, you're investing your money wisely if you choose MATIC as your cryptocurrency because their token price will rise over time!