Kraken vs. Gemini: Features, Fee and More in 2022
Kraken and Gemini are both popular cryptocurrency exchanges. But which one is the best in terms of features, trading fee, and other services? Let's find out!
Kraven vs. Gemini is a hot and trending topic on the internet today. It is mainly because of the popularity of these two crypto exchanges in beginners and experienced traders. Kraken launched in 2011, and it is one of the biggest cryptocurrency exchanges in the world. With additional features such as margin trading and futures trading, it is suitable for beginners and senior crypto trading experts. On the other hand, Gemini was founded in 2014, and it is also a prominent and credible exchange. Furthermore, Gemini withstands FDIC insurance protocols for USD, which is why it is a valid exchange that offers a variety of crypto exchange and trading services.
People are making a lot of money through digital currency. Which one do you go for if you need to choose between these two exchanges? It is a difficult decision to make. You need to consider all the essential factors that can help you trade on the exchange. Read the article below to understand Kraken vs. Gemini comparison better. It will put you in a position to make a sustainable decision for yourself.
What Is a Cryptocurrency and Cryptocurrency Exchanges like Kraken or Gemini?
Cryptocurrencies are new digital currencies. These are the most secure currencies out there. No one can change anything because of the robust encryption systems and security protocols.
Cryptocurrencies and cryptocurrency exchanges are relatively new. As a result, many people are not familiar with these concepts. That is why a fundamental knowledge of different aspects of these exchanges is vital for new users.
A cryptocurrency exchange is a dedicated area where cryptocurrencies can be purchased, sold, traded, and analyzed. It is a marketplace where there is active trading of cryptocurrencies. These exchanges allow their users to trade in various cryptocurrencies as per their rules and regulations. You can trade, buy and sell these currencies at their current rate.
Cryptocurrencies can be bought using fiat currencies. You can link your debit or credit cards with these exchanges and transfer fiat currency into fiat wallets at these exchanges. Then you can use this currency to buy cryptocurrencies within no time. Some of the most popular crypto exchanges are given below
Kraken
 Gemini
 Binance
 Coinbase
eToro
We will analyze and present all the first two exchanges' features and related facts and figures.
Kraken vs. Gemini: An overview
It is essential to know basic things about joining any online crypto trading platform. It will help you to decide which one is the best for you. For example, Kraken and Gemini are two different exchanges. That is why they both offer various facilities to their customers. The overview will help you know all the essential aspects of these exchanges.
Kraken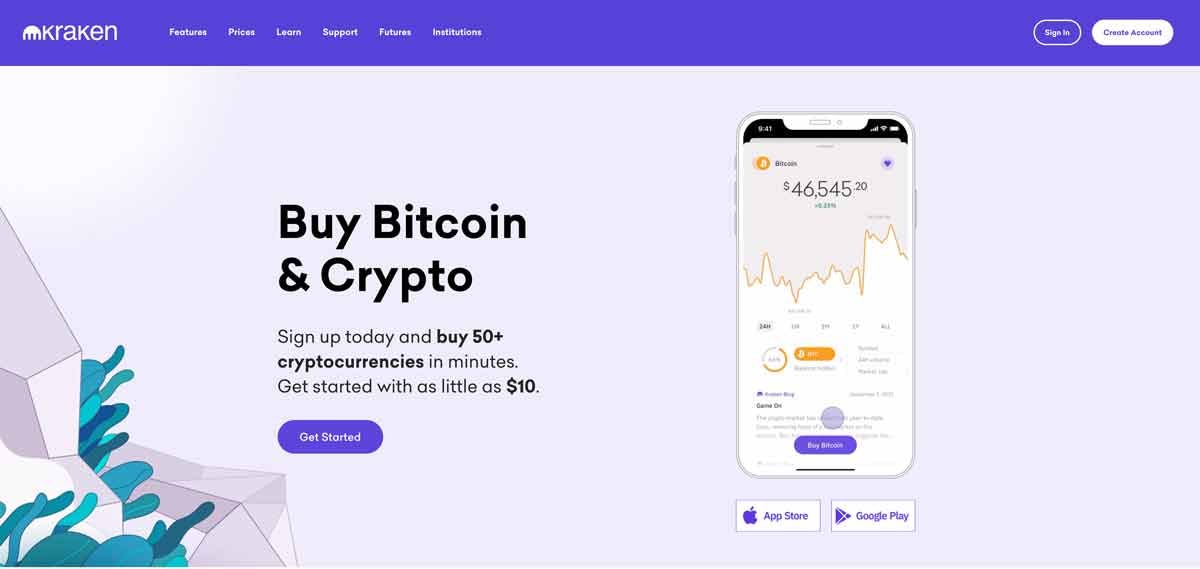 Kraken was founded in July 2011. However, its operations were started in 2013. During that two-year gap, extensive testing was done to ensure that this exchange was safe and secure for users. It is a US-based company, and its headquarter is present in San Francisco, CA and Jesse Powell is the founder and CEO. He has been attached to the crypto market from the beginning. First, he founded Lewt, Inc. The company was responsible for setting up gamers' accounts and providing them with currencies for in-game purchases.
In 2011, hackers stole a large number of Bitcoins from Mt. Gox, a famous crypto exchange at that time. The management of Mt. Gox asked Powell to get them back on their feet. It tells us everything about Powell's abilities that even the top exchanges think highly of his expertise.
Kraken is a US-based company that is why it operates in almost all the States within America. Its operations are in 48 states. It is also available in 176 countries. According to Kraken's website, the platform supports more than 50 cryptocurrencies.
Let us have a brief overview of the company:
It was founded in 2011, but its operations were started in 2013
Kraken is based in the US. company
Kraken offers more than 50 cryptocurrencies
The minimum investment amount starts only from $10
There are more than 73 million active traders on Kraken
Gemini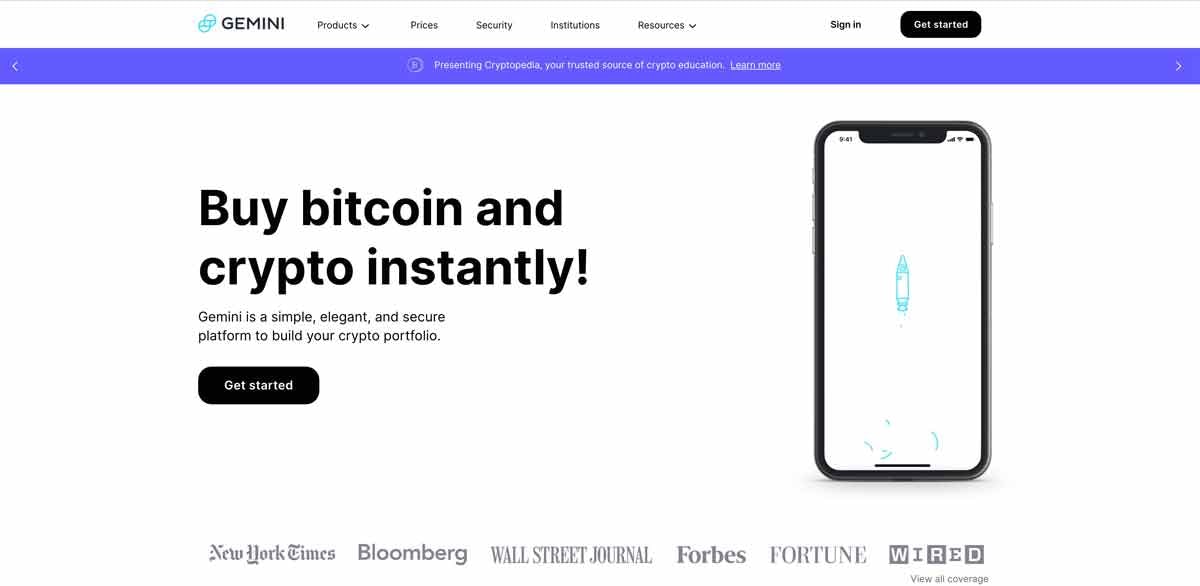 Gemini is a popular trading platform that was founded in 2015. It was founded a bit later than Kraken. The headquarters of Gemini is present in New York City. Being a US-based crypto exchange, its operations are available in many states across the US. Users can buy and sell cryptocurrencies along with fiat currency options.
You can buy, sell, and trade different currencies and store these digital currencies on Gemini. The name of the exchange comes from its two founders, Cameron and Tyler, also known as the Winklevoss twins. They got recognition in 2008 when they sued Mark Zuckerberg in a Facebook-related issue. They claimed that Zuckerberg stole their idea of a social media platform named ConnectU. The dispute was settled, and they received $65 million. They used this money to buy Bitcoin. They invested $11 million. The current value of this investment is around $1 billion.
Due to their ventures, Gemini got international recognition and acceptance in the crypto market in no time. Today, Gemini is among the safest trading platforms in the world.
Gemini was founded in 2015, and since then, it has had a safe platform.
 Gemini became the first licensed cryptocurrency exchange in 2016.
Gemini follows the rules and regulations set by the New York State Department of Financial Services (NYSDFS).
Geminin supports more than 50 cryptocurrencies.
 It is known for customer protection and anti-money laundering.
Kraken vs. Gemini: Benefits
There are both negative and positive points of Kraven vs. Gemini based on personal liking and disliking. You may look for features in an exchange, and you will not find them in one exchange but in another. These exchanges are a mean to bring the benefits of cryptocurrencies to the public. Here we will explain the primary benefits of both exchanges.
Kraken
Kraken offers several fiat currency deposit methods. You can deposit money using your credit and debits cards as well. Kraken offers Cryptowatch for crypto market signals.
Kraken is a registered US cryptocurrency exchange. There is no doubt in its authenticity and validity.
 Kraken supports more than fifty cryptocurrencies. It means that you can buy and trade more than 50 cryptocurrencies on this platform.
There are strict security protocols. Your assets are safe with Kraken.
 All popular cryptocurrencies are available on Kraken.
 Popular fiat currencies such as USD and Euro are also available.
 The minimum deposit range starts from only $10.
 Kraken takes Low fees from both makers and takers. It is a suitable platform for beginners.
 It takes 0% to 0.26% per trade, 3.75% + €0.25 for credit card purchases, and 0.5% plus 0.9% or 1.5% for ACH purchases.
Gemini
Gemini is a user-friendly crypto exchange. It is also great for beginners because its interface is simple to understand, and actions are easy to take when using the app. Following are the benefits of using Gemini as their major cryptocurrency exchange.
Gemini is famous for its user-friendly and simple interface. Navigation is so easy for beginners.
It is a US-based crypto exchange, and it is licensed and regulated by the New York State Department.
 Charts to help device crypto strategy
Gemini supports multiple fiat currencies.
 It is easy to use.
 You can deposit fiat currencies using your Mastercard.
 It allows users to set orders and price alerts.
It allows users to earn 7.4% APY on cryptocurrency deposits.
Ease-of-Use Kraken vs Gemini
If you are a professional trader, you will not have any problem using both exchanges. One issue you might face if you are a beginner is that the layout of the websites is a little complex. You might have a serious feel, especially in the case of Gemini. It presents crypto lingo and analysis charts, and it is difficult for beginners to read them.
On the other hand, the layout of Kraken is more playful and attractive. The visual illustration will keep getting your attention. It is also easy to use for beginners as they can find all the information through given options. They can freely negative through the website.
Upon making an account, Kraken asks for your country because it is unavailable in Japan, Cuba, North Korea, Tajikistan, Afghanistan, Iraq, and Iran. The next step is to verify your email address, as email is essential to ensure that no one else can access your account.
Kraken vs. Gemini: Pros and cons
There are some simple differences between these two platforms. They offer different types of trading and different profit levels in future trading. These companies allow the investors can invest using different fiat currencies. That is why it is possible that you are looking for a particular feature in exchange, and you might find it in one.
We will present all the pros and cons of both exchanges to facilitate you in making your final decision.
Kraken
| Pro | Cons |
| --- | --- |
| Kraken offers up to 50x leverage in futures trading for investors | An in-built crypto wallet is not available on Kraken |
| Margin and future trading is also available on Kraken | Kraken does not offer any referral program for passive income |
| Kraken offers Over-the-counter (OTC) support for big investors | Mobile application is not available |
| Cryptowatch is available to facilitate investors | |
| You can trade in more than 50 cryptocurrencies and also get Staking rewards. | |
Gemini
| Pro | Cons |
| --- | --- |
| It is a licensed crypto exchange regulated by the New York State Department of Financial Services (NYSDFS). | Gemini takes a 0.5% fee, and it is a little too high |
| Good exchange for beginners | No margin or futures trading |
| You can set price alerts and recurring orders | Not suitable for traders |
| Provides excellent customer support services | |
| You can deposit fiat currencies using a Mastercard. | |
Security Measures Kraken vs Gemini
Security is the prime concern of every individual who wants to join cryptocurrency exchanges. They are right for a reason. An increased number of cyberattacks can steal digital currencies from these exchanges. It had happened in the past when large sums of Bitcoins were stolen from an exchange. How would you know that your assets are safer within an exchange? Every exchange takes certain security measures to make its environment safer for investors. We will look at the security measures taken by Kraken and Gemini.
Kraken
Kraken is considered one of the most secure cryptocurrency exchanges on the planet. Any hacker never hacks it, and no one is available to steal anything from it to this day. Thanks to top-notch security protocols that contain any cybercriminal to reach the site.
There is a two-year gap between its foundation and launch. This era is marked by intense testing and measures to make this cryptocurrency exchange is safe for everyone.
Platform Security: Security of the physical machinery is essential because all data is stored in physical servers. This security measure cannot be neglected if an exchange wants to secure every bit of their services. What would happen if someone stole the data directly from the servers present in the building of the platform? Kraken has a solution for this. They protect their physical servers 27/7 and 365 days of the year. Physical access is highly restricted. AI cameras and security guards patrol the building, and no one can access the servers.
Safe Coin Storage: Also known as cold storage, safe coin storage is a physical server detached from the internet. Cold storage is used to store crypto assets. Almost 95% of crypto assets are held in cold storage by Kraken. It means that no one can access the server through the internet, eliminating any chance of cyber-attack. Kraken did this to make crypto trading safer for everyone.
Gemini
Gemini also offers top-notch security. They know that customers' funds are crucial, and it is their prime duty to protect them.
Platform security: The platform is protected by cameras and security guards. No one can access the main servers of the company. They have devised a strong protection system against any physical attack on their assets.
 Cold storage: Gemini says that they store most of their crypto assets in offline cold storage. However, the exact percentage is not revealed by the company.
Mobile Trading
You cannot always use your laptop for trading. Everyone has a mobile phone, and it is better to have the app of crypto exchange you are using. In this case, both Kraken and Gemini have developed their mobile applications. You can download apps from Google's Play Store and Apple's App Store.
Customer Support
Customer support is essential in case of any misunderstanding and misadventure. Communication mostly happens through email. Both sites offer customer support.
Kraken offers a superior customer support service known as Over-the-counter (OTC) support. They provide this service for institutions and clients who have large trading volumes. It provides deeper liquidity and a more private and personalized experience.
On the other hand, Gemini is also good at providing customer support. They are well-known for responding to queries within hours.
Trading Fees   
The trading fee is a primary factor considered by every investor. If you have to pay heavy fees on your earnings, it will be meaningless for you to do all the hard work and get nothing in return. That is why it is vital to check the fee structure of the exchange before investing in it.
Kraken and Gemini both have different trading fees. They determine your trading fee by your 30-day trading cycle, whether you are a taker or marker.
Kraken is the best when it comes to fees. The marker fee ranges from 0.00% to 0.16%, and the taker fee ranges from 0.10% to 0.26%.
Gemini reduces his fee for markers from 0.25% to 0.10% percent. It is a good initiative to encourage investors. But it depends on your trading volume. With the increase in your trading volume, Gemini reduces your fee. The fee for the takers is 0.25% unless trading at the highest volume.
Conclusion
Kraken and Gemini are both US-based crypto exchanges. They are different in many ways. You have to decide which exchange is better for you keeping in mind certain factors that can facilitate you in investing, crypto trading, and withdrawing your funds. It would be best to consider the availability of these exchanges in your country.
The best way to analyze and decide on an exchange to start from is "Value for Money," as it is the most important factor when it comes to investment and starting any business. It means what you will get out of your investment. You need to compare fees, exchange rates, and leverage you get on an exchange.
In the case of Kraken vs. Gemini, it is clear that both exchanges have their plus points. Consider all the factors to reach a final decision.
Kraken vs Gemini: FAQs
1. Which features are the most important in this Kraken vs. Gemini cryptocurrency exchange comparison?
The most important features of cryptocurrency are trading fees, payment methods, deposit/withdrawal fees, security, number of currencies, supported cryptocurrencies, countries of operation, and overall brand reputation. It would help if you considered all these factors to reach a final decision. Some features can be more important for you than the rest. That is why you need to search for those specific features you are looking for in an exchange.
2. How can I choose the best crypto exchange for me?
First, choosing a crypto exchange is subjective. It means that you need specific services in the business. You need to consider all the important factors and evaluate the information to choose the right exchange for you. You need to check the availability of the exchange's operation in your country and whether it is regularized in your country or not? This article makes it easy to compare these two most popular and reliable crypto exchanges.
3. How We Evaluated Kraken vs. Gemini?
We gather all the information from authentic sources. We review the information and check for its validity. Then all data of one exchange is compared with the data of other exchanges, and all the relevant factors are considered during this process. Then this information is reviewed and presented to you to make your final decision.