Matic Review 2022: Still worth it? All That You Need to Know
There are many currencies and crypto networks in the crypto world like Bitcoin, Ripple, Etherum & Solana. Matic joined the list and garnered amazing popularity soon after its release. This success is due to wide adoption by many users of this Blockchain technology.
Matic also made a place in the list of top 100 coins after a whopping price jump of 1200%. You might come across Polygon, which is the new name for the Matic network. But what is the sudden hype about it? What is Matic and how does its market work? You will get all answers in this detailed Matic review. 
What is Matic?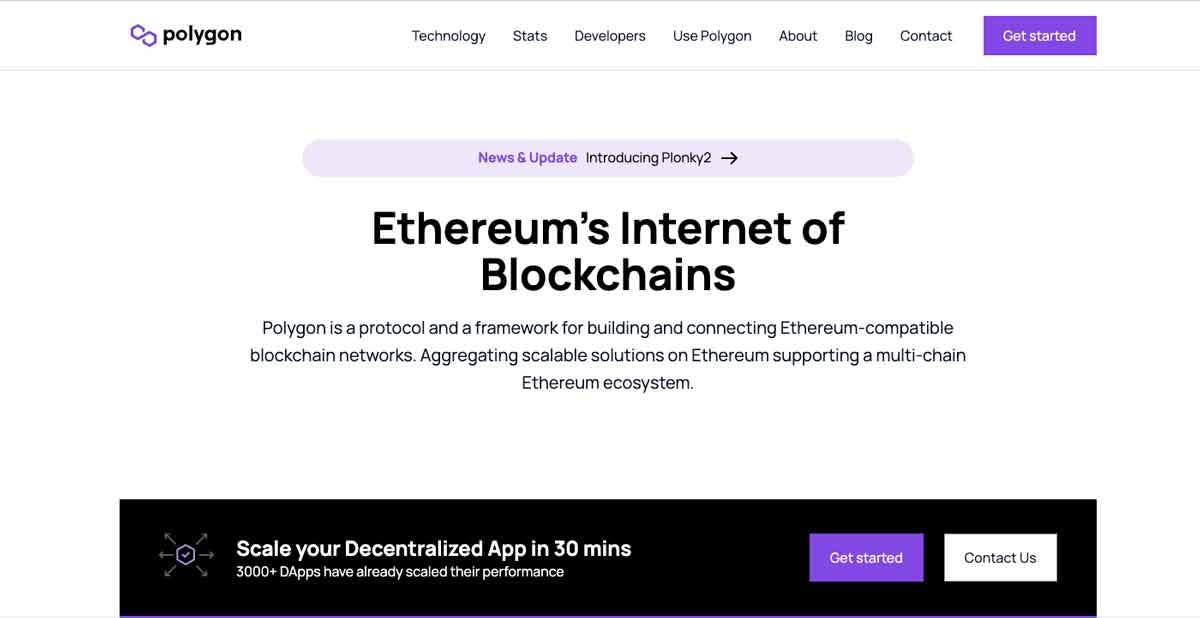 Matic Network is a scaling solution that is extremely popular in the crypto world. It provides scalability solutions to the blockchain networks to improve user experience. 
At first, Matic was designed to provide scaling solutions to multiple blockchains, but it now caters to Ethereum only.
It was started with a vision to solve the problems on the Ethereum network like performance and affordability issues. Since its inception, various projects have adopted the network bringing it in the top names of scalability solutions in the crypto world
The issue with Ethereum Network is that it can manage only 14 transactions per second. So, the users have to suffer because of the limited resources. In such cases, Matic comes to the resume and addresses issues like high fees and low transaction speed. 
Who Founded Matic?
Matic Network was built in 2017. The creative minds behind its creation are Jaynti Kanani, Mihailo Bjelic, Anurag Arjun, and Sandeep Nailwal. It was introduced to the market in the same year in October. 
Matic was renamed Polygon in February 2021. Also, its focus was shifted to solely manage Ethereum based blockchain networks. Polygon is an ecosystem of collaborative blockchain whose main feature is scalability.
Matic is included in the top 15 currencies. The founders aim to bring it among the top 3 cryptocurrencies. 
Understanding Matic Working
It is important to understand the mechanism in which Matic works. This understanding would clear the pathway of Matic Etheruem relevance. 
Matic Architecture
The architecture of Matic consists of a four-layer system that includes
Ethereum layer
Security layer
Networks layer
Execution layer
Let's dig deeper and get into the details of these layers constituting the Matic architecture. 
Also considered as the base of Matic architecture, the Ethereum layer has high significance. It handles the communication with different Matic chains. It also takes care of transactions and staking.
Next, comes the security layer, which runs next to the Ethereum layer. It offers a 'validators as service' role in the network. This functions as an additional security layer. The first two layers, the Ethereum layer, and security layer are optional incase of Matic
The next two layers are significant in the Matic architecture. 
The network layer is an ecosystem of blockchain networks developed over Matic. It manages local consensus, block production.
Last but most crucial, comes the execution layer. It handles the execution of transactions within the blockchains on the Matic network. 
The execution layer has further two layers, execution environment and execution logic. The former refers to virtual plug-in machine implementation, whereas the latter is written in Ethereum smart contracts for Matic's networks.
Now that you know about the Matic architecture, let move on to the next part to understand more about Matic.
Layer Position
Name
Function
Ethereum layer
Handles communication, transactions, and staking
Layer 2
Security layer
Additional security layer
Layer 3
Networks layer
Looks after local consensus, block production
Layer 4
Execution layer
Handles execution of transactions
Polygon Chains
There are two Polygon chains, currently working, let's understand them in detail. 
Stand-alone Chains
As the name tells, these chains are independent and create their security. They have their own set of validators. Stand-alone chains are a suitable choice for large projects supported by large and powerful communities. By choosing stand-alone chains, the project gets a high degree of independence and flexibility.
Secured chains 
Secured chains check on security for blockchain networks through validity proofs. Users can provide better security to the project gets by opting with a secured chain. However, this advantage comes with reduced flexibility and control. This is why this option is best suited to startup projects where security is a major threat to the system. 
What about Matic Staking?
Most people ask if they can stake Matic. The answer is yes. First, you need to buy Matic tokens and send them to your Matic wallet. After you send it, connect to the part of Matic wallet to do the stake. 
Go through a tutorial to stake on Matic tokens. You become eligible to earn block rewards then. 
Use Matic staking calculation to estimate your earnings on the Matic network wallet. 
Before staking we recommend to have a look into the best matic wallets and see what are the pros and cons are, it's better to make an informed decision
What Is Matic Coin?
Matic coin is an Ethereum based altcoin that empowers the Matic Network. Its main aim is to enhance the user experience. It offers a layer 2 scaling solution to the Ethereum blockchain.
Uses of Matic Currency
Matic is used for the following functions:
Fees
Matic is used as transaction fees and paid as staking rewards to the validators.
Staking
Customers can stake Matic to validate transactions.
Ecosystem Staking 
Matic investors plan to enable staking for projects in the Matic ecosystem. 
Matic and Investors
So far, Matic has played all its cards right and is on the road to success. Mark Cuban, one of the biggest proponents of cryptocurrencies, has invested in Matic. This is one of the reasons for Matics' outstanding performance and hype. Other than Cuban, many other capitalists such as ZBS Capital, Codex Venture Partners invested in Matic. 
Mark Cuban is interested to merge Matic into his NFT collection as Matic can perform more transactions per minute than Ethereum.
Polygon (MATIC) and Reddit Co-Founder Launch a $300M Fund
On December 17th, 2021, Matic disclosed another amazing partnership. Reddit co-founder Alexis Ohanian's venture capital firm Seven Seven Six has partnered with Matic to launch a $200 million fund. The firm will invest in social media and Web 3.0 projects. 
Matic will provide the infrastructure to the projects that this initiative produces. This partnership will result in a massive increase in the adoption of Matic Network if any of the projects become successful.  
Where Matic Network is Used?
Matic Coin is a valuable investment and is utilized in different areas of life. Some of its uses are discussed below
For making payments
As mentioned before Matic has a faster turnaround time coupled with lower transaction fees.so, it has become the favorite choice for service providers due to its hassle-free nature. Users can utilize the Matic token to pay transaction fees. 
Matic allows users to make payments through cryptocurrencies by using DApps.
Benefits the gaming networks
For years, the gaming industry has been a centralized network. This means the users don't have any ownership of the digital assets they earn, even if they pay for it. They can lose anything if the authority decides so. 
Due to Matic, gaming has become a decentralized industry. This gives gaming enthusiasts ownership of their digital assets. Matic network enhances the user experience with amazing transaction speed. 
 Decentralized Exchanges
Today, most people prefer decentralized exchanges over centralized ones due to the high wait times and low transaction speed.
Matic supports decentralized exchanges to offer faster and low-cost trade to the users. 
The decentralized exchanges are the future for crypto trading. They even offer reliable trades and enhanced security as compared to their centralized counterparts. 
Advantages of Matic
Despite being a newcomer in the field we see mass adoption of this platform. Let's have a look at the advantages that make Matic the favorite choice among users.
1. Offers faster transactions at lower costs
The biggest turnoff for a customer is slow speed and high prices. Matic offers instant transactions with lower commissions that attract decentralized finance setups, developers, and applications. The projects can offer the clients more acceptable terms of use by saving money on transactions.
In the future, the developers plan to have millions of transactions on several blockchains.
Matic Network is a great option for those who make a lot of transactions. Matic helps you save a lot on commissions, which is a great advantage to the network itself. 
2. Matic Staking Functionality
If you ever asked yourself how to stake matic in polygon wallet, well you are not alone. You can stake Matic to earn rewards from securing the network. Ethereum also provides the Matic staking feature, but the conditions are much higher as compared to Matic.
Matic is the preferred market because it has a lot of potential use cases. It has the adaptability to widen the scope as user volume increases, which means that it is suitable for mass adoption. 
3. Customizable
Matic has a customizable format that allows clients to choose their preferred language. The security layer is an additional feature. So, service providers using the network have complete control to customize it to suit their requirements. 
Technologies used in Matic
Matic network utilizes the following technologies:
1. POS Chain
POS chain, short for proof-of-stake provides a security layer to the Blockchains developed on Matic Network. This is the primary chain of Matic
2. Plasma Chains
Plasma chains are a scaling method that allows objects to be moved between the chains using Plasma bridges.
3. ZK- rollups
Plasma uses zero-knowledge proofs for the final records on the main chain. This technique combines various off-chain transactions into a single one. 
4. Optimistic rollups
They sit parallel to the main Ethereum chain on layer 2.  Optimistic rollups do not perform any computations but offer improvements in scalability. 
| Matic technologies | Role in Matic Network |
| --- | --- |
| POS Chain | Acts as a security layer |
| Plasma Chains | Moves objects using Plasma bridges |
| ZK- rollups | Combine multiple chains into a single chain |
| Optimistic rollups | Offer improvements in scalability |
How to Buy Matic?
In order to buy Matic, you need to select the best crypto exchange and register yourself with that platform. You can buy Matic on the following platforms:
1. Uphold
This is one of the best exchanges for U.S residents. Uphold offers various cryptocurrencies including MATIC. The UK and European residents cannot avail this service. 
2. Binance
This platform is available for the UK, Canada, Australia, and different parts of the world. U.S residents are prohibited to have most tokens on this forum. 
3. BitPanda 
For those living in Europe, BitPanda is the most suitable exchange to buy cryptocurrencies with cash, including Bitcoin, Matic, and many more. However, it doesn't cater to people outside Europe.
4. Kucoin 
This is an exchange that offers trade opportunities for over 750 different cryptocurrencies, including Matic. This platform is available for users worldwide.
5. CEX Exchange
CEX exchange is another reliable platform to buy cryptocurrencies like Bitcoin, Polkadot, Matic, and others from anywhere in the world with cash. This service is available worldwide. 
MATIC price predictions
Price prediction in 2022
With so many new projects in line, we may see Matic gaining more adoption this year 
The Matic price prediction for the current year is $2.72. If it gains more investors, it can join the top leading cryptocurrency, Bitcoin. It is also expected that Matic will reach $5 by the end of this year. 
Price prediction in 2023
By the end of 2023, Matic will reach $7.5. However, it is being predicted Matic Value will grow fast in the first half of the year, and will substantially slow down in the latter part. No major downfalls are expected.
If Matic keeps up with the increase, it can easily attain a milestone in 2024, as predicted the price can go as high as $12.
Price prediction in 2025
According to the latest developments and projects forecasts, Matic is looking forward to many partnerships by the year 2025. Matic price is It is predicted to reach around $20. 
This is how the forecast system predicts the future of Matic. The data indicate that Matic will reach new heights in the next five years. 
Top Projects Built on Matic
Matic has a 65 thousand per block size that makes it one of the fastest chains in the world. It gives exceptional services to the crypto world and offers backup to some big projects. At present, there are 400 projects that prove the scalability of the Matic network. We will be discussing some exciting projects in the Matic Network.  
1. Easy Fi
Matic has amped up the game of EasiFi, which is a decentralized borrowing and lending network 
EasyFi is built across Polygon, Ethereum, and Binance. Its main aim is uncollateralized lending. It is a unique application because most lending platforms on Crypto space use over collateralized lending options. This means the users must have more money than they intend to borrow. 
These loans on EasyFi are supported through TrustScore-which is a credit rating mechanism on DeFi. On DeFi, the customer data remains secure as it is protected by blockchain. Whereas, data is open to exploitation on traditional credit rating systems
2. Quickswap / DfynNetwork
Quickswap is an excellent decentralized finance setup, it is available for everyone, not only Etherum investors. It is the biggest DEX on Matic. It is also considered as a clone of Uniswap Dex, on Ethereum as it offers the same liquidity model. Also, Quickswap allows users to swap tokens at fast speeds and next to zero fees. 
3. Chicken Derby
This is one of the first blockchain games built on Matic in which weaponized chickens compete for Matic. Chicken Derby is an alternative to the popular racing game, Zed Run. It comes with a lighthearted theme that takes you to the memories of childhood cartoons. 
In 2022, Chicken Derby is going to introduce breeding. This is a great chance to mix chicken talent and features to increase your earnings. 
Matic does not only offer transactions at lightning-fast speeds but brings a better gameplay experience too. 
So, are you ready to compete in the chicken race?
4. ZedRun
ZedRun is a digital horse racing game based on Matic. It came up in 2019 on Ethereum when horses were priced at $30. Currently, new horses are priced at $100, at minimum. 
Gamers can buy, breed, and sell NFT horses. The main goal in ZED is to create a legacy of having a stable with winning horses. The more races you participate in, the better your legacy becomes. 
Zed Run is backed up by some powerful investors like The Chernin Group, Andreessen Horowitz, and Greylock Partners. Their support makes possible a wide adoption of Zed Run and motivates for its betterment in the upcoming year. 
Is Matic a good investment?
You can go through Matic Price prediction and other data on different crypto websites. If Mark Cuban, one of the crypto worlds' biggest names has invested in Matic, it is a clear indication that Matic crypto is a good investment.
After entering the crypto world, Matics' value has risen up to 5,000% compared to the beginning of this year.
Final Words
Matic is revolutionizing the blockchain community by offering scaling that adheres to Matic's aim. The features combined with excellent performance have helped Matic garner a dominant position in the crypto world.
The unique architecture enables users to perform seamless transactions within seconds. 
We hope you get all your answers related to Matic in this detailed Matic review. If you have any questions related to Matic Network, feel free to ask us in the comment section below. 
Good luck with Matic trading!
FAQs
What is the top transaction speed of MATIC?
At present, Matic can perform 65 thousand transactions per second. But, this number will be scalable to millions of transactions per second in the future.
Is MATIC available on most crypto exchanges?
Yes, Matic is available on most crypto exchanges like Binance, Uphold, BitPanda, KuCoin. 
Is Matic worth it?
By seeing the price predictions of Matic we can say that purchasing it now, definitely going to be worth it in the next years.