Shiba Inu Coin Price Prediction: Will this coin reach $1 in the future?
A meme coin is known as 'Dogecoin Killer' is the topic of every month. Financial media is creating more content about this coin. Crypto investors are questioning its features and future. The reason for all this much hype is the sudden peak of coin price in 2021. 
Now traders are interested to know about Shiba Inu coin price prediction. Even the coin fell after that specific period, but it has now gotten attention. Those who were making fun of meme coins now want to invest in them. 
What is the future of the SHIB coin, and where is it heading? Every question like this will be answered in this article. 
What is Shiba Inu Coin? 
Shiba Inu is another addition to the DeFi industry that launched back in August 2020. The value of this coin was under $0.00000001 in the beginning. Although one quadrillion tokens were burnt since launch, the coin didn't get phenomenal hype. Recently, Dogecoin became a new market interest, and it helped Shiba Inu get a boost.
The developer of Shiba Inu is pseudonymous and known as Ryoshi. The project's purpose is to experiment with a cryptocurrency entirely run by the community. The token is built on the Ethereum blockchain to assist the developers in integrating NFTs and ShibaSwap into the platform. 
This token has a strong community of over 300,000 and increases with every passing day. The community calls it a 'Dogecoin Killer' for its ability to surpass the Dogecoin value. The reason was an unexpected price increase of 1,200,000% back in May 2021; even the token had lost its 50% value a few months later. 
All the minted Shiba Inu coins are divided into two halves. A 50% of this is going to Ethereum founder Vitalik Buterin while the other half is for liquidity pool contributors locked in Uniswap. At the start, and still, many experts called it a joke, but frankly, this joke is now worth billions of dollars. People are looking forward to investing more capital in strengthening the coin.
| Overview | Market Data |
| --- | --- |
| Market cap | $ 11,073,051,482 |
| Circulating Supply | 549,148,808,970,019 SHIB |
| Trading Volume | $ 2,018,989,443 |
| All-time high | $0.00008616 |
| All-time low | $0.000000000056 |
| Shiba Inu ROI | +3008636.72% |
How Does Shiba Inu Work? 
Shiba Inu is further divided into multiple coins to serve different purposes and fulfill the investor needs in the whole cryptocurrency ecosystem.
LEASH
LEASH token has only 107,646 units to utilize. This token aims to give staking rewards for transactions confirmation while exchanging.
SHIB
It's one of the most basic tokens of Shiba Inu and is used for trading and medium of exchange on many platforms.
BONE
BONE token of Shiba Inu has 250 million units, and the holder of this token is allowed to vote on different Shiba Inu proposals. 
Apart from these tokens, Shiba Inu has a decentralized exchange platform in the name of ShibaSwap. As proof of legit platform, Shiba Inu has proper crypto's white paper, which the developer calls a 'Woofpaper.' Also, the platform owns NFTs named Shiboshis. 
Technical Analysis of Shiba Inu
Shiba Inu has always in the hit of rising and fall since its launch. But most of the time, the trend showed upward movement even after the pandemic setbacks. The value of this token was $0.00000001 at the start and reached $0.0000000407 in February 2021. The all-time peak achieved by Shiba Inu is $0.00008616. 
Price Prediction of Shiba Inu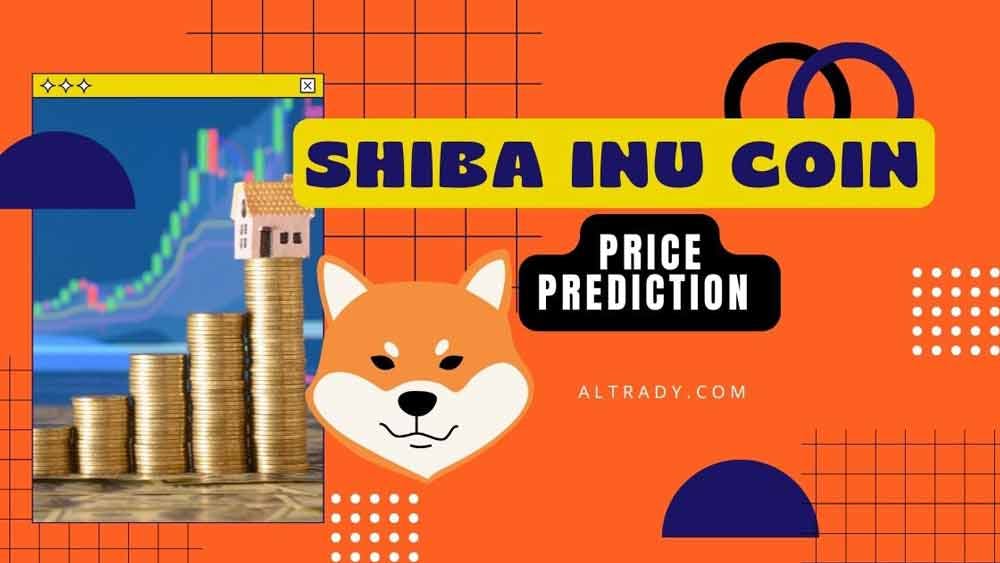 Since the Shiba Inu touched ATH back in May 2021, it became a headline in the crypto world. Also, it gave a green signal to all crypto enthusiasts when SHIB gets listed on Binance. 2021 was a bit crazy for Shiba Inu, and experts are hopeful for better performance in 2022. 
It's the best time to invest in SHIBA as the prices are low and will hit the ATH soon. Here we analyze the price of the Shiba Inu coin for the next few years depending on various factors. Let's see when this coin will be at its peak.
Shiba Inu Price Prediction for 2022
Shiba Inu coin prices can be increased at the beginning of 2022 as there are chances of being listed on the Robinhood. The price predicted by the Digital Coin Price of Shiba Inu is $0.000067 at the start of February and will touch $0.000083 in June. Apart from that, many big investors purchased this coin to get the benefits of low prices, which indicates an increase in values in 2022.  
The signals show that the project will achieve its goals during this year and will be able to build a Shiba Inu reward system and incubator. However, the average value throughout the year will move around $0.00006. Moreover, the Wallet Investor forecast this coin's +141.59% long-term earning potential. 
Shiba Inu Price Prediction for 2023
Gov Capital, the most realistic crypto predictor, showed a positive trend of Shiba Inu in 2023. After a critical analysis, experts concluded that the token price would be between $0.000173 to $0.000223 until mid-year. At the end of the year, the price may touch $0.00041.
But keep in mind prices of any cryptocurrency are highly volatile and influenced by unpredictable factors. An influencer's tweet or new coin in the market can disturb the prices. So it's recommended to do your research and then make an investing decision. 
Shiba Inu Price Prediction in 2024
If nothing highly unexpected happen in 2024, the graphs show full potential in that year. For now, everything seems good, and the possibility of a leading crypto market by Shiba Inu is high. The average price in 2024 will be $0.000079 throughout the year. There are clear chances of even more growth even in adverse conditions. 
Shiba Inu Price Prediction in 2025
The experts of Digital Coin Price are confident about the SHIB token and consider 2025 as the benchmark year for the token. The price will cross all high values and set a new $0.000091 and even more. If every odd favors the coin, the price may reach $0.0001 in 2025. Your investments could bring 236.7% monthly and 35.46% annual returns if everything goes as per predictions. 
Shiba Inu Price Prediction after 2025
It's hard to forecast prices for many coming years because of unpredictable events. However, the Coin Price analysts confirm the great opportunity to earn a high-profit margin through this coin. The market of Shiba Inu will be around $0.00070917 after 2025. Another platform predicts that the price will hit $0.002736 at the end of 2030. It's only possible if the coin has a minimum market cap of $50 billion. 
Can Shiba Inu Coin Reach $1?
The Shiba Inu set new cryptocurrency records in 2021 and won the trust of many investors. The price increased more 44,600,000% in that year which is a good sign for any crypto enthusiast. If you regularly read news about meme cryptocurrency, one headline has surely gone under your eyes. 'Can Shiba Inu coin reach $1?' 
Anything is possible, but that's so far from current prices, and the coin needs growth of $2,940,000% to achieve this feat. But before talking about how it would happen, we should talk about one more question.
Is it even possible in real life?
Yes, it's hard to accept the reality, and you might have many questions still in your mind about the above statement. If you own Shiba Inu and prices go to $1 in a year, your $1000 investment in this coin will make you a millionaire. Unfortunately, the answer is 'No.' It's not realistically possible for any dog meme coin to hit $1 in a year.
The SHIB has grown 44,600,000% within a year, then what would stop it from further growth? No matter how good this coin performed in the past, the possibilities are still low. At the time of writing, SHIB has a market capitalization of $19 billion. On the other hand, Bitcoin has a $900 billion market capitalization. 
So to reach the $1 price point, SHIB needs a market capitalization 650 times more than Bitcoin, which is not a piece of cake. At this point, the $1 price becomes an imagination for memecoins. But it doesn't mean that the coin has no potential to grow. There are clear indications of its growth in the coming year and would surely set some new records. But the $1 price is not possible soon.  
Pros & Cons of Shiba Inu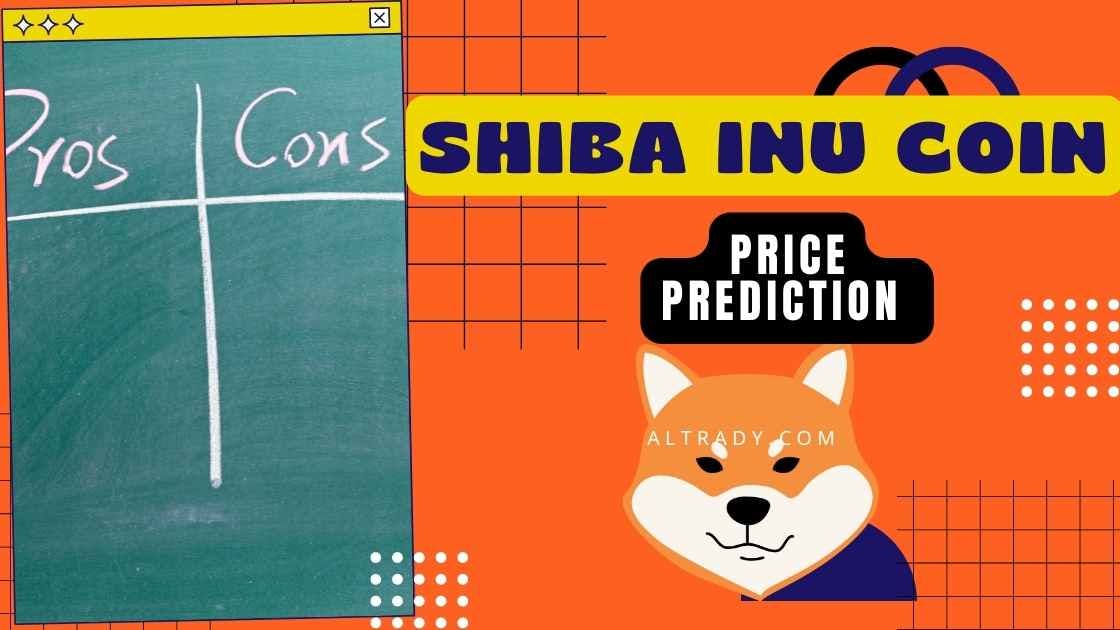 Cryptocurrency is no more an unknown term for any investors. Many crypto enthusiasts gained overnight profits, and some lost all their assets. Before getting into the hype of any specific cryptocurrency, it's better to know about the advantages and disadvantages of that coin. Here we listed the benefits and flaws related to the Shiba Inu coin. 
Pros
Without the advanced technology, Shiba Inu got the attention of crypto experts and remained trending on social media. Unlike other memecoins, Shiba Inu adopted the meme-friendly marketing tactic and became a valuable future brand.
ShibaSwap: The unique aspect of the Shiba project is introducing ShibaSwap decentralized exchange. It helps to exchange peer-to-peer and eliminate the intermediacy of other issues. This exchange allows you to stake crypto assets and earn commissions in the name of yielding. Moreover, the investors can trade around 10000 dog-themed NFTs through this exchange platform. 
The chances of being listed in Robinhood are high as it received massive revenue while registering Dogecoin. Once this token becomes tradable on Robinhood, you will witness more support from the community.
Cons
Highly Volatile: Investors get shocked with such a huge bump in Shiba Inu's price in 2021. You might be thrilled to invest in this coin because of a sudden increase in price; the chances of loss are equally there. The prices of Shiba Inu always swings in both direction, and hard to forecast the future. If investors boycott this coin, everything will be at a loss.  
Low Utility: The other downside of the Shiba Inu coin is the lack of real-world utility compared to coins like Bitcoin and Ethereum worldwide. The developer introduced nothing exceptional in terms of transaction speed, charges, and structure to override the other According to the Cryptwerk report; this coin is only useful for 100 vendors worldwide.
Musk Disowned it: The statements of social media influencers about any cryptocurrency are the make or break of that coin. If any influential personality endorses many coins' super hit in the market. Tesla CEO Elon Musk was a supporter of Dogecoin and also adopted Shiba Inu at the start. But his recent tweet about the cryptocurrency disappointed the Shiba Investors. 
What Can You Do with Shiba Inu? 
If you love trading your cryptocurrency to earn a profit, you will love the Shiba Inu coin because of its high volatility. The coin even reported a double-digit percentage increase in a short time. You would love to conduct many trades of Shiba Inu on the same day for its price swings. 
So if you purchase at a low price and do some sensible trades, there are chances of high profit. Many investors even get 2x of return on their investment when they become experts in trading. 
You can earn profit through the Shiba Inu by purchasing and holding for time. The term 'HODLing' means long-term investment. Let's take an example. You had purchased the coin in April 2020 at the rate of $0.000000053. Now the coin has grown to 131,900% today. Your net worth will be much more than your investment.
The wallet investors predicted that if some purchase $1000 in SHIB tokens, the value of these tokens will be $1,680 by 2026. 
The other way to earn passive income through SHIB tokens is DeFi staking. Many DeFi platforms offer SHIB staking and give you commission based on your trading volume. Whenever you want the amount out of staking, you can easily get the whole amount and convert it into fiat currency. 
Is Shiba Inu a good investment? 
Investing in Shiba Inu is highly risky and speculative. Although it's stunned the investors with a sudden increase in May and gave them a huge profit margin, it's still not recommended. It might be possible that the high liquidity and your good luck make it the market's hype once again. But the recent crypto crash and Buterin's donation make it hard to possible. 
It's not like your stock market investment. The traditional investment is always secured with cash flow and assets. So if the business is doing well, you can earn a commission. But if everything does not go with the plan, you can legally claim your investment.
That's not possible in crypto trading. There is no asset or cash flow to back your investment. You will profit if someone is ready to pay more than your investment. So it's a whole game of investors pools, and you can't claim your loss anywhere. 
The other thing is the price of the Shiba Inu coin. You can own millions of coins at the cost of $50, which is not more than a joke. Yes, the coin will be profitable if it reaches $1, which is impossible in the next few years. So investing in such a coin is not a thoughtful decision. 
FAQs
Where can you purchase Shiba Inu coins?
You can find SHIB coins on decentralized exchanges like Huobi Global, Binance, and OKEX. The best thing about this token is that you can purchase it with the fiat currencies like USD, GBP, EUR, etc.
Is the Shiba Inu network secured?
Shiba Inu has been built on the world-leading and highly secured Ethereum blockchain. Most of the memecoins are created on this blockchain because of foolproof security.
Does this coin have future potential?
According to experts, the SHIB coin can return a handsome profit in the future. So no one is sure about its future. Many good predictions are there if everything goes well. On the contrary, a little mistake or unpredictable factor can turn the table. 
Wrapping Up
If we sum up the whole information about the future of Shiba Inu, we can say that according to the analysts it has a bright future. But it will never touch $1 in the next 4 to 5 years. But these are just predictions based on the historical data and some notable factors. 
If you want to make an investment, take a moment and go deep into the market. The worst possibility is also there, and no one is sure about the price forecasts.