Solana NFT Marketplace: A Project to Sky Rocket Your Incomes Through NFTs
If you're a crypto trader who's looking for a way to increase your income, then you'll want to check out the Solana NFT marketplace. This project allows users to buy and sell unique non-fungible tokens (NFTs) that can be used to create digital assets and experiences. 
With the Solana NFT marketplace, you can quickly and easily add new revenue streams to your business. So, what are you waiting for? Check out the Solana NFT marketplace today!
What is Solana?
The Solana network is a decentralized platform that enables the creation and execution of smart contracts and decentralized applications. Built on the Ethereum network, Solana aims to provide a high-performance alternative to existing blockchain networks by using a unique Proof of History algorithm. This algorithm allows the network to process up to 50,000 transactions per second, making it one of the fastest blockchain networks in operation.
Solana also utilizes a novel approach to a consensus known as Proof of Stake Voting. This system allows validators to vote on the validity of blocks, removing the need for energy-intensive mining processes. As a result, Solana can achieve high transaction throughput without sacrificing security or decentralization.
The Solana team is led by Co-Founder and CEO Anatoly Yakovenko, a veteran of the tech industry with over 20 years of experience in software development. The company is backed by some of the most prestigious names in venture capital, including Andreessen Horowitz, A16Z Crypto, Polychain Capital, and more.
Solana is still in its early stages, but it has already shown great promise as a high-performance blockchain network. With its unique Proof of History algorithm and Proof of Stake Voting system, Solana is well-positioned to become a leading player in the decentralized application space.
| Data | Value |
| --- | --- |
| Current Price | $104.89 |
| Circulating Supply | 320,598,400 SOL |
| Trading Volume | $3,858,561,498.76 |
| All-time High | $260.06 |
| All-time Low | $0.5052 |
| ROI | 47515.64% |
| Market Cap | $33,584,098,229.66 |
What is Solana NFT Marketplace Development?
The Solana blockchain is a powerful and efficient tool that can be used to develop NFT marketplaces. The Solana blockchain was built with the purpose to reduce network congestion and increasing transaction speeds. The main functionalities that this new technology provides are security, scalability & speed, which will be enhanced by its native token called SOL.
The Solana NFT marketplace is the next frontier for entrepreneurs with an eye on disrupting traditional markets. The innovative technology behind it all helps to gain trust in setting up your own business and gaining exposure among other like-minded individuals or organizations. An early mover advantage means you can get in on this ground floor opportunity and lead an engaging life with your own custom-made tokenized assets. 
Features Of Solana NFT Marketplace
Interoperability
Non-traditional financial markets (NFT markets) enable traders to initiate transactions across a variety of virtual platforms, allowing for the smooth execution of transactions and the secure preservation of information.
Scarcity
The smart contracts are written by the platform's developers in such a way that the production of NFTs is restricted, hence raising the value of the tokens they represent.
Programmability
Because they are completely programmable by the users and allow them to include their own needs into the system, NFT marketplaces provide a great degree of control.
Liquidity
Because of their interoperability, NFTs may be used as collateral for loans with high liquidity levels. As a consequence of their interoperable nature, immediate trading provides consumers with a high level of liquidity.
High Transactions Speed
Because of the low degree of network congestion on the platform, this kind of NFT marketplace is capable of achieving transaction speeds that are comparable to that of traditional marketplaces.
No Central Authority
Because it functions in a decentralized environment, the Solana-based NFT marketplace is devoid of trust, as it does not depend on the involvement of a centralized authority to function properly.
Native Cryptocurrency
SOL (Solana Token) is the native token of the Solana platform, and it is used to pay for the services provided. The SOL tokens are put in the liquidity pool by investors with the aim of earning large returns and profits from the cryptocurrency.
How To Create NFT Marketplace on Solana?
Solana NFT marketplace platform offers a safe and secure environment for users to trade and store NFTs, and it completes transactions quickly and cheaply. Corporations of all sizes are getting in on the action as these platforms continue to rise in popularity.
A Solana NFT marketplace platform with user-friendly features is available for purchase thanks to a partnership with Maticz, a well-known NFT Marketplace Development Company. This step-by-step guide will walk you through setting up an NFT Marketplace on Solana.
Before you begin a project, figure out what it needs to accomplish and how big of an operation it will entail
Step two is to draft the documents outlining the features and functions you intend to include in your marketplace.
Do extensive internet research on the legislation and jurisdictions of the country from which you intend to obtain it.
Develop your NFT marketplace with the help of a well-known company with a huge pool of experts.
The front end of the Solana NFT marketplace platform will be constructed after the UI/UX is incorporated.
The platform's back end must be set up after the operational server is complete.
Non-financial-transactions (NFTs) like digital collectibles, music, gaming, sports, metaverse and other sorts of the content may be safely stored using wallets that are highly compatible.
If any issues or glitches arise as a result of the platform, continue with the testing process.
Beta-testing the platform's workflow to see if it matches the customer's requirements.
For software upgrades and maintenance, they offer a 24-hour technical support team that is available seven days a week to assist.
What Makes Solana NFTs Unique?
PoH, which Anatoly Yakovenko often refers to, is among Solana's most important contributions to its customers. This idea provides for more protocol flexibility, which enhances the protocol's value. Due to its lightning-fast transaction speeds, Solana has become a living legend in the cryptocurrency world. 
Due to the hybrid nature of the Solana protocol, transactions are processed faster, and performance is verified via the blockchain. Institutions are particularly interested in the top Solana NFT marketplace because of the quickness with which charges are executed.
5 Best Solana NFT Marketplaces
Numerous non-financial-transaction (NFT) markets exist, many of which cater to a specific industry or specialty. Before deciding which NFT marketplace to use, what characteristics would you search for in a marketplace, and which are the greatest NFT markets available on the Solana? 
The following is a list of the finest Solana NFT markets that you should be aware of:
1. Solanart.io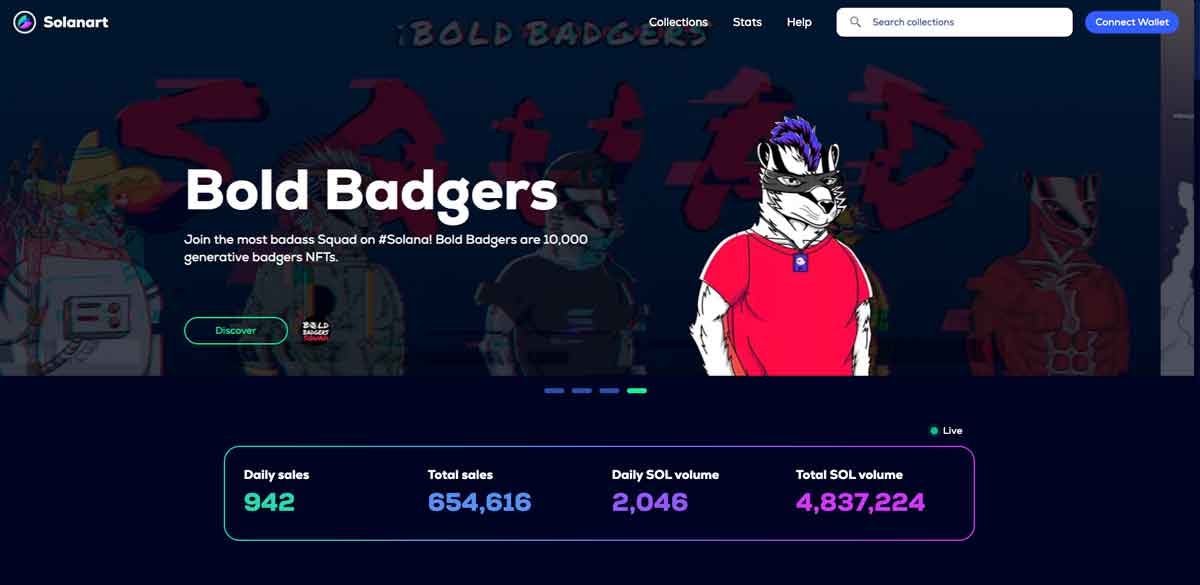 Degen Ape Academy, SolPunks, and many other early NFT companies are all based here, as well as the first fully-fledged NFT marketplace on Solana. The first step is to link your wallet, whether it's a Sollet, Phantom, or Solflare, to your PC. If you're looking to buy or sell NFTs, you may browse through the projects on the site.
NFTs are maintained in a temporary account managed by the marketplace software until the SOL amount has been transferred to the seller's account when they are put on the market for sale. Besides the cost of the maker, the marketplace takes a 3% cut of each sale. In addition, a 0.02% listing fee is assessed.
Remember that Solanart is still in beta at the time of writing this review. Google Forms may be used to contribute ideas to the NFT website. The form may also be found on their Discord channel. Other than that, it's not yet possible to mint coins.
2. Solsea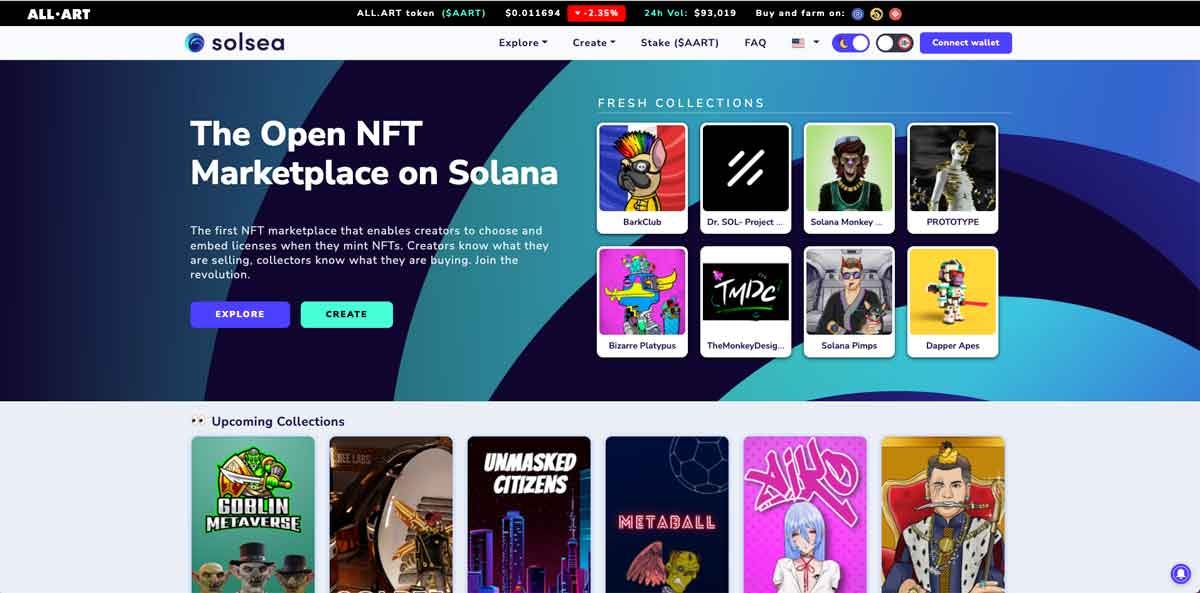 Solsea is another open NFT marketplace on the Solana network that is available to anybody. Allowing artists to embed copyright licenses directly into their NFTs is an important milestone. In addition to SOL, the primary token of Solana, Solsea is compatible with USDT, USDC, and a number of other currencies. 
Payments may be made with FTX-Pay as well. To mint NFTs, artists may submit their artwork to Solsea, which supports Phantom and Sollet wallets. You have the option of making your listings publicly or privately accessible. All-Art Technology is creating a system for non-volatile tokens called Solsea. 
This protocol ensures that the tokens' value remains constant. Authenticated collections' rarity indexes will give information about the NFT's qualities and scarcity. There is a 3% market fee for each, and every purchase made there. It is also up to the artist to decide how much they charge for their services. 
A number of issues have plagued Solsea since its launch, including errors and fraudulent NFTs being accepted as real. However, they seem to be doing their part in solving the issues. While their website is still being repaired, they've issued refunds for anyone who were duped. With a well-designed website and all of the unique services they offer, Solsea seems to be on the path to being a big player if they are successful in overcoming the difficulties.
3. Magic Eden
To start off 2019, Solana released Magic Eden, a platform for decentralized applications (dApps) based on the SOL network. As with Open Sea, Magic Eden permits the creation and management of one's own non-volatile memory by the user (NFTs). Anything from digital art to video game merchandise may be represented by these items.
In addition to showcasing what's hot right now, popular collections often highlight initiatives that are drawing attention. As a bitcoin investor, you'll find a wide array of options right here. People who are getting the most attention and digital assets that are likely to be prominent in the future may be rapidly identified using this method.
You don't have to waste time hunting for the next NFT drop from your favorite creator since Magic Eden keeps track of all the upcoming NFT drops. NFT projects on the Solana blockchain may be found in Popular Collections, which keeps you up to date on the most recent and popular NFT projects on the Solana blockchain. 
There is a streamlined approach to viewing and learning about the most current projects. Magic More than $700 million in transactions has taken place on Eden since its inception. 411k unique traders have come to the site in order to make use of the Solana network architecture.
4. Metaplex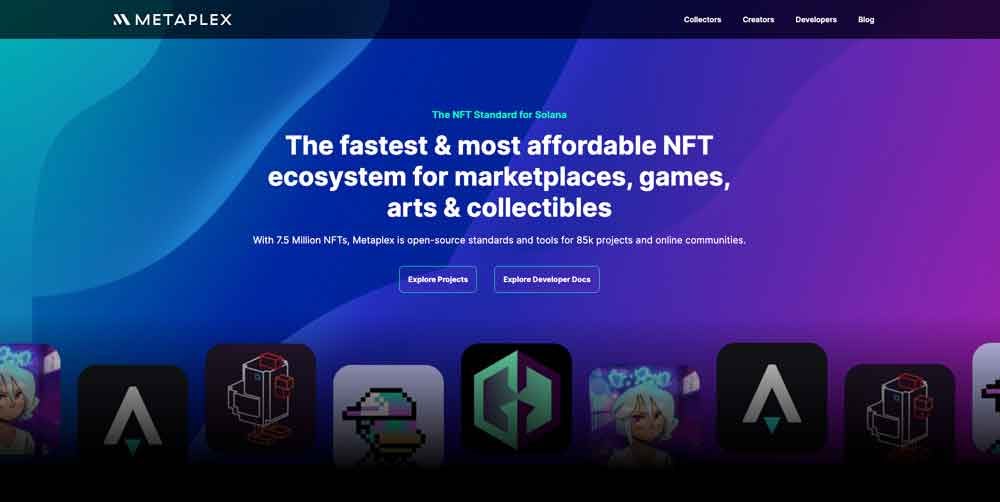 On-chain blockchain framework Metaplex allows artists and creators to build their own self-hosted NFT businesses at the same time it takes to build a website. With the help of Solana, the platform can manufacture NFTs in a matter of milliseconds at very low prices. Metaplex NFTs provide a wide variety of benefits for artists and producers. 
The platform is powered by the Solana blockchain, which enables on-chain development and auctions. Minting charges are often less than one dollar, and there are no platform fees. Decentralization and open-source development are also made possible, as is permissionless development. 
Once a store is built, it is linked to a powerful on-chain program that exclusively issues non-fungible tokens (NFTs). An intermediary and the related expenses of non-financial transactions may be eliminated if the storefront manages on-chain auctions exclusively. On-chain auctions, in addition to fast payments and NFT transfers, provide a wide range of powerful alternatives.
There are a variety of ways in which fans may get their hands on rare and limited editions of NFTs, such as via tiered auctions in which collectors compete for certain NFTs. Creator splits and perpetual royalties may be hard-coded into the NFT thanks to on-chain creation. 
Automated payments and self-executing royalties on any resale revenues will be made after the conclusion of an auction. In all of these transactions, no paper, trust, or wire transfers are required. This is a truly paperless world!
5. Digital Eyes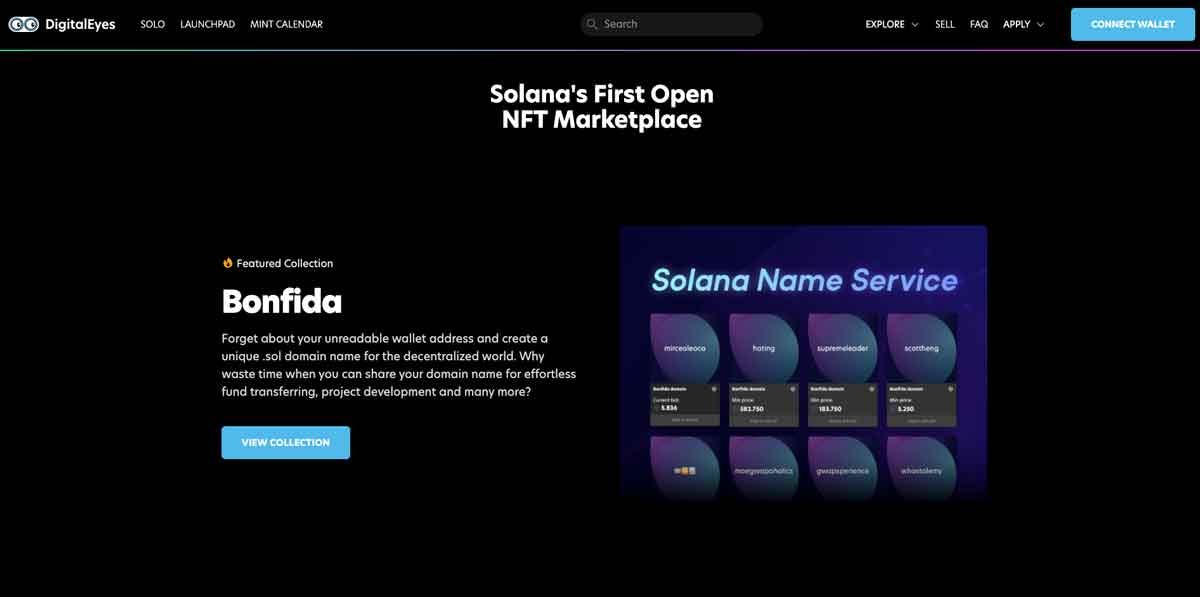 NFTs may be bought and sold on Digital Eyes, an online open market. Solana, a well-known cryptocurrency, is used for transactions. This website allows artists from around the world to post their digital artwork and the price they expect to receive for it in Solana.
You can buy art by paying the artist the right price and taking ownership of it if you'd like. non-fungible tokens make it impossible for any other party to claim ownership of a digital asset once it has been purchased by the buyer.
For as little as 0.001 SOL per listing, users can promote their digital assets on the Digital Eyes NFT. If you want to acquire an NFT from this internet market, you'll have to pay two different kinds of charges. The first price consists of a 2.5 percent service fee collected by the platform and a royalty charge imposed by the creator.
The listing fees are non-refundable. It will be available for purchase on the collections page if the item has been verified. In order to attract buyers, a non-verified NFT must be advertised with the URL shared by the user.
Zokyo takes care of the security of Digital Eyes NFT because of the high degree of security given by Digital Eyes. The buyer's money is safely transferred to the seller's wallet when the transaction is completed. The value is dependent only on Solano, virtual money. The supported wallets are Solflare, Phantom, and Sollet.
FAQs
Why are Solana NFTs so popular?
Investors choose Solana, a Proof-of-Stake blockchain, for the development of NFTS.  Solana NFTs are immensely popular among investors who believe Solana to be the ultimate 'Ethereum killer' since it can process up to 50,000 transactions per second at the cost of $0.00025 per transaction. 
Can You Mint Your Own NFT?
NFTs may be made by anybody, anywhere, and at any time, making them accessible to everyone. OpenSea, Rarible, SuperRare, and Foundation are among the most well-known NFT platforms for online sales of your work.
Why Build NFT Marketplace on Solana?
With 50,000 transactions per second (TPS), Solana Blockchain surpasses both Bitcoin and Ethereum's transaction speeds, making it totally scalable. For high throughput and transaction-keeping operations without a third-party intermediary, NFT Marketplace systems located in Solana, Spain, have been developed. 
Consumers save money by reducing their gas prices and transaction processing times thanks to this technology. A large number of people are joining the Solana network in order to set up NFT marketplace platforms that are now popular in Solana.
Who Originated Solana the NFT?
Anatoly Yakovenko is the Solana administration's most influential member. Starting at Qualcomm, he quickly rose through the ranks of the company's hierarchy. They were elevated to senior staff engineer managers in 2015. Yakovenko, on the other hand, went on to work as a software developer for the Dropbox Corporation later in his career.
Conclusion
So, if you're looking for a place to invest your money and you want it to have a good chance of growing, look into the Solana NFT marketplace. The industry is evolving by the second, so now is the time to get in on the action. And if you need any more convincing, just check out all the amazing things that are already happening on the Solana platform. Ready to get started?