Ternio Exchange Review (TERN): Is It Good to Improve the Transactions?
Ternio is an impressive initiative to simplify transactions worldwide. With the introduction of BlockCard, this platform became a headline in the crypto market. The features they provide are not even in the imagination of someone. That's why people praised it from the start and performed transactions through this platform. 
However, the thing that attracted the investors in Ternio Exchange. The native currency of Ternio has remained the talk of the town for many months. Many crypto experts considered it a worth investing token as it will bring more results in the future. Also, it is linked with Ternio, which is a completely legal platform; the chances of its downfall are rare.
Let's see what is Ternio Exchange and all other aspects in detail!
What is Ternio Exchange (TERN)? 
Ternio Exchange was launched at the start of 2018 by a special team of developers in the United States. This platform aims to integrate crypto coins and blockchain applications into daily tasks. To achieve this feat, the platform introduced white-label technology, which helps to improve real-world use. 
To sort out blockchain scalability and crypto payments problems, Ternio initiated two products called Lexicon and BlockCard. Its Lexicon feature enables one to do 1 million transactions in a single second via blockchain. Ternio developed this product to solve the payment issue of significant enterprises worldwide. 
Because of excellent scalability, Amazon signed a contract as a Tech Partner with Ternio in 2019. The BlockCard introduced by the Ternio facilitates payments where a VISA card is accepted. In the report of Ternio, more than 46 million merchants allow payments through BlockCard. You can get virtual as well physical cards from the platform. 
TERN is the native currency of the platform, which is used on BlockCard and Lexicon. In June 2018, TERN was available to trade for the first time. The coin has a total supply of 899,921,008 with unknown market capitalization. At the time of writing, the price of one unit is $0.007865, with a market rank of 5982. 
| Data | Value |
| --- | --- |
| Ternio Price | $0.007866 |
| Price Change in 24h | $0.0003791 |
| 24h Low / 24h High | $0.007486 / $0.008318 |
| Trading Volume 24h | $6,964.01 |
| Market Cap | No Data Available |
| Market Dominance | No Data Available |
| Market Rank | 5982 |
| Fully Diluted Market Cap | $7,077,535.68 |
What Are the Benefits of TERN?
The purpose of Ternio is to reveal the future of payment methods and how cryptocurrency could be used in daily life. If you own TERN tokens, you will enjoy some perks, and here is the list of those benefits: 
The first benefit you would get is purchasing TERN without verifying your information. It would occur between two crypto platforms, and no third party will be involved in your payments. In this way, you can start as discreetly as you want. 
Another benefit is making a profit by holding this coin at the right time. The prices of TERN are highly volatile. Suppose you make a sensible decision and purchase the coins at their lowest. You can make a handsome commission after a few months when the prices will again touch the highs. 
You can use these coins for daily life shopping. The BlockCard of Ternio has been accepted at many places, and you can easily purchase groceries with your cryptocurrency. 
Another impressive benefit is that you can convert your fiat currency to crypto coins like TERN and then place them in any hardware wallet. In this way, you will save your money and not need to pay taxes. 
How to Buy Ternio Exchange (TERN)?
The problem with the TERN token is that it can't be purchased directly through fiat currency. If you want to buy TERN with fiat currency, you need to own another stable currency first. In this case, you can get Bitcoin or Ethereum through fiat money and then trade it with the TERN. Here is the step-by-step guide to owning TERN through the Binance cryptocurrency exchange platform. 
Step 1: Setup the Binance Account
To purchase your first cryptocurrency from Binance, you must provide details and set up the account. The account creation process can be done in three simple steps:
Some fake websites cloned Binance and scammed thousands of people in the past. So, make sure that you are at the original website of Binance, and it can be checked through the Secure certificate that pops up at the start. For a better future experience and to avoid confusion, you can bookmark the original website. 
The next step is registering on the platform. You will find the register tab in the right-hand corner of the website in green color. You will be asked to proceed either with the email or phone number by taping the option. We recommend using the email and one that is highly secure and easily accessible for you.
Then you need to put a strong six-figure password. Make sure that your password is only known to you, as anyone can access the Binance account with the help of a password. You will get a 6-digit code via email and write on the next step to reach the dashboard.
To make your account highly secure, you can add another layer of protection known as Two Factor Authentication. By applying this step, you have to verify your login on two different devices, and the chances of hacking will be no more. 
Step 2: Purchase Bitcoin 
Now, it's time to purchase Bitcoin through Binance. Since it's your first time and you don't have any other cryptocurrency before, you need to buy BTC with fiat currency. You can use either the SWIFT company or debit/credit card for that purpose. Most people have credit cards so we will explain the process based on card payment. 
In the start, Binance didn't support the cards on the platform as a payment method. Then you need to connect with a third party called Simplex for purchasing fiat money. It helps to proceed with transactions faster, secure, and at low charges. So, after connecting your debit card with Binance, you need to follow some steps for purchasing BTC.
Go to the Buy Crypto tab and click on it. You will be asked to choose a fiat currency like US dollars. Select one of your choices and then pick a credit/debit card option for payment. 
On selecting the payment method, you have to pick the cryptocurrency you want to buy. Then provide the amount you want to purchase and ensure it's not more than your predefined plan. For instance, if you choose the BTC, it will show the current price of BTC in your selected fiat currency. 
Then hit the Buy BTC button, and the interface will pop up containing all the terms and conditions. Carefully read them and then move forward by confirming them. 
After that, you will be asked to provide the credit card details. On doing this, it would take some time to verify the payment. 
If you are using Simplex for the first time, you need to write the code sent on your email or mobile number, and that's it. The purchase amount of BTC will appear on the Binance dashboard. 
Step 3: Choose an Altcoin Exchange
Since TERN is not available on Binance, you can't trade it with Bitcoin on that platform. To purchase TERN, it's important to go to an altcoin exchange where a TERN/BTC pair is available. In our situation, we can choose Bitmart as an exchange because it's safer and simpler. If you will use Bitmart for the first time, go and set up an account first. The process will be the same as we mentioned above for the Binance. 
See also: How to buy on Bitmart
Step 4: Transfer BTC to Altcoin Exchange
Transferring BTC on Bitmart needs a wallet address where the coins are stored. To get the wallet address, click on the top right corner tab on Binance with the name assets. There you have to select BTC and copy the 'Deposit Address.' These steps seem a little tricky, but don't worry; they are not that difficult in real. You need to be active-minded during this process. 
Then go to Bitmart and select the crypto purchase option. There you need to paste the copied address and hit the okay button. After verifying the two-factor authentication, Bitcoins will be transferred to your Bitmart account. 
Step 5: Trade BTC with TERN
Once you receive BTC in your Bitmart account, go for the final steps. Search for the TERN/BTC pair for the exchange on the trading window. There you can see the price chart and the conversion rate of the pair. Select the amount you want to convert and write in the tap. 
Ensure that the amount you are entering is somewhat less than the total amount, as the charges will also be deducted. Then click the Buy Tern and BOOM. You did it and were able to see TERN tokens in your wallet.
Where Can You Buy Ternio Exchange (TERN)? 
Choosing a platform for purchasing TERN is a little tricky because it has not been listed on all big cryptocurrency exchange platforms. Moreover, you can't purchase these tokens directly through fiat money. So, you have to choose a platform that allows you to trade in TERN and provide its pair with another cryptocurrency. 
Some of the trusted platforms you can choose are ProBit Global, VinDAX, BitMart, etc. Although there are some other platforms available to trade TERN, these are the finest. They have a highly secured system and deduct low charges on every transaction. Moreover, you can swap TERN with many other currencies on these platforms. 
Best Wallet to Store TERN
Once you have purchased the TERN tokens and are looking forward to keeping them for a long time, you need to store them somewhere. Although platforms like Bitmart are secure and guarantee the safety of your assets, you should do it by yourself. Those platforms are always online, and already hacking incidents have happened in the past. 
That's you should choose any secure crypto wallet for storing purposes. Keep in mind that the software wallets are equally unsafe as they are also online. If your keys get hacked, you won't access your account again. Here we would recommend choosing hardware wallets. These are like a USB port, and you can disconnect from the computer after storing your tokens. Then no one can be able to access your keys, and there is no chance of hacking
Ledger Nano X
If you want top-tier security of your digital assets, you can achieve it by spending $100 on the Ledger Nano X hardware wallets. Here are some impressive features of this wallet:
It has been built up with the most secure and advanced element chip.
The portable design allows you to use it with a laptop, desktop, and mobile phone through a Bluetooth connection. 
It has enough storage to accommodate large amounts of data.
Its works fine with all ERC-20 based tokens.
The languages are according to your region. 
What Can You Do with TERN? 
After buying any cryptocurrency, you can perform different operations depending on your needs. Here are a few actions you can take if you have TERN tokens in your crypto wallet. 
Trade with another cryptocurrency
After purchasing the TERN coin, you can trade it with the thousands of other crypto coins available on the exchange platform. You might not consider it a big thing, but actual traders know the value of trading against stable coins. However, choosing the platform is critical in this process. 
Holding cryptocurrency for a long time is common in crypto trading. You purchase the coins at a low price and wait for the right time to sell. As soon as the graphs go high, you sell the coins and earn a commission. This is an effortless way to make money through holding TERN. But make sure that the wallets you picked are highly safe against hacking incidents. 
Since the crypto evolution has been rapidly growing in the past few years, now people accept it as real-world currency and integrate it as the payment method in many retailing points. You can do the same with the TERN. If you have tokens in your wallet, you can purchase different things in return for TERN. 
The biggest problem in sending payments worldwide is the centralization industry. They deduct way more charges and sometimes delay the transaction. If you have to send payment to your friend or family member, it's possible through the TERN tokens. First, it would be fast and easy to send. Secondly, you don't have to pay too many transaction fees, and no one will know about it. 
When you think that it's the peak of TERN and selling at that moment would make a handsome commission, go for it. Many game developers now allow you to purchase different features with cryptocurrency. You can even get different vouchers are tokens of real-world applications. 
Price Prediction of Ternio Exchange (TERN)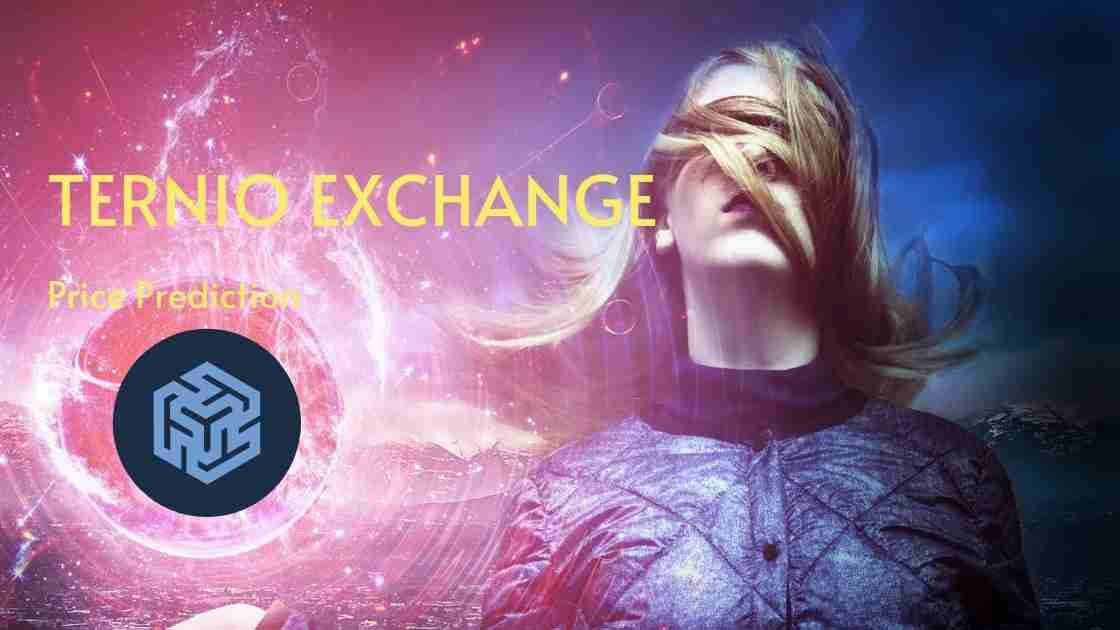 Although the coin was created to transfer assets on various platforms and simplify the payment methods. But due to its good performance in the past few months, investors are curious to know about the future price prediction. Predicting crypto prices is hard as a little factor can disrupt the industry. But some experts researched thoroughly about the coin's history and predicted prices based on artificial intelligence. 
These are to give you an idea depending upon the current performance of the coin. Long Forecast experts say 2022 will favor coins, and the price graph will touch $1.22 this year. If everything stays normal and the coin keeps its progress, the average trading price of the coin will be $1.55 in 2023. Moreover, we are seeing the TERN at $4.75 after 2025 as all crypto tokens will boost in the coming years. 
FAQs
Can you buy TERN with cash?
No, you can't purchase this token with fiat currency. Also, it is not available on every exchange, and you have to find one. It would be best if you needed any crypto token which can be swapped with TERN. 
What is an Altcoin?
The general definition of Altcoin says that 'it is any cryptocurrency except the Bitcoin.' We can't say Bitcoin is an altcoin because of the flagship difference. Other than Bitcoin, all crypto coins fall under the hood of Altcoin. 
Can you purchase TERN on Coinbase?
TERN is listed on a few platforms, and Coinbase is not one of them. You can't purchase or trade this token on Coinbase. Platforms like Bitmart and Changelly allow you TERN trading. 
Conclusion 
After reading all about the TERN, you would have a comprehensive idea about its effectiveness. If you are reading it from an investor point of view, you have surely found many positive aspects. However, it offers many benefits for TERN holders to make payments. The future of this coin depends on the progress of Ternio and the market demand. Maybe it will become a leading cryptocurrency in the coming years.