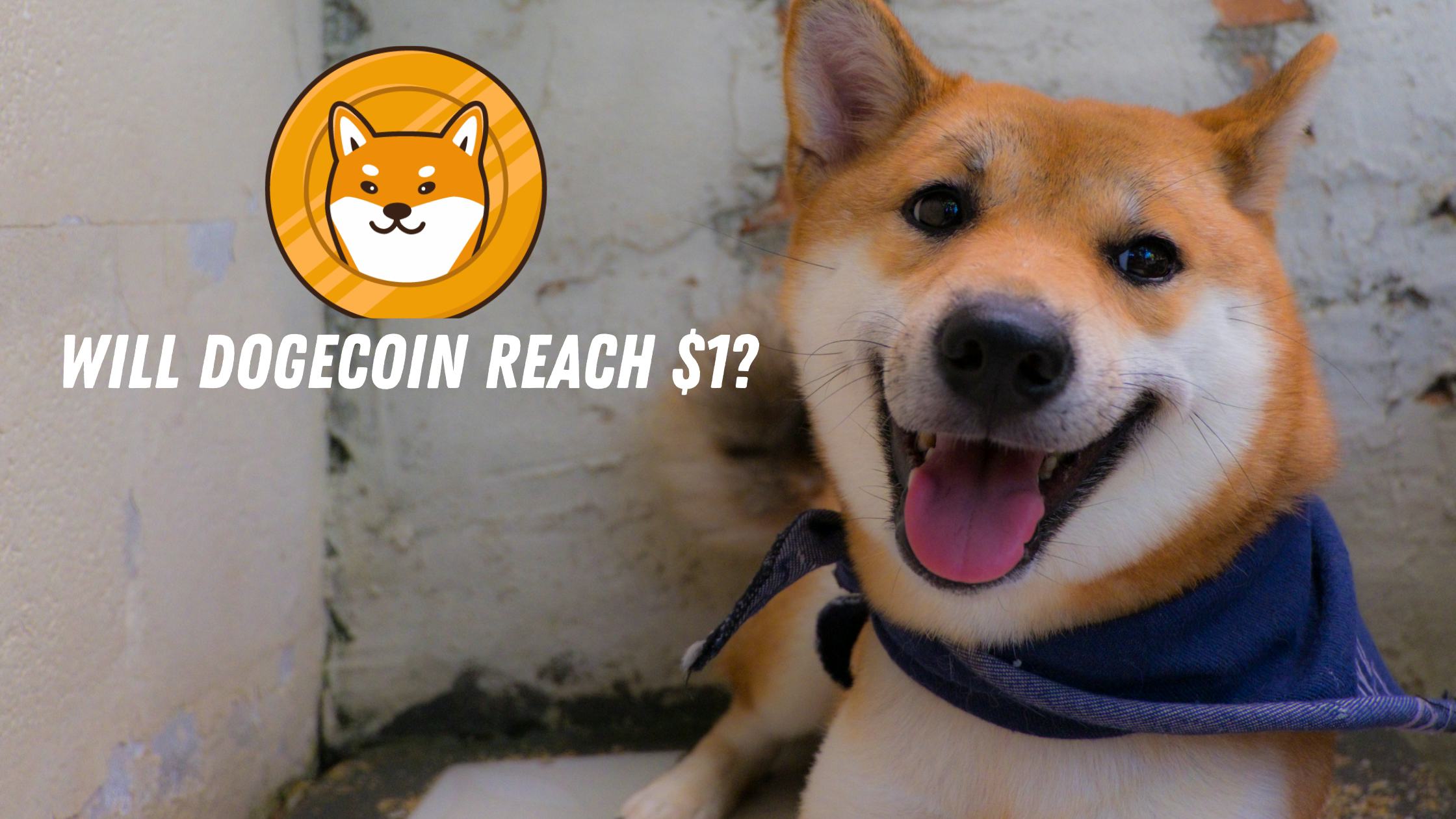 Will Dogecoin reach $1 in upcoming years? A question whose answer every meme coin lover wants to know
Created as a joke but now one of the most popular meme coins and favored by Elon Musk of Tesla, Dogecoin often faces speculation from the crypto community about its future worth. Will it rise or fall? But one of the widely asked questions about this meme coin is, will Dogecoin reach $1? If it does, when will that happen? Here in this article, we'll join in the speculation and try to answer this question as accurately as possible for Shiba Inus lovers.
What is a meme coin?
A meme coin is a type of cryptocurrency inspired by a meme or from some other form of humorous ideas, videos, or images on the internet. Unlike other cryptocurrencies, such as Bitcoin meme coins have an unlimited number of coins in circulation that are not burned ever, so the number keeps rising infinitely.
How did Dogecoin come into being?
Launched in 2013 by Jackson Palmer and Billy Markus, Dogecoin is a meme coin created as a parody for major cryptocurrencies such as Bitcoin. Its name was inspired by the popular meme Shiba Inu, a Japanese dog breed. Dogecoin is an open-source cryptocurrency based on Litecoin that uses proof-of-work technology. 
History: the rise and fall of Dogecoin
Like all other cryptocurrencies, Dogecoin is also a speculative and volatile cryptocurrency. So, its rise and fall highly depend on celebrity endorsements, politics, and the environment. Let's check out Dogecoin's history to better speculate on its future.
2013
Within two weeks of its launch, Dogecoin was an instant hit, with its value spiking by 300% in just 72 hours, rising from $0.00026 to $0.00095. This established it as the seventh-largest cryptocurrency globally, with a market value reaching $8 million. But three days later, Dogecoin's value crashed by 80%, owing to China's decision to forbid its banks from investing in cryptocurrency.
2014
The year 2014 was not good for Dogecoin, and its price fell to $0.0001 as new cryptocurrencies cropped up in the market and crypto traders turned their attention toward them.
2015
Co-founder of Dogecoin Jackson Palmer left, causing speculation that the coin price may fall but surprisingly, it remained steady.
2017
Adopted by the goofy community, Dogecoin saw a rise in popularity in 2017, sending its value to the sky. More people started adopting it because of its scrypt technology, fast transaction process, unlimited supply, and less energy consumption. 
2018
In the crypto/bull run of 2017/2018, it crossed $1 billion market capitalization. But the bubble burst in mid-2018, and its value fell with the rest of the cryptocurrencies. 
2019
In 2019, Binance listed the coin, and its value again jumped upwards. 
2020
In July 2020, the meme coin community followed a TikTok trend will Dogecoin reach $1, which resulted in a spike in the meme coins value. 
2021
The year 2021 saw the meme coin gain pop status when celebrities like Snoop Dog and Elon Musk, the CEO of Tesla, endorsed it. 
2022
In March 2022, Dogecoin jumped 7% when a tweet by Elon Musk stated that he was not going to sell his crypto holdings.
Why does Elon Musk favor Dogecoin over Bitcoin?
Elon Musk, the CEO of Tesla, is also referred to as the self-proclaimed "Dogefather." But why does he prefer the meme coin so much? Well, there is a reason behind it. In his past interview, Musk had stated that though Dogecoin was created as a joke, it is best suited for transactions. 
The meme coin boasts a quick transaction speed that costs less per transaction than other cryptocurrencies such as Bitcoin. Moreover, the volume of transactions is also high for Dogecoin, and its supply is unlimited. It also ensures that miners get enough incentives to keep on mining. The energy spent per transaction is 0.12 kWh, one of the least energy consumption among other cryptocurrencies. 
The meme coin also encourages people to spend it rather than hoard it. The Dogecoin community has even funded NASCAR and also uses the coin to tip, making it more impactful in the crypto market. So, it's not surprising that Elon Musk calls it "the people's currency."
| | Bitcoin | Dogecoin |
| --- | --- | --- |
| Symbol | BTC | DODGE |
| Year of creation | 2009 | 2013 |
| Purpose of creation | Launched as a means of digital currency or store of value. | It was created as a parody of major cryptocurrencies and a meme for the Shiba Inus dog. |
| Approx market cap* | $763.73 billion | $18.87 billion |
| No. of coins* | 19.01 million | 133.99 billion |
| Max no. of coins | Unlimited, but issuance is limited. | Unlimited, but only 5 billion can be issued yearly. |
*Estimated value as of April 2022, according to data from CoinDesk
What factors increase the Dogecoin price?
Let's accept that Dogecoin is not about its technology but the community it has built around itself and which loves promoting the coin on social forums. People think Dogecoin is more accessible to them and is not intimidating like other cryptocurrencies. 
It also gained popularity on the back of the WallStreetBets Reddit GameStop phenomenon causing an apparent frenzy among crypto traders. The same year in 2021, the market cap of Dogecoin rose to a whopping $80 million reaching an all-time high and close to $0.70.
Celebrities such as Elon Musk's tweets about Dogecoin going to the moon also introduced FOMO in people. So, it's not surprising that the meme coin thrives on media attention, and if in the future it keeps getting endorsed by social media or adopted by celebrities and major brands, it will keep rising.
Will Dogecoin reach $1 in upcoming years?
With all said, let's look closely at the price predictions by the crypto market about the widely asked question will Dogecoin reach $1? But remember one thing long-term predictions for crypto are subject to change due to the algorithm that gives price forecasts. So, it can change at any given time. It is wise to do thorough research and not just rely only on price predictions. Also, never invest in cryptocurrency recklessly, without any proper knowledge. 
1. PricePrediction
PricePrediction has put the average price of DODGE at $0.23 by 2023 and is expecting it to reach $0.96 by 2027.
2. DigitalCoinPrice
Will Dogecoin reach $1? The answer to this question is given by DigitalCoinPrice, which, based on historical data, predicts the price of the meme coin to reach $0.78 by 2031. DODGE has seen a 22.49% increase in the price from the last month, which is impressive.
3. WalletInvestor
WalletInvestor is also expecting the price of Dogecoin to hit $0.816 in the next five years.
The prognosis is that it will stay at it for the long term. So, by this forecast, DODGE is looking good for a five-year investment.
4. Capital
Capital has rounded up the prediction of will Dogecoin reach $1 by giving a price forecast of $1.43 by 2028, probably one of the most extended predictions in the market.
If the celebrities' Dogecoin holders won't sell their holdings, likely, the Dogecoin won't see a downfall. An increased FOMO of Elon Musk or other celebrities towards the meme coin may also cause a relative price surge up to $1. But if there are aspects such as zero staking rewards and less functionality of the crypto market, the price may fall to a potential low.
If the bulls drive the price of the meme coin often, they can take it upwards, but if the market turns bearish in the long-term, it could drag the DOGE down. Significant adoption by famous brands such as McDonald's may also cause a spike in the potential price of Dogecoin.
FAQs
Is Dogecoin a good investment?
Dogecoin started as a joke, but now investors take it more seriously. The meme coins network has also increased, making it far easier to purchase them now. But as it's a type of cryptocurrency, it is also prone to volatility like others. 
So, a better understanding of the crypto market is a must, and we recommend investing only 3% to 10% of your portfolio in Dogecoin for at least five years.
Will Dogecoin reach $1 soon?
Dogecoin is currently trading at $0.13, and according to the market experts and technical analysis charts, the asset's value has a good probability of rising. But it may take many years for the meme coin to reach $1. We recommend making your own trading decisions after thorough market research because the speculations can be wrong.
Conclusion
Dogecoin, like all cryptocurrencies, is highly volatile, and as it's a meme coin, its value heavily depends upon celebrity endorsements and adoption by major brands. It also has an excellent promotional value with it being in the headlines constantly, tweeted by celebrities like Elon Musk and Snoop Dog. 
Dogecoin has an unlimited supply, so the price targets are low, and its long-term future might be easier to predict than other cryptocurrencies. Experts and technical analysis charts also indicate that Dogecoin has a good probability of market appreciation. So, it may have a chance of reaching $1 in the upcoming years.
Dogecoin could be a good investment as it takes only one minute in a transaction and also consumes less energy. It has a mass appeal and is among the best speculative cryptocurrencies out there. But as speculations can be wrong and Dogecoin is volatile, it is advisable to conduct thorough market research before investing. We recommend investing for at least five years but no more than $3 to $10 of your portfolio in Dogecoin.