Yoroi Staking for ADA: Is It Safe to Earn Passive Income?
Staking cryptocurrency on a different platform to earn passive income is expanding day by day. As a result, Crypto holders search for secure platforms that give more commission on staking. As of today's date, Cardano Staking is the bone of contention because of the vast rewards offered by the platform.
Everyone has their own experience with the different platforms, but most experts recommend Yoroi staking to ADA holders. It's a Cardano native light-weight wallet, so you won't get into any trouble while staking. And how well it performs is the question of many.
Don't worry. Keep on reading, and you will know every aspect of Yoroi staking. Then, in the end, you will easily conclude whether it's worth trusting or not. 
What Is Yoroi Wallet? 
Yoroi is the official Cardano light version wallet launched by EMURGO in 2018. The main purpose of the Yoroi wallet is to make Cardano staking a piece of cake for every holder. Moreover, it doesn't demand high space, and no need to download a complete blockchain for staking purposes. 
Yoroi wallet is specifically used to store ADA tokens and other cryptocurrencies. Since it's easy to set up and perform immediate operations, the Yoroi wallet is popular among ADA holders. Furthermore, due to simplicity, many users prefer this wallet over Cardano Daedalus. You have the posibility to download the App from Apple Store and Google Play Store. To use a web version, extensions for different browsers are available. 
Unlike any other wallet, it supports the creation of multiple at a single time. However, multiple wallet creation is only possible for the Mobile App user and not available on the web version. Over this, the developer translated the whole interface into many languages, including English, Spanish, Korean, German, French, and many more. 
Because of multiple languages, anyone worldwide can use this wallet without any hassle. Apart from that, Yoroi didn't build full nodes, and this feature allows you to save them in small space. Compared to other Cardano staking wallets, it's easier and simpler to handle. 
| Info | Summary |
| --- | --- |
| Wallet Name | Yoroi |
| Different Platforms | Windows, macOS, iOS, Android, Linux |
| Initial Setup | Instant and really quick |
| Consumption of Resources | The usage of space and bandwidth is minimal |
| Trusted Operation | No |
| Multiple Wallets | If using in a browser extension, it is a NO, but for the mobile application, it is YES |
| Privacy | Basic |
| Supported Languages | English, Japanese, Italian, French, German, Traditional and Simplified Chinese, Korean, Indonesian, Russian, and Spanish |
| Full Node | No |
| Space Occupied | 6.5 MB |
Overview of Yoroi Different Aspects
Yoroi wallet is the one-stop solution for managing and storing your Cardano assets. If you are just starting staking on Cardano, it's important to overview Yoroi's features. Also, assess how good this wallet is for your crypto assets. 
Interface
The first thing that everyone notices about any cryptocurrency exchange platform is the interface. If everything is clear and well-organized, no one will leave that platform. Considering the Yoroi wallet interface, you will always never make an effort to understand or find anything. 
All information is listed in a sophisticated way that even the beginners could understand in the first interaction. Yoroi has a blue background color and white text that can be changed according to your choice. Moreover, Cardano terminologies have been used, and you won't be introduced to something new. 
Setup and Activation
If you will use Yoroi for the first time, follow some steps to set up your account. However, the process is simple, and nothing is complex to start staking. After selecting the preferred language and pin, you'll be asked to add either a new wallet or a Byron-era wallet. The Byron-era is specifically used to connect Yoroi with Ledger Nano.
On the other hand, the Yoroi platform will send you a 24-word seed phrase for creating a new account. You have to carefully note this phrase somewhere, as you can only login through it after losing your pin. Overall, setting up an account on Yoroi is a piece of cake for beginners. 
Transactions 
Yoroi wallet offers you to handle funds and delegate Cardano to stake pools. According to users' reviews, the transaction feature of this wallet is highly reliable and fast. For receiving Cardano coins, you simply need to add the recently generated address or the previous one. The same procedure will be applied to send assets to another wallet or crypto exchange.
Some unknown errors happen and cause delays in transactions. But the developers are always working to improve the process by introducing new technology. Another problem that can hinder the transaction process is forgetting the password. Otherwise, Yoroi tries its best to provide you with the best user experience. 
Supported Coins
Yoroi doesn't support a long-range of coins for crypto trading because it was merely for the ADA. According to EMURGO's website, this wallet can hold all the coins related to the Cardano blockchain. Apart from Cardano coins, it can work fine for the Ergo blockchain and all its tokens. 
Since the blockchain is not fully developed and still requires a lot of effort to get stable, there is no chance of adding more coins. But once the platform stands on its ground, Yoroi will be more like Uniswap and Quickswap.  
How to Stake Cardano on Yoroi?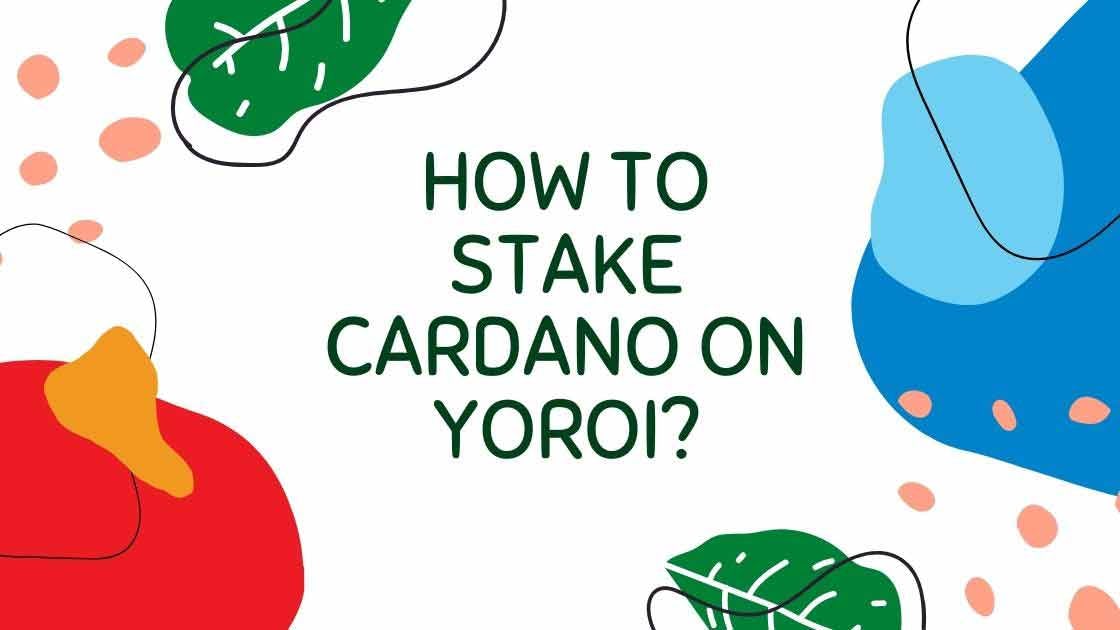 Staking Cardano on Yoroi wallet is not a tough nut to crack, but it's a little tricky. If you follow the right procedure and successfully stake your assets, the chances of making a commission are high. Here we describe the step-by-step guide of how to stake ADA on Yoroi. By following these steps, you would never face any problem. Let's get straight into it!
Step 1: Download Yoroi Mobile App
To start staking on Yoroi, you have two options to go with. You can either install Yoroi Mobile App from Google Play Store or an extension for the browser. For convenience and a better experience, you should go for Mobile App. While downloading, make sure that it's a real one created by EMURGO. 
Step 2: Setup New Wallet
After installing the App, you will be asked to add a new wallet to the platform. One year back, there was an option of Byron-era wallet that has premade settings. But the format is upgraded now, and you have to create a new one for yourself. To create a new wallet, you have to provide a name and pin code to secure it. Make sure to save that pin because it will confirm the transactions later on. 
Step 3: Protect Your Recovery Seed Phrase 
After creating a new wallet, it's time to generate the seed phrase and save it in a secure place. This phrase helps you access your account if you forget the password or lose the device. Also, you have to provide this phrase if you want to log in from multiple devices. Generating a new seed phrase is a matter of a few clicks:
Accept the terms and conditions of the Yoroi wallet.
Write down the 15-words recovery phrase and put it in a secure document.
Confirm the terms and make sure you read everything before giving consent on the next screen.
That's it. You have a seed phrase for your account
Once you have completed the seed creation process, now you have a complete hold on your wallet. This would be your separate place, and no one can enter without permission. 
Step 4: Transfer ADA to Your Wallet
Before staking ADA, it's important to transfer tokens to your newly created wallet. That's the case when you purchase coins from any other platform. Sending crypto assets is not a big deal. Just follow these few steps:
Open the Yoroi mobile app and click on the receive button from the menu. Here you will see a long list of addresses that can be utilized to transfer. Click on one of them and copy the address. 
You need to go on a platform where you have stored Cardano tokens. For instance, if you use Coinbase wallet, click on the Action button. After a small interval, you will see the transferring fund option.
Choose the cryptocurrency you want to transfer, like Cardano. 
The Coinbase wallet will ask the new wallet's address where you want to transfer. Paste the Yoroi wallet address here in the tab. 
Before hitting the transfer button, double-check the address and ensure it's the right one. After this, you can send the coins.
The transferring of funds won't take more than a minute. If it's taking more time, then something went wrong. But in most cases, the process executes more seamlessly. 
Step 5: Select Pool for Delegating Cardano
The most irritating thing about staking Cardano is selecting the pool. Although, it seems beneficial to some extent as you choose to go with multiple options. But selecting one from 2700 stake pools is not like snatching candy from a kid. For your convenience, you can get expert advice in selecting pools.
Keep in mind the progress of pool returns remains variable. For example, if any pool has excellent returns, it will probably go down in the next few months. Here are some tips choose the staking pools:
Try to reach out to the pool owner through any social media platform. Engage them with your operator, and their response will give an idea of how committed they are.
There are pools specifically for the returns, while others give to charities and the community. Go for the second type of pool, as they perform well over time. 
If you make an urgent commission, choose a pool that is already minting the new block. On the contrary, you can support the other pools until they can start minting. But make sure you get a handsome amount after the pool starts minting.  
Step 6: Stake Your ADAs on Yoroi
Now it's time to perform the final step. After receiving the coin and deciding the pool for delegating, you can stake your ADA tokens. 
Select the delegate option from the Yoroi mobile app menu.
Type the name of the pool in the search bar you have finalized in the above step. 
Upon hitting the delegate button, the platform will charge a small wallet registration and transaction fees.
On the next screen, the total amount will be displayed to staking pools.
If you agree with all the terms and conditions, hit the confirm button, and you have done the job. 
Security Analysis of Yoroi Wallet 
Many companies introduced web-based or browser extension-based wallets to store and transfer cryptocurrency. EMURGO, the company behind Cardano, developed a browser-based extension because of security concerns. You have been asked to run a copy of JavaScript code on the web-based wallets to process the next step. However, it's not confirmed that the code is clean, and also, you can't check every line of the code.
Web-based wallets are always on the radar of hackers, and you can lose your digital assets anytime. Many scams happen through DNS hijacking and redirecting from wallets to different websites. Over this, many duplicate websites got your wallet credentials and stole money from your account. Based on these reasons, EMURGO chose to build Yoroi, an extension-based wallet.
If we consider the protection of your wallet on chrome, the first thing assures us is that you won't download the wrong application. Since chrome offers well-made APIs, the whole process will be done inside the sandbox without external involvement. For your satisfaction, you can easily inspect packets to confirm that chrome is not sending your private keys to the server. Over this, the chrome developer tools show every information running in the background. 
EMURGO developers are considering adding the URI scheme to interact with different websites like MetaMask. Wallet interaction is essential to boost distributed app usage for unstable cryptocurrency. Also, you need to provide a wallet address and transaction information while visiting other sites, and EMURGO wants to eradicate this step of utmost security. 
How Was 2021 for Yoroi Wallet?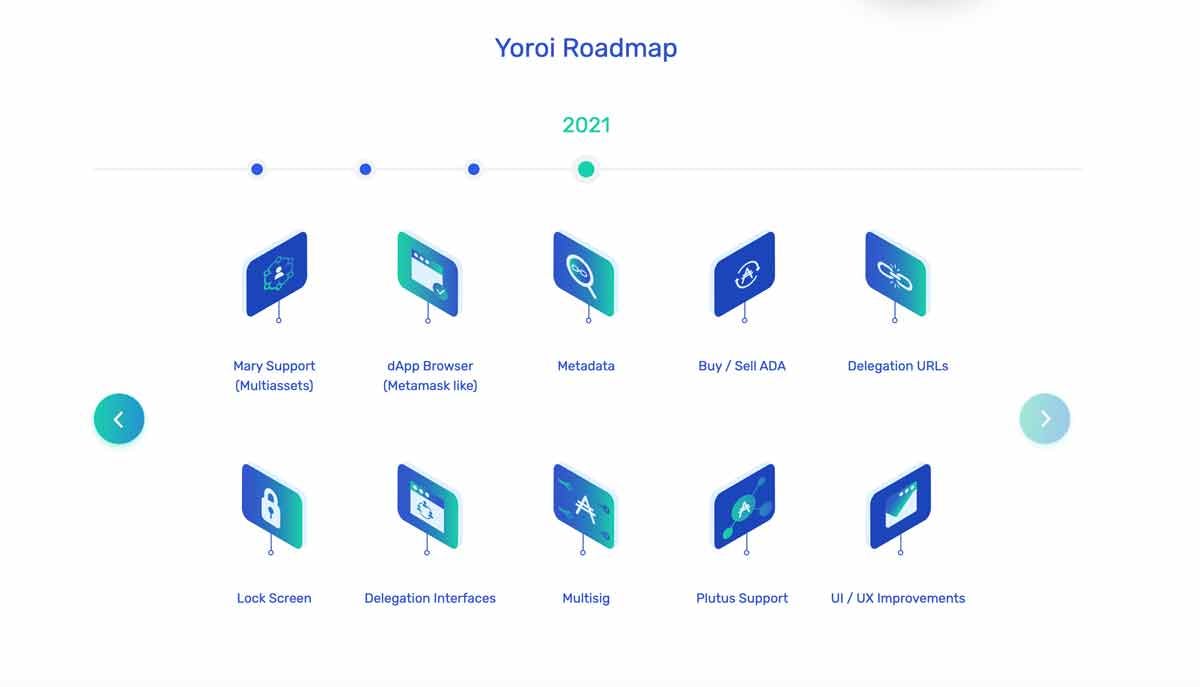 2021 was the year full of progress for the Yoroi wallet as major events happened during this period, and many developments have been introduced. Here we highlighted the major happenings of 2021 and how they will affect in future.
The first achievement of 2021 was Mark Hard Ford's introduction to bring native token standards. This feature would help in creating NFTs even without the smart contracts. However, this step opens doors for supporting smart contracts shortly.
The next big development of Yoroi is offering voting rights for the project catalyst. Project catalyst is the biggest decentralized fund, and the Cardano community will decide the funding grants through the voting system. 
Yoroi was the main participant in the Cardano Summit which happened in September 2021. The Yoroi development team revealed many upcoming projects and updates, including the dApp connector and creating native NFTs.
On September 12, 2021, Alonzo Hard Fork was launched and considered the year's biggest achievement. Although the smart contracts were not fully developed at the launch, it's an initiative towards the long-term goals. With the help of this feature, Yoroi can easily interact with different Decentralized exchanges, oracles, and NFTs.  
Pros & Cons of Staking on Yoroi
Pros
Supports many devices like iOS, Android, and Linux
The initial setup doesn't take much time
Demands small space for storage
Doesn't need to install the entire blockchain
User-friendly interface for the beginners
Translated into all major languages of the world
Developed by EMURGO 
Cons
Can't be connected with multiple wallets at a single time
Experts don't consider it trustworthy 
Privacy systems still need to develop more
FAQs 
Why is Yoroi best for connecting dApps on the Cardano Platform?
In the recent update, EMURGO announced the launch Yoroi dApp Connector, which will work like the MetaMask wallet. At the moment, users need third-party assistance for the different crypto operations. With the help of a native connector, you can easily sell tokens, access the resources, and many other things on a different platform. Moreover, it's simple, fast, and secure compared to the others. 
How are Cardano Byron and Shelley's wallets different?
Byron wallets were available before July 2020, and they didn't support the ADA delegation. On the other hand, Shelley wallets are based on modern standards and allow delegations to stake pools. 
Why is Seed Phrase important for Yoroi Wallet?
If you lost your device or forgot the password, you can't access your account the next time. Also, if you lost your seed phrase, there is no way to recover your account and assets. 
Wrapping Up: Should You Choose Yoroi for ADA Staking?
According to our research, there are various benefits aligned with Yoroi Staking. But the risk involved is also very high. Although the EMURGO developers are constantly improving the platform, it is still not at its best. Many gaps need to be filled, and plenty of features are still required to go online. 
At the moment, it's not recommended to choose Yoroi for ADA staking. As an alternative, you can choose Cardano Daedalus, which is stable and more secure than Yoroi. But it all depends on you because Yoroi can be a good option if you manage to overcome the risk.