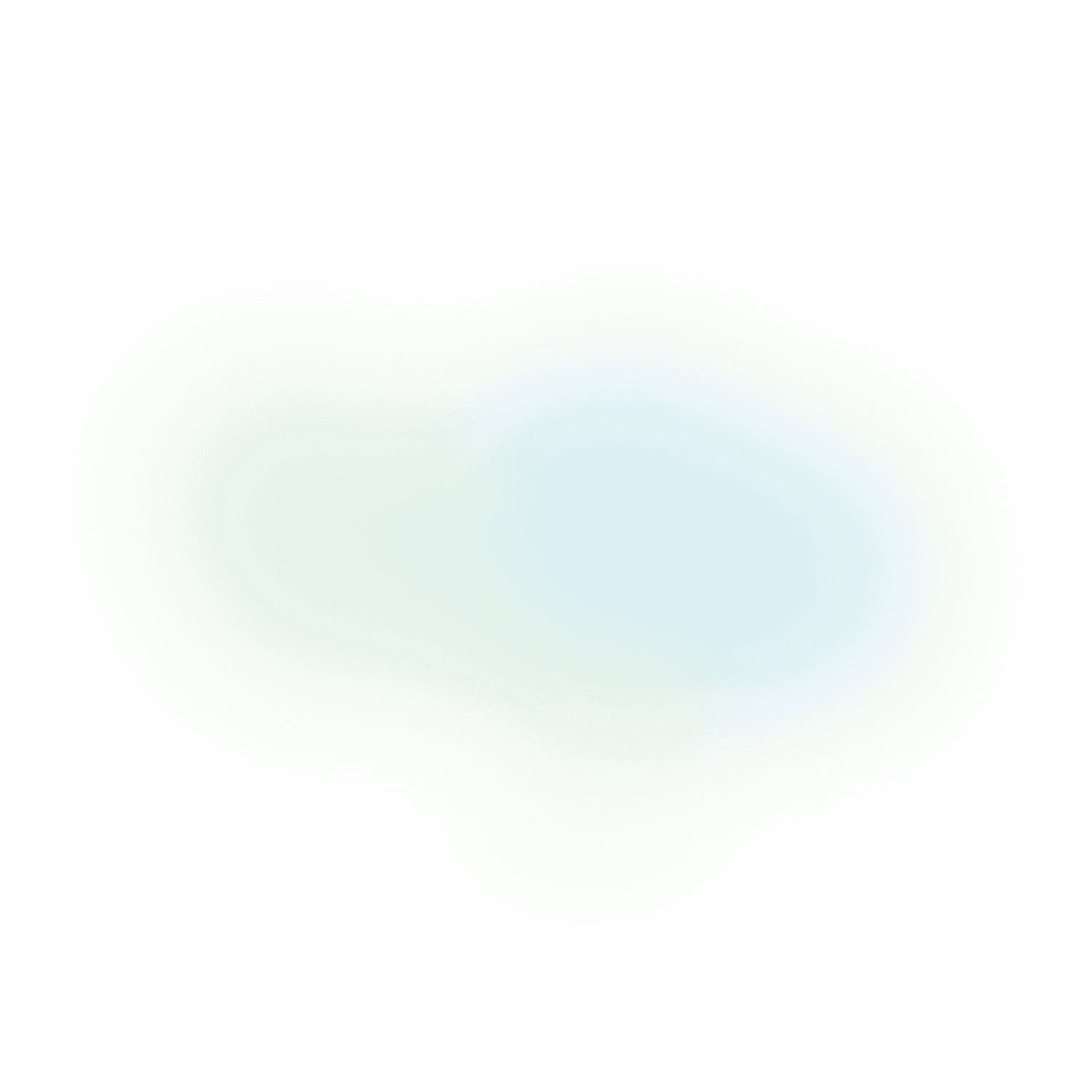 The World's Most Powerful Crypto Trading Platform
The Only crypto trading platform suitable for Day Trading, Semi-Automation, and Full Automation Trading using Bots or integrated Custom Strategies.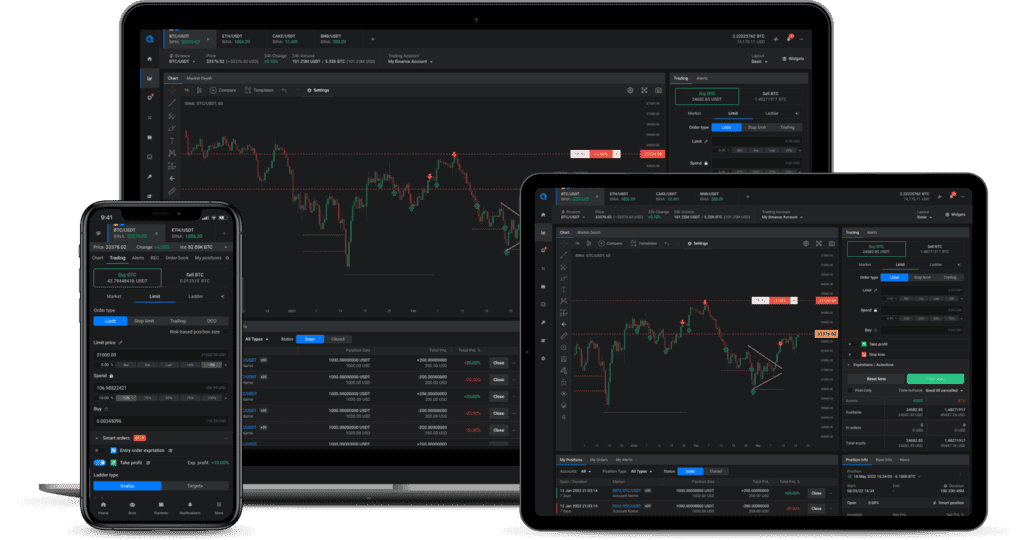 Learn Why Traders Made The Move To Us
80,000+ traders use Altrady to manage crypto trading investments.
We are rated "Excellent" by traders on Trustpilot.
And many partners trust us.
Why Altrady Stands Out?
Altrady isn't just another crypto trading platform; it's your unique solution tailored to meet the needs of every type of trader. Whether you're a dedicated bot trader, a vigilant day trader, or a long-term investor, our platform is designed to save you valuable time and supercharge your profits.
Trading Bots
Automate your trading.
Launch all your bots and strategies with ease.
Select from our range of bots:
GRID Bot with Trailing Up & Down
Signal Bot Spot & Futures
Trading View Webhooks
Alternative to:
3commas, CryptoHopper, Bitsgap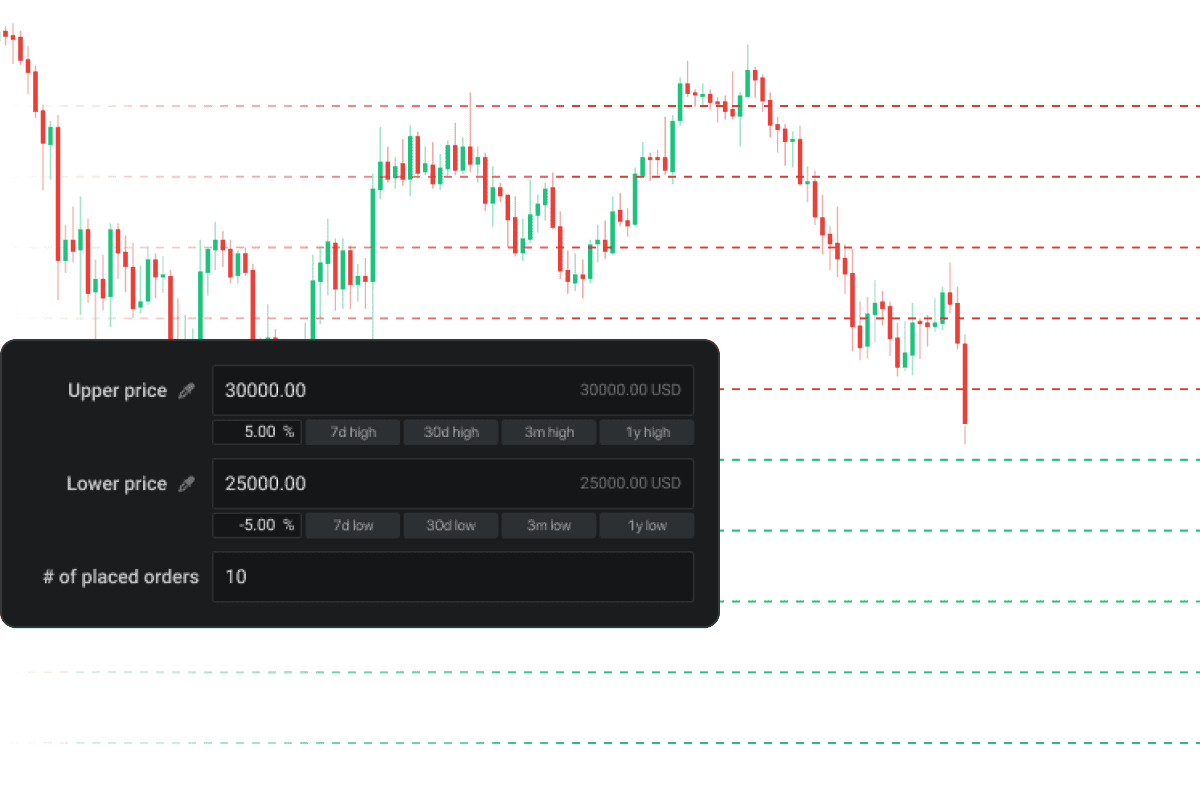 Automate and win more
Set Take Profit, Stop Loss, Trailing, OCO, and Ladders orders
simultaneously, and leave the market monitoring to us.
Automate repetitive tasks to focus on growth:
Smart Order with multiple entries
Stop Loss with Profit Protection
Multiple Take Profit targets with Trailing
Entry Expiration with Autoclose
Alternative to:
3commas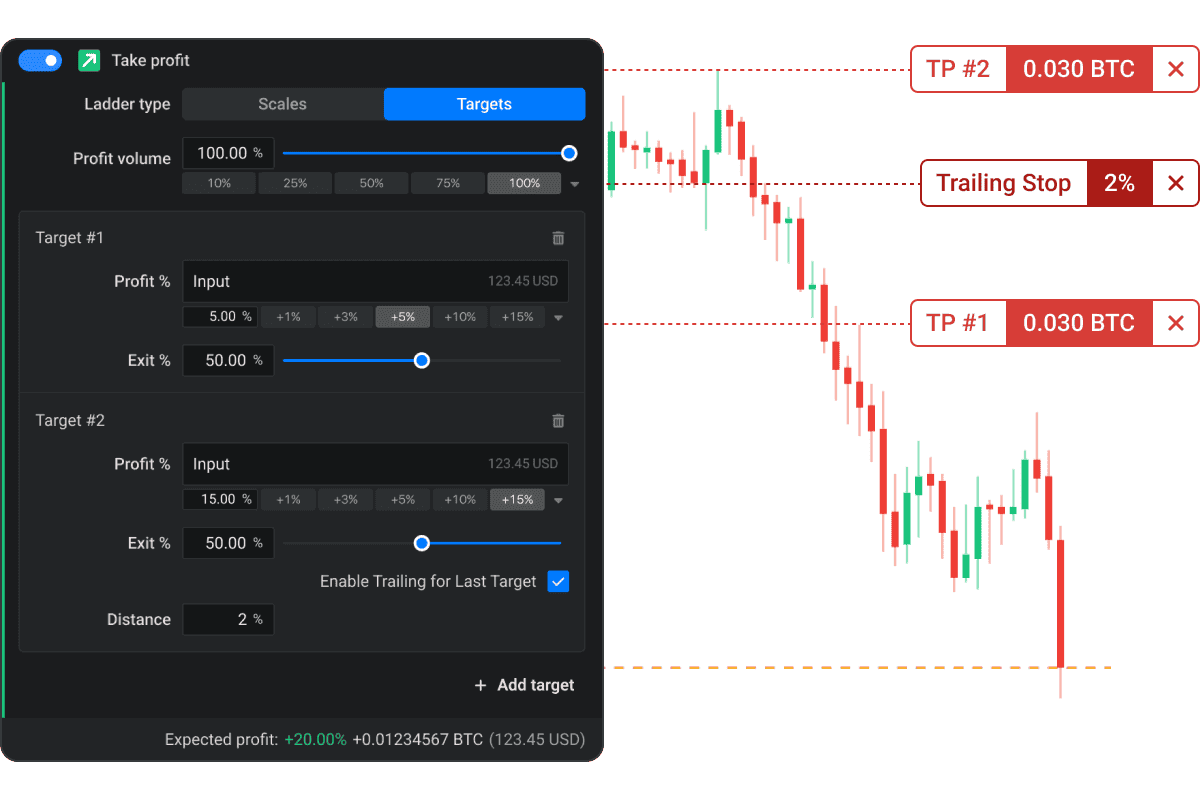 Track All Your Assets In One Place
Manage your crypto portfolio and track your assets from
Centralized Exchanges and Cold Wallets.
Portfolio management with subaccounts, Cold Wallets, Position PnL
Alternative to:
CoinTracker, CoinMarketMan, CoinStats
3 Reasons Why You Should Use Altrady
Over 90% of crypto traders lose money due to volatility and impulsive decisions.
Avoid losses with caution and powerful crypto trading features.
1
Save Time
Streamline your trading process and save time with Altrady's all-in-one crypto trading terminal.
2
Manage Risks
Altrady's risk calculator is the ultimate tool for managing your crypto trading risks. With our easy-to-use calculator, you can quickly determine the potential risk and reward of any trade, so you can make informed decisions and maximize your profits
3
Automate
Altrady's automation tools can help boost your profitability by streamlining your trading process and eliminating human error. With features such as smart trading, and advanced trading bots, you can make more trades in less time and with greater accuracy. Take your trading to the next level with Altrady's automation tools and maximize your profits today.
FREE PAPER TRADING PLAN FOREVER
Practice trading with no risk and no time limit!
Altrady's free forever paper trading plan is the perfect way to sharpen your skills and boost your confidence.
After the 14 days free trial, you will have unlimited access to the Free Paper Trading Plan.

Altrady for Everyone
The #1 crypto trading platform for everyone. Regardless of your trading style and interest, we got you covered.
Reviews Altrady
Real Traders Share Their Experience with Altrady
- The All-in-One Crypto Trading Platform
Great Platform
Great platform with a big variety of trading options, including ladder orders, smart orders, and bots. Very accessible and no-nonsense team. Quick response from the helpdesk, also late at night or on weekends. If there is an issue, Benoist (founder) and his team jump in to solve, fix or improve.
Support and platform 5+ stars!
I've had multiple questions and requests for support. But besides the truly mindblowing service level, the platform is hands-down the best I've used thus far. Bye-bye, 3commas, and welcome Altrady!!
Fast and reliable trading platform
Fast and reliable trading platform. Great ability to link many different exchanges. Built-in trading Signal bot works super well. Good profits. Customer service works fast. Also accessible through different channels (Discord, chat). Problems/questions I asked were resolved quickly. All in all a nice and reliable platform to use.
Simple easy platform to use
Simple easy platform to use even for beginners and has real customer service. Had an issue with my account and within 15mins had it sorted. Great service.
Start Trading With Altrady Today
With our platform's unique tools,
Altrady has empowered over 70,000 traders!

Manage and grow your cryptocurrency portfolio.
FAQ Altrady Crypto Trading Platform
What is the Altrady Crypto Trading Platform?
The Altrady Crypto Trading Platform is a comprehensive trading platform designed to assist cryptocurrency traders in managing their portfolios, analyzing market trends, executing trades, and optimizing strategies. It provides a range of features to help traders make informed decisions in the fast-paced world of cryptocurrencies.
How do I access the Altrady Crypto Trading Platform?
To access the Altrady Crypto Trading Platform, you need to create an account on the Altrady website. Once you've registered, you can connect your exchange accounts to the platform using API keys. This allows Altrady to access your trading data for analysis and execution.
What features does the Altrady Crypto Trading Platform offer?
The Altrady Crypto Trading Platform offers a variety of features, including:


Free Paper Trading Plan ForeverSmart Trading
Trailing Stop Loss and Trailing Take Profit
Connect with 16+ exchanges (CEX & DEX's)
Uniswap V2 & V3 Integration: Charting and linking to markets(more to come)
Risk Calculator: Show the risk-reward ratio you take with the current position. It also adjusts the investment size if you update the risk %
GRID Bots + Backtesting - Trailing Up & Down for GRID bots
Signal Bot + Webhook
DCA Bot

QFL Bot
Mobile, Desktop, and Browser apps.
QFL signals (3commas QFL signal is ours)
Multi-account portfolio with sub-accounts
Market Scanners: proprietary Base Scanner and Quick Scan
Market Explorer (think of Coinmarketcap inside the app)
Automatic Take profit and Stop loss based on % and allow you to close with buying to base or selling quote. - This would then send you notifications of when this happens.
Start conditions based on price.(conditional orders)
Is the Altrady Crypto Trading Platform suitable for beginners?
Yes, the Altrady Crypto Trading Platform is designed to cater to traders of all experience levels, including beginners. The platform's user-friendly interface and educational resources make it accessible to those who are new to cryptocurrency trading.
Can I use the Altrady Crypto Trading Platform on multiple exchanges?
Yes, the Altrady platform supports integration with multiple cryptocurrency exchanges. This allows you to manage and trade across different exchanges from a single unified interface.
Is my trading data secure on the Altrady platform?
Altrady takes data security seriously. The platform uses encryption and secure API connections to protect your trading data and API keys. However, it's important to follow best practices, such as keeping your API keys confidential and regularly updating your passwords.
Can I access the Altrady Crypto Trading Platform on mobile devices?
Yes, Altrady offers a mobile app that allows you to access the platform's features on the go. The mobile app is available for both Android and iOS devices.
Are there fees associated with using the Altrady Crypto Trading Platform?
Yes, Altrady offers different subscription plans with varying features. You can find detailed information about the pricing structure on the Altrady website.
Please note that while Altrady's platform aims to provide useful tools for trading, cryptocurrency trading involves risks, and past performance is not indicative of future results. Always do your own research and consider your risk tolerance before making trading decisions.
What is the best crypto trading platform?
The "best" crypto trading platform can vary depending on individual preferences, trading goals, and requirements. Different platforms have different features, fees, and user experiences. Altrady aims to be the worldwide crypto trading platform.