Trade Better and Faster On Binance Exchange with Altrady
Altrady helps users grow their cryptocurrency investments using a feature-rich terminal and proven automated bots that take full advantage of the Binance exchange platform.
Even better, you have a Free Paper Trading Plan to test your strategies.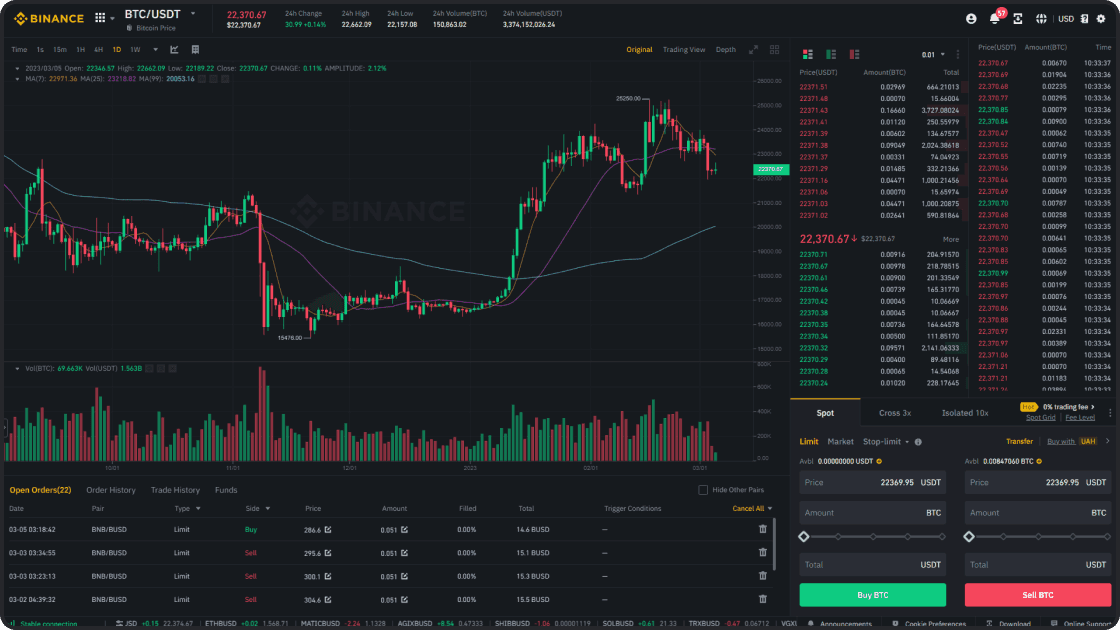 Trading on Binance
No Advanced Stop Loss and Take Profit
No spot position PnL tracking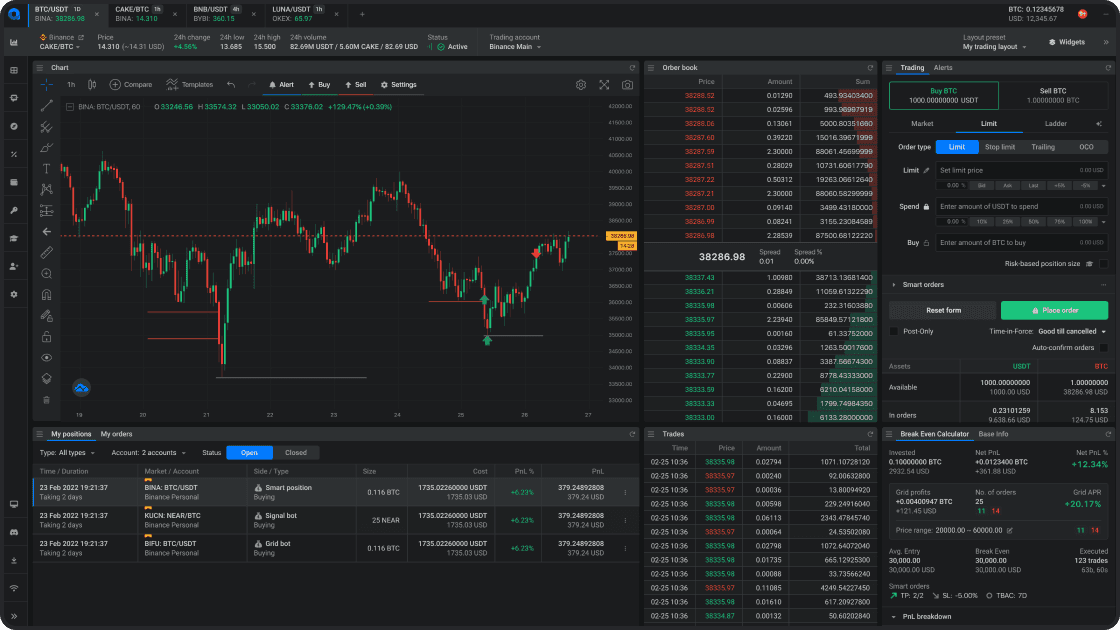 Trading on Binance with Altrady
Smart Order with multiple entries
Stop Loss with Profit Protection
Multiple Take Profit targets with Trailing
Entry expiration and Autoclose
Automatic Spot and Futures Position PnL tracking
Reviews Altrady
Real Traders Share Their Experience with Altrady
- The All-in-One Crypto Trading Platform
Great Platform
Great platform with a big variety of trading options, including ladder orders, smart orders, and bots. Very accessible and no-nonsense team. Quick response from the helpdesk, also late at night or on weekends. If there is an issue, Benoist (founder) and his team jump in to solve, fix or improve.
Support and platform 5+ stars!
I've had multiple questions and requests for support. But besides the truly mindblowing service level, the platform is hands-down the best I've used thus far. Bye-bye, 3commas, and welcome Altrady!!
Fast and reliable trading platform
Fast and reliable trading platform. Great ability to link many different exchanges. Built-in Signalsbot works super well. Good profits. Customer service works fast. Also accessible through different channels (Discord, chat). Problems/questions I asked were resolved quickly. All in all a nice and reliable platform to use.
Simple easy platform to use
Simple easy platform to use even for beginners and has real customer service. Had an issue with my account and within 15mins had it sorted. Great service.
Everything You Need To Increase Your Trading Profitability
Trading Bots
You can use Grid Bots with Trailing Take Profit and Trailing Stop Loss or Signal Bots.
Smart Trading
Never miss a trade even when you sleep.
Portfolio Management
Subaccounts, and cold-wallets track all your portfolio from everywhere.
Market Scanners
Powerful market scanners to help you find the right moment to enter the market.
5 Reasons Why You Should Choose Altrady
1
Save Time
Altrady lets you save time so that you can do other things.
Features like real-time crypto alerts let you monitor markets and trade crypto even when you are asleep or spending time with your family.
2
Manage Risks
Altrady offers a Risk management feature that lets you see your Risk Reward Ratio directly on the trading form and helps you manage your risk for your entire portfolio.
3
Automate
On Altrady, you can easily automate your strategy. With extensive trade automation (Multiple entry orders + Multiple Take Profit orders + Entry expiration + Auto close + Stop Loss + Trailing function). In addition, we watch the markets 24/7 for you, so you can relax, knowing your strategy is locked in.
4
Profits
Altrady helps you get better profits consistently.
We do this by equipping you with the right tools, like Base Scanner and Quick Scanner, so you can create a sense of predictability in market movements and make the right trading decisions for better profits.
5
Security
We have IP whitelisting as a base security layer. On top of that, we have unique encryption per user, and trading can only be done from authorized devices. So if someone logs in to your account, they won't be able to trade.
What Is Binance Exchange?
Binance is a popular cryptocurrency exchange founded in 2017 by Changpeng Zhao. The crypto exchange is headquartered in Malta and has grown to become one of the largest cryptocurrency exchanges in the world in terms of trading volume.
Binance allows users to buy, sell, and trade various cryptocurrencies, including Bitcoin, Ethereum, Binance Coin, and many others. The exchange also offers advanced trading features like margin and futures trading and a range of trading tools and resources.
One of the critical features of Binance is its native cryptocurrency, Binance Coin (BNB). Users can use BNB to pay for trading fees on the platform, and holders of BNB can also benefit from discounted trading fees. In addition, Binance has also expanded into other areas of the cryptocurrency industry, including launching its blockchain and decentralized exchange, Binance DEX.
There Are Free Trials Available?
You can open an account on Binance exchange at no cost. You will pay commission fees only when you are trading.
What Are Binance's Trading Fees?
Binance exchange offers a simple flat trading fee of 0.1% per trade, which can be further reduced by using Binance Coin (BNB) to pay for fees based on the user's monthly trading volume.
Does Binance Exchange Allows Multi-Charts?
Binance does not have the functionality of multi-charts. You can do that in Altrady.
Is It Possible For United States Citizens To Use Binance?
Binance offers Binance.US for use by U.S. citizens, which is subject to U.S. laws and regulations. However, using alternative connection methods, such as a virtual private network, to access the global version of Binance from restricted countries, including the U.S., violates Binance's Terms of Use.
What services Binance Exchange Offers?
Earning: Binance Earn is a platform provided by the exchange for depositing stablecoins and earning interest or staking rewards. The platform offers a range of options and interest rates for various coins, depending on the type and duration of the deposit.
Lending: The Binance Card is a Visa credit card that enables users to convert their cryptocurrency into fiat currency and utilize it to make purchases of goods and services. Although the conversion process is free of administrative fees, third-party fees such as payment network fees are applicable.
Does Binance Offer A Mobile App?
Yes, Binance offers a mobile app for both iOS and Android devices.