Trade Better and Faster On Kucoin Exchange with Altrady
Altrady helps users grow their cryptocurrency investments using a feature-rich terminal and proven automated bots that fully utilize the Kucoin exchange platform.
Enjoy A Free Paper Trading Plan to test your strategies.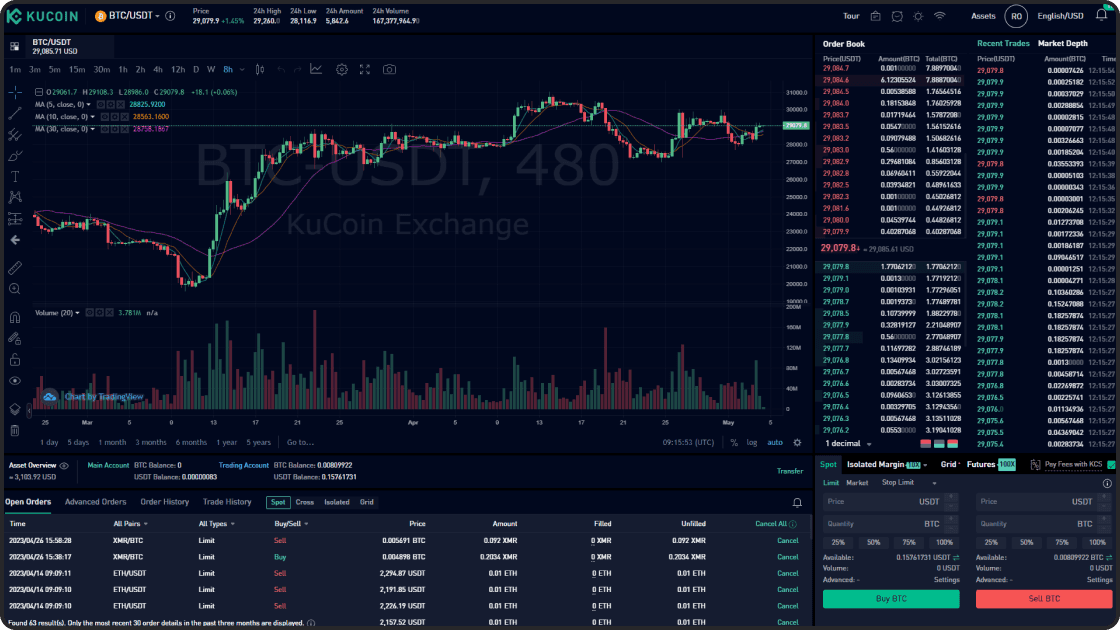 Trading on Kucoin
No Advanced Stop Loss and Take Profit
No spot position PnL tracking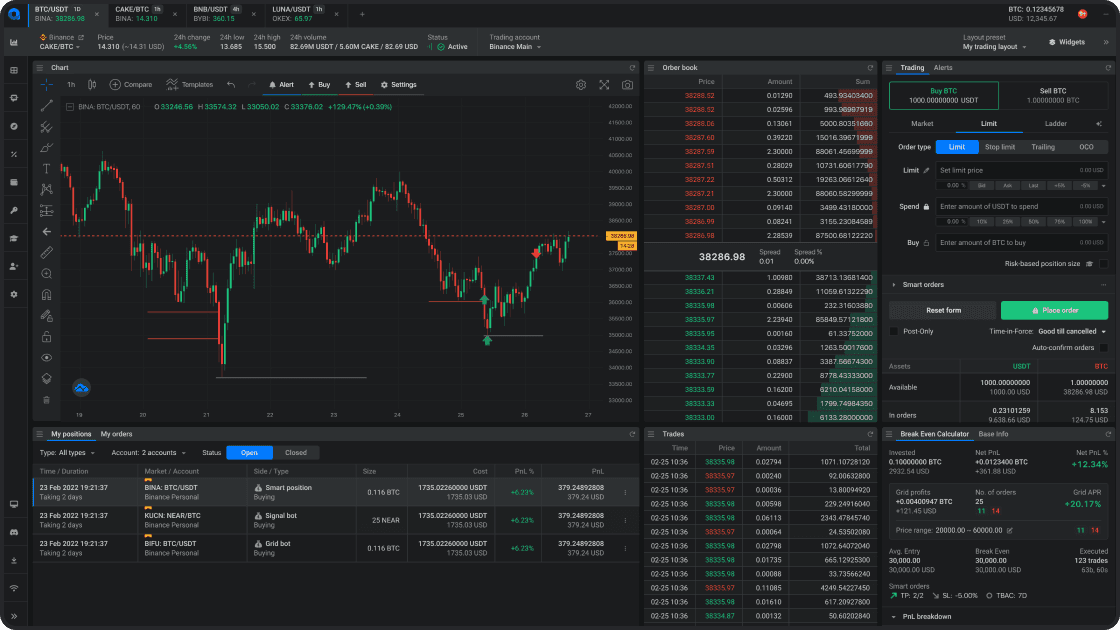 Trading on Kucoin with Altrady
Smart Order with multiple entries
Stop Loss with Profit Protection
Multiple Take Profit targets with Trailing
Entry expiration and Autoclose
Automatic Spot and Futures Position PnL tracking
Everything You Need To Increase Your Trading Profitability
Trading Bots
You can use Grid Bots with Trailing Take Profit and Trailing Stop Loss or Signal Bots.
Smart Trading
Never miss a trade even when you sleep.
Portfolio Management
Subaccounts, and cold-wallets track all your portfolio from everywhere.
Market Scanners
Powerful market scanners to help you find the right moment to enter the market.
5 Reasons Why You Should Choose Altrady
1
Save Time
Altrady lets you save time so that you can do other things.
Features like real-time crypto alerts let you monitor markets and trade crypto even when you are asleep or spending time with your family.
2
Manage Risks
Altrady offers a Risk management feature that lets you see your Risk Reward Ratio directly on the trading form and helps you manage your risk for your entire portfolio.
3
Automate
On Altrady, you can easily automate your strategy. With extensive trade automation (Multiple entry orders + Multiple Take Profit orders + Entry expiration + Auto close + Stop Loss + Trailing function). In addition, we watch the markets 24/7 for you, so you can relax, knowing your strategy is locked in.
4
Profits
Altrady helps you get better profits consistently.
We do this by equipping you with the right tools, like Base Scanner and Quick Scanner, so you can create a sense of predictability in market movements and make the right trading decisions for better profits.
5
Security
We have IP whitelisting as a base security layer. On top of that, we have unique encryption per user, and trading can only be done from authorized devices. So if someone logs in to your account, they won't be able to trade.
What Is Kucoin Exchange?
KuCoin is a prominent cryptocurrency exchange that facilitates buying, selling, and trading various digital currencies. The platform offers basic trading options, margin, futures, and peer-to-peer (P2P) trading. Additionally, users can stake or lend their crypto to earn rewards. With low trading fees, KuCoin is an appealing option compared to its competitors.
Why to use KuCoin P2P to buy/sell crypto?
KuCoin P2P Fiat Trade allows users to convert fiat to crypto and vice versa easily.
The key benefits of P2P Fiat Trade are:
Zero transaction fees
Rapid settlement
Secure transactions
Professional and dependable merchants
Availability of multiple local payment methods
Is Kucoin a trusted exchange?
KuCoin is a reliable cryptocurrency exchange that has been in operation since 2017, serving over 11 million users worldwide. The platform employs multi-layered security measures, such as micro-withdrawal wallets, industry-standard multilayer encryption, and dynamic multi-factor authentication to ensure the safety and security of user funds.
Is Kucoin suitable for beginner traders?
KuCoin is an exceptional cryptocurrency exchange that prioritizes user experience, security, and reputation. It is an ideal platform for beginners and is highly recommended for anyone seeking an easy and secure way to trade cryptocurrencies.