PLANS AND PRICES
Plans
Boost your trading with the all-in-one cryptocurrency trading software. Trade on multiple exchanges, track your performance, improve and get less emotional. Bitcoin trading platform for beginners and expert traders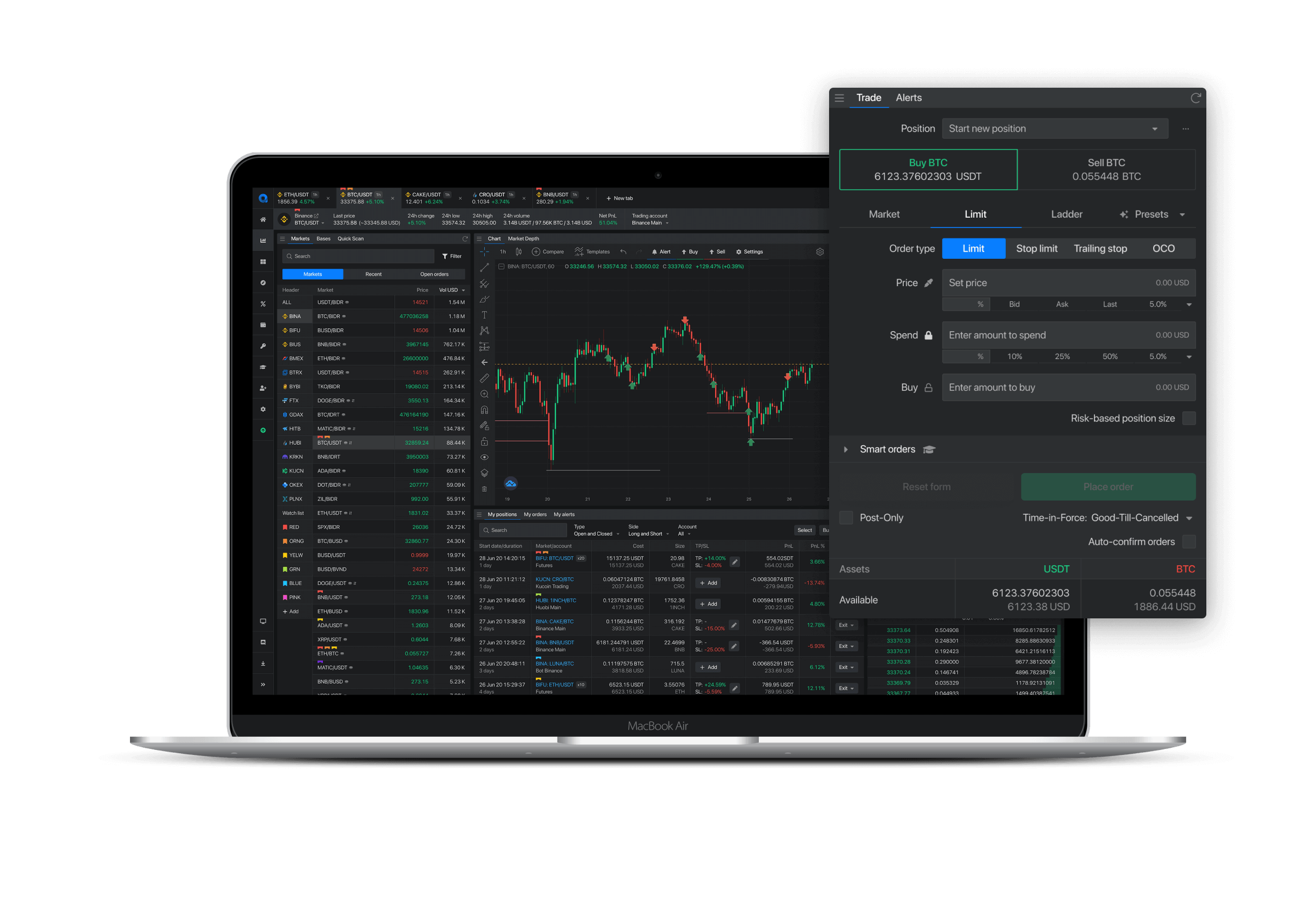 Get 30% Discount with our Annual Plan
To support the global trading community, we are offering special discounts for Annual plan.
Save 30%
with yearly billing
Basic
€17.47
/mo
paid annually
Premium
€55.97
/mo
paid annually
Signals
Bots
Ladder orders
Multi-account portfolio
Trading analytics
Multi-charts
Price alerts
Position PnL tracker
Smart trading
Paper trading
Grid bot backtest
DEX Charting
Market Explorer
Quick scanner
20 active rules, 2% price change
50 active rules, 0.1% price change
Base scanner
Risk Calculator
Signals Only
Access to Crypto Base Scanner signals on: Axion, Anny Bot, Le-Trader, Nefertiti, Zignaly, Trailing Crypto
Frequently Asked Questions
What are Smart Orders?
Smart orders include Take Profit and Stop Loss Orders. Take Profit Order It is a standing order that is placed by specifying a certain price point above the purchase price so that you could sell coins during a quick rise in price and thereby make a profit from it. Stop-loss Orders will protect your positions and minimize your losses by automatically closing your position when your stop price is reached. Entry expiration time: will automatically cancel all entry orders after a certain period of time. This will ensure that if the price action moves the other way, you won't be entering a new position when the move is rejected. Time-based auto-close: will automatically close your position after a certain period of time, ensuring that you don't stay locked in a position for too long.
Which payment methods can I use?
We support a few methods listed below: Bitcoin + Altcoins Credit Card or Debit Card PayPal SEPA Bank transfer iDeal
Is margin trading available in Altrady?
No, margin trading is not supported at the moment. But you can trade on Binance Futures with leverage.
Do I need to add a credit card or other payment method to use the trial?
When you create a trial account, you get a free 14 days access
Will my trial be shortened if I buy a subscription before the trials ends?
We always add the extra time to your trial period. So we actually recommend to buy the subscription as soon as possible. You will get to use all the features during your trial time as well.
Do I have to pay per trade made via the Altrady?
No, trades are performed on the exchange and normal fees apply.
Can I get a refund?
We cannot refund partial use of the subscription time. We do offer a 30 day money back guarantee for the first purchase. Just send an email to support@altrady.com
Can I switch plans?
Yes, you can always upgrade or downgrade to a different plan. If you have time left in your current subscription, we will credit the remaining subscription time and use that on the next payment.
What happens if my subscription is expired?
When your subscription has expired, we will notify you via email and you will not be able to access the trading platform. You can sign in to renew your subscription to get access to the trading platform. We will not delete your details unless you ask us to. You can also setup a recurring subscription, so you will never forget to extend your subscription.