Trade Better and Faster On HitBTC Exchange with Altrady
Altrady helps users grow their cryptocurrency investments using a feature-rich terminal and proven automated bots that take full advantage of the HitBTC exchange platform.
Even better, you have a Free Paper Trading Plan to test your strategies.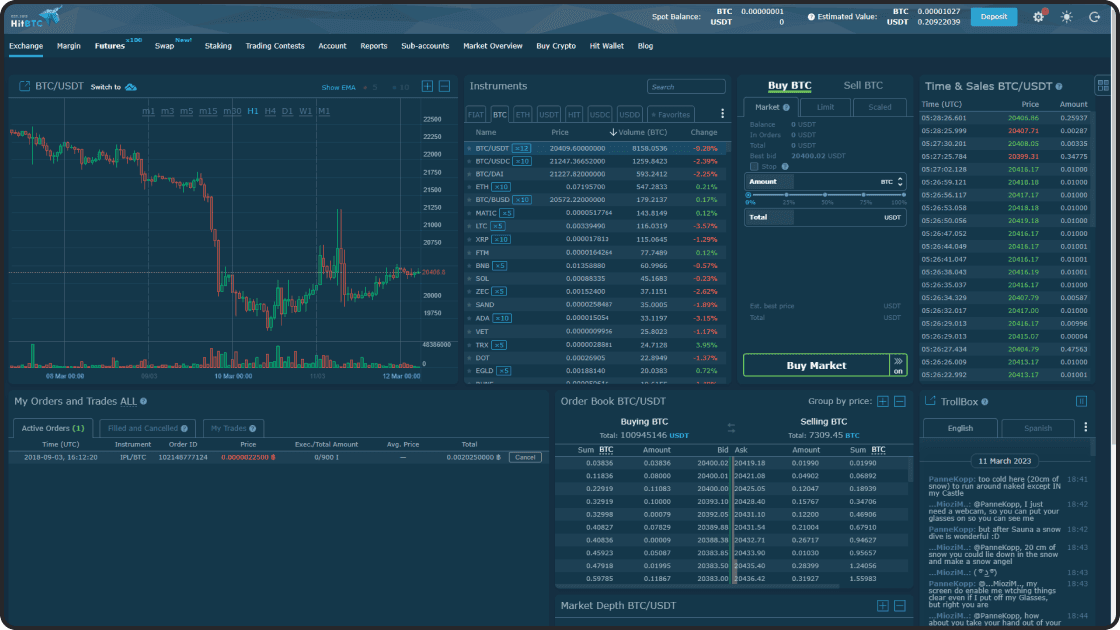 Trading on HitBTC Exchange
No Advanced Stop Loss and Take Profit
No spot position PnL tracking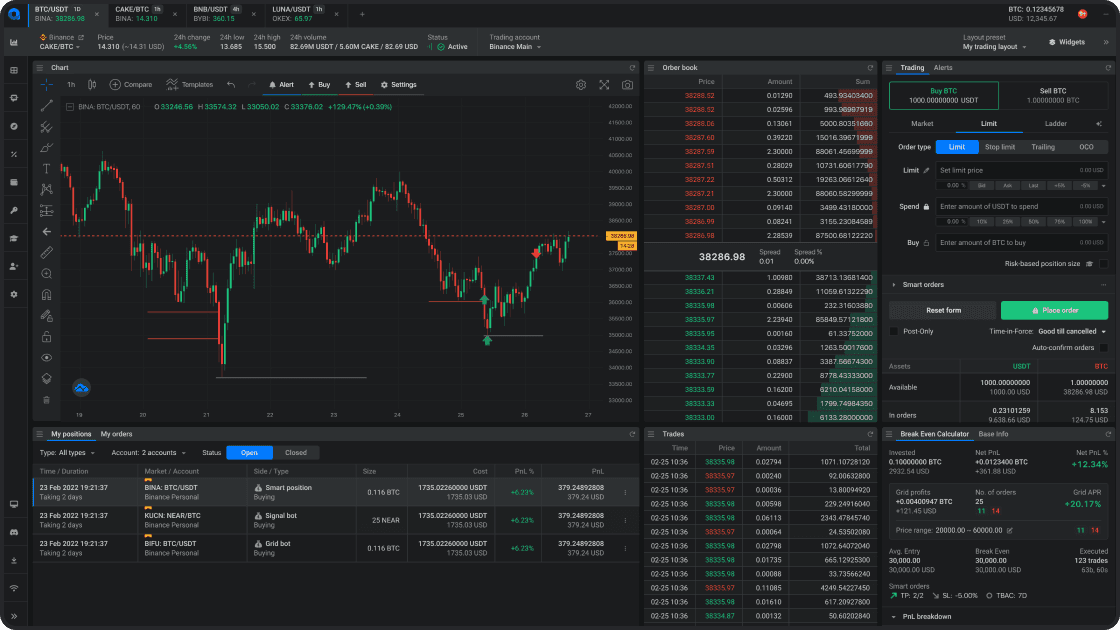 Trading on HitBTC with Altrady
Smart Order with multiple entries
Stop Loss with Profit Protection
Multiple Take Profit targets with Trailing
Entry expiration and Autoclose
Automatic Spot and Futures Position PnL tracking
Everything You Need To Increase Your Trading Profitability
Trading Bots
You can use Grid Bots with Trailing Take Profit and Trailing Stop Loss or Signal Bots.
Smart Trading
Never miss a trade even when you sleep.
Portfolio Management
Subaccounts, and cold-wallets track all your portfolio from everywhere.
Market Scanners
Powerful market scanners to help you find the right moment to enter the market.
5 Reasons Why You Should Choose Altrady
1
Save Time
Altrady lets you save time so that you can do other things.
Features like real-time crypto alerts let you monitor markets and trade crypto even when you are asleep or spending time with your family.
2
Manage Risks
Altrady offers a Risk management feature that lets you see your Risk Reward Ratio directly on the trading form and helps you manage your risk for your entire portfolio.
3
Automate
On Altrady, you can easily automate your strategy. With extensive trade automation (Multiple entry orders + Multiple Take Profit orders + Entry expiration + Auto close + Stop Loss + Trailing function). In addition, we watch the markets 24/7 for you, so you can relax, knowing your strategy is locked in.
4
Profits
Altrady helps you get better profits consistently.
We do this by equipping you with the right tools, like Base Scanner and Quick Scanner, so you can create a sense of predictability in market movements and make the right trading decisions for better profits.
5
Security
We have IP whitelisting as a base security layer. On top of that, we have unique encryption per user, and trading can only be done from authorized devices. So if someone logs in to your account, they won't be able to trade.
What Is HitBTC Exchange?
HitBTC is a cryptocurrency exchange that allows users to buy, sell, and trade various digital currencies.
Do I need verification to trade on HitBTC?
Typically, completing a verification process to begin trading on the HitBTC app is not required, and your deposits will not be restricted. However, to access all available features on the cryptocurrency exchange and to benefit from reduced trading fees, it is recommended that you complete the KYC process.
What countries are supported by HitBTC exchange?
Except for Syria, Sudan, Cuba, Crimea, North Korea, and the United States, HitBTC is available to users worldwide.
How to create an account on HitBTC exchange?
To create an account on HitBTC exchange, follow these steps:
Go to the HitBTC website at www.hitbtc.com.
Click on the "Register" button at the top right corner of the page.
Enter your email address and choose a strong password.
Agree to the terms of service and click on "Register".
Check your email and click on the verification link that HitBTC sends you.
Once your email is verified, log in to your new HitBTC account using your email and password.
Follow the prompts to complete the security settings and two-factor authentication (2FA) setup.
You are now ready to deposit funds and start trading on the HitBTC exchange.
Note that in some cases, HitBTC may require additional verification to increase your account limits or use certain platform features.
How to withdraw funds from HItBTC exchange?
To initiate a coin withdrawal, navigate to your Account page and look for the "Withdraw" column. In this column, you will see a button for each cryptocurrency available for withdrawal. Before initiating a withdrawal, please ensure that the coin you wish to withdraw is held in your Wallet or Spot accounts.
What transaction fees HitBTC has?
The trading fees for Starter and General accounts on HitBTC are standardized at 0.1% for Maker Fee and 0.25% for Taker Fee. The tier for trading fees is assessed daily based on your trading volume for the previous 30-day period.
How do I see my balance on HitBTC exchange?
The total balance of your cryptocurrency assets on HitBTC is visible on the main screen of the platform, with the USD equivalent calculated using the current HitBTC rates. You can tap the USD match for more detailed information about your balances.
Does HitBTC has mobile apps?
HitBTC provides a mobile app for Android and iOS devices, available for download from the Apple Store or Google Play Market.