Best Crypto Arbitrage Apps In 2022
The concept of crypto trading arbitrage is fairly self-explanatory. It is all about benefiting from the market inefficiencies by purchasing the asset in one market and then immediately selling it to another market at a higher rate. It is a fact that cryptocurrency is priced differently at different exchanges and crypto arbitrage is the trading strategy in which the trader exploits the price difference and gets the profit. 
To speed up this process, and make you more successful in the arbitrage business, arbitrage apps are developed that scan exchanges and guide you about the ones where you can buy an asset at the lowest possible rates. These apps also help you in finding out where you can sell the asset at high rates. In this way, the use of arbitrage apps helps you in tracking crypto prices at various exchanges. 
Arbitrage is a common practice in traditional financial markets, and it has been applied to the crypto market as well. In fact, crypto arbitrage has become increasingly popular in recent years as the crypto market has matured and more exchanges have emerged.
What is crypto arbitrage?
Crypto Arbitrage is an investment strategy that takes advantage of the price differences of the same asset (or nearly identical assets) on different exchanges. Arbitrage is a trading strategy that involves the act of simultaneously selling and buying the same asset (or nearly identical assets) on different exchanges. The price at which the asset is sold on one exchange and bought on another is known as the arbitrage spread.
Bitcoin Arbitrage Trading Platforms:
Best all-in-one crypto trading: Altrady
Best multi-asset platform: eToro
Best for crypto exchange deals: Gemini
Best for beginners: Coinbase
Best for iOS: Crypto Pro‍
Best for iPhone: Voyager
Best for crypto tracker: Delta
Best top rated arbitrage app: Wirex
So, we can say that it is now easier than ever to make huge profits with arbitrage apps. You will get to know about the best crypto arbitrage apps that usually have a simple set up in the upcoming lines. 
Altrady is a multi-exchange crypto trading platform that allows users to access multiple cryptocurrency exchanges from a single interface. This allows users to manage and track their trades across different exchanges, making it easier to monitor the market and execute trades. Altrady also offers a range of advanced trading tools and features, including bots, market scanners, signals, portfolio management, customizable charts, and real-time market data, to help users make informed trading decisions.
With the Market Explorer release, users now have access to an arbitrage analytic tool to obtain better market insights for arbitrage trading.You can see an example for Matic cryptocurrency.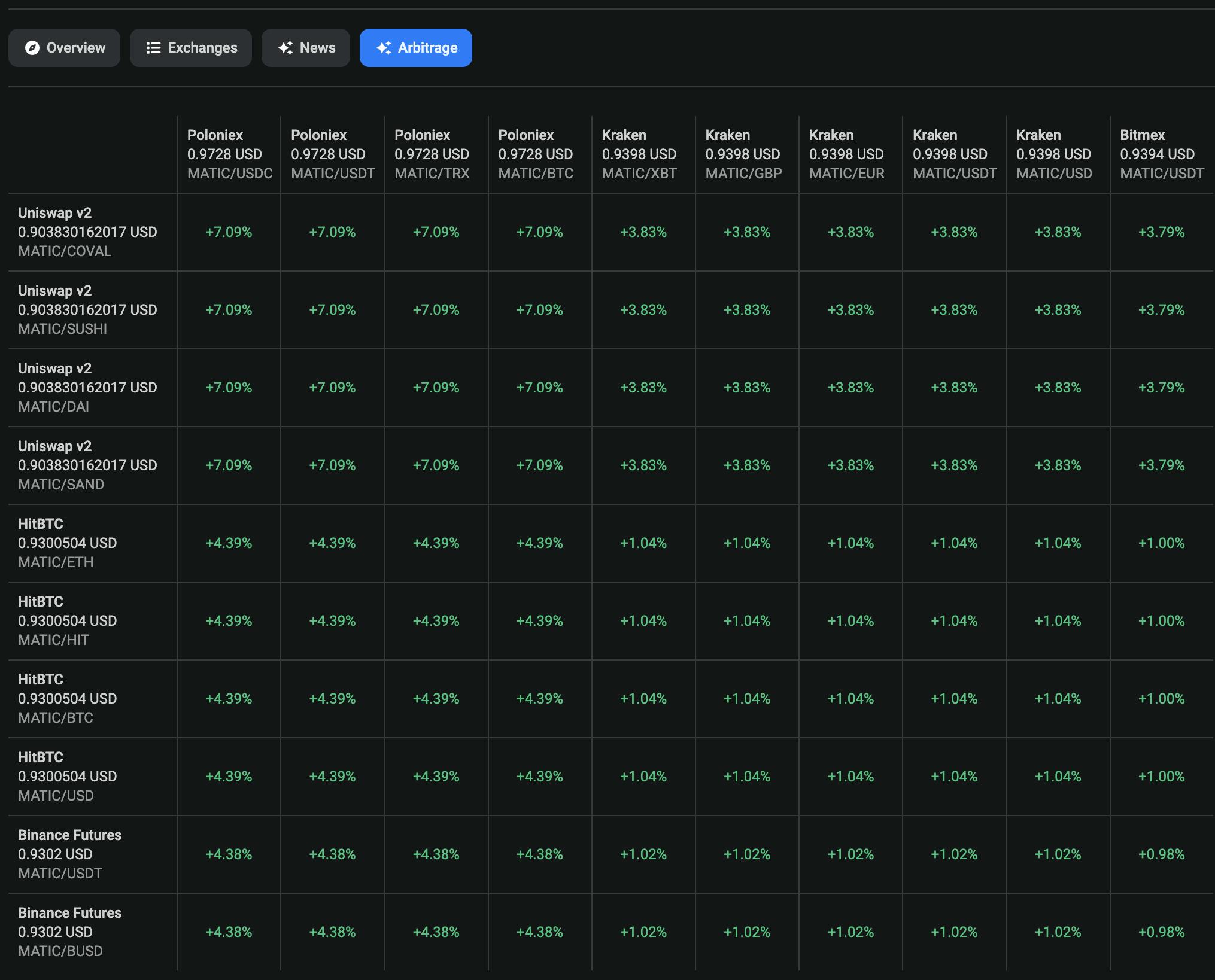 1. Best multi-asset platform: eToro 
‍Crypto traders from all over the world use this site for arbitrage trading. With this amazing app, you can invest in Stock and cryptocurrencies and trade CFD assets. In other words, it is a multi-asset platform that people are using abundantly to sell and buy Bitcoin, XRP, Ethereum, and more.
In our article Binance vs eToro, you can find more in-depth info about eToro's benefits.
Various stunning features give a considerable edge to this platform over eToro competitors:
It takes little or no time in executing the projects and allows you to trade as fast as possible. 
With easy investing options, you can use a Paypal account or your credit card to start a trading business. 
If you are facing any trouble, you can immediately contact customer support. The CS of this app is highly responsive and makes sure to answer all the queries within 24 hours. 
People from more than 200 countries have been using this app for years, so there is no question about this platform's credibility and authenticity. 
If you are new to the cryptocurrency business, you can quickly learn with this app, that's how good eToro is. It gives you a $100K demo account, which means you get $10,000 in your virtual portfolio to learn the trading process. 
See also: Best Bitcoin Interest Accounts
2. Best for crypto exchange deals: Gemini
It is another app with easy-to-use tools and a perfect solution if you want to go long on trading cryptocurrencies. For the best crypto exchange deals, you can schedule recurring buys on Bitcoin & other cryptos and get profits right in your wallets.
Let's have a look at some features of the Gemini:
It is a secure and trusted platform that allows people to proceed with crypto trading in a safe environment. 
While starting with this app, you do not need to worry about the complex signup process. You can just create your account for FREE and can start trading within 3 minutes. 
In 2029, this app got the Market Choice Award for Best Cryptocurrency exchange and is still getting better with time. 
It is the first exchange in the world that has successfully completed SOC 1 Type 1 and SOC 2 Type 2 exams. These are tough security examinations that ensure the safety of the cryptocurrency app. 
The streamlined trading view makes it possible for beginners to start trading without any confusion. Basically, it allows you to access the necessary trading tools in a single place. A clear interface gives it an edge over the competitors. 
With this app, you can stay on top of trends as it allows you to receive the latest exchange rates instantly. 
See also: Shorting Cryptocurrency

3. Best arbitrage app for beginners: Coinbase
Are you an absolute beginner and want to buy and sell cryptocurrency? Then look no further. It is the easiest app in the world that will help you in making some extra cash without any prior knowledge of arbitrage apps. Its compatibility with new users makes it the most commonly used arbitrage app, and yes, you should look for its other features as well. 
Coinbase features:
The manufacturers of this app provide you with a strong insurance policy. No matter how big the amount is, cryptocurrency saved on this app is covered by the insurance policy. 
With this app, you can access the secure offline storage that makes it possible for you to access different digital assets even without an internet connection. 
This app allows you to work with a wide variety of digital currencies. 
With 43M+ verified users, this app is second to none. 
Coinbase allows you to schedule daily, weekly, or monthly basis. 
You can try this app for FREE and can learn about Bitcoin and Blockchain. It is extremely beginner-friendly and you can learn about it by buying some Bitcoins for fun. 
Well, let's make it clear that the official website claims to have this app available in more than 100 countries. However, it is operating efficiently in only 32 countries. 
See also: Should you buy Ethereum in 2021?
4. Best for iOS: Crypto Pro
Whether you use iPhone, iPad, or Apple Watch, you can download this app, as it is perfectly compatible with these devices. If you are super conscious about your arbitrage app's security, then this app can turn out to be the perfect solution for all of your private Bitcoin and other crypto trading needs.
The good news is that you can download it for FREE and get access to the following features:
This app does not keep a record of your portfolio or any other viewing and browsing habits. They keep your privacy first and do not analyze your data. 
You can create custom apps and widgets with this app and can create separate icons for all traded cryptocurrencies. 
A currency conversion calculator is also available in the app. 
Face ID & Touch ID Lock 
You can get notified of the latest cryptocurrency exchange alerts. So whenever there is a spike in price, you come to know of it. It will help you to stay on top as arbitrage trading is all about buying and selling crypto assets. 
5. Best for iPhone: Voyager
iPhone users often look for an app that is particularly made for their phones. This app solves all of your problems related to compatibility as it is particularly designed for iPhones. As it is comparatively tricky, so we do not recommend it for beginners. With this comprehensive exchange app, you can enjoy more profitable trading because the interface is suitable for professionals. 
Voyager best features:
Supports 50+ digital assets.
Features several commission-free exchanges.
Have a solid and secure wallet. 
Instantly connects you with dozens of exchanges.
Contains all the tools that any investor needs in the arbitrage trading journey.
Have advanced features, something more than beginner-friendly apps. 
Provides you with the market newsfeed, so you can keep yourself updated about the latest trends and crypto news. 
Well, want to start with this app?
It is super simple. All you need to do is to download the app, open the account by providing the necessary details and start trading. Do not forget to fund the account before you proceed with the trading process. 
The interesting part?
You can get a $25 Bitcoin credit for signing up. 
See also: How Bitcoin and other cryptocurrencies are taxed
6. Best for crypto tracker: Delta
Do you want to know of the app that supports 7000+ altcoins? Then, you must know the Delta app. It is not only the best crypto tracker but also allows you to get connected to the exchanges. With this app, you can view exchange fees on any number of exchanges.
Some notable features include:
This app provides very fast updates about cryptocurrency rates. 
It supports more than 300 crypto exchanges from all over the world.
Being a reliable arbitrage app, it is being used in more than 115 countries.
It has various stunning functionalities combined into one app, for example, it not only serves as the crypto tracker but also an index tracker as well as a stock price tracker. 
With Delta, you can proceed with arbitrage trading anytime, anywhere. 
Further, you can receive personalized notifications, detailed trading analyses, watch lists, and much more. 
Delta allows you to have multiple portfolios while using a single app.
7. Best top rated arbitrage app: Wirex
Creating the free account on Wirex is a matter of minutes. This is the top-rated arbitrage app that gives a lot to its users in terms of rewards, for example, you can order a free debit card to withdraw your profits through this app. This card is supported at all the places where Visa or Mastercard is supported. 
Wirex notable arbitrage features:
It does not charge any kind of exchange fees, even no monthly maintenance fees. 
You do not need anyone's wallet address or account details to send money to your contacts. Anyone with this app can receive money.
It provides instant live notifications about the exchange rates, giving you an option to get the maximum profit. 
You can expect to get very fast and responsive customer support. The 24/7 CS ensures a timely answer to all of your queries. 
If you want to share the money super fastly, you can create an instant address book. It allows you to send money within a few clicks. 
You can enjoy free ATM withdrawals for up to £400. 

In short, it delivers all the major benefits to arbitrage users and works perfectly for those who want to enjoy wallet functionality at affordable rates. 
What is the major risk of crypto arbitrage?
One major risk of crypto arbitrage is the volatility of the crypto market. Prices for cryptocurrencies can fluctuate wildly, and an arbitrage trade that looked profitable at the time of execution may turn out to be a loss if the market moves against the trader. Additionally, arbitrage trades can be risky because they often require the trader to move funds between exchanges, which can be slow and expensive.
Relatively unregulated, and there are many scams and fraudulent exchanges that can take advantage of unwary traders. Therefore, arbitrage traders must do their due diligence and only trade on reputable exchanges.
Despite the risks, many traders still find crypto arbitrage a worthwhile strategy. One advantage of crypto arbitrage is that it can be done relatively quickly, as prices for cryptocurrencies can change rapidly. This can make it easier for arbitrage traders to take advantage of price differences before they disappear.
Join The Arbitrage Community & Start Crypto Trading Today!
There are a lot of misconceptions that make it difficult for beginners to jump into this business. Keep in mind that risk factor is always involved in arbitrage trading because you deal with volatile currencies. But it does not mean that you are bound to lose. People are making millions with this simple and unique business idea and you cannot deny this!

Basically, cryptocurrencies are decentralized in nature, and no authority is handling them. So whenever the price fluctuates, you can not blame anyone for this. Nowadays, the safe idea is to start with arbitrage trading, because in this way, you have a minimum chance of risks. Even if you have bought bitcoins, and not found a suitable exchange to sell them, you still have them, and your money does not lose. However, things get confusing when very considerable fluctuations occur, and you do not know how to handle them. 
Well, now you have read all about the 7 Best Crypto Arbitrage Apps in 2022, don't you think they can help you make money easily?