Crypto.com Review: Is It Safe to Invest on This Platform?
Taking the first step carefully is very important in the crypto trading journey. You have to select the best crypto platform first, and going for the good one is your half success. Many crypto exchanges are out there, but only a few are performing well and assisting the users.
Crypto.com review is essential if you want to understand other features and crypto trading. Its low fees and a long list of products are hard to ignore for any investor. Over this, it's the perfect example of using cryptocurrency in daily life purchases. 
If you are thinking about investing in this platform, check all aspects. Give it a read, and you will make a better decision in the end.
What is Crypto.com?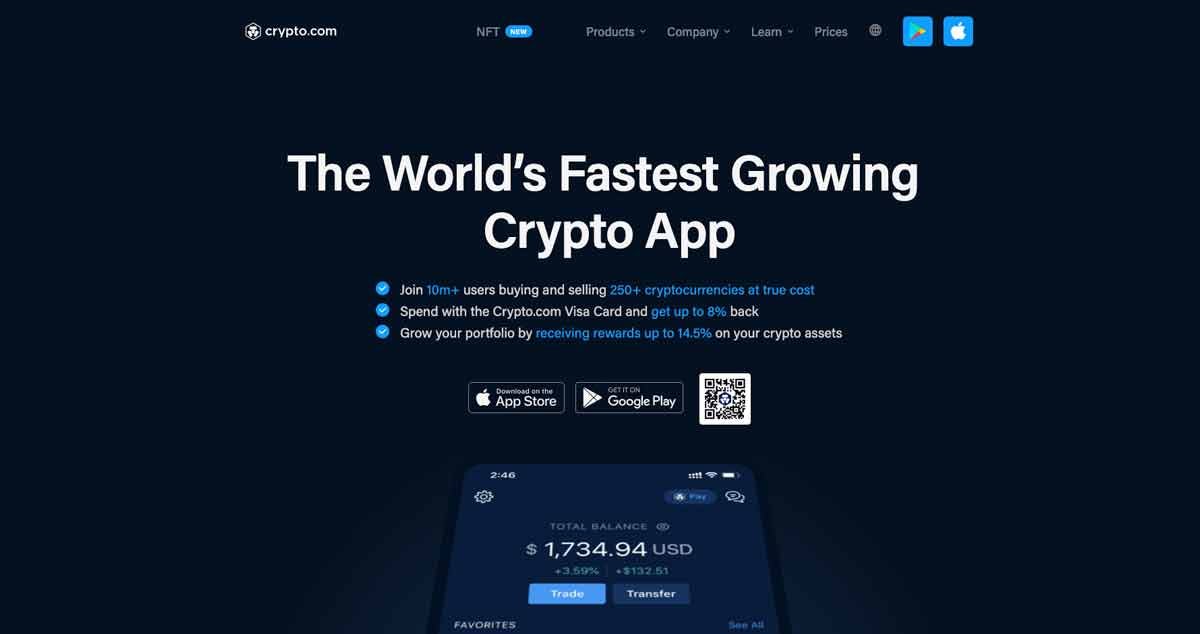 The Crypto.com platform was launched back in 2016 and currently has a headquarter in Hong Kong. With a long list of 150+ cryptocurrencies, this project serves 10 million active users worldwide. To quench the thirst for crypto trading and financial freedom, this platform offers different products in 90 countries.
Crypto.com is not just about buying and selling coins, and you can earn passively through different ways using your cryptocurrency. Because of the low fee, easy-to-understand interface, and many other impressive features, this platform is suitable for beginners, apart from the trading platform, its decentralized exchange, NFT marketplace, and a standalone crypto wallet. 
| Data | Value |
| --- | --- |
| Official Website | https://crypto.com/ |
| Headquarters | Hong Kong |
| Found in | 2016 |
| Native Token | Yes |
| Listed Cryptocurrency | 90+, but varies country wise |
| Trading Pairs | 100+ |
| Supported Fiat Currencies | 20+ |
| Supported Countries | 90+ |
| Minimum Deposit | Approx $200, but do vary for various currencies. |
| Deposit Fees | Free |
| Transaction Fees | Low |
| Withdrawal Fees | Withdrawal fees vary depending on the type of cryptocurrency |
| Application | Yes |
| Customer Support | Email |
How Does Crypto.com Works? 
Like any other cryptocurrency exchange platform, there is no rocket science in using Crypto.com for the first time. To start trading and earning other benefits, you need to sign up for the account and share personal information for verification. After that, the user can get access both through the website and mobile app. 
The only tricky thing to understand is the two options available for trading. You can set trade either through the exchange or DeFi wallet. Using a DeFi wallet is slightly convenient as you have a proper hold on private keys and perform transactions within a few minutes. On the contrary, an exchange option allows you to trade with low charges.  
Key Benefits of Crypto.com 
Since its launch, Crypto.com has been growing day by day, and there are some obvious reasons behind it. Let's look at the features that set it apart from the crowd. 
1. Competitive Fees
The first thing that attracts the users is the low fees of this platform. When choosing a platform for crypto trading, the transaction fee matters a lot, and it defines how much profit you will earn by picking that specific exchange. Choosing Crypto.com would be a wistful decision as you have to pay no fee while depositing fiat currency into account.
There are a few changes after the 30 days, which will be deducted from the purchases you made on the platform through the credit/debit card. But as mentioned below, you don't need to break your bank just on the fees. 
2. All in One Solution
Nothing is more impressive for crypto enthusiasts who can do anything about trading on a single platform. And Crypto.com provides all these features. Beyond buying and selling crypto tokens, you can swap cryptocurrency through its DeFi wallet.
The feature beyond imagination is its crypto Visa card, and you can directly purchase Coins without the trouble of converting. Similarly, you can withdraw the amount in fiat currency from your crypto wallet through this card. 
3. Earn Interest
Another impressive benefit of Crypto.com is interest earned on the cryptocurrency. Unlike other platforms, you don't only buy and keep cryptocurrency in your wallet, and you can earn an interest of a maximum of 14%, which is way more than high-yield saving accounts. 
But it's important to verify a lot of cash in CRO for earning interest. The reward amount depends on how long you keep your money in CRO and how much. To get more interest rate, it's recommended to stake above 50,000 CRO and make deposits regular after three months. Moreover, if you invest in a stable coin, you will get a better reward than normal. 
4. Cash Back Cards
The unique aspect of Crypto.com is providing five different prepaid Visa Cards. They are viable anywhere around the world, both for crypto purchases and normal shopping. You just need to top them up before making any purchase. You can earn more interest by maintaining a high CRO through these cards. 
You can get 8% cashback on the Obsidian card and other perks if you stake 5,000,000 CRO. However, if you can only manage to stake 5000 CRO, then the Midnight Blue card is best for you. It provides 1% cashback which can be 2% if you choose a Ruby Steel Card. 
5. Phone Top-Ups & Gift Cards
With the help of its Visa Card, you can make purchases beyond the crypto like gift cards from the popular brand. Most brands that offer gift cards in the USA are Macy's, Barnes & Noble, and Airbnb. However, the cashback offer depends on the amount of CRO staked and the type of company. Apart from gift cards, many networks allow you to top up prepaid phones through these cards. 
Crypto.com Products
Along with crypto buying, selling, and trading, you can perform many other operations on this platform. It's a pool of services that offer multiple benefits to the investors. However, it's important to have a complete idea of what it offers and how you can make a profit through it. So here are a few major products of Crypto.com:
1. NFT Marketplace
The first thing that would grab your attention on landing its official website is the NFT marketplace. If you are in this field and looking forward to immersing yourself in the metaverse, you are well aware of the importance of NFTs. 
But Crypto.com made something different and created the whole marketplace on blockchain. It's the first-ever marketplace built on blockchain, where users can convert collectibles into NFTs. Moreover, it has collaborated with many artists, brands, and other creators to bring something more useful to the platform. 
2. Crypto.com Pay
Payment transfer is the major concern in investment, and many methods have been developed for it. In the crypto field, it's too irritating to convert crypto to fiat and then pay your bills. But Crypto.com allows you to pay directly in crypto without any processing fee. However, if you choose fiat currency, you have to pay a 0.5% fee on every transaction.
Compared to other payment methods, it offers an 80% discount, which is not ordinary. Over this, Ledger stores and WooCommerce allow payment through this process. And, you can easily perform margin trading, OTC trading, derivatives trading, and decentralized token swaps. Above, it organizes different activities and rewards the winner with free cryptocurrencies. 
3. Mobile App
Crypto.com has a mobile app for easy and effective trading. The app can be easily downloaded through Google App Store and Apple Store. The range of features and user-friendly interface make it the best crypto software for beginners. You can do every major operation including, buying, selling, store, and loan payment through the app.
The app is highly secure through the well-audited platform. Some of the worth noticing perks of the Crypto.com app is given below:
Offer a 12% interest rate on the stable coins.
You can trade 100 cryptocurrencies
Get the loan directly through the app
Purchase any big cryptocurrency
Cardholders can manage their balance effectively 
4. Metal Visa Cards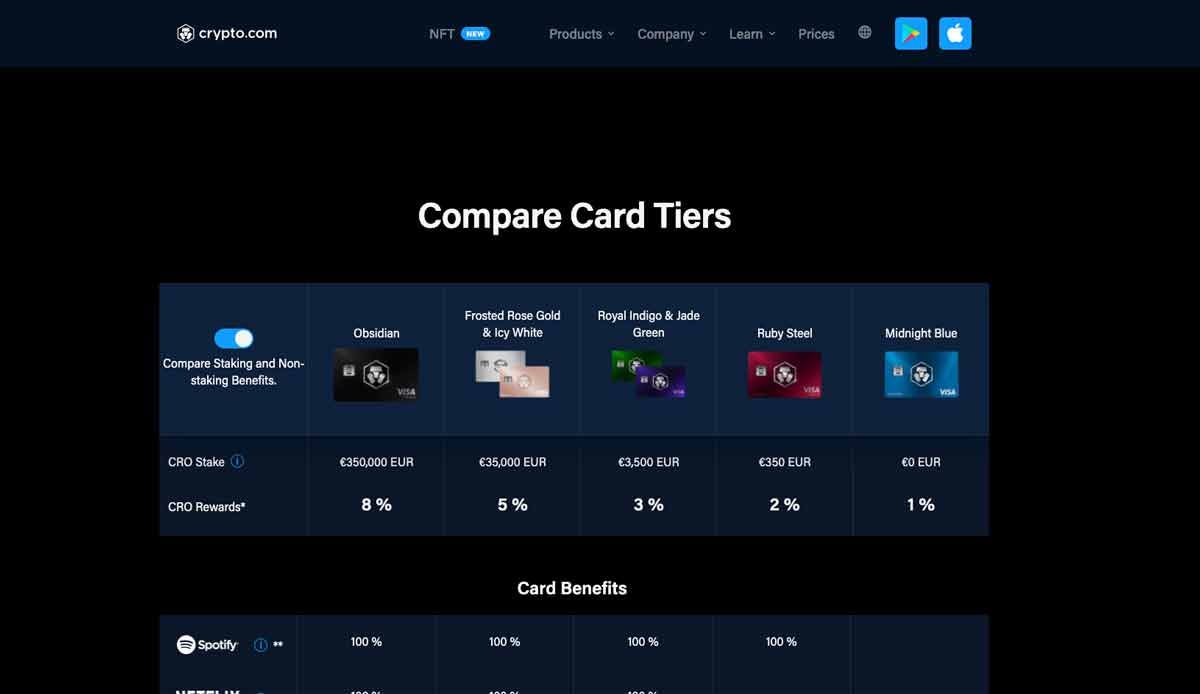 In 2018, Crypto.com introduced a unique MCO Visa Card product to integrate cryptocurrency in daily life usage. You can buy, store, spend, and trade crypto tokens through these cards instead of using fiat currency. The incredible thing about them is that you won't be charged on withdrawing from ATMs. 
Apart from that, you don't need a huge balance in the account and don't have to pay an annual fee for using this feature. You can get a percentage of cashback offer on its different cards and free shipping. 
5. Crypto Earn
Once you come to this platform, you won't stop loving its products. You can make a commission on your digital asset through the crypto earned by depositing currency in it. Keep in mind that deposits CRO is way different than staking CRO. The amount of interest varies with the time and depends on how long you stacked coins.
The interest you would get will be in the same crypto coin instead of fiat currency. However, few countries are not eligible to use this product. Depending on your choice, you can stake coins from 1-3 months. 
6. Exchange 
In the tank of products, the most important is an exchange founded in 2019 to support all the stable cryptocurrencies. You can easily trade Bitcoin, Ethereum, MCO, XRP, Solana, and many more. Other than an exchange, you will enjoy institution-level security, low trading fees, deep liquidity, and economic CRO tokens. 
With the help of the Syndicate option on the exchange, CRO holders are preferred to buy tokens at discounted prices. The profit made through the exchange uses for the platform maintenance and development of new projects. Your trading fee will be zero-based on your one-month trading volume and staking amount in CRO. 
7. Crypto Credit
This is special for those who don't have enough savings to start crypto trading. This means you can get a loan through the app, invest in the platform, and make a profit through it. Of course, you have to fund your account either with MCO tokens or crypto coins to access this feature. For instance, 10000 MCO tokens used in staking will provide 6000 USD credit. 
It would be easier to get the loan when you have more credits. The best part of these credits is no deadline for return. Also, you don't need minimum payments and credit checks. 
Fee Structure of Crypto.com 
On Crypto.com, you have to pay competitive charges compared to another platform. Here is the breakdown of fees involved in the platform.
Deposit and Withdrawal Fees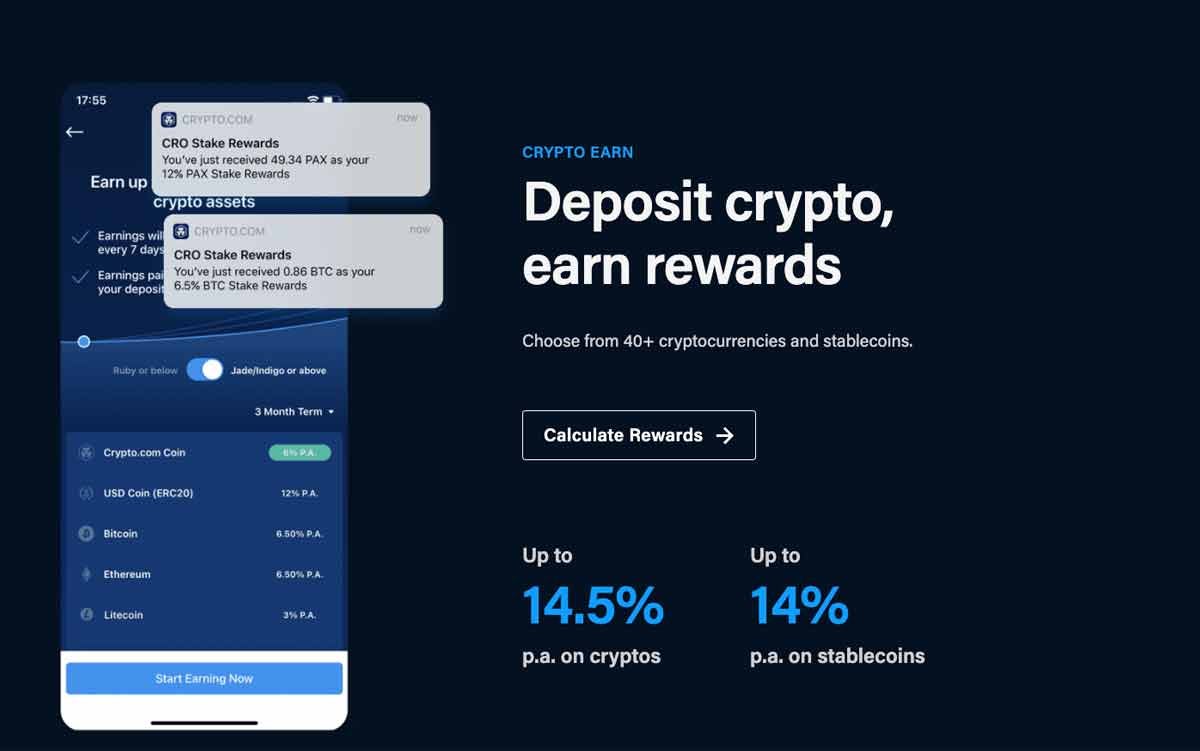 You have to pay nothing while depositing your funds on Crypto.com. However, few charges are applied when you withdraw your digital assets, depending on the type of cryptocurrency. For example, the platform would charge 0.0004 BTC on withdrawing Bitcoin, which is extremely low in the market. 
Maker and Taker Fees
The maker and taker fees are given below for regular clients depending on the 30-day trading volume. 
| LEVEL | 30D TRADING VOLUME (USD) | MAKER | TAKER |
| --- | --- | --- | --- |
| Level 1 | $0 – $25,000 | 0.4% | 0.4% |
| Level 2 | $25,001 – $50,000 | 0.35% | 0.35% |
| Level 3 | $50,001 – $100,000 | 0.15% | 0.25% |
| Level 4 | $100,001 – $250,000 | 0.1% | 0.16% |
| Level 5 | $250,001 – $1,000,000 | 0.09% | 0.15% |
| Level 6 | $1,000,001 – $20,000,000 | 0.08% | 0.14% |
| Level 7 | $20,000,001 – $100,000,000 | 0.07% | 0.13% |
| Level 8 | $100,000,001 – $200,000,000 | 0.06% | 0.12% |
| Level 9 | $200,000,001 and above | 0.04% | 0.1% |
However, the charges are different for VIP tiers. 
| TIER | 30D TRADING VOL(USD) | MAKER | TAKER |
| --- | --- | --- | --- |
| VIP 1 | > 1% of exchange volume | 0.020% | 0.040% |
| VIP 2 | > 2% of exchange volume | 0.010% | 0.030% |
| VIP 3 | > 3% of exchange volume | 0.000% | 0.020% |
Trading Fees
The 0.4% trading fee applied for both takers and makers is slightly higher than the market. But you can get a discount on it depending on your trading volume. 
Security Analysis of Crypto.com
Security of digital assets is the first concern of every investor, and the platform offers best practices to ensure top-tier security. Crypto.com is the one that has no hacking record in the past and takes extra safety measures against scams. The platform store all of its digital assets in cold wallets, and there is no chance of hacking. 
With the partnership of Ledger Vault, it provides Hardware Security Modules and multi-signature keys to provide ultimate security features. Moreover, Crypto.com has $500 million in insurance, and you can claim assets in case of any third-party theft. 
HSM and multi-signature keys are enough to provide fool-proof security considering the hot storage. Additionally, the amount in the hot wallets is corporate funds and enough for the customer's daily use. Here are the perks of Crypto.com security:
Manual approval of bulk transactions
Two-factor authentication
Highly developed AI analytics system
Difficult access to hot and cold wallets
Withdrawal screened properly and flagged inappropriate activities
All traffic overhead by automatic encryption
Keeping these factors in mind, it's difficult to say that Crypto.com is unsafe. They put a huge effort into making industry-leading security of the platform. 
Customer Support of Crypto.com
To solve investors' queries, it's important to have unmatched customer support from the platform. Talking about Crypto.com, it ensures best practices to assist users in every possible way. You can check the number of supports listed below in the table. However, some users are not happy with its support which means they are not good at responding to questions. 
| Type | Support Offered | Wait Times |
| --- | --- | --- |
| Contact us form | Yes – for general, regulatory, and law enforcement inquiries | 24 hours |
| Live chat | Yes | 15-30 mins% |
| Customer service number | Yes | Variable |
| Help center | Yes | N/A |
| Social media | Yes | Variable |
Pros & Cons of Crypto.com
Pros
A large list of supported cryptocurrencies in more than 90 countries
Transparent and competitive fee structure
Provide everything under one roof
Created a complete eco-system to support crypto trading
Multiple products are available for use
Unique NFT marketplace built on blockchain
No ATM and annual fee of the cards
Offers easy fiat-to-crypto conversion
A source of passive income by adopting staking
Cons
Some countries still can't access all features
Staking requirements are high
Limits applied on the withdrawals
Sometimes poor navigation becomes irritating
FAQs
Is Crypto.com legit?
Crypto.com is a highly regulated and secured platform for users. In addition, the company has insurance of $500 million by FDIC, making it more reliable. Over this, there has been no history of hacking or scam since its launch. So, we can say it more confidently; it's a legit platform.
Is Crypto.com a good wallet?
Although, it's better to use localized and cold wallets for crypto storage. But the Crypto.com wallets are good enough to provide ultimate security, and it provides you with the security keys for non-custodial management. 
Is Crypto.com better than Coinbase?
Coinbase is a highly stable platform and has enormous traffic on its website. But Crypto.com offers more products and services. Furthermore, it has excellent security techniques to defend against hacking incidents. So, if we compare both platforms, Crypto.com would be a great choice. 
Conclusion: Is it good for investment?
Crypto.com is one of the leading crypto platforms, and choosing it for yourself won't be a bad decision. Many characteristics set it apart from the crowd, and it has a lot to offer. Choosing it for crypto trading, you don't need to go to any other platform for different operations. Moreover, its low fees ensure that you will make a high-profit margin.