Best Paper Trading Platforms For Beginners
Although the overwhelming majority of people just can't profit from cryptocurrency trading, the only way to determine whether you have what it takes is to open a crypto demo account and give it a try. If you can multiply a crypto paper trading or demo account several times, you can have the expertise and mentality necessary to grow a small fund into an immense fortune. The following is a list of the best cryptocurrency paper trading platforms.
You've come to the right venue if you're looking for the latest cryptocurrency paper trading software. As such, allow me to invite you to the world of cryptocurrency trading and to congratulate you on taking this important step.
Trading is merely another art that can be mastered by practice. Instead of losing your actual capital, you can use a paper trading account.
By first experimenting with a paper trading portfolio, you can minimize the possibility of losing real money while still developing your trading strategy. You can trade with a paper trading account without holding any coins or even setting up an exchange account.
In comparison to conventional markets, paper trading simulator applications for Cryptocurrencies are more efficient and can provide you with a sense of actual trading.
What is paper trading?
Paper trading is a simulation of real trading using virtual money. Paper trading allows a trader to test different financial instruments and strategies without risking their own capital. It is a form of backtesting. Paper trading is a simulation of real trading where traders can test different financial instruments and strategies without risking their own funds.
What to look for in a paper trading platform?
Don't you just love the idea of paper trading? The idea that you can practice your crypto trading strategies without risking your hard-earned capital. You can try different strategies, hone your skills and perfect your timing without risking a cent. You can make a lot of mistakes without losing money. You can take your time and master the art of trading before you invest a single dime. There are plenty of good reasons why paper trading is an essential part of every trader's career. A good paper trading platform will allow you to test out different strategies, risk levels and even time frames. You can even practice your own trading psychology and test out your emotional control.
How to start paper trading?
Paper trading is a great way to learn how to trade. It is recommended for trading beginners and experienced traders alike. This is how paper trading works: First, you open a demo account with a broker. Then, you transfer the amount of money that you want to use for your trading. In practice, traders use real money for paper trading. You can set a small limit on your demo account, but you should be aware that you will not be able to withdraw the amount of money from your demo account. Some brokers have a feature that allows you to withdraw just a small amount of money from your demo account. If you do not want to use a demo account, you can open a paper trading account. In this case, everything is the same as when you use a demo account, except that you will not have a real balance. You can track your performance with a paper trading account.
8 Best Paper Trading Apps
Altrady: "Simple, Fast, Secure."
eToro: "Trade with confidence."
TradingView: "The fastest way to follow markets."
Cryptohopper: "World-class automated crypto trading bot."
BitMEX: "The Next Generation of Bitcoin Trading Products."
Nvstr: "Optimize you're investing with technology and collaboration."
BitMart: "The most trusted cryptocurrency trading platform."
StormGain: "The most comprehensive platform for investing in crypto."
"Simple, Fast, Secure."
Altrady is an excellent platform for keeping trades and portfolios in sync across various exchanges. The platform provides both free and paid accounts and you can test your strategies using paper trading.
The home page contains information about the various crypto pairs, live price indexes, wallet balances, and available positions.
About 80% of new traders quit within the first two years. With numerous obstacles, quitting can be a straightforward process. Though trading is a process of training, traders cannot afford to lose much time.
Altrady enables you to develop and thrive with the least amount of risk and optimum output. Via Altrady's groundbreaking trading software, you can develop as a crypto trader capable of effectively using available technologies. Paper trading is just one of the many features that traders can take advantage of on Altrady in 2022.
Additionally, you can analyze your trading background using Altrady's Trade Analytics. Accurately monitor your trading activity and the growth of your assets. Utilize analytics data to help you develop your trading strategies and decision-making before investing your bitcoin.
eToro
"Trade with confidence."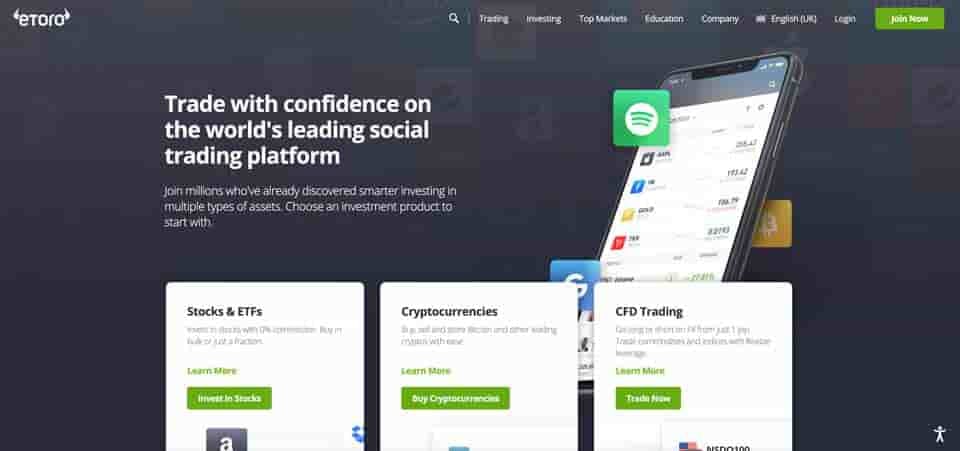 eToro is a multinational financial brokerage firm that offers a trading and investment platform for a range of markets, including cryptocurrency, exchange-traded funds, stocks, indices, commodities, and foreign exchange. The brokerage is a well-known name in social trading, offering a variety of trading options such as asset markets, forex, and cryptocurrency. What many people are unaware of is that eToro also has a trading simulation account for practicing trading.
To get started trading cryptocurrencies and other commodities on eToro, new users can open a free $100,000 Practice Account. Traders can study the price chart for up to 16 digital currencies, install metrics, draw lines and trends, and enter buy and sell orders to enter a spot. Traders who use a demo trading account do not have to think about losing funds.
One of the best features of eToro is the social news stream, which allows traders from all around the world to share their trading ideas, chart analysis, and sentiment on the future of the demand for Bitcoin and 15 other cryptocurrencies. This forum can be used by newcomers to learn how to trade by interacting with other app users and identifying new trade setups.
It is critical to remember that each trader on eToro can employ a unique strategy. However, the advantage of social trading is that it exposes consumers to a variety of cryptocurrency trading techniques. A good way to start is to follow the "Famous Investors" and mimic their trading using a demo account in order to observe their trading style, assess their results, and determine what actual returns would look like when using real capital.
The eToro smartphone trading application includes a sample trading account that allows users to track their positions, place orders, and monitor the market. If you want to know if is eToro good so might be pleased to know that the app is extremely sensitive, and you can also follow trading social feeds on your mobile device to keep up to date on the platform's top traders' activities.
‍The platform is used worldwide and the adoption it's higher and higher, eToro Australia community for example had a big increase in the number of users. Many traders are searching for the differences between binance vs etoro and this is normal as every trader tries to find the perfect tool for his way of trade.
TradingView
"The fastest way to follow markets."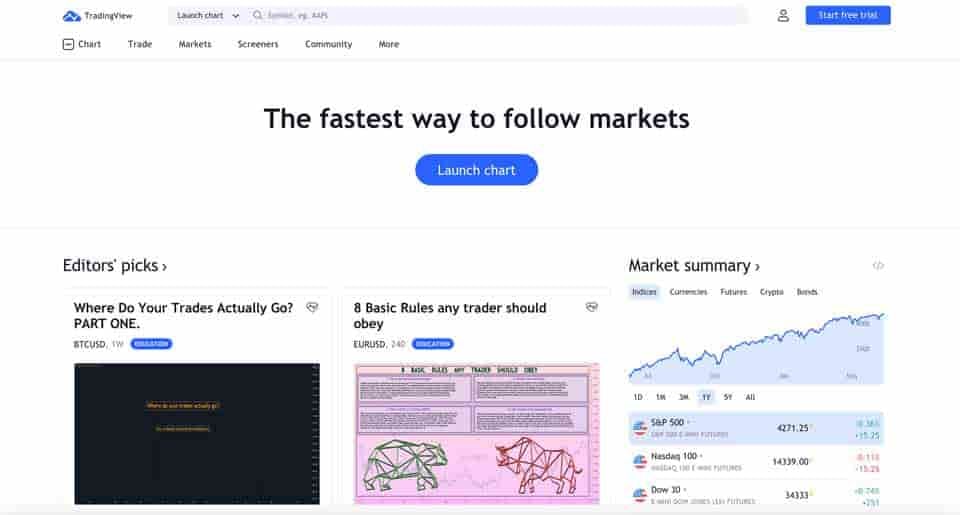 TradingView is a popular cloud-based charting and social networking platform in the trading and investment space. TradingView, founded by the inventor of the charting app MultiCharts, focuses on providing easy, elegant, and fast web-based charts for both cryptocurrency and conventional markets.
TradingView is not a trading platform where you can deposit funds and begin trading with real money. As a result, you'll need to locate a cryptocurrency trading site that allows you to deal with real money. However, TradingView has a fully functional sample account that utilizes the company's proprietary charting framework. It's a little more difficult to enable and is best suited to seasoned investors familiar with the software.
On TradingView, users can create a sample account to practice trading, back-test plans, and get suggestions from their social network. To begin, traders must register for a TradingView account in order to access the demo trade feature and link to a paper trading account.
After activating the demo mode, an order window will appear for entering buy or sell trades. TradingView supports a variety of order modes, including sector, cap, and halt. Another fantastic function is the opportunity to set take advantage and stop-loss orders that can be updated live on the price map. At the bottom of the tables, active positions and pending orders can be viewed.
Not only can you monitor charts, but the app also allows you to create your own trading ideas and share them with trading groups, as well as enter public chats with other traders or create your own private chats.
Cryptohopper
"World-class automated crypto trading bot."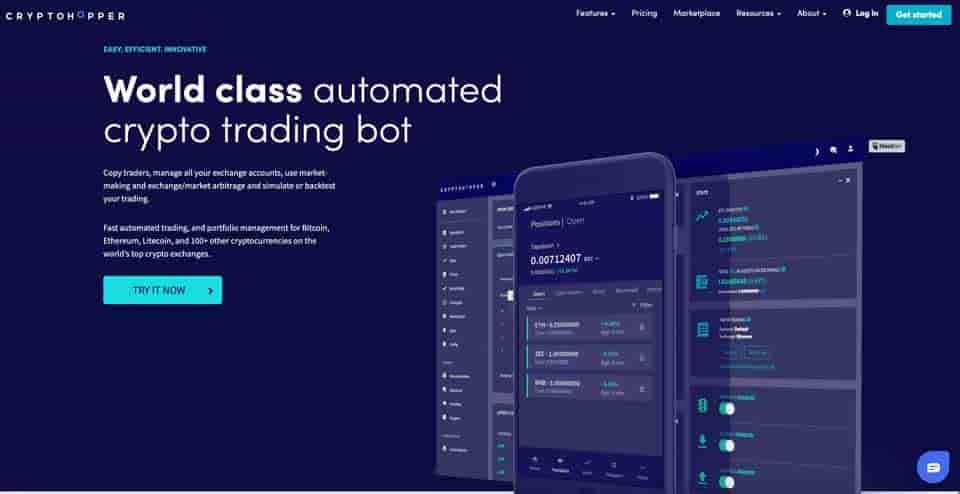 This one is a little more advanced, but if you're feeling really energized today, it might be worth a try. Cryptohopper is a cryptocurrency trading bot that enables you to create a demo account to test their bots. This is not as straightforward as Tradingview or the other simulators mentioned below, but if you want to learn how to use a trading bot, this is your chance.
Cryptohopper, which was created by two crypto-enthusiast brothers, is not an exchange or a paper trading site like the others on this list. It is a cryptocurrency trading bot that allows for the creation of paper trading accounts in order to test their bot.
The free plan included the majority of their trading bots and a paper trading account.
Paper trading on Cryptohopper is similar to regular trading, except that it is based on publicly available data rather than your own exchange account. You can deposit up to 100,000 in any cryptocurrency and use this free simulator to experiment.
The advantage of paper trading on Cryptohopper is that the data is real-time, emulating trading on a live market, you can see also the Cryptohopper review to have a full overview of the tool.
BitMEX
"The Next Generation of Bitcoin Trading Products."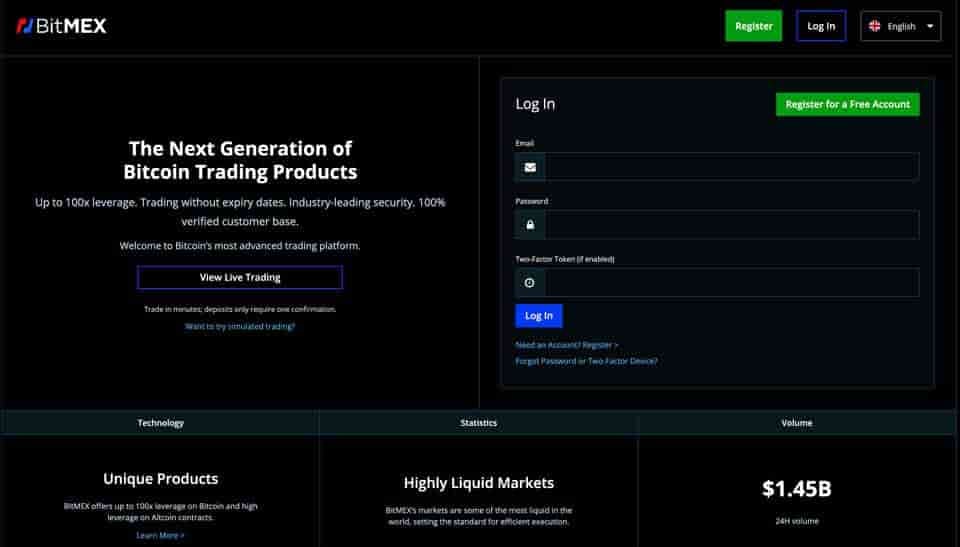 BitMEX is one of the world's largest and most popular margin trading platforms. Traders will purchase and sell contracts for cryptocurrencies for up to 100 times margin.
The exchange provides users with access to the TestNet test server at https://testnet.bitmex.com/, which enables users to easily learn how to transact on Bitmex and even experiment with different techniques without losing their own resources. In demo mode, this is a fully functional trade simulator. Please keep in mind that the prices shown here can vary from the real Bitmex prices, as well as lower liquidity.
BitMEX regards BitMEX testnet as a distinct entity, which means that even though you already have a BitMEX account, you must create a new one in BitMEX testnet, with the original sum of demo XBT replenishable through the faucet. After registering, the customer has access to a trading balance of 0.01 XBT.
‍
Nvstr
"Optimize your investing with technology and collaboration."
Bernard George and Patrick Aber, both Harvard alumni, formed Nvstr in 2017. Nvstr makes S&P Capital IQ data available to their investors for free. This allows you to benchmark your preferred businesses against rivals using high-quality research and analysis results.
You will communicate with other investors and see the stocks in which they are currently invested. You cannot see the positions' values, but rather the stock marks, which helps you to understand their investing strategy. This way, you will generate new investment ideas that you might have overlooked previously. Additionally, you will inquire about group members' investment choices, and you have the complete power of the privacy settings.
If you add a new spot to your account, the app will prompt you to log the rationale for the purchase, including the benefits and drawbacks. This way, you've documented the rationale for the purchase, which is a pretty good aspect given how quickly people forget why they invested in a business in the first place.
Another cool function is portfolio optimization in a single click. This is a one-of-a-kind feature that enables you to handle your portfolio more comfortably than ever before.
Additionally, Nvstr has a virtual trading portfolio. Simply create a free account and you're good to go. Click "get started" on their website, enter your email address, and choose "Open a virtual account instead." Now you can download the app for free, evaluate its features, add new assets to your paper trading portfolio, communicate with others, and conduct research using the Intelligent IQ info.
BitMart
"The most trusted cryptocurrency trading platform."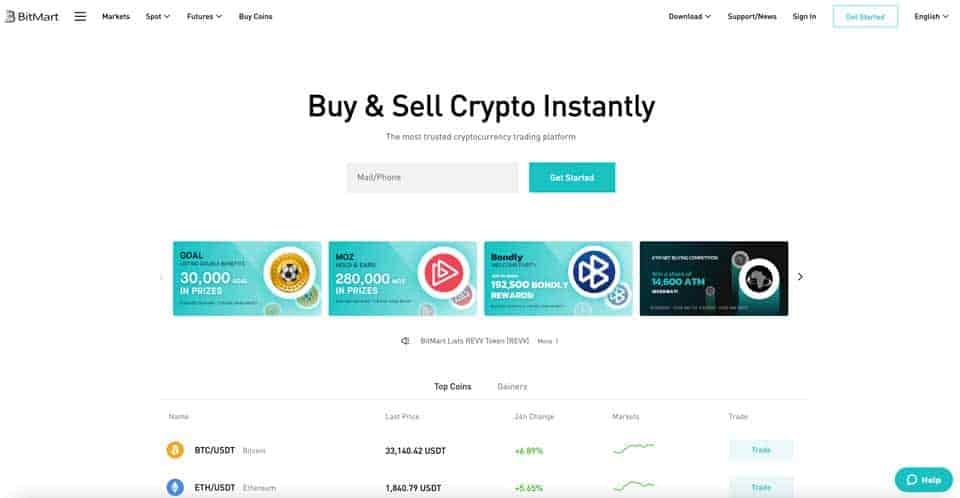 BitMart is a well-known trading website that has risen in popularity since its inception, now boasting over 2 million customers worldwide. BitMart's merchandise and service offerings have been extended to include futures investing, staking, and incentive lending. Users may get started with cryptocurrencies on the exchange by creating a practice account.
You should understand how to buy on Bitmart before you actually use it since it can be confusing at first. You shouldn't buy anything, especially Bitcoin, on an unfamiliar platform. However, once you do know the ins and outs of the platform, it's easy to make purchases and you can use Bitmart to buy a lot of things, not just Bitcoin.
The platform enables you to buy cryptocurrency using your credit/debit card. It supports over 200 high-quality currencies and over 400 trading pairs.
BitMart's user experience is tailored to novice traders trading the crypto spot market, with a subtly different look for futures markets that include leverage options. TradingView provides the maps, which enable new cryptocurrency traders to overlay several technical indicators. As shown below, the virtual trading environment has the same look as a live trading account.
Users who want to finance a real account with BitMart will take advantage of the platform's cutting-edge trading goods and services, which include the following:
Spot demand for over 90 cryptocurrency pairs against BTC, ETH, USDT, and BMX tokens.
The futures market for the trading cryptocurrency of up to 100x leverage BitMart platform for portfolio monitoring and trading from anywhere
Lending on digital assets such as USDC to gain up to 6.25 percent annualized crypto interest.
See also: How to Buy Safemoon on Bitmart
StormGain
"The most comprehensive platform for investing in crypto."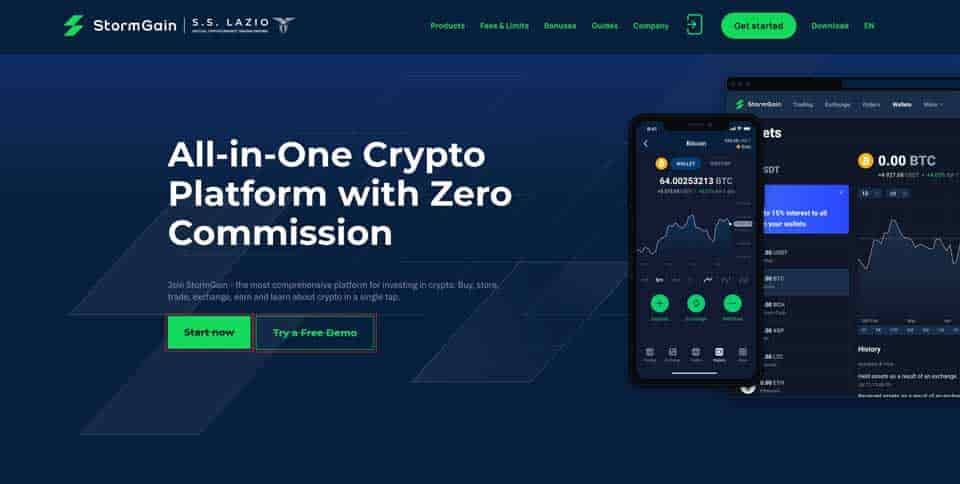 StormGain is a cutting-edge cryptocurrency trading and investment platform that allows users to swap 17 separate derivatives markets for up to 200x leverage. Customers will use the exchange's trial account to simulate trading for actual market data and familiarize themselves with the user interface.
The trading interface is cutting-edge and includes all of the cryptocurrency trading instruments and functionality necessary to achieve an advantage in the sector. StormGain is a serious cryptocurrency trading network, with a sleek GUI, a safe wallet, two-factor verification, and an impressive user experience. With StormGain's demo account, beginners will practice trading on a new and sleek network.
In general, the website is jam-packed with excellent features for traders interested in potentially learning how to exchange Bitcoin on margin. The futuristic user interface and trading maps are among the most user-friendly we've seen for novice traders.
Paper Trading Account Functionalities.
1. Charts: Visual proof is critical for day and swing traders alike.
2. Cost-effective: This is not so much a functionality as it is a common rule of thumb.
3. Data Feed: Real-time, or near-real-time, prices are useful for simulating real market conditions as closely as possible.
4. Trade Reports: They are critical for reporting and the educational process. There are no trade papers, and there is no learning curve.
5. Functionality of the watchlist: Create a table of your most interesting stocks, options, and forex pairs and compare them using various columns such as price, benefit, shift, gap, or value.
6. Alternate: Capabilities for backtesting: Indeed, although the majority of demo accounts lack this functionality, resources such as NinjaTrader and Trade Ideas do.
Conclusion
We hope you enjoyed our article on the best paper trading platforms for beginners. With this wisdom, we know that you can make the most of your paper trading experience when using the right software.