The grid trading bot helps you to buy and sell shares according to a pre-defined price point. Like a flooring system, the spectrum is organized into a number of layers, forming a lattice. It is possible to alter the number of grids to meet your needs.
Best Grid Trading Bots for 2022
This blog will take you through the best grid trading bots available on the market for 2021. Grid trading is becoming increasingly popular as a trading strategy. This blog will walk you through why it should be used and the best grid trading bots.
What is a Grid Trading Bot?
GRID Bot is a trading bot designed to assist you in executing the Grid Trading Strategy. In comparison to the majority of other strategies, it is a trading tactic that fits well in a ranging sideways market with a less direct pathway.
It benefits from the ups and downs of a market's price swings and is most effective where there is no discernible up or downtrend for an extended time. The greater the frequency and magnitude of market swings, the more profitable the technique.
GRID Bot is a cryptocurrency trading bot that needs an exchange API key to operate. Numerous excellent cryptocurrency bot services offer GRID Bots. The following is a list of the top picks.
How to use a grid trading bot?
The grid trading strategy helps you to buy and sell shares according to a pre-defined price point. Like a flooring system, the spectrum is organized into a number of layers, forming a lattice. It is possible to alter the number of grids to meet your needs.
The more grids, the more frequent trading is needed. A price reduction would also cut the grid gap, i.e. the benefit in half would mean that each order will cost a lot less. And this raises the question: do you choose a greater number of trades with fewer trades or a lower total profit?
Using grid trading bots allows you to take advantage of trends in the price of a commodity while remaining constant over time. Trading tactics are one of the strongest in fluctuating markets.
Manually applying a grid trading strategy will be very difficult and time-consuming. The online trading bots support you by getting part of your transactions done when you're not connected to the grid. It is excellent for short-term trading and stays open 24/7.
How to configure a Grid Trading Bot?
Choose a coin for use with the grid bot.
Change the parameter manually or with the assistance of an AI advisor.
Build your very first Grid Trading Bot and reap the rewards.
After the Grid Trading Bot is established, you can view the Grid Trading Bot's information and ROI summary.
Are Grid Bots any Good?
Is it possible to profit from trading in Bitcoin? Can you see where I'm going with this? When it comes to investing, the outcome is highly dependent on the trading ability and risk tolerance. Grid trading bot assists you in purchasing low and selling high. It's an excellent instrument if you have a trading strategy in mind. You are not required to monitor the chart continuously during the day; instead, let the bot assist you in executing the trades.
How to create a Grid Trading Bot?
You can build your own custom grid trading bot by modifying one of the numerous open-source grid trading bots available on Github. If you prefer to code your own crypto bot, you can check for it on Google. It enables you to tailor the functionality to your circumstances and trading preferences. However, you should consider the expense of the cloud and server, as well as the uncertainties associated with the code. Numerous excellent firms now offer grid trading bots for which you do not need to know how to code. What you need to do is choose a parameter and a trading pair to use with the bot.
8 Best Grid Trading Bots
Best overall: Altrady - Q1 2022
Best for beginners: Binance
Pioneering platform: BitUniverse
Best for illiquid pairs: KuCoin
Most popular: Pionex
Best for Automatic Orders: Quandency
Best for Paper trading: 3Commas
Best for demo trading: Bitsgap
1. Altrady Grid Trading Bot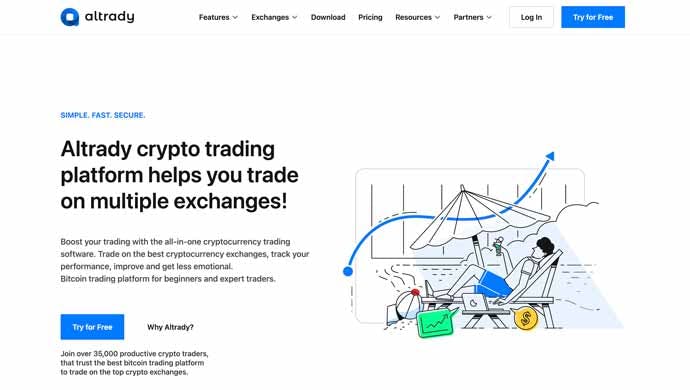 While the Altrady cryptocurrency trading platform is a newcomer to the automated trading game, the application's enhanced capabilities indicate a bright future for the trading group. In Q1 of 2022, Altrady will launch grid bots.
Altrady launched a smart trading terminal in 2020 that includes multiple exchange trading. This function enables you to transact on any of these markets without encountering normal difficulties or complications.
Altrady's automated fund manager allows you to keep track of the flow of your Bitcoins and altcoins across exchange wallets. This provides you with a concise analysis of your overall assets and a thorough breakdown of their allocation by currency and crypto exchange. With automated asset monitoring, you can quickly make the best trading decisions and change your trading strategy when required.
Altrady also has an automated break-even calculator. This method allows you to instantly determine if you are indeed profiting from your trades on a given market.
Additionally, you can use Altrady's trading analytics to determine the average value of your trades over the course of your buy and sell history. This tool aggregates all of the data required to assess your trades and direct your future activity.
After connecting your Altrady account to either of the exchanges through API, you may automatically begin trading. Utilize Altrady's website or desktop browser to buy and sell coins on various exchanges. Manage your trades and keep an eye on your places from everywhere with a single mobile app.
Additionally, Altrady's multi-exchange trading terminal has a tab that allows you to browse various charts for your favorite stocks. Select as many markets as you want to build your own layout to display business activity on a single screen.
Advanced orders are a modern order class added to Altrady's existing order forms. Take benefit and trailing stop orders allow you to engage in the most lucrative market opportunities even while you are sleeping or away from your trading screens.
Altrady's roadmap indicates that additional automatic trading capabilities will be launched in June-July. Altrady will release bots and a marketplace in the second quarter of 2021 to fully automate the process of buying and selling coins. If this is accomplished, traders will no longer be required to choose a marketplace or establish an initial buy order. They will begin trading immediately by using bots and marketplaces within the Altrady cryptocurrency app.
See also: Best Cryptocurrency Trading Terminals
2. Binance Grid Trading Bot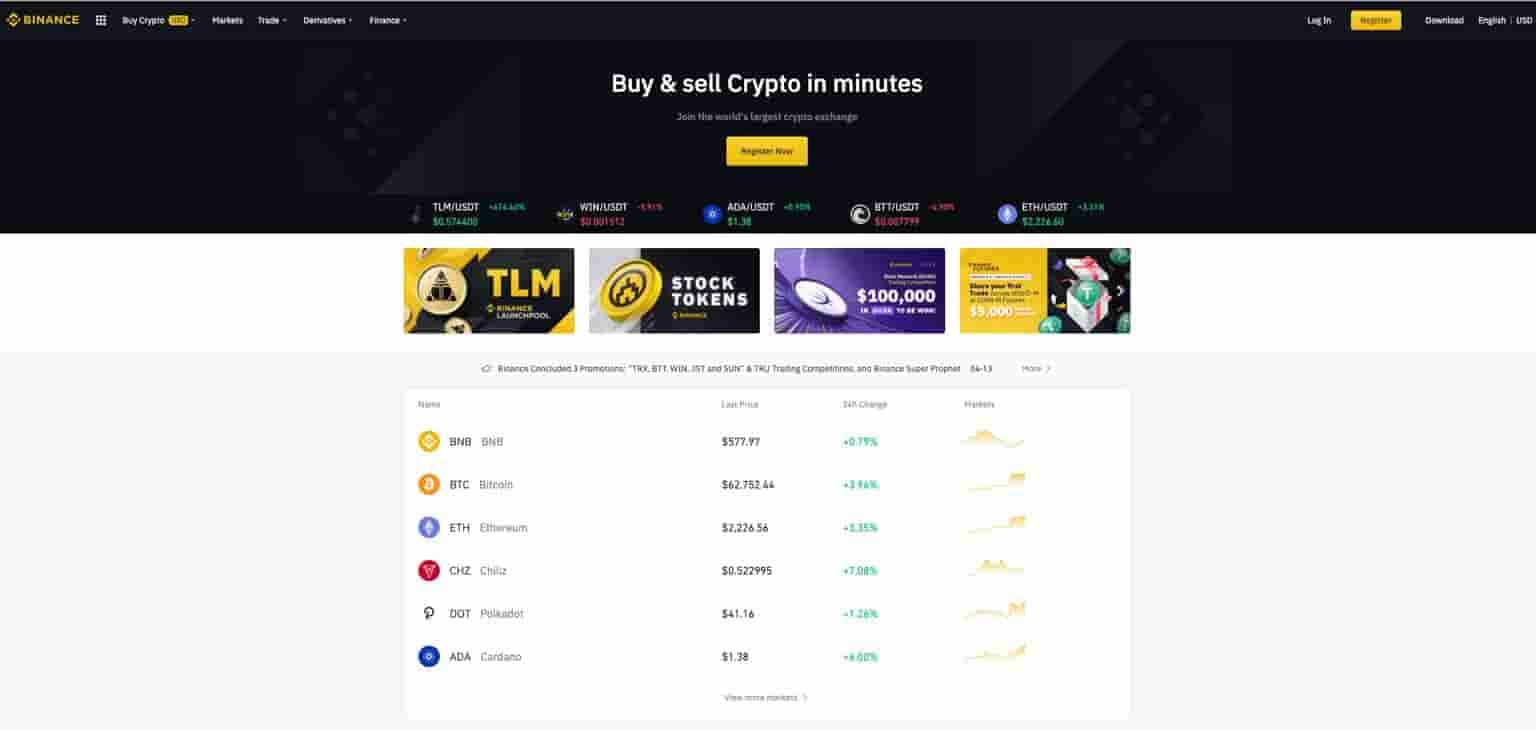 Binance is the world's first cryptocurrency platform, supporting over 300 altcoins for cryptocurrency traders. Retail buyers will buy Bitcoin on the Binance platform using their credit cards. Although many Binance users may not know about it, the various bots and utilities available on the platform make it easy to trade cryptocurrencies.
Binance currently only offers grid trading bots on their futures exchange, which is better suited to those who choose permanent futures trading. Not recommended for cryptocurrency newcomers, since you risk seeing your funds liquidated. Binance's grid trading bot operates under a fundamentally different premise to other grid trading bots. When you build the bot, it will not occupy any positions for you but will short or long on each grid level if the price exceeds the buy and sell orders.
Fee: 0.1 % commission on maker and taker transactions. The trading bot does not need a membership fee.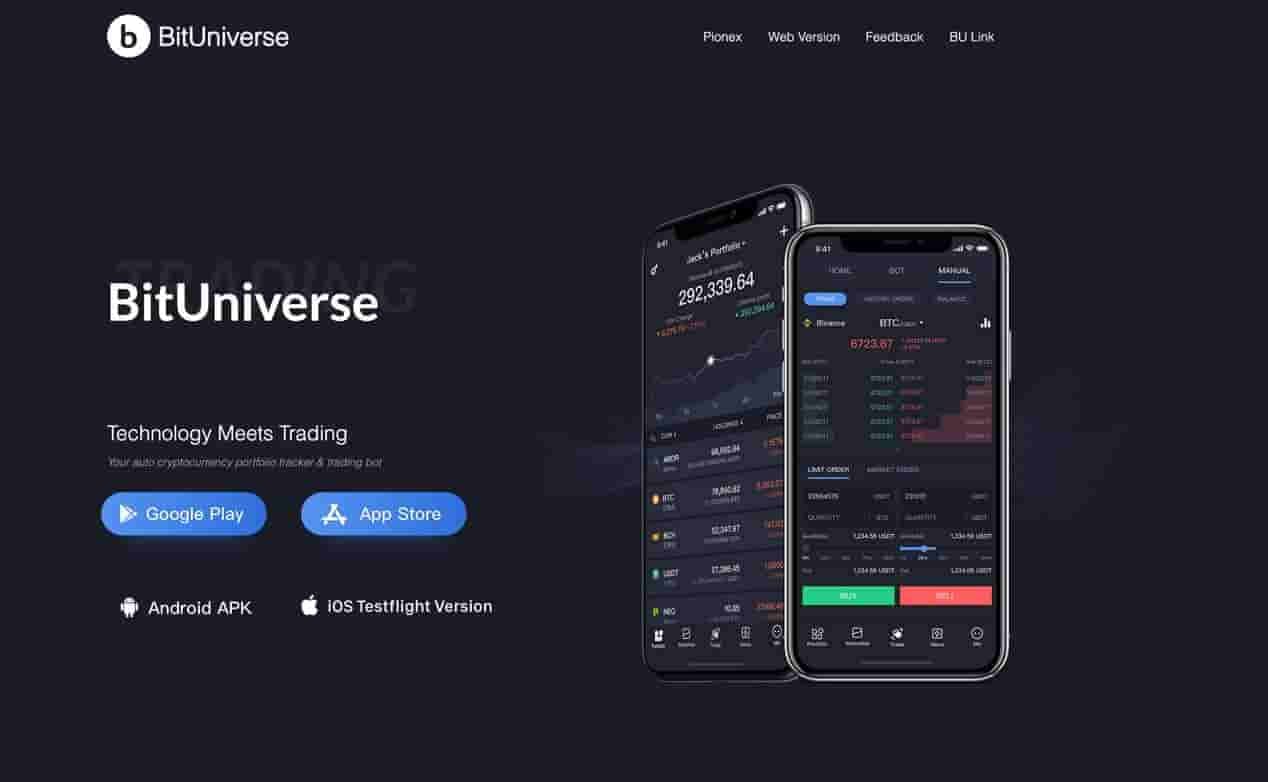 BitUniverse is the first company to introduce grid trading bots to the cryptocurrency space. The team collaborated with the majority of the world's largest exchanges to align their grid trading bot with the exchanges' API keys. The recently released Grid Trading Bot functionality enables you to profit more from swing trading. It features a mobile-friendly GUI that enables crypto traders to quickly adjust the App's parameters.
Grid Trading Bot is only available in a limited number of BitUniverse versions. For iOS users, the Signature edition can be downloaded from the official website. For Android devices, the BitUniverse app is available directly from the Play Store.
Fee: There is no membership fee associated with the trading bot.
Feature: A standard grid trading bot that accepts API keys from over 20 exchanges.
4. KuCoin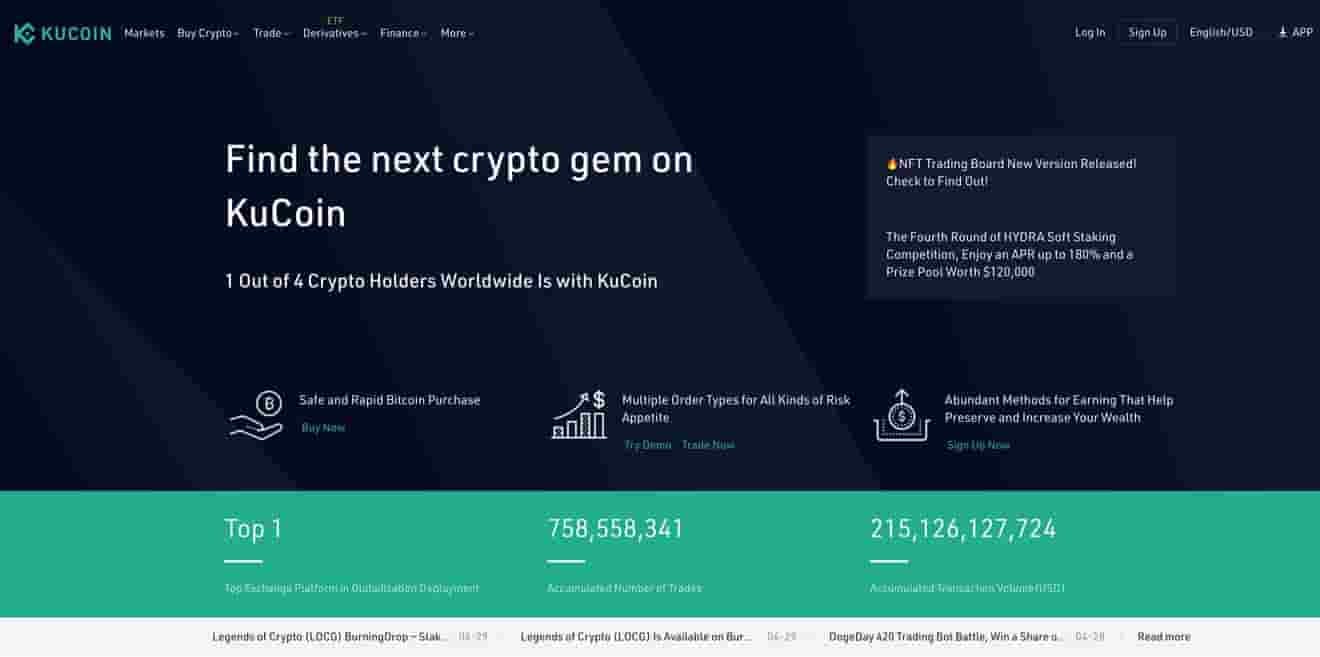 KuCoin was a well-known exchange in 2017. It offers a diverse range of altcoins, but liquidity is not as strong as on other big exchanges. KuCoin's app includes a grid trading bot. One of the better use cases is to use KuCoin's grid trading bot for those illiquid trading pairs; however, this is not recommended for large capital because the depth can crowd you out.
The exchange focuses on the volatility market and employs the classic grid trading approach. Classic Grid Trading is a subset of quantitative trading in which grids are set up at various values in order to wait for market triggers.
Simply placed, Grid Trading can execute a certain number of buy and sell orders at different price ranges depending on a specified price. A purchase order is triggered when the price falls into one of these grids; a sale order is triggered when the price increases into another grid. As long as the price remains within a predetermined range, the trading bot will constantly "Buy Low, Sell High" for you, profiting even while you sleep!
Due to the fact that Grid Trading is pursuing uncertainty, increased volatility results in higher returns. Thus, the optimal strategy is to choose the riskiest pair.
Following your selection of a trading pair, the next move is to define the maximum and minimum values. The Minimum Price is the cheapest purchase price. If the token price falls below that level, grid trading may halt before the price returns to the range. Similarly, if the token price exceeds your environment, no more commands will be executed.
Following that, specify the number of orders placed. Within the same price point, as more orders are placed, the grid becomes denser. For a limited number of put orders, the price differential for each order may be large, resulting in fewer fulfilled orders while profit margins for each order could be higher.
Finally, you could enter an investment amount for Grid Trading. If the first three phases are completed, the rate of return on each loop of purchasing low and selling high is fundamentally determined; moreover, the ultimate return is contingent upon the overall investment.
5. Pionex

Pionex is the leading exchange, with 12 built-in trading bots. Grid trading bot is the platform's most popular trading bot. Pionex is one of the largest Binance traders and concurrently aggregates liquidity from Huobi Global.
Pionex offers two distinct categories of Grid Trading Bots: "Use AI Strategy" and "Set Myself."
If you choose "Use AI Strategy," Pionex AI Advisor will recommend a series of parameters. The parameters were determined by doing a backtest on the last seven days. As a demo, you'll see the suggested Price Range and Profit per Grid. All you have to do is use the slider to choose the percentage of your funds to use with the Grid Trading Bot. After that, simply press CREATE and the bot will begin trading and earning you passive income!
If you choose "Set Myself," you will be prompted or enter four to five parameters: the upper limit price, the lower limit price, the number of grids, the amount per grid, and the stop-loss price.
After you create the bot, it will request permission to re-allocate the value of the two coins in the selected pair for you. Numerous buy and sell orders will be placed, enabling the bot to buy low and sell high for you, as long as the price remains within the Price Range you choose.
Fee: 0.05 % commission on maker and taker transactions. The trading bot does not need a membership fee.
Feature: Six distinct grid bots.
6. Quadency
Quadency is another common cryptocurrency trading bot that includes a grid bot for free. However, their bot is unique in that you cannot manually adjust the upper and lower limits.
In automated mode, the bot can automatically determine the grid's upper and lower borders using the trailing seven days' higher and lowest prices (+/- 2%). In automatic mode, ten grids are used. If the price reaches the edge of the grid, the bot will cancel all open orders and cease trading.
However, the platform offers you the option of what to do after the exit price is hit. You should take the following actions:
1) Cancel all orders and stop bot
This is the alternative to use if you want to cancel all remaining open orders and terminate the bot.
2) Cancel all orders, close all positions and stop bot
This option is useful if you want to close all open positions as well as cancel any remaining open orders. A spot is available if the bot purchased but did not sell the same quantity, or vice versa, if the bot sold but did not buy back the same quantity. Market orders are used to close positions, which can result in substantial slippage in low liquidity markets.
3) Take no action
This is the preferred method if you want to wait for the price to revert to inside the grid boundaries. The bot will start trading until the price reenters the grid. If the price does not re-enter the grid, however, the orders will stay open indefinitely unless manually cancelled.
See also: Best Crypto Payment Cards
7. 3Commas
3Commas provides free paper trading for those interested in testing the Grid bot before investing real money. Additionally, it integrates with the majority of common cryptocurrency exchanges, and their free tutorials and guides can assist you in mastering the art of Grid trading.
Additionally, 3Commas provides AI-based grid trading, in which you can let their AI determine the grid's upper and lower limits. The bot analyzes the market fluctuations of your chosen token over the last seven days and creates trading networks and extremes.
The GRID bot allocates the bot's investment to the left and right sides of the chosen pair and establishes a limit buy and sell order grid within the pipe. When the price crosses a buy or sell line, it will execute the exchange instantly on your behalf.
Manual mode allows you to individually change the price scale, the number of grids, and their spacing. If you have the necessary skills, it enables you to develop your trading strategy.
8. Bitsgap
Grid trading bots are also available from Bitsgap. They allow you to specify the grid size, the exchange rate, the price, the lower and upper price limits, and the percentage of funds to distribute. Furthermore, they have optional features such as stop-loss, take-profit, and trailing up.
Bitsgap measures benefit per grid by subtracting the percentage of the grid's price from the percentage of the trading fee for both buying and selling.
They allow you to customize the grid size and spacing, which has a direct impact on your earnings. Benefit per grid indicates the profit that can be earned from trading between the two grids, minus the trading fee.
The grid size can range from four to ninety-nine. Bitsgap suggests setting the benefit per grid at between 0.5 and 2%.
The investment required to start a bot is determined by the criteria you specify. Grid Quantity is used to determine the minimum deposit amount. Bitsgap determines the smallest possible order size and increment.
Traders will choose from three different pricing packages varying in price from $19 to $144. Trading signals, portfolio management, extended order forms, and demo trading are all included with all three sets. Furthermore, the Pro kit comes with priority service.
Conclusion
We hope you enjoyed our article about the best grid trading bots for 2021. With this knowledge, we know that you can make the most of your bot trading and make smarter decisions when trading with your bots.