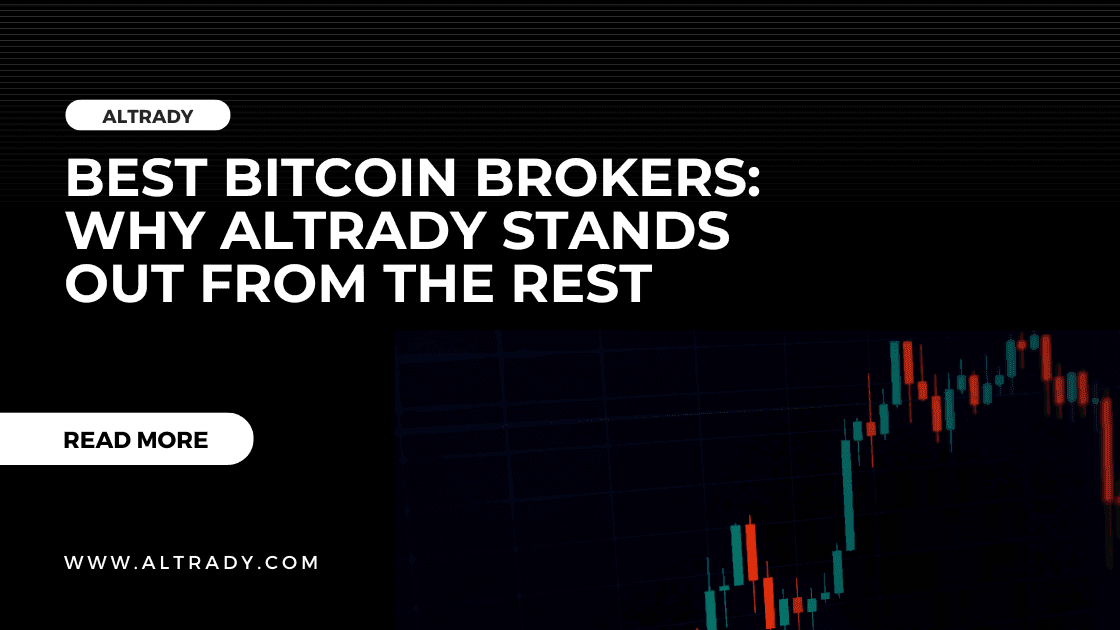 Published On:
May 15, 2023
4 min
Best Bitcoin Brokers: Why Altrady Stands Out from the Rest
When it comes to Bitcoin trading, having the right broker can make all the difference. Among the various options available, Altrady stands out as the ultimate choice for traders.
In this article, we will explore why Altrady is the best Bitcoin broker in the market and how it surpasses other platforms in terms of convenience, functionality, and success. Whether you are a beginner or an experienced trader, Altrady is here to elevate your Bitcoin trading journey to new heights.
6 Best Bitcoin Brokers
-----------------------------------------------------------See Why Altrady Might Be a Better Broker
-----------------------------------------------------------
Bitcoin Brokers
Bitcoin, the world's most popular cryptocurrency, has revolutionized the financial landscape. As the trading volume and market for Bitcoin surpass that of any other cryptocurrency, finding the best
Bitcoin brokers have become crucial. Among the various options available, Altrady stands out as the ultimate choice for traders.
So let's explore why Altrady is the preferred platform for Bitcoin enthusiasts.
Altrady: The Ultimate Bitcoin Broker
Altrady sets itself apart as one of the best Bitcoin brokers in the market, offering a user-friendly interface that makes trading a breeze. Whether you want to buy, sell, or trade Bitcoin, Altrady provides a seamless experience.
Trade on Multiple Exchanges: With Altrady, you can trade on multiple exchanges from a single interface. It lets you connect your account to over a dozen exchanges, providing unmatched convenience and accessibility.
All-in-One Trading Platform: Altrady offers an all-in-one trading platform that combines essential features to enhance your trading experience. It includes free paper trading plans forever, smart trading options, signal bots for spot and futures trading, and GRID bots with trailing up and down features.
Safe, Secure, and Easy to Use: Altrady prioritizes the safety and security of its users' funds. The platform employs robust security measures to ensure the protection of your assets. Additionally, Altrady's intuitive interface makes it easy for beginners and advanced traders to navigate the platform seamlessly.
Engaging Interface: Altrady boasts an engaging and visually appealing interface. It provides a user-friendly experience that keeps you immersed in your trading activities.
Preferred Choice for Success: With over 70,000 active traders, Altrady has established itself as a trusted platform for Bitcoin trading. Its comprehensive features and user-friendly interface make it the preferred choice for traders aiming for success.
Comparing Altrady with Other Bitcoin Brokers
While other Bitcoin brokers like Robinhood, eToro, Kraken, Binance, and Coinbase offer their features, Altrady outshines them with its unique combination of convenience, security, and functionality.
Robinhood
Robinhood's commission-free system and user-friendly interface make it a popular choice for beginners and traders with low trading volumes. However, Altrady surpasses Robinhood by providing advanced features, diverse platform compatibility, and a broader range of trading options.
eToro
eToro is known for commission-free crypto trading and its copy trading feature. While eToro offers convenience in copying trades, Altrady's all-in-one trading platform, extensive compatibility with multiple exchanges, and user-friendly interface make it a superior choice for traders seeking a comprehensive trading experience.
Kraken
Kraken is a leading cryptocurrency exchange, but Altrady surpasses it by offering an intuitive and engaging interface, compatibility with multiple platforms, and advanced trading options like margin and futures trading. Additionally, Altrady's emphasis on user experience and convenience further sets it apart from Kraken.
Binance
Binance, the largest cryptocurrency exchange by market cap and trading volume, offers an extensive range of cryptocurrencies for trading. However, Altrady's seamless integration with multiple exchanges, all-in-one platform features, and emphasis on user-friendly design make it a preferred choice for traders seeking a comprehensive trading solution.
Coinbase
Coinbase is a renowned crypto exchange known for its top-notch safety and secure transaction channels. However, regarding advanced trading features, Altrady surpasses Coinbase by providing a more comprehensive trading platform and compatibility with multiple exchanges.
In conclusion, while several Bitcoin brokers are available, Altrady is the top choice for traders seeking convenience, functionality, and security. Its all-in-one trading platform, ease of use, compatibility
Related Articles