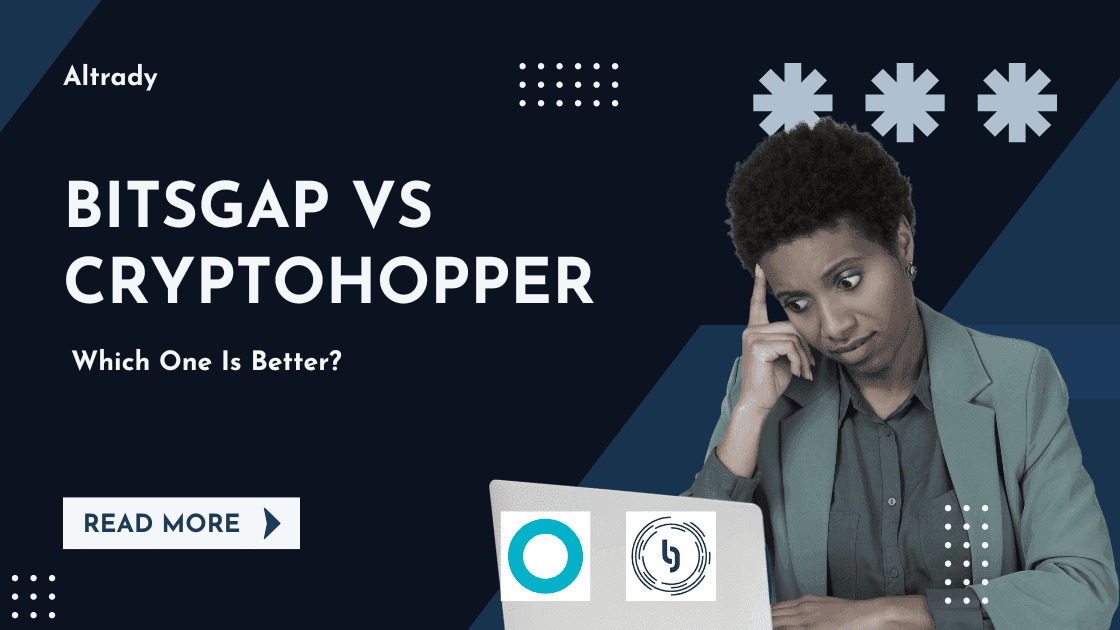 Author: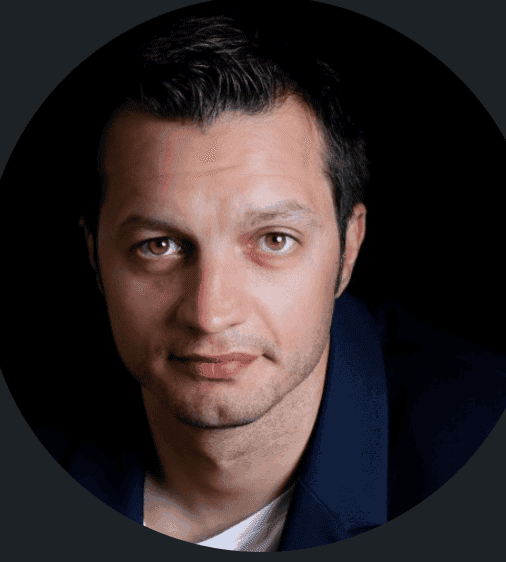 Catalin
Published On:
May 11, 2023
12 min
Bitsgap vs. CryptoHopper: Which Crypto Trading Platform is Right for You?
As a cryptocurrency trader, you're always looking for ways to automate your trading and take your profits to the next level. Regarding automation, two main platforms are worth looking at: Bitsgap and CryptoHopper.
Both tools offer a wide range of features, but they have some key differences.
So how do you decide which is the best bot for your needs?
This comparison guide will examine both platforms and help you decide the best option. Let's get started!
Bitsgap Vs CryptoHopper: A Brief Overview
Bitsgap
The Bitsgap platform is an intuitive and easy-to-use crypto trading tool that allows you, the trader, to access 25+ cryptocurrency exchanges in one place.
It's simple; choose what you're interested in buying or selling, then commit those funds.
Bitsgap's arbitrage feature is a great way to make easy money. You have to find opportunities that gap between the prices on different exchanges and buy when there's an imbalance in value.
The bots of Bitsgap are designed to provide maximum profit and minimum time investment. They automatically close in on profitable deals by day traders, achieving gains that would be hard for even the most skilled trader to match.
The Bitsgap team is a group of dedicated developers working hard to create an all-inclusive portfolio management software for crypto traders. They started from scratch in 2018 with this vision, and it's paying off.
Their product has grown over time to become one of the most popular trading platforms in crypto.
With all this extensive functionality, it's no surprise they can accommodate newcomers and veterans with different needs. They have everything from those just starting their journey through cryptocurrencies to experienced traders looking for something more adventurous.
Bitsgap has fewer competitors than Cryptohooper as they offer the manual trading option, and the best Bitsgap alternative is Altrady, offering more functionalities and the possibility of more than one account per exchange–this is a significant limitation, especially for bot trading for which many users like to segregate their funds.
-----------------------------------------------------------
Discover why Altrady outshines Cryptohopper & Bitsgap
-----------------------------------------------------------
CryptoHopper
CryptoHopper is an online platform that allows you to use a trading bot. The CryptoHopper bot was first launched in 2017, it has facilitated over 140 thousand trades for people worldwide. It is a semi-automated bot that only does what you want when programmed with the right intentions.
For example, your primary objective was to purchase Bitcoin whenever its value increased by more than 5% over 24 hours. This is one outcome from many other possible results, depending on how skillful programmers decide to program their bots.
The CryptoHopper bot is compatible with thirteen leading cryptocurrency exchanges, so you can set it up to trade on any of these platforms. This will help ensure your automated trader has enough liquidity - 24 hours per day.
The platform offers a wide range of features to traders at various levels. So whether you're an experienced investor or just getting started, the platform has something that will suit any trader's style and taste.
In the last, CryptoHopper allows you to beat your competition and gives users access for free. Their pricing plans are affordable and will vary depending on what kind of use they need.
There are many Cryptohooper alternatives in the market, and Altrady is the best alternative to Cryptohooper in 2022. Offering you the option for manual trading and not just bots. Try now for 14 days for free.
| Quick Summary | CryptoHopper | Bitsgap |
| --- | --- | --- |
| Bot types | 3 categories: Trading Bot, Market Maker, Arbitrage | Multiple GRID bots |
| Exchange support | 13 exchanges, including 4 official partners - HitBTC, OKEx, Bitpanda Pro, Bitvavo | 28 exchanges (FTX, Bitfinex, Huobi, Coinbase Pro, Bittrex, HitBTC) |
| Ideal for | Advanced traders | Medium-level to advanced |
| Demo/backtesting | Yes | Yes |
| Manual trading | No | Yes |
| Customer support | Email, Phone number, Internal chat | Help Center, Live chat |
| Education | CryptoHopper Academy, tutorials, Facebook learning community | Educational hub |
Bitsgap Vs CryptoHopper: Features Comparison
Bitsgap is a bot that connects to multiple exchanges through one interface. In addition, it offers features like arbitrage, portfolio management, and automated trading.
CryptoHopper is a bot that allows you to trade automatically on different exchanges. It offers backtesting, trailing stop loss, and automated trade execution.
Both bots have their advantages and disadvantages. So let's take a closer look at each bot to see which one is better for you.
Features of Bitsgap
Arbitrage is a trading strategy involving buying and selling assets to profit from the price differences between different markets. Bitsgap is designed to be an all-in-one solution for cryptocurrency arbitrage trading. The platform lets users connect to different exchanges and view real-time prices for all supported cryptocurrencies. In addition, the arbitration filter allows users to narrow the list of exchanges to only those with the best arbitrage opportunities.
Besides its great user interface, Bitsgap offers an excellent portfolio management feature. This feature lets you track all your digital assets in a single place. For example, you can add new coins and tokens by searching for them on the exchange's database. The portfolio management feature also provides detailed information about each asset. For example, you can see each asset's current price, 24-hour volume, and percentage change. This information can help you make better investment decisions.
It has been shown to be effective in helping people to make money through trading. Additionally, it is easy to use and can be configured to meet each user's needs. Finally, it is reliable and has a track record of being able to help people to make money through trading. For these reasons, it is highly recommended that people use the Bitsgap automated trading feature when trading cryptocurrencies.
Features of CryptoHopper
It offers a backtesting feature to its users that allows them to test their trading strategies on historical data. This is an essential feature, as it allows traders to analyze and improve their strategies before risking any real money. The backtesting feature offered by CryptoHopper is very comprehensive.
It allows traders to test their strategies on various cryptocurrencies and exchanges. It also provides detailed reports that help traders understand how their strategy performed. Overall, the backtesting feature offered by CryptoHopper is impressive and can help traders improve their trading skills.
As we all know; the trailing stop loss is a critical feature in trading. It helps us lock in our profits and prevent us from losing money if the market turns against us. The CryptoHopper trailing stop loss feature is one of the best in the business. It is very user-friendly and easy to use.
You can set it up in just a few minutes, and it will start working immediately. For example, it is a great way to protect your investment from sudden market changes. Moreover, it can also help you to maximize your profits by automatically selling your coins when they reach a specific price.
Automated Trade Execution
The CryptoHopper automated trade execution feature is designed to take the guesswork and emotion out of trading by automatically executing trades on your behalf. It can be a handy tool for those who want to maximize their trading activities.
Using this feature, you can place trades without constantly monitoring the market or your positions. This can free up significant time and energy, which can be better spent elsewhere. Additionally, it can help you to avoid making costly mistakes that could result in losses.
So, which bot is better? It depends on what you are looking for. If you are looking for a bot that offers arbitration and portfolio management, Bitsgap is the better option. On the other hand, if you are looking for a bot with backtesting and automated trade execution, then CryptoHopper is the better option.
Bitsgap Vs CryptoHopper: Ease of Use
There is no doubt that both Bitsgap and CryptoHopper are great crypto trading bots with a lot to offer. However, when it comes to ease of use, we have to give the edge to CryptoHopper.
The bot is highly user-friendly; even beginner crypto traders can get started without problems. On the other hand, Bitsgap is a bit more complicated and requires prior knowledge of crypto trading to be used effectively.
This is not to say that Bitsgap is a bad bot – it's just that CryptoHopper is a little bit easier to use, which can be a big plus for beginners. Overall, both bots are excellent options and will help you improve your trading results, but if you're looking for the easiest way to get started, then CryptoHopper is the better option.
Bitsgap Vs CryptoHopper: Security
Bitsgap security is the best in the market. They take data security and user privacy very seriously. Their systems are designed with multiple layers of security, including firewalls, intrusion detection systems, and password protection. In addition, the platform uses encryption technology to protect your data during transmission.
Also, they do not sell or share your personal information with any third parties. Bitsgap has several security features, including two-factor authentication and encryption technologies. As a result, you can be confident that your data is safe when it is stored on Bitsgap servers.
In addition to the security features that are built into Bitsgap, they also offer several resources to help you keep your data safe. The blog includes several articles on staying safe online, and the support team is always happy to help with any questions.
CryptoHopper is said to be one of the most secure cryptocurrency trading platforms in the world. It has many features that make it very difficult for hackers to penetrate. For example, all user data is encrypted and stored in multiple locations. In addition, two-factor authentication is required for all account logins.
These security measures have helped CryptoHopper maintain a perfect track record when it comes to hacking attacks. There have been no successful breaches to date, which is a testament to the platform's robust security measures. Overall, CryptoHopper is an incredibly safe and secure way to trade cryptocurrencies.
Bitsgap Vs. CryptoHopper: Community & Reputation
When it comes to community and reputation, both Bitsgap and CryptoHopper have strong points. However, CryptoHopper has a slight edge over Bitsgap in this area. CryptoHopper has an active community of users who are always willing to help each other, and the platform also has a good reputation among industry experts. Bitsgap has a strong community, but it's smaller than CryptoHopper's.
Pricing Plan of Bitsgap
As mentioned, Bitsgap has three different pricing plans - Basic, Pro, and Business. In this section, we will give you a comprehensive overview of all three plans so that you can decide which one suits your needs the best.
The Basic plan is the most affordable option, and it gives you access to all the essential features you need to start trading cryptocurrencies.
With this plan, you can use 2 GRID Bots, 10 DCA bots, and unlimited Smart Trading and get 24/7 live support. The price for the Basic plan is $25 per month.
The Advanced plan is the next step, giving you access to even more features than the Basic plan. For example, this plan can connect up to 5 GRID Bots, 50 DCA bots, Futures bots, Trailing Up and Down and unlimited Smart Trading. The price for the Advanced plan is $59 per month.
The Pro plan is the most comprehensive option and gives you access to all the basic and Pro plans' features. With this plan, you can connect up to 20 exchanges, use 100 bots simultaneously, and get 24/7 live support. The price for the Business plan is $129 per month.
Pricing Plan of CryptoHopper
Three pricing plans are available on CryptoHopper: Pioneer, Explorer, Adventurer and Hero.
The Pioneer plan is free with limited features, the Explorer plan is for investors with small account sizes, the Adventurer plan is for those with medium account sizes, and the Hero plan is for those with large account sizes.
The Explorer plan has a monthly fee of $19, the Adventurer plan has a monthly fee of $49, and the Hero plan has a monthly fee of $99.
All plans include unlimited exchanges, 24/7 support, and market analysis.
The starter plan allows you to make up to 80 open positions/exchange, the Adventurer plan will enable you to make up to 200 open positions/exchange, and the business plan allows you to make 500 open positions/exchange.
The most significant difference between the plans is their number of features. However, if you are new to investing or have a smaller account size, the Explorer or Adventurer plans might be better options.
Bitsgap Vs CryptoHopper: Pros & Cons
PROS of Bitsgap
The bot is designed to work with the most popular exchanges
Support for multiple languages.
A user-friendly interface.
Offers a free trial period.
CONS Of Bitsgap
It's a relatively new platform and doesn't offer some features.
Doesn't have a mobile application.
Limited signal bot
PROS of CryptoHopper
You can trade on multiple exchanges at once.
Four-level referral system.
Cloud-based so that it can run 24/7.
CONS of CryptoHopper
Can be expensive if you are trading on multiple exchanges.
Customer service can be unresponsive at times.
Bitsgap Vs CryptoHopper: FAQs
What is the difference between Bitsgap and CryptoHopper?
Bitsgap is a comprehensive crypto trading platform that offers users powerful tools for managing their portfolios, analyzing markets, and executing trades. CryptoHopper is a cloud-based crypto trading bot that enables users to automate their trading strategies.
What are the benefits of using CryptoHopper over Bitsgap?
CryptoHopper has several benefits over Bitsgap.:
It is much easier to use, especially for beginners.
It offers customization options and allows users to test their strategies before live trading.
It includes features like trailing stop loss and take profit, which can help users maximize their profits.
Which platform is more expensive?
Bitsgap is more expensive than CryptoHopper. A monthly subscription to Bitsgap starts at $25, while a monthly subscription to CryptoHopper costs $19.
Which platform offers more features?
Bitsgap offers more features than CryptoHopper. For example, Bitsgap includes a portfolio tracker, allowing users to trade on multiple exchanges through one account. CryptoHopper, on the other hand, only supports automated trading on a single exchange.
Conclusion: Which One Is Better?
So, which platform is better? It depends on your needs as a trader. CryptoHopper also offers a paper trading feature that allows users to test their strategies before risking real capital, which is unavailable on Bitsgap. So, if you're looking for a comprehensive all-in-one solution, Bitsgap is the better choice. But if you're looking for more flexibility and customization options for your bot trading strategies, CryptoHopper is better.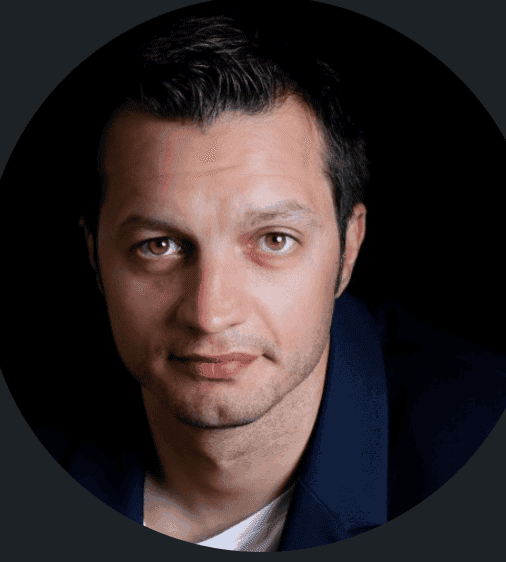 Catalin
Catalin is the co-founder of Altrady. With a background in Marketing, Business Development & Software Development. With more than 15 years of experience working in Startups or large corporations.

Related Articles