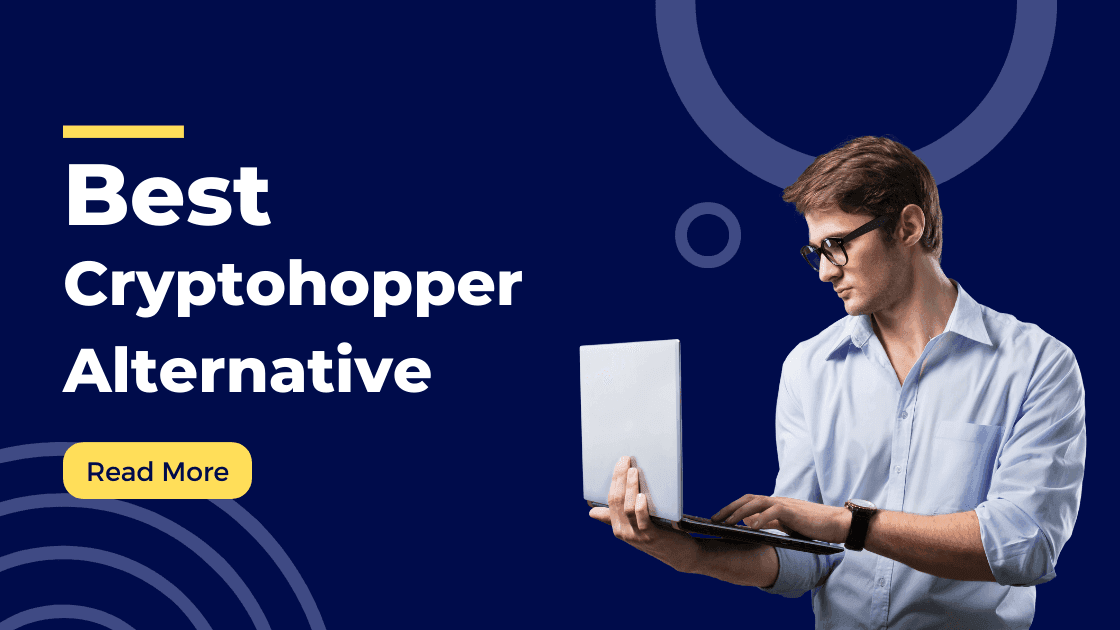 Published On:
May 11, 2023
8 min
Best Alternatives to CryptoHopper: Other Trading Bots to Automate Your Trades
CryptoHopper is a popular trading bot that has been growing in popularity lately. However, other great alternatives are available if you're looking for an automated trading solution.
This post will look at some of the best alternatives to CryptoHopper. These bots can help you automate trading and make more informed investment decisions. So, if you're looking for something to help you take your trading to the next level, check out these alternatives!
See Why Altrady Might Be a Better Alternative
What is CryptoHopper?
CryptoHopper is a cloud-based, automated cryptocurrency trading bot that allows users to trade cryptocurrencies on exchanges. The bot can be used with various exchanges, including Binance, Coinbase Pro, Huobi Global, and Poloniex.
The CryptoHopper team, headquartered in Amsterdam, Netherlands, was founded in 2017 by Ruud and Pim Feltkamp, two brothers with a strong background in software development and web infrastructure. Its user-friendly nature sets CryptoHopper apart, making it accessible to traders of all experience levels.
With various features, CryptoHopper allows users to personalize their trading strategies. These include a stop-loss feature, trailing stop-loss, and the capability to trade on multiple exchanges simultaneously. Furthermore, CryptoHopper offers a mobile app compatible with Android and iOS devices.
To assist users in getting started, the CryptoHopper team provides various resources, such as tutorials, blog posts, and a support forum. Backtesting strategies, paper trading, and integrating market analysis are additional functionalities available on the platform. Moreover, CryptoHopper boasts a vibrant community of users who share insights and strategies. You can find more information in our Cryptohopper review.
| Data | Value |
| --- | --- |
| Tradeable Assets | 100+ cryptocurrencies |
| Platform | Intuitive; combines expert-level features with beginner-friendly tools and setup options |
| Mobile App | Fully operational mirrors the desktop platform |
| Account Minimum | $0 to link your brokerage accounts; the recommended minimum is €300 for most exchanges |
| Available Account Type | Cryptocurrency trading terminal |
5 Best Alternatives to CryptoHopper
CryptoHopper is a great platform that allows you to trade cryptocurrencies automatically. However, there are other options out there and there are some great alternatives available.
Altrady
Altrady is a user-friendly and feature-rich cryptocurrency trading software that empowers you to take control of your trading experience. Unlike other platforms, Altrady offers automated tools that handle the heavy lifting for you, eliminating the frustration and need for several tools.
With Altrady Smart Orders, you can streamline and automate your trading activities from a single dashboard. Monitor all your positions in one place and receive real-time updates on their performance. Dive into detailed historical data to analyze past trends and make informed decisions for future trades.
Manage all your trading and HODLing accounts in one convenient location with Altrady.
The charting capabilities of Altrady are exceptional, allowing you to zoom in on a specific cryptocurrency exchange or monitor multiple exchanges simultaneously. Customize your view with zooming and filtering options to focus on the most relevant information.
Additionally, the Crypto Base Scanner tool enhances your trading experience by identifying optimal investment entry points. It continuously scans the markets and notifies you when it detects potential value surges.
For quick insights, the Quick Scanner feature provides an insider's perspective on crucial market events, enabling you to capitalize on opportunities swiftly.
With Altrady, you have all the tools to enhance your cryptocurrency trading journey and stay one step ahead of the market. So take advantage of this powerful platform and elevate your trading game today.
Pros:
Single platform for trading on multiple exchanges
Real-time market data and analysis tools
Alert system to notify users of market conditions and price movements
Mobile app for iOS and Android devices
Bots, Backtesting, Smart Trading
Cons:
Some beginners may find it challenging to use
Bitsgap
The Bitsgap platform provides a comprehensive solution for cryptocurrency traders seeking to manage their trades efficiently across multiple exchanges. With its user-friendly interface, you can effortlessly monitor up to 30 crypto wallets without the need to log in to each account individually. You can find more in our Bitsgap review.
Bitsgap offers a range of features designed to simplify and optimize your trading experience. Automated bots enable you to establish buying strategies, while portfolio management tools help you track your holdings and monitor order statuses. Exchange monitors allow you to keep a close eye on open positions, enabling you to execute smart trades such as setting take profit and stop-loss orders simultaneously while analyzing charts.
One notable feature of Bitsgap is its arbitrage opportunity, where you can view purchase prices, selling prices, and potential profits in a single, convenient format. This feature requires connected accounts via API, but it can be a valuable tool for those with proper trading balances.
While new traders may initially find the platform overwhelming due to its extensive features, experienced users appreciate its accessibility and ease of use on desktop and mobile devices. In addition, the demo mode provides beginners with a risk-free environment to learn about trading before committing real funds, fostering a sense of comfort and confidence.
Bitsgap prioritizes security by implementing two-factor authentication (2FA) and email confirmation for unknown device logins. With API keys, users only have limited access to trading history and a balanced view, ensuring their funds remain secure on exchange accounts throughout the transaction process.
Pros:
Provides users with detailed information about the cryptocurrency market.
Offers portfolio manager, arbitrage opportunities, and bot trading.
Access to detailed information about individual coins.
Cons:
Does not currently support margin or futures trading.
Only available in some countries.
3Commas
Trading with the 3Commas trading terminal is both easy and versatile. The platform offers a wide range of automated bots that can be configured for round-the-clock execution, enabling you to trade anytime and anywhere. This simplifies the trading process, from identifying opportunities to executing your strategies.
The 3Commas platform is designed to be accessible and intuitive, making it user-friendly for individuals with no technical or financial background. In addition, the automation tools provided allow you to optimize your trades in a straightforward format, whether you prefer using a web browser or their mobile app.
While it offers a robust trading experience, it's always worth exploring 3commas alternatives to find the best platform for your needs.
Pros:
It allows you to trade on multiple exchanges simultaneously.
Ability to set up your custom trading bot.
It can help you manage your portfolio more effectively.
You can backtest your trading strategies.
Cons:
It can be relatively expensive.
Customer support is not always the best.
They have been hacked, and people lost money
Some people find the interface a bit complicated.
CryptoHero
CryptoHero is an advanced automated cryptocurrency trader designed to generate profits by emulating successful traders like Bill Miller. With their extensive experience and cutting-edge AI technology, CryptoHero aims to outperform other bots on platforms like Binance and Coinbase Pro, ensuring better user returns. Created by seasoned fund managers with over two decades of experience, CryptoHero combines expertise and innovation to help you maximize your earnings in the cryptocurrency market.
Pros:
Ability to manage multiple accounts at once.
Offer facility to backtest strategies.
Available on various devices.
It has a secure wallet that protects users' funds.
Cons:
Does not offer fiat support.
Coinrule
Coinrule is the ultimate AI-powered trading platform designed to simplify cryptocurrency investments. With no coding skills required, you can easily set up automated trades and never miss out on market opportunities.
The fully customizable bot gives you complete control over your investment strategy. Test your strategies on the demo exchange, ensuring the safety of your funds. Military-grade encryption and two-factor authentication provide added security. Whether you're a professional or a beginner, Coinrule has features tailored to your needs. Join the friendly trading community and access tutorials for expert guidance. Start your journey to successful trading with Coinrule today.
Pros:
Outstanding customer service.
Doesn't access private keys.
Advanced trading indicators.
Several pricing plans with promotions.
Clean dashboard to keep track of your results across exchanges
Cons:
Trades only on centralized exchanges
FAQs
Which Cryptohooper Alternative bot is the best for me?
If you're looking for a reliable alternative to CryptoHopper, Altrady stands out as the top choice. Altrady offers a powerful and user-friendly trading platform that caters to the needs of both beginner and experienced traders. With its comprehensive features and tools, Altrady provides a seamless trading experience.
In summary, if you're seeking a robust alternative to CryptoHopper, Altrady provides an all-in-one solution with its feature-rich platform, user-friendly interface, and excellent support. Give Altrady a try and experience the difference in your trading journey.
Conclusion
Now you have five options other than CryptoHopper. Each of these bots has its strengths and weaknesses, so research before choosing one. No matter which bot you choose, always remembers to practice risk management and use stop-loss orders to protect your investment.
Related Articles