Best Free Crypto Signals For Beginner Traders in 2022
In the world of cryptocurrency trading, it's crucial to stay ahead of the curve. That's why we've compiled a list of the best free crypto signals for beginner traders in 2022. Whether you're new to trading or a seasoned veteran, these signals will help you make smarter and more profitable investment decisions. So what are you waiting for? Start your Trading journey today!
Without the right tools and relevant technologies, it would be almost impossible to keep track of crypto markets because of their fast-changing nature. 
This challenge is exactly the reason why crypto market scanners have been developed. It is to make crypto traders' lives a little bit easier and to give them up-to-date and important market data that is almost impossible to get if monitoring will be done manually. 
Thankfully, the advancement of crypto trading technology has brought about the rise of tools and platforms that can help people gain accurate market insights in real-time. 
5 Best Free Crypto Signals For Beginners
Crypto Quick Scanner
100eyes
Coin Market Scanner
CoinSignals
Blockchain Sparrows Signals
Crypto Base Scanner Win Rate 91.7% for May
Optimize your trading strategy with Crypto Base Scanner Signal from Altrady
Try Now 14 Days For Free
What are Crypto Signals? 
Cryptocurrency signals are used to help you decide when it is time for a buy or sell. Think about crypto-signals as suggestions that will prevent thoughtless investments with your digital currency! 
Cryptocurrency signals are basically cues to help you decide when it is an appropriate time to buy or sell a particular digital currency. Think about crypto signals as suggestions that will make sure your investments don't go up in smoke with thoughtless buys and sells! With the help of these clever ideas, we can get an understanding of what's happening within this volatile market involving all sorts of coins from Bitcoin down to Ethereum-based tokens.
What is a Cryptocurrency Market Scanner? 
Crypto market scanners are used to generate signals. Scanners can do a couple of things such as track coin prices and trading volumes. Most crypto scanners also have an alerts function that can notify you whenever a particular movement happens in a market that you are eyeing participating in. 
There are different kinds of crypto market scanners with different functionalities and features. Your choice of a crypto scanner would depend on your trading strategy and which technical indicators you use for decision-making. 
See also: Should you buy Ethereum in 2021?
How to use Paid or Free Crypto Signals?
As mentioned, when it comes to using crypto signals, there are several ways to do so:  
1. Signals are sent directly to your digital wallet, so you can immediately start trading.
2. A copy of the signal is sent to your email address (assuming that you have a proper email address for sending and receiving).
3. Signals are sent to a chat group or server such as Telegram or Discord (depending on what services you use) where interested members can see the signals being distributed and act accordingly by investing themselves accordingly.
4. Signals are broadcasted over an online chat service such as Telegram or Discord (depending on what services you use).
BEST FREE CRYPTO SIGNALS FOR BEGINNERS:
Here are some of the free best crypto signals for beginners: ‍
Crypto Quick Scanner 
Crypto Quick Scanner is a free crypto scanning tool developed by Altrady, a multi-exchange cryptocurrency trading platform. This is only among the range of products developed by Altrady BV, a Netherlands-based software company that focuses on the innovation of crypto trading tools and platforms that can be useful for traders of all levels including beginners, intermediate, and professionals. 
Crypto Quick Scanner offers some of the best free crypto signals that can help anyone who would like to build their wealth through the buy and sell of digital coins. This crypto scanner can be accessed by anyone by simply signing up with an email address. 
Once registered, Crypto Quick Scanner traders can easily monitor over 5,000 cryptocurrency markets in ten different crypto exchanges such as Binance, Bittrex, HitBTC, KuCoin, Poloniex, BitMEX, Kraken, OKEx, Coinbase Pro, and Huobi. You can even configure your CQS settings to receive the right alerts to help you decide when to purchase, hold, or let go of your coins. 
Through this crypto-free trading software tool, you can know what's happening in thousands of crypto markets without having to spend a single cent! 
Website: https://cryptoquickscanner.com/
Image: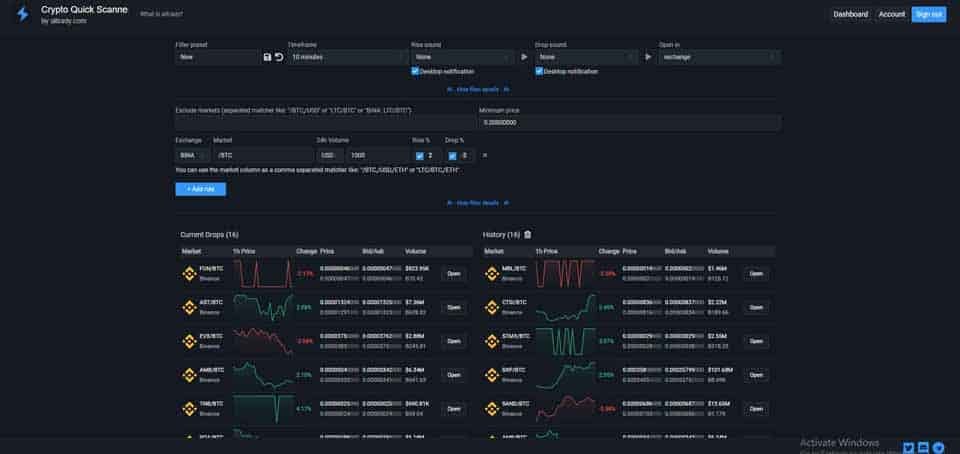 See also: Best Cryptocurrency Backtesting Platforms
100eyes
Just imagine having 50 pairs of eyes to use for watching out the movement of candlestick charts. Wouldn't it be wonderful? Well, that's the idea behind 100eyes. 
100eyes is a free crypto market scanning application that uses Telegram to automatically send alerts to cryptocurrency traders whenever important news or events happen in the market. Users can use 100eyes without any cost to have a better vision and be able to decide clearly about their buys and sells. It helps you detect RSI divergences, support zones, volumes, and more. 
100eyes' preview channel sends you an automatic message as a crypto alert. For each alert, a custom-tailored chart is automatically generated to help you visualize the market movement. This is great for beginners because it can ease the burdensome activity of looking for support levels, resistance levels, bearish divergences, and more. 
100eyes crypto scanner supports all cryptocurrency pairs on the Binance exchange. You can also use the scanner even when you are using other exchange platforms. The free version of 100eyes crypto scanner lets you receive alerts for BTC, ETH, EOS, and XRP. You can also check on how to short XRP on our guide.
Image: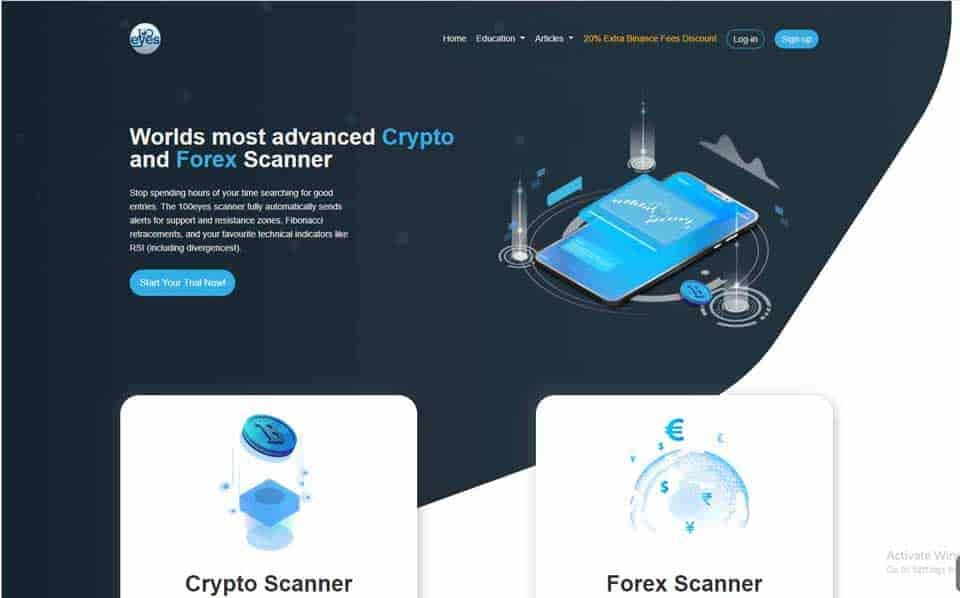 See also: Best Crypto Banks
Coin Market Scanner 
Coin Market Scanner sends out AI crypto signals for Binance. By using an artificial intelligence-based model, Binance traders can have a better idea about profitable crypto pairs. 
The information presented by Coin Market Scanner includes the closing price.
Signals from the Coin Market Scanner can also be used with their new trading bot which is still in the early alpha version. This platform sends out alerts that show the coin pair name including a small graphic that represents the market movement for the past 20 candlesticks/periods, the last closing price, the relative strength index, MFI, and RVOL. 
Image: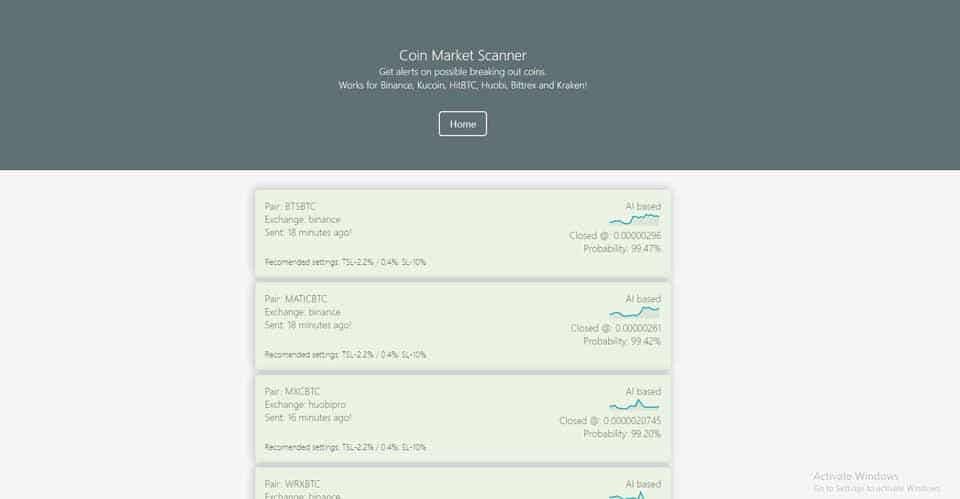 See also: Best Crypto Games
CoinSignals 
CoinSignals uses artificial intelligence and machine learning to generate cryptocurrency market signals. Its state of the art system was developed by professional traders who wanted to help the community by offering advanced AI crypto scanning solutions 24/7. Through their cryptocurrency signals, traders can maximize their profits and be able to strategically enter or exit certain markets. 
CoinSignals supports Binance, Bittrex, and Bitfinex top crypto exchanges. It has different subscription plans from free accounts to premium ones at 0.1 BTC for 365 days. Free subscription plan includes basic signals, market updates, and news features. 
CoinSignals is also available on Telegram. You can join their Telegram group for free crypto signals. 
Image: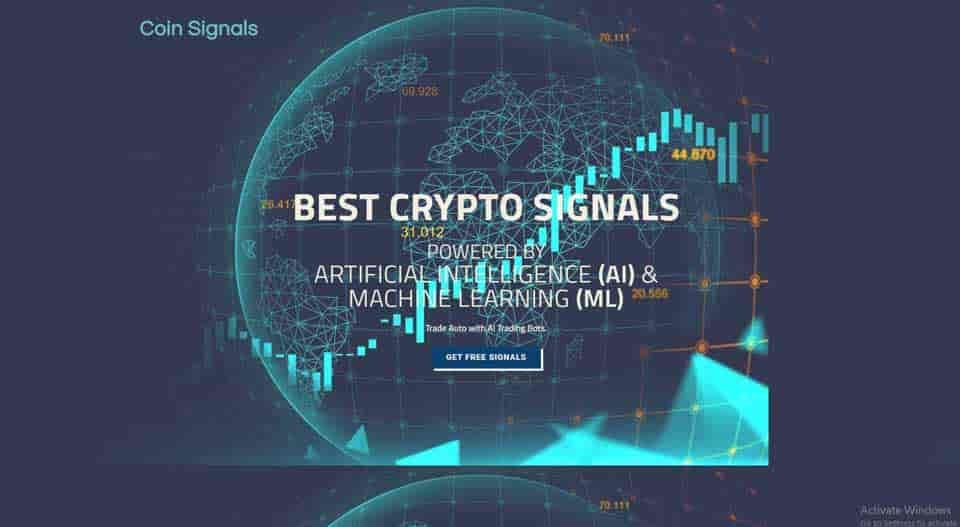 See also: Best Grid Trading Bots
Blockchain Sparrows Signals 
Blockchain Sparrows Signals was developed in 2017 by a group of traders who wanted to share their strategies to the trading community. They used both machine learning algorithms and their own expertise to create an AI-based platform that can effectively send crypto signals to traders. 
Among the signals, data provided by Blockchain Sparrows are buying signals, sell signals, trailing stop, and take profit values. With this platform, users can have full control of their positions and still take advantage of the position monitoring provided by professional analysts. 
See also: Should you buy Ethereum in 2021?
Developers of Blockchain Sparrows aim to take down the barriers in global finance by using new crypto technologies powered by AI. Through artificial intelligence, subscribers can create wiser decisions to become more successful in their crypto trading journey and become more confident in their finances. 
Blockchain Sparrows claims that they never send wrong signals as they always consult with their analysts before publishing signals information. 
Image: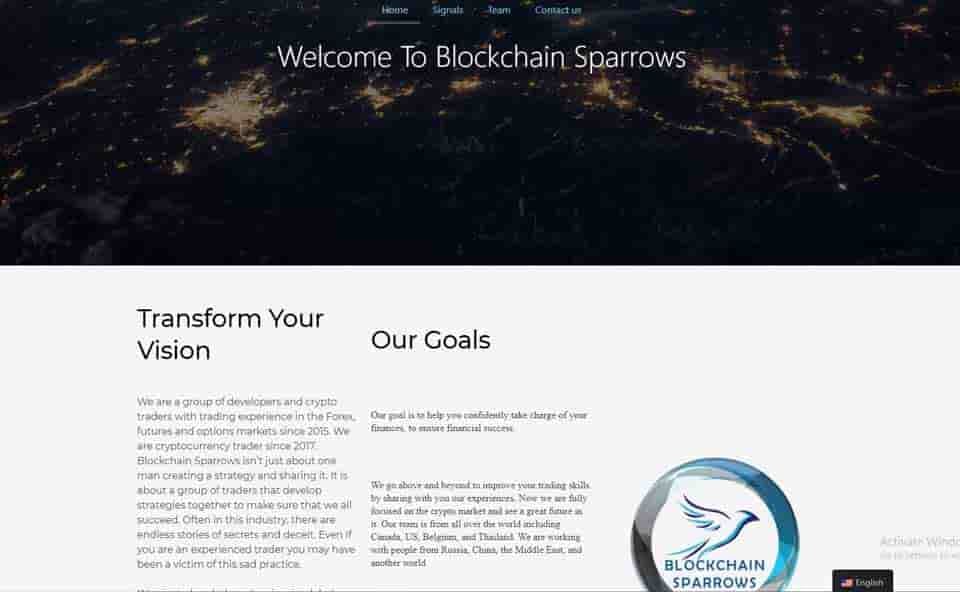 Crypto Quality Signals 

Crypto Quality Signals offers a free subscription to those who need signals for scalping on the Bittrex and Binance cryptocurrency exchange. Using their signals is highly beneficial to those who are using the scalping trading strategy. The scalping signals from this platform are meant to close fast with up to 1.5% profit. 
Crypto Quality Signals supports multiple cryptocurrency trading bots and crypto trading software such as Zignaly, Cryptohopper, Cornix, and 3commas, among others. 
Although scalping signals are freely offered, Crypto Quality Signals also has a premium subscription. By paying their premium gold plan, you can get the full potential of their services which include news, alerts, personal trading advice, exclusive signals, portfolio advice, daily short-term signals, an exclusive chat group, and a channel for margin trading signals, among others.
Image: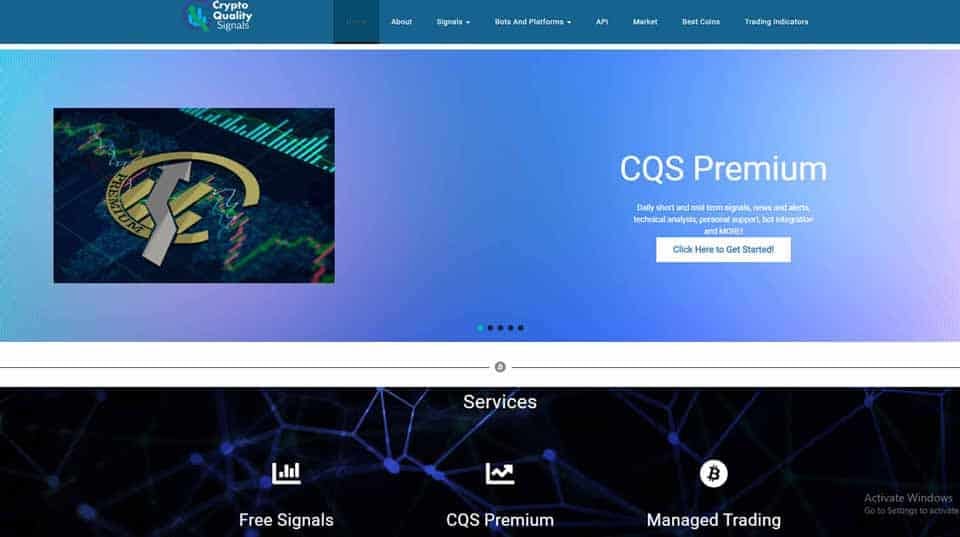 Blockchain Whispers
Blockchain Whispers started as a Telegram group that offers free crypto signals, trading education, and crypto news dissemination to the trading community. They now have a web platform for traders who want to get both their free crypto signals and their premium signals. 
See also: How Bitcoin and other cryptocurrencies are taxed
By subscribing to their premium signals, you can get immediate access to the latest analyses done by their trading experts. These analyses include charts, figures, and explanations on the expected move of a certain coin market. 
But if you just want to try it out for a while, you can still opt to get their free signals which are offered to the public without any cost. On their BitMEX position bitcoin calculator, you can have a good idea about the current Bitcoin trading sentiment. It also shows you Bitcoin's long versus short positions on various crypto trading platforms such as BitMEX, Bitfinex, and Binance. 
Image: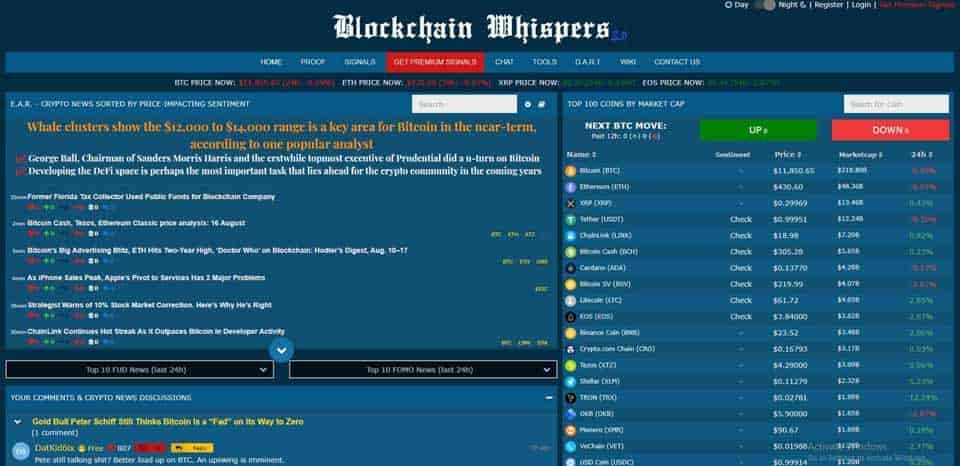 AFFORDABLE CRYPTO SIGNALS FOR BEGINNERS: 

Although it is extremely wonderful to use free crypto signals, we need to understand that most providers also need funding to continue their innovation and development. We may have heard of the cliche that the best things in life are free, but let us accept the fact that there are also good things in life that are worth spending for. 
If you want to take advantage of the innovative crypto scanning technologies offered by other companies, you can also consider investing in premium subscriptions. 
We have compiled some of the most affordable subscriptions for crypto signals to help you in your trading journey. 
AltSignals
AltSignals was built in 2017 by cryptocurrency traders, trading analysts, and internet entrepreneurs who are sick of seeing people getting scammed by unreliable platforms and fake signal providers. Its trading community is claimed to have more than 50,000 members with at least 75% of them getting good results from the signals that they receive. 
See also:Shorting Cryptocurrency
AltSignals offers a wide range of services and boasts of cool features including technical analysis, fundamental analysis, and client coaching among others. It uses a Telegram bot to let subscribers easily become informed about profitable entry positions. 
AltSignals further claims to emphasize quality over quantity when it comes to signal provision. They follow a set of standards before releasing signals to make sure that their trading community can maximize the information and be able to use such data for a stronger portfolio strategy. AltSignals' subscription plans with BitMex and Binance start at £99 per month.
Image: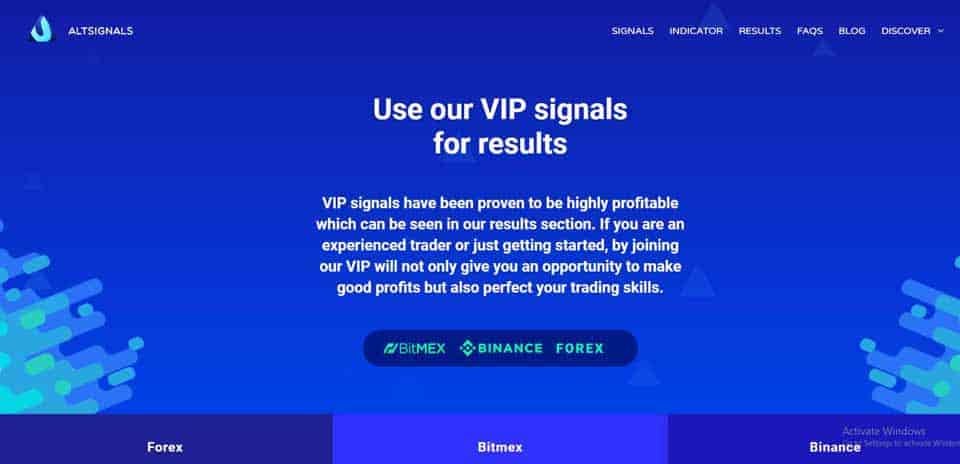 Universal Crypto Signals 
Universal Crypto Signals was established in 2018 with the goal of providing accurate crypto trading signals with proper setup of entries, targets, and stop loss. It supports signal provision on Binance, Bybit, BitMEX, Bittrex, Coinbase, OKEx, Huobi, and KuCoin cryptocurrency exchanges.
Although it started to offer free crypto signals, it had to open a premium channel to further support its goal of providing an accurate technical analysis of Bitcoin and alt markets. The plan starts at $66 per month. This gives users access to their premium toolbox, premium altcoins scalping channel, and spot premium channel. 
Universal Crypto Signals features portfolio advice, personal support, semi-automatic trading through Cornix, and regular crypto market analysis. 
Image: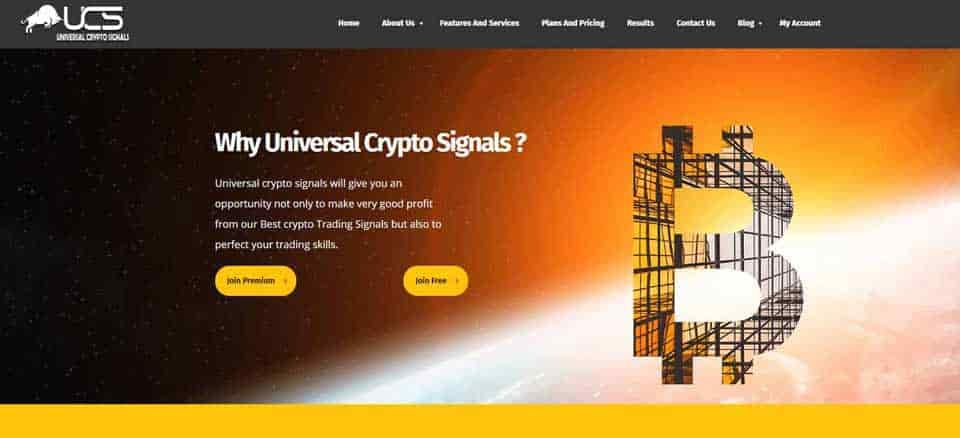 MYC Signals
MYC Signals is one of the most active and highly trusted Telegram channels for offering reliable cryptocurrency signals. It sends over 20 signals in a month to more than 400 of its premium members and over 20,000 community members. 
This signal provider has four different pricing schemes with a monthly subscription plan at $120. Subscribing to their premium channel gives you 20-30 profitable signals per month, 24/7 customer support, and automated trading. The signals provided by MYC Signals can be followed manually or automatically using the Cornix bot. 
Apart from the signal provision, this Telegram community also helps traders become more educated about the crypto space and gives them the confidence needed to make the right trading decisions. 
Image: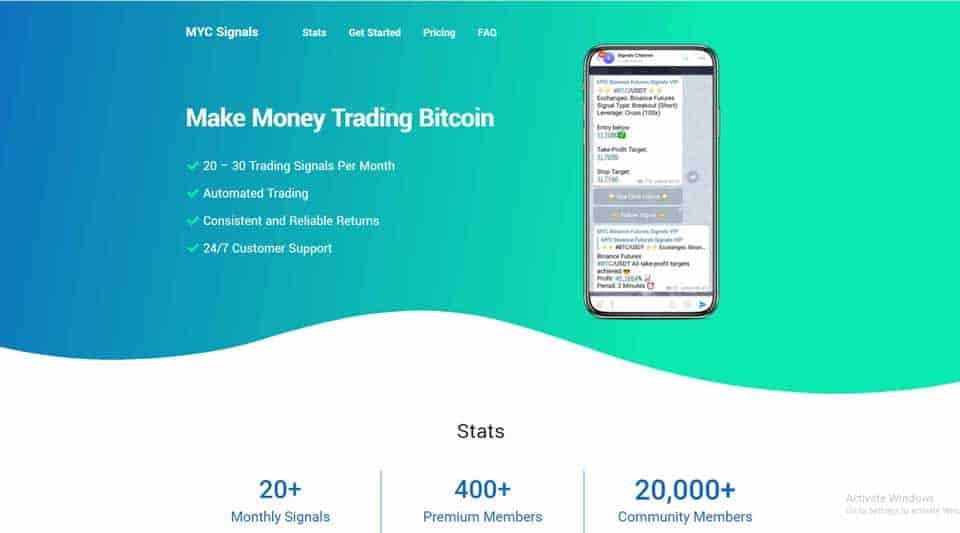 Using free crypto signals can help you generate optimum trading results. Instead of relying on random guesses about market movements, it would always be best to use signals to help you make the right decision on whether to enter or exit a coin market. Whether you do manual or automatic through a signal bot it would always be wiser to use real-time and accurate crypto signals, either free or paid. 
So, if you are looking for an edge in the crypto markets, using free crypto signals can be one way to help generate optimum trading results. Remember that these signals are only as good as the analysis and interpretation that goes into them, so always be sure to do your own research before making any investment decisions. Are you ready to start using signals to improve your trading? Sign up for a free account on our website and get started today!
Subscribe to Altrady, a multi-exchange crypto trading software, to maximize your opportunities for portfolio growth! 
‍