KuCoin Trading Bot Review: A Future of Easy Yet Profitable Trading
There is no exaggeration in saying that crypto trading is one of the best investment domains in today's date. However, the complexities involved in the process are irritating for crypto experts. As a result, many handful tools have been developed to smoothen the crypto trading process. 
Crypto trading bots are the life savior for investors as they don't have to be in front of a computer the whole day. The KuCoin trading bot can be your center of interest as the platform itself develops it and is completely free. 
Keep on reading if you want to know more about this amazing tool to simplify your trading process. 
What Is KuCoin?
KuCoin is one of the largest cryptocurrency exchanges launched in 2017 by Eric Don and Michael Gan in Seychelles. The founders were already in the finance field and had previously run iBox PAY and Ant Financial for a few years. The purpose of creating KuCoin is to offer easy access to digital currency for every person worldwide.
Because of competitive fees and other unique features, KuCoin has 10 million users and works in 200 countries. Moreover, it has 500+ cryptocurrencies listed on the platform to provide an array of options for investors. Apart from buying, selling, and trading crypto, you can also stake it on the network to earn a commission. KuCoin also offers peer-to-peer, margin, and futures trading. 
What Is KuCoin Trading Bot?
It's tough to sit in front of a computer screen and dig crypto charts all the time to make a profitable trade. However, this problem has been solved with the development of crypto trading bots. Now the investors need to put some commands on the bot and sit back to relax. With the help of artificial intelligence and the algorithm, trading bots automatically spot the right time to trade and do it for you. 
Being one of the finest the KuCoin trading platform paid attention to this feature and introduced its trading bot at the start of 2021. At the time of launch, it didn't offer all the trading bot features but continuously evolved with time. At the time of writing, KuCoin offers five different trading strategies with the promise of revealing many more.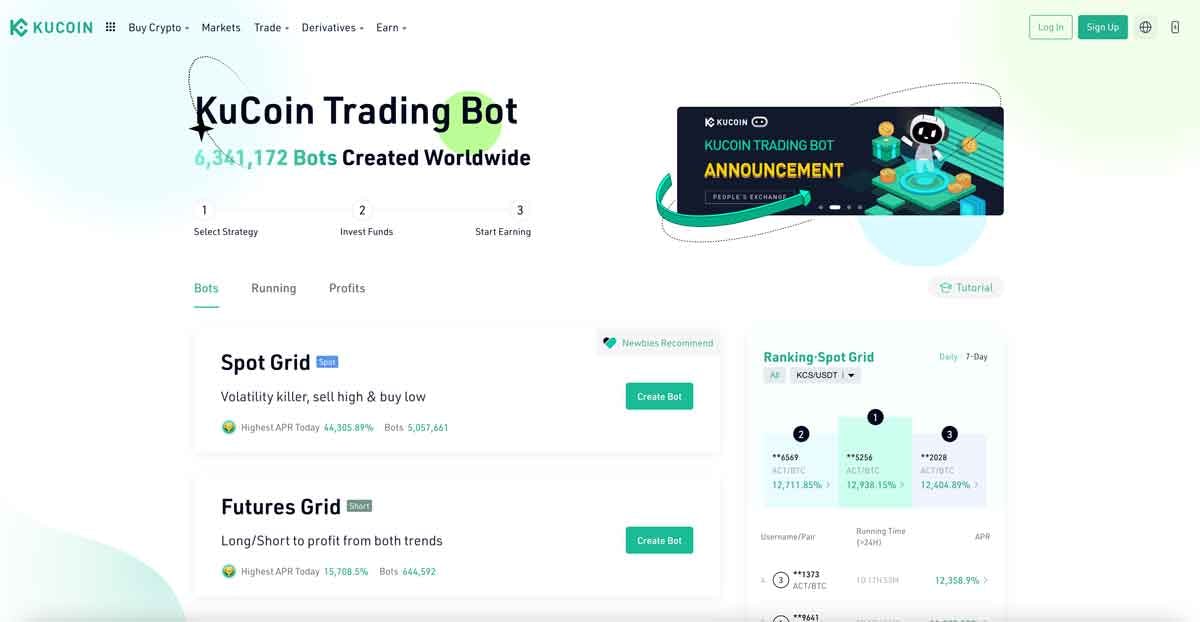 Features of KuCoin Trading Bot
Before relying on the bot and risking your investment, it's essential to have a look at the qualities of that specific bot. Here are some features that the KuCoin trading bot offers to its users.
On KuCoin, the trading bot is only accessible through the Mobile App. Additionally, the KuCoin mobile app has almost all of the features available on its website. Unlike other bot mobile apps, it has elements like an interactive UI or a floating window, which help it stand out from the others. The bot may be used on both Android and iOS devices. In addition, KuCoin gives users access to a telegram group dedicated to exchanging ideas and exchanging trading strategies.
Accessibility and Versatility
The bot's design is straightforward and intuitive. This is the situation for now. It's tough to tell a future for sure since the bot is constantly upgraded with new features. The KuCoin crypto exchange market already charges fees, thus no more costs, and it isn't unusual since the company gets a cut of the profits. 
Like other crypto trading bots that rely on broad use rather than high customizability, KuCoin's features are rigid and not subject to considerable fine-tuning. Simple, easy-to-understand features may help even newbie day traders make money. A better solution still exists for skilled traders and those who wish to maximize their bots. The KuCoin crypto trading bot may be handy if you keep using KuCoin and don't live in the US.
KuCoin has a good reputation in the industry at this time. Like other trading bots, KuCoin's trading bot is entirely safe and secure to use in a production environment. In addition, there are no API keys required since the bot runs on KuCoin.
Since its start, more than 2.5 million bots have been produced and deployed by traders worldwide. In addition, the trade is entirely legal, and the bot is simple to operate. Still, it's an era of technology, and no trading bot can guarantee that your money will be completely safe from market losses. As a result, you should only invest money you are willing to lose.
The trading bot has its own help center inside KuCoin. You may access the trading bot by clicking on the help center and then clicking on the button. In this section, you'll discover a wide range of articles and FAQs that might answer almost all of your questions.
A ticket may be sent if you still have questions or concerns. Attach relevant screenshots or documents to this ticket and fully describe what's going on. You may expect a response from the support staff within a week.
Other bot providers, for example, charge a monthly fee for their services. KuCoin, on the other hand, offers a free trading bot, and you have to pay the trading costs.
Offers Ten Bots at a Time 
Using a total of ten bots at the same time helps you to diversify your earnings. Furthermore, it allows you to trade in many markets simultaneously while limiting your risk by distributing all of your money across different techniques.
KuCoin Trading Bot: Five Strategies
Let's take a closer look at each of the five trading techniques offered by the KuCoin bot.
Spot Grid
When traders want to take advantage of the market's volatility, they apply the Spot GRID approach. It buys at a low price and sells at a high price within a set price range. By contrast, the original GRID only allowed for trading on the spot market. Instead then relying on KuCoin's native grid bots, consider utilizing one of the alternatives listed below.
Futures Grid
As a result of developing the future grid, the original grid bot has been given a contemporary makeover. It employs the buy short and sells high strategy when trading futures. As a result of the leverage involved in futures trading, there are risks connected with using this bot under volatile market conditions.
Smart Rebalance
Portfolio rebalancing has been a tried-and-true method of investing for many years. Using this strategy, an automated system purchases and sells assets to maintain a well-balanced investment portfolio.
DCA 
In DCA, or dollar-cost averaging, funds are divided and invested by computer programs following a predetermined time cycle. They assist in mitigating the harmful effects of market volatility in the long run.
Infinity Grid
If you choose the infinite grid, the price will never go above or below the limitations that you specify for it.
How To Use KuCoin Trading Bot?
Your own KuCoin Trading Bot will be up and operating in minutes, producing money for you while you're asleep. Set up a Bot using the methods below to start earning passive income right now.
Step 1: Choose the Trading Pair & Strategy
It's a good idea to review the numerous strategies that have already been described in this piece. This will give you a good idea of how much money you may anticipate making.
Step 2: Fund Your Account
Once you've settled on a trading strategy and a trading pair, the next step is to deposit money into your KuCoin wallet. Depositing the cryptocurrency you want to use to trade will be necessary once you have examined the numerous returns linked with a trading pair and the approach you choose to use. 
Bitcoin or Ethereum may be deposited into a trading wallet based on your desire. In addition, you may instantly transfer funds from your main wallet to your trade wallet by clicking on the transfer button.
Step 3: Decide the Amount You Want to Trade
To complete the transaction, you must choose the amount of bitcoin you desire to swap with your Trading Bot. Once you've determined how much you'd want to earn, click "Confirm" to get started.
3 Third-Party Trading Bots: Best for KuCoin
If you are an expert trader and want to make more profits using complex information, try for any better option than KuCoin. KuCoin's bot is still not that much upgraded and needs a lot of improvement to deal with complexities. Here are the three best options you should rely on for trading on the KuCoin platform. 
Altrady Trading Bot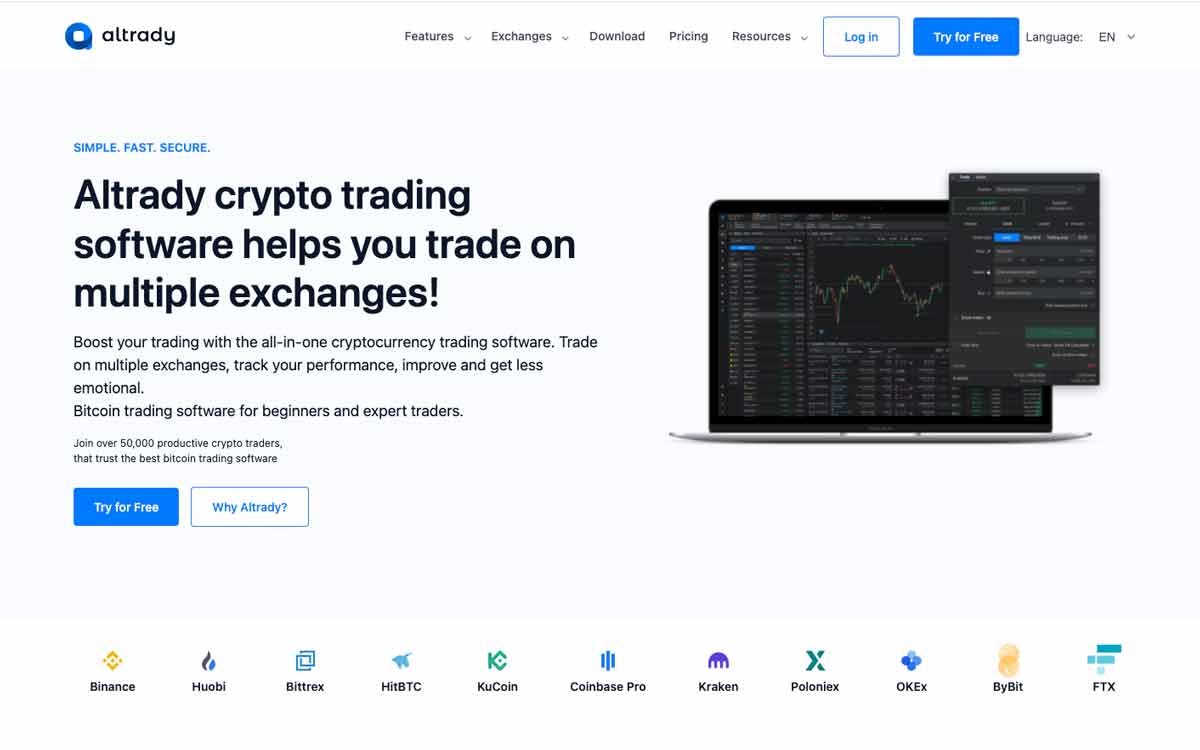 Altrady is the most advanced trading platform, with its multi-exchange capabilities to integrate over 17 exchanges including ByBit, Binance, FTX, KuCoin, and more.
It's been developed by traders for traders and offers advanced trading features like Portfolio Management, OCO, Trailing Stop orders, and many many more features.
CryptoHopper Trading Bot
CryptoHopper, a one-stop-shop platform, offers a variety of services, including trading bots, exchange arbitrage, copy trading, backtesting, strategy design, and more. Additional trading bots for crypto signals obtained on Telegram channels are available on the site. MarketPlace is also a critical component of CryptoHopper's architecture.
An Arbitrage tool, a Market-Making bot, and a strategy builder are just some of the trading tools available on the site. There is also a third-party Marketplace for CryptoHopper services, such as trading tactics and templates, as well as other third-party services like CryptoHopper signals and apps.
Telegram users may now utilize the CryptoHopper signaling bot provided by the program. You may also use the bot to automate your trading depending on the crypto signals you get. In addition, the paper trading mode provided by CryptoHopper enables you to test your trading strategies and bots without risking your real money.
Subscriptions to the platform are available at four distinct price points. The Explorer plan also offers a free trial period, which you may take advantage of. In addition, you may save money by signing up for an annual membership instead of paying monthly.
The platform has been operational for more than three years without any major issues that resulted in customer losses. However, a separate trading exchange is recommended since CryptoHopper uses API keys and does not have the authority to carry out withdrawals from your exchange.
| Pros | Cons |
| --- | --- |
| User-friendly for beginners | Don't offer a phone customer support |
| Offers high-level features to experts | Need a monthly subscription to access all features |
| Mobile App equipped with almost all features | No day trading |
| No hidden fees apart from monthly subscription | Don't offer's advanced trading features |
Bitsgap Trading Bot
Bitsgap is a well-known trading bot that can be downloaded for free. It supports over 25 different trading platforms (including but not limited to Poloniex and Binance). You may trade on almost any of them at any given moment. Before investing real money in the market, you may try out the bots in the Bitsgap trial trading mode.
Bitsgap also offers a Futures trading bot with a minimal risk threshold. As of June 2021, this bot is only available on Binance, but the developer plans to include losses and other exchanges shortly.
The platform's essential features include the demo mode, a trading terminal, and a Grid trading bot. In addition, a new trading bot, Bitsgap Futures, was recently released on the site, and it offers a safer way to earn from the futures market by generating little gains. Only on Binance will you be able to utilize Bitsgap's futures trading bot starting in June 2021.
It means that the platform wants to accommodate as many bitcoin exchanges as possible in the near future. As a result, customers get access to Bitsgap's bitcoin trading signals as well. Additionally, the tool allows you to search for a specific cryptocurrency or categorize them according to your favorite trading platform or asset type.
The most significant chunk of your funds is secured on the bitcoin trading platform's servers. Using this bot requires that you provide Bitsgap with API credentials for your cryptocurrency exchange to conduct a withdrawal on your behalf. If you make too many incorrect login attempts, Bitsgap recommends that you utilize two-factor authentication (2FA), and your account will be suspended.
| Pros | Cons |
| --- | --- |
| Offers arbitrage services to users | It doesn't have any mobile app |
| You can get crypto signals | Not user friendly |
| Provide 2-week trial period | Quite expensive |
Mudrex Trading Bot
Mudrex, the trading bot provider, has more than 10,000 investors and more than 200 indicators on its platform. More than that, Mudrex is compatible with the most significant exchanges, including Binance and Coinbase Pro. Using Mudrex, you can create, test, and implement trading strategies. Publishing bundles on the site may also make you money; see Mudrex Bundle publishing for more information.
When it comes to the risk/reward strategy, the greater the Performance score (which Mudrex employs), the better it is. If you don't earn any money from the bot, Mudrex Protect will reimburse your membership payments. Furthermore, you can easily drag and drop your trading technique rather than having to write it.
You'll have plenty of space to experiment and experiment freely with the free plan. The $19 monthly premium plan, on the other hand, is an option. The first three months of subscription are free, and you may cancel at any moment.
As long as you pay the monthly costs, the platform is entirely risk-free. Per Mudrex, all-important personal information is protected using bank-level AES-256. Additionally, all API communication is encrypted with SSL and TLS 1.2 to keep your personal data safe from prying eyes.
| Pros | Cons |
| --- | --- |
| Strategies can be created by simply drag and drop process | Often takes time in loading |
| Beginner-friendly website design | A mobile app doesn't have all features |
| It offers a backtesting feature | |
Pros & Cons of KuCoin Trading Bot
Pros
Don't require connecting with the third party
Use ten bots at a single time
No fee is involved for these strategies
Huge community on Telegram for help
It offers a long list of coins for trading
Cons
The minimum fund's deposit limit is quite high
You have to go with only platform strategy
FAQs
How does the KuCoin trading bot work?
The trading bot for KuCoin follows the settings that you set. The strategy you choose to adopt will influence whether you make a profit or a loss. Using a trading bot gives you the flexibility to trade whenever you choose, day or night.
Is the KuCoin trading bot reliable?
KuCoin's trading bot is generally considered reliable. However, to maximize its effectiveness, you must set suitable parameters and then observe the market's movements within the time you've chosen to monitor.
Since the bot is meant for novice traders, it does not have the ability to handle some of the more complex parameters that are common in more sophisticated bots.
Can you lose money with trading bots?
You should be aware that trading bots might cost you money, which is something to keep in mind. Setting and market changes are the only variables that may affect a bot's trading outcome.
Conclusion
Beginners who don't need anything complicated may use the KuCoin trading bot. In addition, it may be used for DCA, smart rebalancing, and the like. For the most up-to-current information, join the trading bot community on Telegram and stay up to date. 
In addition, the bot can handle up to 100 different currencies and tokens. The KuCoin trading site, on the other hand, is well-known, and its bot is secure and lawful to utilize. Because of this, you don't have to spend a dime on any trading tactics.