The 8 Best Crypto Trading Software Tools for New Investors
Are you a rookie trader who wants to have a right start? Then you have to be equipped with the necessary knowledge and relevant crypto trading software tools to build your crypto wealth. Although there are significant risks involved in this venture, don't doubt your capacity to succeed.
Unlike years before, beginner traders nowadays can have a great start. That's because of the many developments coming in the crypto sphere.
What is a crypto trading software?
A crypto trading software is a specialized program that allows users to automatically execute trades on digital currency exchanges. These programs are designed to help traders make more informed decisions and improve their overall trading performance.
What are the benefits of a crypto trading software?
Automated trading: One of the biggest advantages of using a crypto trading software is that it allows users to automate their trades. This means that they can set up certain parameters, such as the price at which they want to buy or sell a particular cryptocurrency, and the software will automatically execute the trade when those conditions are met. This can help traders save time and effort, as they don't have to manually monitor the market and place trades themselves.
Improved accuracy: Another benefit of using a crypto trading software is that it can help improve the accuracy of a trader's trades. Many of these programs are equipped with advanced algorithms and machine-learning techniques to analyze market data and identify trading opportunities that a human trader might miss. Using crypto trading software, traders can potentially make more profitable trades and avoid costly mistakes.
Increased efficiency: Crypto trading software can also help traders improve their efficiency by allowing them to manage multiple trades and exchanges simultaneously. This can be especially useful for those who trade on multiple exchanges or have many open positions. With crypto trading software, traders can easily monitor their trades and make adjustments as needed without having to switch between different platforms or manually manage each trade.
Risk management: One of the key challenges of trading cryptocurrency is managing risk. The market is highly volatile, and prices can fluctuate wildly in a short period of time. A crypto trading software can help traders manage their risk by allowing them to set up stop-loss orders, which automatically sell a cryptocurrency when it reaches a specific price. This can help protect traders from significant losses and will enable them to limit their exposure. 
Try Now Altrady The Best Crypto Trading Software
We created the most advanced trading software platform.
Try Now 14 Days For Free
Best cryptocurrency trading software platforms :
Altrady: Best for all-in-one crypto trading
Binance: Best for trading altcoins
Bittrex: Best for beginners
Poloniex: Best for security
Coinbase Pro: Best for professional traders
KuCoin: Best for trading pairs
Kraken: Best for crypto funding
Let us look at some of the most popular crypto exchanges and promising crypto trading tools and software in 2022. These platforms could help you make the right investment decisions and take the right trading actions.
With crypto trading becoming more popular than ever, it's no surprise that there are now a wide variety of crypto trading software tools available on the market. With so many options to choose from, it can be tough to know which one is right for you, one such tool that has gained significant traction among crypto traders is Altrady crypto trading software. To help you make the best decision, we've compiled a list of the 8 best crypto trading software tools for new investors.
Altrady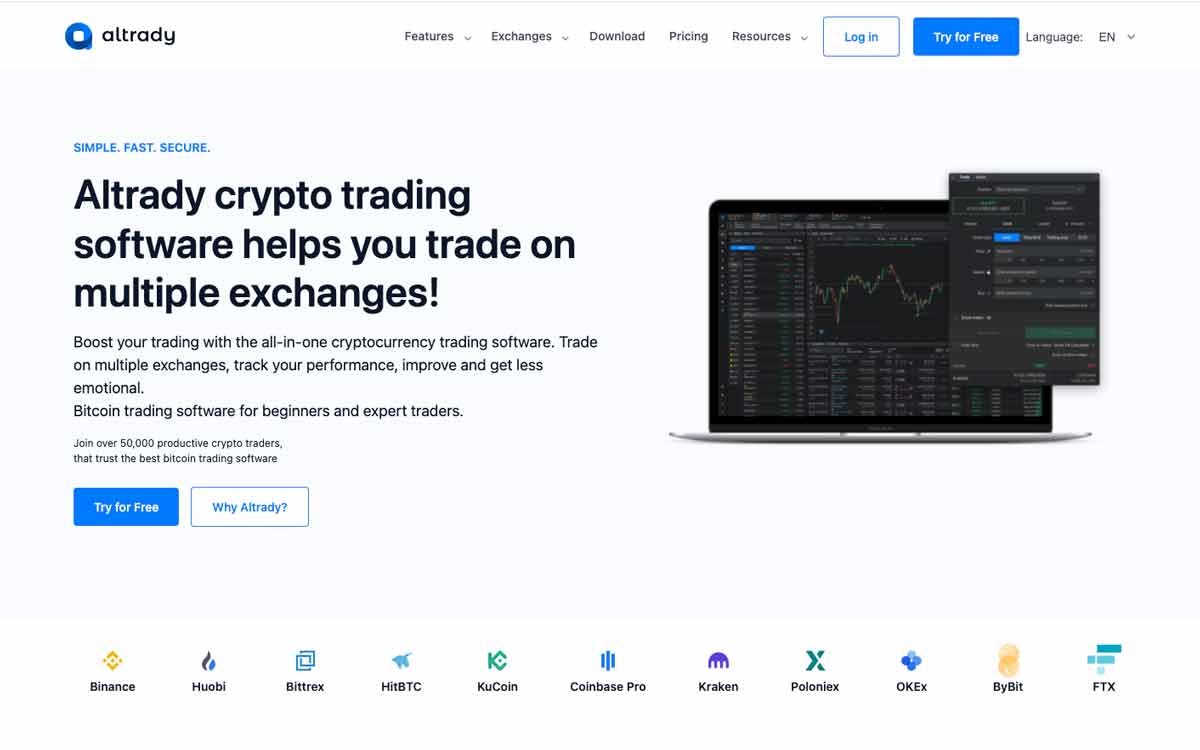 "Making Crypto Traders' Lives Easier"
Altrady is a Netherlands based multi-exchange cryptocurrency trading platform with advanced crypto tools for managing trades, monitoring markets, and keeping track of portfolios across different exchanges. Probably the best cryptocurrency day trading software in 2023.
Altrady Software Features
An all-in-one crypto trading platform that can integrate multiple exchanges so that users can place their buy and sell orders on the Altrady dashboard without the need for opening all their exchange accounts:
Multi-exchange integration, centralized and decentralized
A customizable trading interface with layouts that users can personalize depending on their goals and strategy;
Grid bots with trailing up and down
Grid and Signal Bot Backtesting
Paper trading
DEX integration(Uniswap)
Dex Portfolio
A comprehensive portfolio manager that allows users to see the distribution of their assets per currency and exchange;
The desktop app, mobile app, and web-based version of the software;
A break-even calculator makes automatic computation without the need for spreadsheets as part of its best crypto trading software tools.
Offline price and order alerts
Visual trade feedback on the chart
Trade automation with take profit and stop loss
Signal bots with TradingView webhook or Crypto Base Scanner signals
Trading analytics
Notes widget that can serve as a trading journal
GRID Bots with Trailing Up & Down
Smart Trading
Portfolio Management for CEX's and DEX's - track easily your cold wallet assets
Altrady Services
Real-time crypto alerts are considered to be among the fastest in the market.
Altrady academy were you will find several videos to learn how to trade.
It also has a Crypto Base Scanner software that sends thousands of crypto signals for manual and automatic trading 24/7.
The Altrady cryptocurrency trading blog and community also provide avenues for crypto learning among users.
Altrady Fees
Altrady, probably one of the best crypto app does not have trading fees. Users only pay for plan subscriptions with different pricing for each package:
14-day free crypto trading trial that includes signals, trading, and portfolio management
€9.07 monthly for signals package
€24.95 monthly for basic package
€44.95 monthly for advanced or essential trading package
€79.95 monthly for a premium trading package
Altrady offers a 30% discount for an annual subscription; check our pricing.
See also: Best Crypto Banks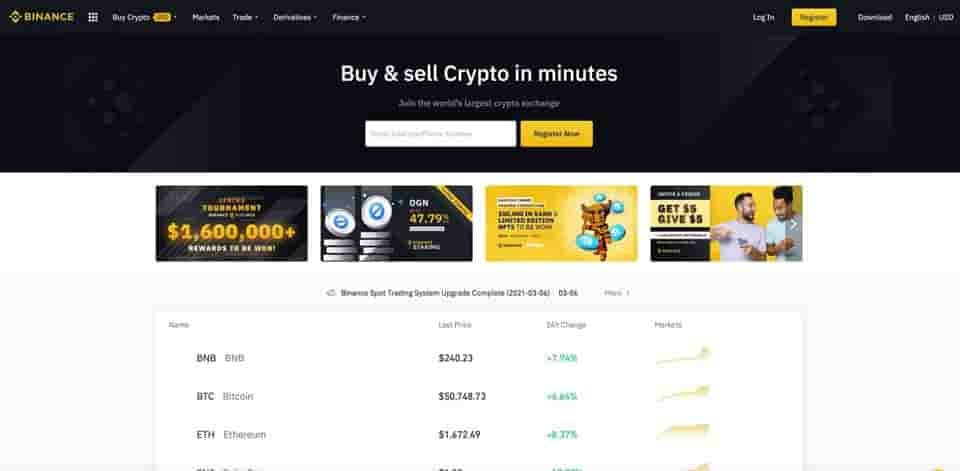 "The World's Leading Cryptocurrency Exchange"
Binance is considered the largest crypto exchange platform in the world based on trading volumes. Its daily trading volume goes over $2 billion. This cryptocurrency exchange also processes over 1.4 million trading transactions per second. As always we recommend checking out the differences between exchanges, for example, Binance vs eToro, both powerful platforms.
Binance Features
Binance takes pride in its entire cryptocurrency ecosystem that encompasses various aspects in the crypto industry, such as:
Cryptocurrency auto trading software through Binance Exchange
Blockchain Technology Infrastructure Development through Binance Lab
Cryptocurrency Analysis through Binance Research
Tech Startup Funding & Token Research through Binance Launchpad
Crypto Education through Binance Academy
Social Aid through Binance Charity Foundation
Crypto Payment through Binance Card
Cryptocurrency Storage through Trust Wallet
Accessible trading through a mobile app, desktop, web, and API versions;
Supports margin trading; and
Fund insurance through SAFU or Secure Asset Fund, which allocates 10% of trading fees for the protection of user funds during extreme cases.
Binance Services
Binance offers 24/7 support services.
Binance Fiat Gateway allows the purchase of digital currencies using fiat currency. Users pay through credit or debit cards, and the crypto purchased is immediately deposited to the Binance wallet.
Binance OTC Trading or over-the-counter trading provides a personalized way of trading for those who want to trade large blocks securely and quickly.
Binance Fees
Binance has different trading fees depending on the user's VIP level, which is determined by the 30-day trading volume and/or BNB balance.
Lowest VIP Level has to pay 0.1% trading fees. This could go down as the trader reaches a higher tier at the VIP level.
Deposit fees are mostly free of charge, while different withdrawal fees are depending on the coin to be withdrawn.
Bittrex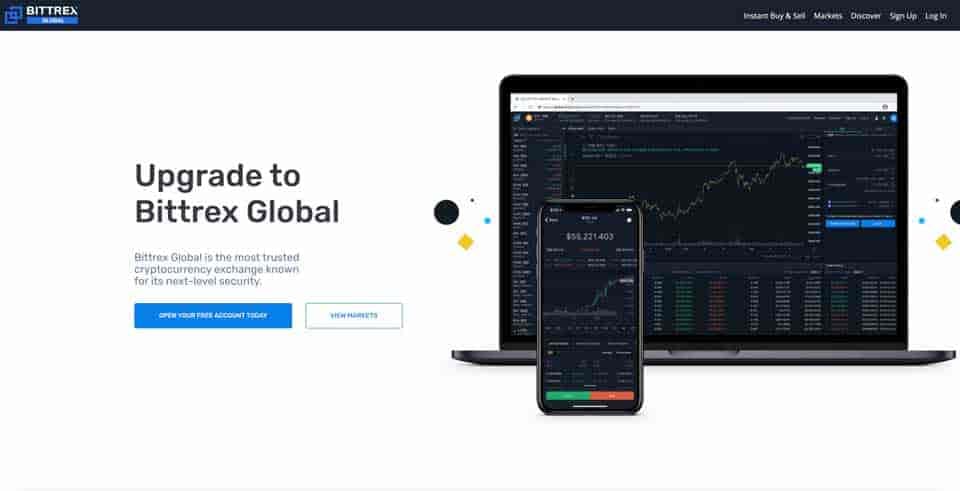 "Global Leader in the Blockchain Revolution"
Bittrex is a Zurich-based cryptocurrency exchange platform that provides an institutional-grade experience for beginner and professional traders. It operates within the European region's blockchain framework that requires compliance to KYC (Know Your Customer) and AML (Anti Money Laundering) policies.
Bittrex Features
Secure exchange platform with multiple layers of protection for fund and transaction safety;
A custom-built trading engine that allows users to complete their orders in real-time;
Fast deposits and withdrawals powered by an automated monitoring platform for updated information on account balances and trading orders;
Supports over 220 cryptocurrencies; and
Charting tools by Trading view.
Great crypto broker software
Bittrex Services
Fiat (US & EUR) to crypto deposits through debit and credit card;
Crypto to fiat withdrawal;
Responsive customer support & Zendesk knowledge base;
Bittrex Fees
Bittrex charges 0.2% commission fee on trades;
Maker and taker fees are ladderized based on the 30-day trading volume of the user;
Visa top-up fee or deposit is at 3%;
See also: Best Crypto Paper Trading Platforms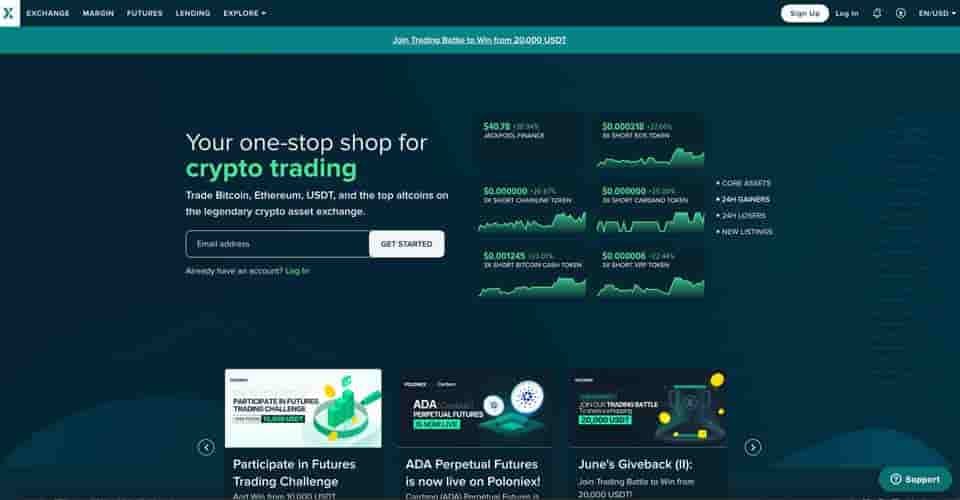 "The Legendary Crypto Asset Exchange"
Poloniex is among the top cryptocurrency exchange platforms and is registered in Seychelles. It allows the trading of digital currencies using secure technology.
Poloniex Features
Poloniex has over 60 cryptocurrencies or digital assets listed the exchange;
Over 100 spot trading pairs;
Over 25 margin trading pairs; and
Now allows the purchase of Bitcoin with credit and debit cards through the Poloniex wallet.
Poloniex Services
Live chat customer support;
Margin lending and borrowing which allows borrowers to trade on borrowed funds and lets lenders earn crypto interest.
Poloniex Fees
Poloniex has a tiered trading fee structure, which is based on the average 30-day trading volume of the user. For the lowest tier, maker fees are about 0.15% while taker fees are about 0.25%. This significantly goes does as the trading volume increases.
See also: Shorting Cryptocurrency
Coinbase Pro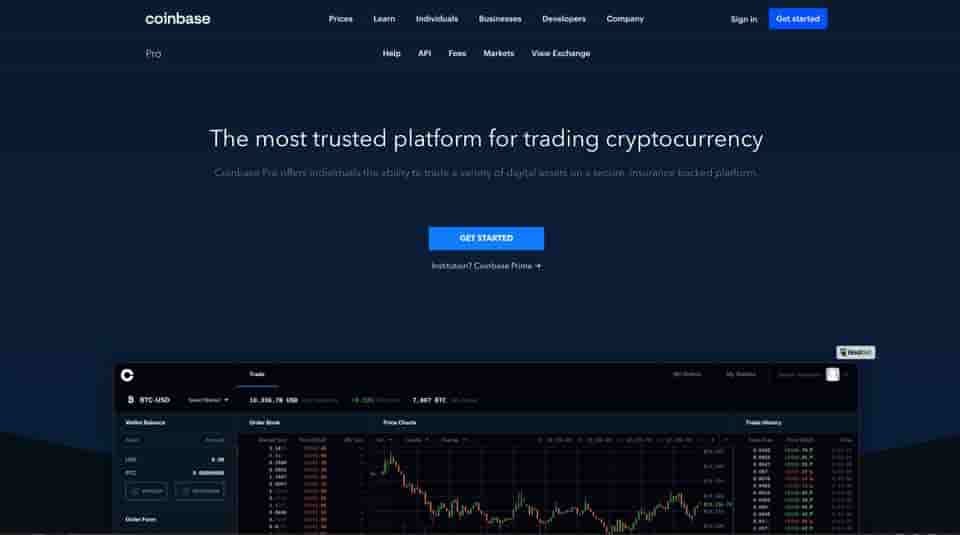 "The Most Trusted Platform for Trading Cryptocurrency"
Coinbase Pro is formerly known as GDAX and was established in 2015. It is owned by Coinbase, a California-based digital currency wallet and exchange platform that was founded in 2012. It allows individual users to trade a variety of cryptocurrencies on a secure and insurance-backed exchange. Check also the differences between Kraken vs Coinbase in our article.
Coinbase Pro Features
Coinbase Pro has an easy and intuitive user interface;
Has advanced trading tools for experienced traders who make high-volume trades;
Has strong security and regulatory compliance with extensive Know Your Customer (KYC) procedures;
All its digital assets stored online are fully insured to provide protection to its users of up to $250,000 (in USD balance) per customer; and
Has a crypto learning course that allows users to know more about cryptocurrencies and earn for every completed course.
Coinbase Pro Services
Coinbase Pro provides real-time crypto market data through its WebSocket feed.
It has a trading API that enables the development of trading bots.
Institutional investors can opt to use Coinbase Prime for higher trading volumes.
Coinbase Pro Fees
Coinbase Pro's trading fees are based on a tiered structure that is dependent on the 30-day USD trading volume. The highest fees go around 0.50% for both maker and taker. This rate decreases as trading volume go up the ladder.
See also: Best Bitcoin Interest Accounts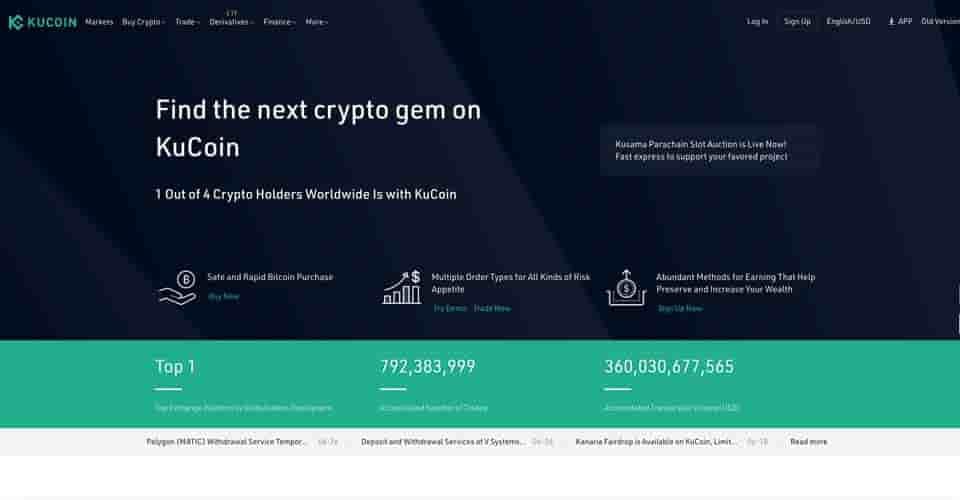 "Safe Bitcoin Transactions Start on KuCoin"
KuCoin is among the most popular crypto exchange platforms and was launched in 2017. This Hong Kong-based exchange has over 5 million registered users from more than 200 countries and regions. Its institutional investors include IDG Capital and Matrix Partners. At the beginning of 2021 was introduced KuCoin trading bot as an additional feature.
KuCoin Features
KuCoin supports a wide range of cryptocurrencies with over 200 listed digital assets and 33 fiat currencies;
Has over 400 trading pairs;
Offers accessible trading through web and mobile app;
Supports multiple trading order types to cater to different risk appetites;
Offers spot trading and margin trading; and
Allows purchase of cryptocurrencies using fiat through Simplex, Banxa, and OTC;
KuCoin Services
KuCoin has live chat support for concerns and queries.
It offers VIP membership services where traders can climb up the ladder to get certain benefits.
KuCoin Instant Exchange allows traders to make fast and one-click exchanges of up to 10 cryptocurrencies.
KuCoin Fees
KuCoin trading fees are dependent upon the membership level of the trader. This is determined by the different criteria such as 30-cryptocurrency day trading volume on KuCoin, 30-day trading volume on KuMEX, 30-day holding of KCS, and average 30-day total assets.
Trading fee rate for members of the lowest tier is 0.1%. This can go as low as 0.013% for maker fees and 0.04% for taker fees as soon as the user reaches the highest membership level.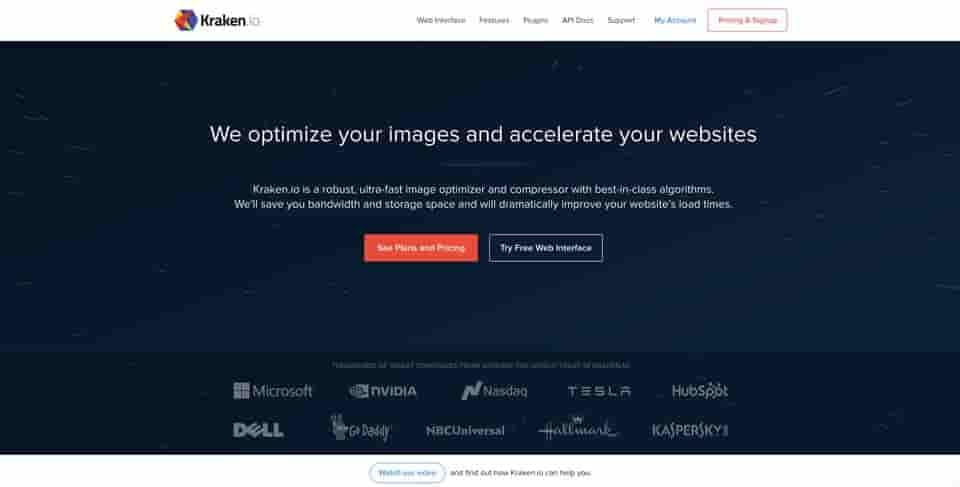 "We Put the Power in Your Hands to Buy, Sell and Trade Digital Currency"
Kraken was established in 2011 by Jesse Powell and is recognized to be among the oldest and highly respected Bitcoin exchanges in the world. It is known for offering a high level of security and deep liquidity.
Kraken Features
Kraken has a comprehensive approach to protecting the funds of its users with 95% of its deposits stored offline, servers caged and under surveillance 24/7, and all sensitive information encrypted, among others;
Has set up multiple levels of security for account logins, withdrawals, monitoring, and trading;
Availability of fiat funding options for traditional currencies like USD, EUR, CAD, JPY, GBP and CHF through banking deposits;
Allows margin trading;
Allows futures trading;
Has two market views that reflect cryptocurrency prices:
Real-time indices and spot rates are accurate updates second-by-second based on compiled order book data from top crypto exchanges
Reference rates and settlement prices are updated once daily and are computed using transaction data from various crypto exchanges
Kraken Services
Offers crypto funding options for corporate clients;
Offers personalized over-the-counter (OTC) trading services for the execution of large trades;
Offers account management for advanced traders who want the assistance of personal account managers; and
Has live chat support
Kraken Fees
Kraken follows a tiered fee schedule that is based on the 30-day trading volume of users. The highest rates are 0.16% for maker fees and 0.26% for taker fees. These fees are charged on a per-trade basis and discount tiers are assessed after every trade.
Please check Kraken vs. Gemini overview article.
See also: Buy Ethereum
"Ultimate Cryptocurrency Portfolio Management Suite"
Coinigy is a Milwaukee-based crypto exchange and wallet management platform that was established in 2014. It was built with the goal of easily accessing the global financial markets of the future.
Coinigy Features
Coinigy crypto app has an automatic portfolio tracking that allows users to keep track of assets 24/7 without manual edits;
Trading in connected exchanges using the Coinigy app;
High-definition charting with 75 bitcoin technical indicators;
Supports more than 45 exchanges
Has a multi-tiered server architecture.
Coinigy Services
Coinigy Fees
Coinigy has different pricing schemes for each of their plans:
Starter account is free
Pro Trader account $18.66 per month for an annual payment
API Developer Pro account is $99.99 per month
See also: Algorithmic Crypto Trading
What is a Crypto Trading Platform?
A crypto trading platform is a software that is used for trading cryptocurrencies. It is usually a web-based software that is accessed through a web browser. The platform should be easy to use and have an advanced feature set. When choosing a crypto trading platform, you must consider what features are most important to you. Some platforms offer a basic set of features, while others offer more advanced features. Once you have decided what features you need, you can compare different platforms to find the one that best suits your needs.
What is the Best Crypto Trading Platform?
Altrady is the best crypto trading platform for advanced traders who want to take their trading to the next level. Altrady offers a suite of powerful tools that can help you make better trades and improve your trading strategy. Altrady is the clear choice for anyone who wants the best trading experience possible.
Choosing the Best Crypto Trading Software Tools
Even with this summary of the main features and services of the 8 best crypto trading software tools, you could still ask yourself, "Which one should I use?"
The answer would depend on many factors such as the following:
Digital Assets to Invest In - Each exchange could differ on the number of listed digital currencies and trading pairs. It is always best to do your research first about the cryptocurrencies to invest in including the developer behind the token, the historical growth and stability of the coin, and the average trading volume. You could also visit forums and join crypto communities to have an idea about trends for each market.
Availability of Crypto Exchange in Your Location - Not all exchanges could be available in your location. From the crypto exchanges above, you could check which cryptocurrency platforms cover your state or country.
Purchase of Fiat to Crypto - Since you are just starting to invest, you are most probably holding only traditional currencies. Some of the exchanges above offer direct purchase of crypto using fiat currencies. You can choose to go this route if it is available in your local currency or you can first buy or exchange your fiat for crypto in other platforms.
The Number of Exchanges You Will Use - Some starters stick to one crypto exchange, but there are also those who are spreading out their assets and trades in a few exchanges for diversification and fund safety purposes. If you are pursuing the latter option of spreading out your trades in many exchanges, then it would help a lot if you will choose a crypto trading platform where you can manage multiple exchanges such as through Altrady or Coinigy.
Security - Research about the security history of these crypto trading software tools to protect your funds.
Customer Support and Community - As a beginner, it is always best to choose crypto trading platforms and tools that would give you immediate help and support when things are getting confusing or a bit challenging to understand.
Best Crypto Day Trading Platforms For 2022
When it comes to day trading crypto, there are a few key things you need: a good platform, a strong understanding of the market, and quick reflexes.
The good news is that there are plenty of great platforms out there that can help you get started with day trading crypto. Here is a list with the best of them:
We hope that you enjoyed reading the 8 best crypto trading software tools for new investors in the cryptocurrency space.
Remember, the first steps in your trading journey will determine your success in the future. Make the right decisions and use your favorite best bitcoin trading platform, make use of the right tools.