Cryptohopper Review: All that you need to know about this bot
Are you planning to enter the rapidly-evolving crypto industry, but do you have no idea how it works? If that's the case, you must consider investing in a trading bot. 
So, how does the Crypthopper trading bot make things simpler? 
Crypthopper makes crypto trading simpler by selling and buying digital currencies. It saves your time sitting on computers and tracking cryptocurrencies. In addition, it functions autonomously and simplifies the trading process for the users.
There are various trading bots available in the market. However, Cryptohopper has gained a fine reputation among the leading names because of its reliable performance. 
If you are thinking of stepping into the crypto trading journey, our detailed Cryptohopper Review will help you out. It includes everything about this bot, including the features, pricing, and everything else you need to know. 
Let's get started. 
What is Cryptohooper?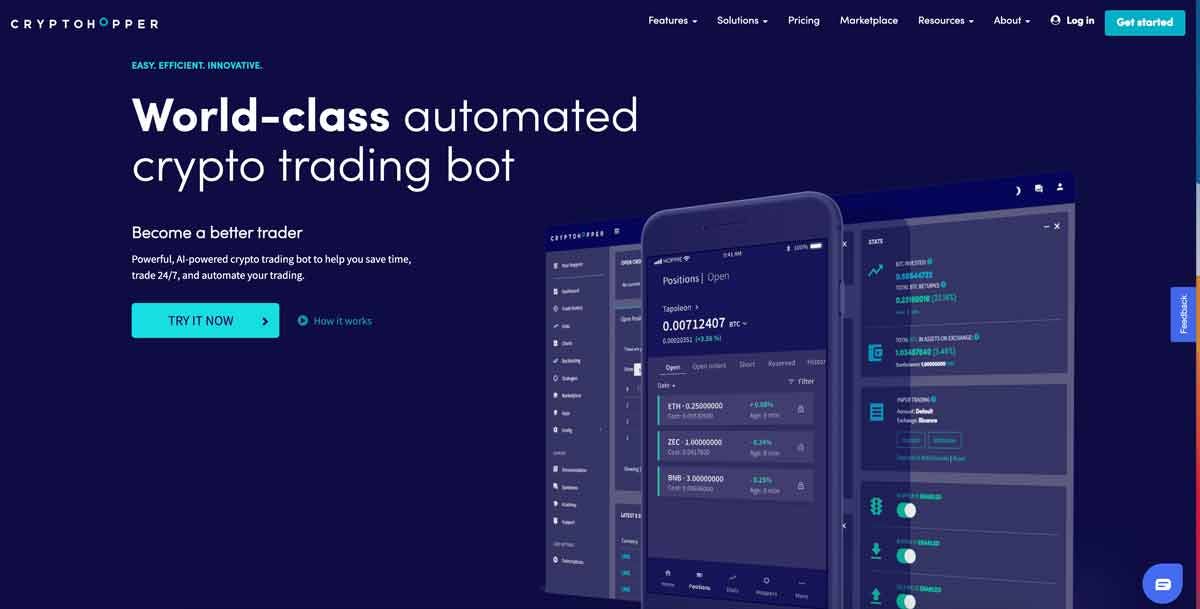 Cryptohopper is an online trading platform that offers an automatic trading bot to trade on your behalf. You will customize the bot according to some conditions, and it will act upon those instructions exactly. 
It is essential to note that it is a semi-automated bot and This means it functions the way you program it, nothing other than that. So, for instance, if you program it to purchase Bitcoin when its value increases by 10%, the bot will do the same task. 
One of the best features of the Cryptohopper bot is that it suits users with all experience levels. If you are a beginner, you can purchase a strategy from the Cryptohopper marketplace to kickstart your journey. On the other hand, if you are a crypto investor with an outstanding track record in the crypto space, this automated bot keeps you in the game. 
Now that we have shared a quick overview of the Cryptohopper bot. Let's move on to the next section. Here we will discuss how this bot works. 
Who Founded Cryptohopper 
Cryptohopper came to the crypto world in 2017. It has satisfied more than 140,000 people until now. It is one of the most trusted bots in the crypto space. 
Cryptohopper resulted from two genius brothers who wanted to create something for an average person. Ruud Feltkamp dutch entrepreneur and Pim Feltkamp, a web developer are the masterminds behind this project. 
They wanted to bring something that would suit people of all experience levels. As a result, the platform garnered a considerable fan base and is now famous for its striking features.
How Does the Bot Trade?
You must have had a clear understanding of the Cryptohopper platform until now. Now, let's take you to the technical side. Before you put your money at stake, it is essential to understand how the bot trades for you(or on your behalf)
Do you wish to design your bot? You'll have to start from ground level, and the program is tailored to your needs. The other option, a more hassle-free one, is to opt for a pre-programmed robot from the marketplace. 
When you plan to use Cryptohopper, you don't have to upload any funds to the platform. Instead, the robot will do the trading for you! Cool, isn't it?
The bot will gain access to the external trading account and execute trades. So, for example, if you plan to use the bot on Coinbase, you should already fund your Coinbase account. 
Link the external exchange API credentials with your Cryptohopper account. This way, the automated bot gets authority on your trades. The linking process varies from exchange to exchange, so you need to follow the protocol. You will find the API details in the settings portal. 
Lastly, you need to visit the Cryptohopper account and enter the API details of the exchange. Once you have completed this process, the Cryptohopper bot gets the authority to perform trades on your behalf. 
Cryptohopper Marketplace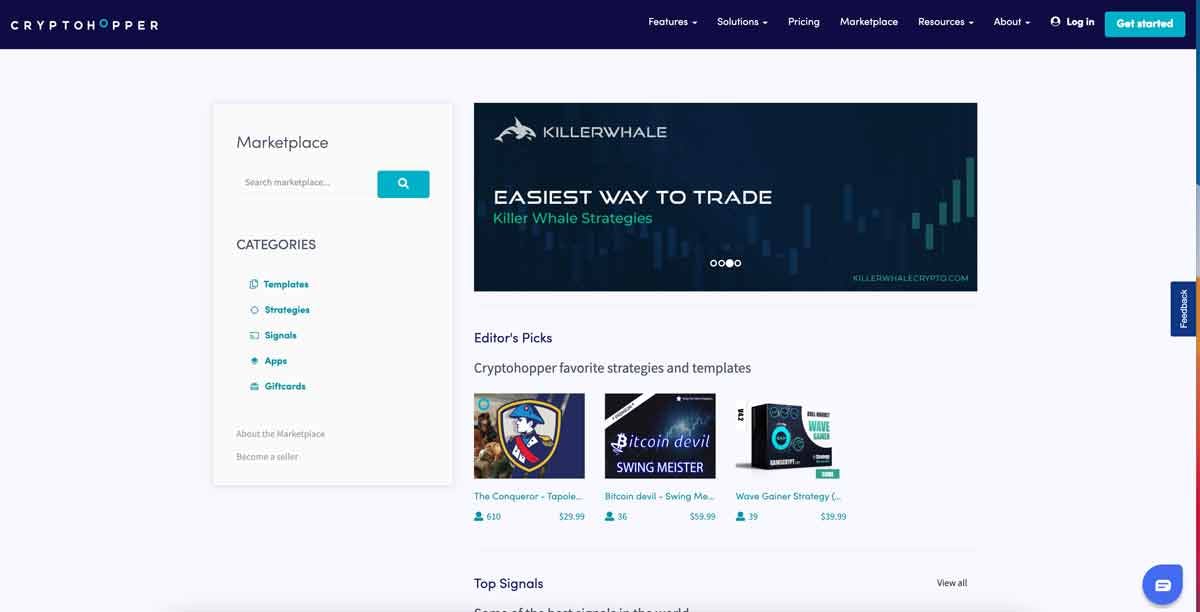 There's something else that keeps Cryptohopper where it is today; yes, we are talking about the Cryptohopper Marketplace. This feature is like a relief for new and experienced users. Over here, the users can get the bots that other users designed on the platform. However, some come with a price tag, while others are free. 
It is beneficial if you have no automated trading experience and it's your first time creating strategies. Also, some experienced users are nervous about uploading their bot to a competing place; this marketplace comes to their rescue. So, you can browse through the sea of options to choose a bot that suits your requirements and trading requisites. 
You can check the programming details of the bot you are interested in—moreover, the bot functions on transparent conditions. So, the previous track is also available for review. You can also take notes from the feedback as most users leave a rating about a particular bot. 
The best part about the marketplace is that you have a free hand to modify the bots according to your liking. You can choose a basic bot and then program it to suit your specific requirements. Voila, your bot is ready. 
What we like most about this feature because you can start with a bot design of another user. Then you can tweak it according to your requirements and start trading. 
Cryptohopper Pricing
There are three different price plans available at Cryptohopper. In addition, you can also avail of a 7-day free trial named 'Pioneer plan.'
You can simply get access and start availing of the trial plan service without entering any payment details. They give notification before the trial time ends. Also, the service gets disabled, and you need to subscribe to a monthly plan to use further services. 
The trial options offer the capabilities of the Explorer Hopper package; this means you get an idea about how the platform functions before you put your money at risk. In short, the trial is a risk-free opportunity. 
Moving on, the three plans are as follows
The starter package is known as Explorer
Trader Plus Package named as Adventurer
Pro Trader Package is also known as Hero
The features of these plans are shared in the table:
| Plan names | Pioneer Plan | Starter package | Trader Plus Package | Pro Trader Package |
| --- | --- | --- | --- | --- |
| Trading positions | 20 positions | 80 positions | 200 positions | 500 positions |
| Offerings | Portfolio management | Max 15 selected coins | Max 50 selected coins | Max 75 selected coins |
| Triggers | Manual trading | Max 2 triggers | Max 5 triggers | Max 10 triggers |
| Time intervals | On all available exchanges | TA with 10 min interval | TA with 5 min interval | TA with 2 min interval |
| No. of trading bots | | 1 Simulated Trading Bot | 1 Simulated Trading Bot | 1 Simulated Trading Bot |
| Extra features | | | Exchange arbitrage | All coins for signals Market Arbitrage Market-Making |
| Price per month | Free | $19 | $49 | $99 |
For paying for the monthly subscription, you can do it through PayPal or deposit cryptocurrency. The platform supports various coins, such as BTC, BCH, XRP, etc. 
Now that you know about the pricing plans let's get to the features of the automated bot. 
CryptoHopper Features Review
Cryptohopper offers some fantastic crypto features which bring it to list the viable options. We are discussing the highlights to help you understand this powerful bot better.
Functionality
An easy-to-use interface solves half of the issues for crypto traders. Luckily, Cryptohopper is a web-based platform that offers a user-friendly interface. As a result, you can use the bot throughout the day and benefit from the wide range of functions. 
Latest technologies
The latest technology helps the bot to stay ahead of the competitors. In addition, this trading bot allows you to perform trading via API integration.
Moreover, you can access the service on mobile, laptops, and tablets with a stable internet connection. 
Variety of tools
Cryptohopper offers a wide variety of trading tools to elevate your experience. It includes a bot backtesting tool, saved templates, and other indicators. 
Automatic trading
Thanks to the automated trading capability, means the bot functions 24/7. It uses the techniques that allow you to buy and sell cryptocurrencies. The service is available all around the clock, which means you won't miss a chance at the best trading opportunities. If humans do it themselves, there is a chance of missing such opportunities. 
Paper trading
When using CryptoHopper, paper trading comes as a bonus. Paper trading app is available for every package and gives you the chance to trade without owning any cryptocurrencies. 
With this feature, you can test out the new strategies by depositing up to 100k of any cryptocurrency. When you are satisfied with the plan, you can apply it on a trading bot like CryptoHopper in this case.
Efficient Tracking Technology
Cryptohopper has superior tracking technology. It can track up to 75 coins at the same time. Then, it gives you a report by scanning them all against your chosen profit goals, indicators, and preferences. This makes your trading journey more manageable. 
Exchange Integration
Cryptohopper is compatible with 14 of the largest global cryptocurrency exchanges, including Binance, Coinbase Pro, KuCoin, etc. This means you have ample choices when you use this bot. 
Customer support
CryptoHopper has a fantastic customer support team available 24/7 to address your issues. 
Clients can contact them through various platforms like Twitter Facebook or pop up your concerns in the support section. You can also search for your answers in the tutorials or FAQ section on the website. Moreover, they also have the Crypto Academy Video library so that you can visit it for support. 
Safe platform
When planning to trade cryptocurrency, one thing that matters most is selecting a safe platform? Well, Cryptohopper is a safe and reliable bot. So your funds are secure on the exchange. 
There are no security risks; the bot utilizes 2FA and AWS hosting to ensure secure trading services to the users. 
No Extra/hidden fees
Here is the best part! Cryptohopper does not charge fees for the trading services. You only have to pay the monthly payments, and that's all. There are no additional or hidden charges or commissions that might surprise you. So, your trading costs are comparatively lower than other platforms. 
Beginner Friendly Trading Bot
Beginners are usually looking for the best direction to start with crypto trading. If you are one of them, your wait is over now. When most platforms support professionals, Cryptohopper sets the trend by making trading easier for newbies. 
The Hopper Academy provides a detailed guide for all members. Moreover, the video library is a valuable asset to fresh users. The well-explained tutorials provide step-by-step guidance about the working process. In addition, it offers help at all steps to ensure an incredible trading experience. 
That's not all; Cryptohopper has an engaging network that offers help to new users. Moreover, you can get assistance from the forum offering different languages, including English, Spanish, and Dutch.
All these features allow new entrants to get the best tips from professionals from all over the world. In addition, it is relatively easy to operate, making it accessible for everyone. So you don't need any technical skills to enter the community or use the Cryptohopper bot. 
Users can also learn about their past earnings and readjust the bots to a different setting. Of course, that's all in their hands; this semi-automated bot gives you the freedom to experience the fast-growing crypto business. 
Mobile app
Crypto trading becomes hassle-free when available on mobiles. A mobile app comes to the rescue if you mainly travel and don't usually access larger screens. 
Cryptohopper ensures on-the-go access to its valuable users. This free app is available for Apple and Android users. The mobile app is worth it because of the following features:
High-end security
The Cryptohopper mobile app features high-level security to keep you free from worries. It requires biometric verification to access the platform. This means nobody can check your investments or access your data. 
Optional push notifications
Do you wish to get instant notifications? Set the push notifications option to have the latest information regarding your orders, investments, and more. This way, you get the freedom to track your progress anywhere and anytime. 
Single click orders
Just like the desktop version, the mobile app is user-friendly too. All decisions are just a click away. Plan your trades and check the latest information on your mobile. 
Pros and Cons
Like every other crypto trading platform, Cryptohopper comes with a set of pros and cons. You can look at the pros and cons in the following table.
| Pros | Cons |
| --- | --- |
| Compatible with the high ranked crypto exchanges | Doesn't offer customer service option on call |
| No extra charges apart from monthly fees | Requires subscription of monthly plan to avail the valuable functions |
| Offers advanced security features in the mobile app | No posibility of manual intervention |
| It provides access to high-level research software | Monitor your positions it's not included |
The Final Verdict
Cryptohopper is an efficient trading bot for users of all experience levels. This simple, easy-to-use, and budget-friendly platform has gained a positive reputation within a few years of launch. 
Users can easily subscribe to a plan based on their requirements and start making profits. Moreover, it provides an outstanding opportunity for those who want to learn the art of trading cryptocurrencies. 
Many people have earned impressive profits from this fastest-growing platform. It offers all the tools to help you become a professional trader. 
Are you planning to join the list? We hope our comprehensive review provides you with all the needed information about Cryptohopper. Comment below if you have any other questions, and we will be delighted to answer you. 
FAQs
Is Cryptohopper Legit?
When you step into the crypto business, the first concern that arises is if the bot is legit or not. In this case, Cryptohopper is a reliable bot. Several investigations indicate that this bot is authentic and supports a user-friendly platform. Moreover, it has been in the crypto scene for more than 4 years, and the users have reported no complaints. It uses API keys to trade on your behalf, so it can't make any withdrawals on its own. Moreover, their customer service is the best. It is always available to respond to your queries and facilitate 24/7. 
We can assure you that Cryptohopper is a legit robot with all these points in favor. 
However, you should be careful when putting your money into this game, as crypto is a dangerous place. 
Is Cryptohopper safe?
Safety is one of the biggest concerns when putting your money at risk. But, with Cryptohopper, the good news is that your funds are safe. In addition, this is a secure platform, and nobody can access your account. 
Moreover, it follows the toughest crypto security policies that are impossible to break. This is one of the many advantages of using Cryptohopper. In short, the bot is safe from hackers and other dangerous threats. 
The powerful bot gives the user complete control of their accounts. So, no third party can access it or change the sequence of your programming. Your bot, your rules, simple as that!
How do automated trading bots work?
The automated trading software is designed to keep track of crypto markets all around the clock. This means they are more competent than humans when trading cryptocurrencies. 
These bots perform in the crypto market on the owners' behalf. They execute trades according to predetermined conditions.